"When you buy through links on aneverydaystory.com, We may earn an affiliate commission."
Fifth graders can be a tough crowd. They want to read, but they're also not ready for some of the more sophisticated books that upper elementary kids enjoy. That's why it's important to find books at just the right level: engaging and exciting, without being too challenging or too easy!
It is a critical year for pupils in 5th grade. Fifth grade is one of the most challenging transitions in education. It's also a time when children are learning to love reading, and as such, they should be given materials that will challenge them and keep them engaged. Many fifth-grade students, however, are dissatisfied with their current reading material because it is not of high quality.
Fortunately, there are so many great fluency passages written just for fifth graders! Here are 15 of them.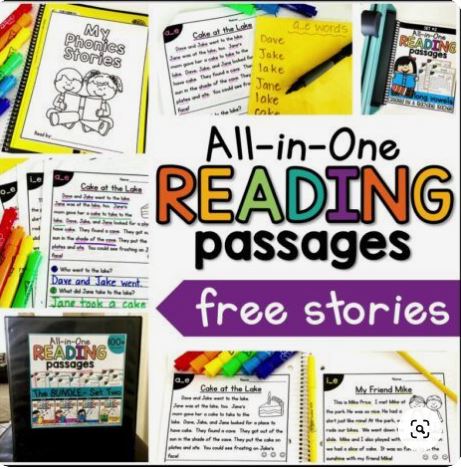 1. Reading Fluency And Comprehension Passages
These Reading Fluency and Comprehension Passages are a great way to introduce fluency. It's easy enough for most kids who are just beginning to read, but it's also interesting enough that they'll want to keep reading. This collection of reading comprehension activities and reading fluency tactics will keep your fifth-grade pupils entertained for hours.
Students' growth and achievement are tracked using charts in this resource, containing 32 passages, 13 reading posters, and other materials. Assist you in meeting both your individual English and language arts standards and learning objectives and the standards and learning expectations proposed by the Common Core State Standards. All of the activities in this packet correspond to the Common Core State Standards for Grade Five.
2. Reading For Fluency: Through The Looking-Glass
This passage allows the student to engage in a lot of different reading strategies: skimming for sight words and highlighting important information, reading at their level, rereading sentences that make sense, and cross-referencing so they can predict what will happen next. Reading this passage allows the reader to feel as if they were Alice.
With this passage from Lewis Carroll's Through the Looking-Glass, children can practice reading fluency and comprehension while having fun. Readers learn through the passage twice in pairs, keeping track of the time and reporting their findings after each reading. This worksheet, intended for fourth and fifth graders, provides an excellent opportunity for children to work together to improve their reading comprehension and fluency.
3. Weekly Reading Comprehension [Nonfiction and Fiction]
This FREE 5th-grade reading comprehension resource is ideal for use in close reading, shared reading, homework, guided reading, or morning work assignments. It contains two high-interest, professionally produced reading passages (one nonfiction and one fiction) intended to attract your pupils and keep them interested in reading. For each passage, 11-12 text-dependent questions (and their answers) are presented.
At the same time, it consists of two weeks of reading comprehension activities that will also help you improve your reading fluency and comprehension. You can even utilize this tool to differentiate reading instruction across grade levels by using it with different grade levels. If you have 5th graders, this material is a terrific practice tool.
4. Funny Reading Passage – Alligator Reading
An innovative reading comprehension passage will help you improve your literacy skills without sacrificing your sense of humor. In addition to a fully produced audiobook with crazy sounds, the ever-popular VIDEO BOOK with a model reading by Mister Lewis is also available for purchase. The following section contains research-based information on the tremendous benefits of video caption reading and audiobooks.
"Alligators in the Attic" is a hilarious first-person narrative about a kid or girl who allows alligators to take residence in their attic. Beginning with their initial complaints, they become increasingly dissatisfied with everything. It's a never-ending cycle of events. Those alligators may need to be relocated, but how can you ensure they do not return? Take a look at those pearly whites!
5. Activities For Fluency, Grades 5-6
Create fluent, confident readers! Each lesson contains a bit of nonfiction, short fiction, a script, a song, poetry, or a puzzle. Readers benefit from follow-up tasks when they encounter unfamiliar words or punctuation marks. Students will understand stressed and unstressed syllables, breathing patterns, suffixes, prefixes, and other topics while reading aloud—fluency report cards aid in assessing kids' reading accuracy and tone.
This Activities for Fluency workbook is one of the top resources for youngsters in the 5th and 6th-grade reading levels. These fluency classes focus on a different genres, such as fiction, non – fictional, songs, poetry, or riddles. Find extracurricular activities to help pupils who are struggling in certain areas. Students will also learn about breathing patterns, which can help them improve their speaking fluency. Assess student fluency using tone and accuracy.
6. Reading For Fluency: The Jungle Book
Children practice reading fluency and comprehension with this excerpt from Rudyard Kipling's The Jungle Book. Students read the material twice in couples, timing and summarizing each reading. This worksheet, designed for fourth and fifth graders, provides an excellent opportunity for children to develop reading comprehension and fluency concurrently.
Through repeated readings and summary updates, students are allowed to improve their reading fluency and comprehension. Allow the reader to begin reading the piece aloud on your signal, and the timer will call "time" after 30 seconds, alerting the reader to pause. The students will pay special attention to the reader's final word.
7. Fast Fluency Practice Nonfiction
This resource is intended to assist older kids in achieving reading fluency by administering low-level, grade-appropriate, timed exams in as little as 10 minutes each day. The author based this approach on the findings of Hasbrouck, Glaser, Tindal, and Hasbrouck, who claim that reading and rereading short texts paired one-on-one with like-leveled peers motivates children and helps them improve reading fluency.
This Fast Fluency Practice Nonfiction is naturally differentiated and addresses multiple levels of fluency. "Fast Fluency Practice for Older Students" includes 5 nonfiction reading passages, 5 comprehension exams, an answer key, etc. There are also simple instructions, grade level fluency charts, a student record blackline master, and a parent/teacher letter.
8. Reading For Fluency: The Golden Bird
Children can practice reading fluency, and comprehension skills with this passage from the Grimm Brothers' "The Golden Bird," children can practice reading fluency and comprehension skills. Each student reads the paragraph twice, keeping track of the time and summarizing what they read each time. This worksheet, intended for fourth and fifth graders, provides an excellent opportunity for children to work together to improve their reading comprehension and fluency skills.
Students practice reading fluency and comprehension with this excerpt from a German fairy tale. Students read the material aloud twice in pairs, timing it and summarizing each reading. This worksheet, designed for fourth and fifth graders, provides an excellent opportunity for children to develop reading comprehension and fluency concurrently.
9. Fall Reading Fluency Bundle 2.0
This reading fluency bundle is an excellent resource for 5th graders who are just beginning to develop the ability to read fluently. With these resources, students can challenge themselves in fun ways while working to improve their reading skills. The resources have been carefully designed to help students improve their proficiency in various ways.
An expansion of the initial free fall/Halloween package is a great resource! These reading passages range in difficulty from upper 2nd to 5th-grade reading levels, and fluency graphs accompany them to help your reading comprehension. For you to fill in the blanks with your numbers that meet the wpm requirements of your kids, the author has given a blank graph. Included are reading response questions as well as vocabulary and comprehension tests.
This is going to make you fall head over heels in love!
10. Branches Of Military Reading Fluency And Comprehension Task Cards
Branches of Military Reading Fluency and Comprehension Task Cards is an in-depth look at the many branches of the United States Military. This game addresses several topics regarding the United States military and why it is so important to our country. The author wanted to make something that would appeal to upper-grade guys while remaining at an appropriate level for their age.
There are twenty-four reading passage work cards that highlight essential military ideas in the United States. These cards can be used in three distinct ways to improve fluency and comprehension of nonfiction literature. You could utilize the work cards for three days and have each student complete all three recording sheets, OR you may differentiate this based on specific reading abilities that students need to improve. As an assessment, students could even work in groups or alone.
11. Fluency And Retell Books
These Fluency and Retell Books are a great resource for all students. Students are given an excerpt, and they must read the selection independently and then retell what they read. Students can answer questions from the original text in their reading responses or write about the new information shared with them based on what they just read.
This is a book that can be used to help children improve their fluency and recount stories. To create a booklet, you will need to print four pages, one on each side of the page. The section that pupils must-read is located on the inside pages. After each paragraph, the number of words that have been read is listed. On the final page, there are questions about storytelling.
12. Increasing Fluency With High-Frequency Word Phrases Grade 5
Make a solid foundation for reading fluency with this fun and interactive resource! Growing Fluency with High-Frequency Word Phrases is a collection of 20 unique lessons that analyze high-frequency exercises to improve word recognition, expression, fluency, and comprehension questions to assess proficiency. A fluency rubric and a reference list of oral reading practices are offered to assist students in achieving success in their learning.
With the help of expert fluency studies by Dr. Timothy and Dr. Edward Fry's Instant Words, this resource is designed to help students meet the requirements for college and job preparedness while also providing a strong foundation in reading. The book is an audio CD containing spoken interpretations of phrases and reading selections.
13. Bats – Reading Passage With Common Core Text-Based Questions
This FREEBIE includes a week's worth of exercises and differentiated reading for an informational text. Four different reading levels are used to write the piece, ranging from high first grade to mid-fifth grade. This gift to you can be utilized for various purposes, including standards-based grading, weekly homework, guided reading, and short formative assessments.
It is your one-stop-shop for all of your October reading needs! There are 20 information text passages on the theme of October, prepared at FOUR distinct reading levels. This is a reading passage that students can complete independently. The passage and questions are closely aligned to common core standards. Close reading and/or a week's worth of homework can be accomplished with this resource!
14. Rowdy Reindeer Christmas Fluency Passage & Comprehension Activities
This set includes a unique fluency passage, two comprehension worksheets, and a creative writing template as a follow-up activity to the text. This bundle includes a color-printable instructor copy that you can reuse. Additionally, it offers a black-and-white copy that you may print for each student and use to keep track of their grades.
These free 5th-grade reading passages supplement the reading curriculum and make an excellent December activity. You can print these passages for each student and have them keep track of their reading scores. When adopting these passages in your classroom, employ the hot, warm, and cold reading tactics. Utilize this Rowdy Reindeer resource to assist your fifth-grade students with fluency intervention!
15. Long Vowel Digraphs Fluency Passage
Many students who have completed the lower grades want more assistance with their phonics skills, yet many phonics exercises are designed for pupils in the early elementary years. The challenge of determining how to teach reading can be perplexing and intimidating. As a special education teacher, the author creates phonics worksheets that account for differentiation, allowing you to feel more confident in offering reading instruction that eliminates the guesswork.
Many kids with learning impairments may need to review phonics content previously taught to them. Determine whether your students need to review the typical vowel combinations in the passage's embedded words with long vowel digraphs. This text has a Flesch-Kincaid grade reading level of 5.0 and contains the following long vowel digraphs: ai, ay, ee, ea, ie, ow, oa, and ue, as well as entertaining nautical imagery.