"When you buy through links on aneverydaystory.com, We may earn an affiliate commission."
Aside from moving information from the classroom to the online environment, there is also the issue of creating a clear, succinct, and easy-to-understand online environment background. Becoming able to be heard by students is crucial to being a successful online educator. While a basic headset with a microphone may suffice in some cases, having a stand-alone microphone for online education can help students and professors communicate more clearly.
In most cases, your laptop's built-in internal microphone should suffice, but just as obtaining a great webcam allows you to update your video, getting a specialized microphone will do the same for your audio, which is just as crucial if not more so. This post will look at the best mics for online instruction.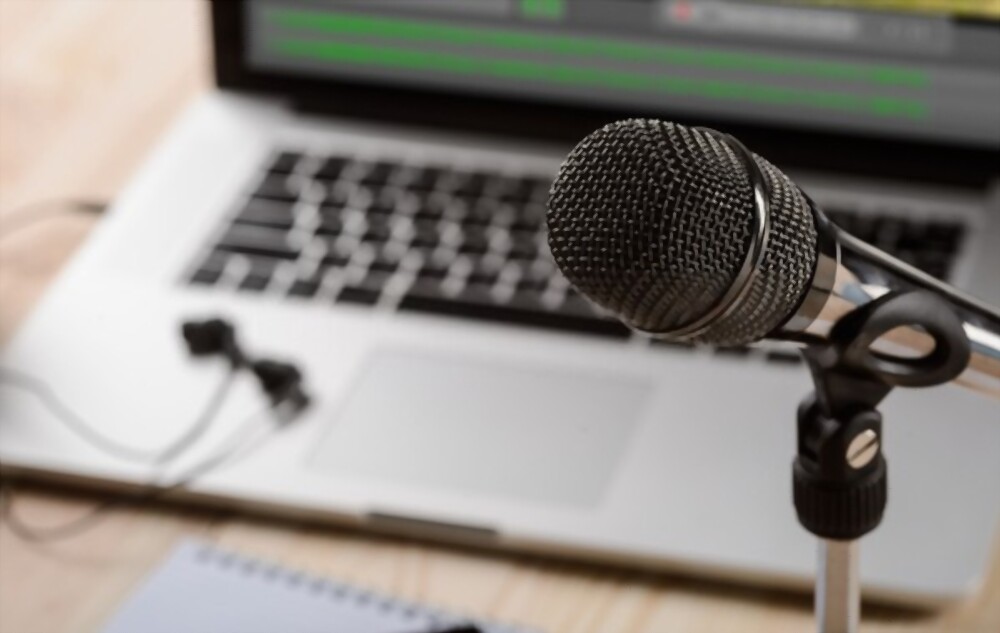 What Do You Want in an Online Teaching Microphone?
So, while shopping for an external microphone for online teaching? Here's what we recommend:
Low Cost
Microphones meant for voice recording are relatively inexpensive. With the more luxury models costing more than $100, you can get a quality microphone for a reasonable price, and we've tried several various possibilities.
Unless you do more complicated stuff like voice-over work or YouTube videos, there is no need to spend money on something as simple as a USB microphone for a laptop.
Usability Via Plug – and – Play
Microphones can have extensive options for pairing with a DSLR camera or be as basic as a USB connection with a laptop. More expensive and difficult solutions are excluded from this list because we are only interested in high-quality microphones for speech recording.
We're looking for something simple that works straight away. You plug it in, your device recognizes it, and all you have to do in your online class is select it as an audio option.
Small, Easy – to – Carry Size
Some external microphones for laptops and professional speech recording are quite large. One example is the well-known Blue Yetti microphone. While it produces high-quality audio, it is far too large to be used for an online lesson.
Only mics that are compact, portable, and simple to use made our list. Another reason is that we don't want the microphone to be seen in the video, so keeping it small is the way to go.
Most Effective Microphones for Online Teaching
1. Blue Snowball iCE Plug 'n Play USB Microphone
The Blue Snowball iCE Mic from Logitech for Creators Store has long been a favorite among podcasters and game broadcasters due to its superior audio quality, low feedback, and clarity. It is also easily one of the best microphones for online teaching at this price point. When teaching online, you'll need an easy-to-use microphone setup that's compact enough to fit in a small place and produces good audio. This is a microphone that fulfills all of the requirements.
Another fantastic feature of the Snowball Mic is the ease of connecting it to a voice amplifier for lectures. Additionally, Blue has made it easy to acquire extra accessories to elevate your online teaching setup to new heights. Booms and clamps are not included. We discovered that this is a microphone that lives up to the hype during our review process. Record or live-stream your lectures and benefit from crystal-clear clarity that will not leave your pupils asking you to repeat yourself. This is arguably one of the greatest microphones available for the money.
2. ZaxSound SF666PRO Professional Cardioid Condenser Microphone
This microphone from ZaxSound Brand features a high-quality cardioid condenser that produces a real cardioid pickup pattern ideal for live webcasting and YouTube recording. The best part is that it features a matching feature that helps suppress ambient noise from the sides and back.
The ZaxSound Professional Cardioid Condenser Microphone is equipped with all of the features you'd expect from a home-use microphone. It is compatible with practically all devices and does not require the installation of any drivers or software. Apart from computers and tablets, it's also compatible with smartphones.
You'll like the convenience of this model's packaging. Along with the Cardioid Condenser Microphone, you'll receive a tripod, an audio headphone splitter, a USB audio adapter, and an instruction booklet. Additionally, it includes an extension cord if you desire a longer cord. That is quite practical, isn't it? Adjustable and simple, the tripod also comes with a carrying case.
3. FIFINE Mini Gooseneck USB Microphone
The FIFINE Mini Gooseneck USB Microphone is an absolute workhorse for the price. This small USB mic is highly portable, but it also features a flexible gooseneck that provides teachers with additional range. Because it is small and compact, it will not take up much space on a small desk or constitute an eyesore as larger mic types do.
The microphone from FIFINE Store has a convenient windscreen with the 6.5ft insulated wire and adjustable gooseneck to help decrease background noise. Additionally, this results in increased clarity and sound quality. We encountered little feedback, static, or distracting background noise during our testing. This is critical for teachers who may have hectic personal lives but still want to preserve microphone clarity for pupils. While it is small and compact, it features a rugged build capable of withstanding the rigors of online teaching.
The FIFINE Mini Gooseneck's sole real flaw is that it lacks the quality of a studio-grade microphone.
4. SOONHUA 3.5MM Plug and Play Omnidirectional Mic
This Soonhua Omnidirectional Microphone is another affordable yet high-quality instrument that you can rely on for online teaching, podcasting, vlogging, and voice-over recording, among other things. Its high-quality condenser chip aids with the mic's aim sensitivity by filtering out ambient noise for the best possible sound.
You'll also appreciate the extra split cable, which saves you money on a converter table. The amazing thing about it includes an integrated anti-wind foam pop filter. However, even without the red foam protection on the surface, it is still protected by a metal mesh on the inside, extending the product's effectiveness and quality. It utilizes noise reduction technology to drastically minimize background noise, resulting in very clear and crisp sound.
This mic from Soonhua Brand is ideal for those who want a device with a desktop tripod. You'll be pleased to learn that the included tripod is adjustable, allowing you to fine-tune the angle for optimal sound quality.
5. SAMSON Meteor Mic USB Studio Condenser Microphone
The Samson condenser mic's classic style is likely to be the first thing you notice. Though small and modest, it appears to have been plucked straight from a 1950s recording studio. This can be a selling factor for the fashionable online instructor from Samson Brand, as it does look quite nice sitting on a desk. 
Apart from its aesthetics, this is a professional-grade USB microphone equipped with a 1′′ studio-quality capsule for crisp, clear sound. Due to the USB connection, this is a plug-and-play gadget that works with various devices. Additionally, it is ideal for video conferencing systems such as Skype, Zoom, Google Meet, and others.
Unlike comparable budget-friendly online teaching microphones, the Samson also features an extremely smooth flat frequency response that captures every nuance of your voice. Despite its diminutive stature, we found the unit quite solid and resilient. It is constructed of die-cast metal and features a classic chrome-plated finish.
6. IUKUS PC Microphone
The IUKUS PC Mic may be used anytime and everywhere, as it is compatible with practically all devices via its audio jack connection. It performs admirably in terms of sound quality and clarity while reproducing an authentic sound. Additionally, it features a complete 360° high-fidelity vocal and a sophisticated noise reduction output mechanism.
You're receiving a 50Hz-16kHz frequency response – that's a clear and high-fidelity vocal. The huge condenser microphone enables you to perform admirably on Skype, Whatsapp, QQ, and MSN, among other platforms.
For the online educator, IUKUS PC Microphone is a dream come true due to the collection's significantly superior quality at a low price. Despite the little voltage required, it produces a high output level. This headset features a 3.5mm professional jack and is suitable for laptops, PC, iPad, Mac, iPhones, recorders, YouTube, and Skype games.
7. Blue Yeti Nano Premium USB Microphone
It's ideal for podcasting, game streaming, Skype calls, YouTube uploads, music production, and video conferencing. It features a well-known plug-and-play capability that makes it compatible with any computer. You can quickly and easily begin recording by simply plugging it into your computer. Additionally, the mic operates without the need for a driver on Mac and PC.
It has a small footprint, fits perfectly on any desktop, and looks fantastic when viewed through a camera. It gives a quality streaming picture while occupying a small amount of screen area. Provide the production value your podcast, film, or gaming stream deserves. With this microphone, you will always be heard clearly.
You may adjust your technical options and pickup pattern selection in two modes from your desktop: Cardioid and Omni. Cardioid Mode accurately captures the sound directly from the mic. Omni mode is optimal when doing a conference call with several participants in the same room. It captures both participants' audio, resulting in a clear, sharp sound.
8. Professional Grade Lavalier Lapel Microphone
This mic's sound quality is on par with that of an average-sized microphone, if not better. It eliminates background noise and concentrates exclusively on your voice, ensuring crystal-clear audio. It's a user-friendly type since it works with the iPhone, smartphone, or tablet without the need for batteries or drivers.
It is compact in size. It works wonderfully when clipped to a shirt and can be aimed in any direction desired. It's so little that it fits in your pocket or may be stored in the provided storage case. Additionally, it features thick wind muffs and a sturdy metal clasp, making it ideal for the on-the-go instructor.
This PowerDeWise mic has the quality you require and desire from a basic microphone. A model that is far less clumsy. Users confirm that the quality is excellent, handles volume effectively, and picks up on very little background noise. Ideal for voicing, recording, interviewing, facilitating conferences, producing podcasts, and performing voice dictation.
9. CMTECK USB Conference Microphone
This microphone of CMTECK Store does appear to have been plucked directly from an alien spacecraft. This is the least traditional-looking microphone on the list, with its semi-flat triangular shape. Nonetheless, we'd rank it as a candidate for the finest remote teaching microphone. Why? Despite the CMTECK USB Desktop Computer Microphone's diminutive size, our review discovered that it delivers exceptional sound quality at a reasonable price.
Unlike the classic option above, this microphone features a quick mute/unmute switch, and an integrated LED indicator light that indicates when the mic is on or muted. Additionally, a blinking green light signals this when the device captures audio. There is nothing to install and no software to manage with this plug-and-play gadget. We discovered that the gadget is most compatible with Windows and Mac OS X but not with Linux or Android.
10. PAPALOOK AF925 1080p Autofocus Webcam with Microphone
The PAPALOOK AF925 Webcam with Microphone features a high-definition image ideal for video calling, live streaming, online classes, and watching YouTube videos. It features a five-layer optical lens and an automatic light adjustment system that assists in fine-tuning your lighting settings.
Additionally, it includes a noise-canceling microphone that eliminates ambient noise. The omnidirectional microphone eliminates external background noise and records your speech from every angle conceivable, ensuring that your listeners hear you well. Due to the integrated microphone, you may listen to sounds without wearing a headset.
The most significant feature you'll discover here is the popular Plug & Play functionality, which simplifies pairing with a compatible PC running Windows 7, Windows 8, Windows 10, Mac OS 10.10, or later, or Chrome OS. Its fold-and-go design will astound you, which allows for easy portability.
11. TONOR USB Microphone
The Tonor mic is a USB microphone created for online courses and game streams. Like online educators, these streamers want concise, high-quality audio with no delay or lag. Everything they say or do must be understood, just like you would expect in a virtual classroom. This tiny yet powerful microphone does this through a cardioid audio pickup pattern.
A cardioid pattern captures a clear, crisp sound directly in front of the microphone while blurring and suppressing ambient noise. This is perfect for everyone who teaches online but especially for those who live with children or other people who work from home. This gadget is fitted with a normal USB plug, enabling you to connect it to any computer and begin working immediately. No additional software or sound cards are required. This is a great microphone for online education platforms and speech recording, in our opinion.
12. MAONO Professional USB Microphone
Here's another cutting-edge alternative to the greatest online teaching microphone. It features top-of-the-line 192KHZ/24BIT sound microchips that deliver the most definitive audio quality for video conferencing, Zoom, Skype chats, and gaming pleasure.
The built-in condenser transducer in the microphone makes your speech so clear that your students pick up on every detail you provide. The microphone's all-encompassing shield is constructed of an iron capsule, an acrylic mirror, and zinc alloy metal, ensuring outstanding sound quality free of noise and distractions.
The MAONO microphone is extremely professional and elevates the parameters of your online teaching to a whole new level. You're probably falling in love with online teaching even more now that this microphone provides the best service ever.
13. Neewer NW-700 Professional Microphone
Would you like to try out a professional microphone mounted on a scissor arm stand? This condenser electric microphone of Neewer Store provides consistent performance in various circumstances and usage environments.
What makes the Neewer NW-700 Microphone distinctive is that it is a directional kind capable of fully capturing and reproducing premium and realistic sounds typically associated with microphones costing far more. It utilizes a Cardioid Pick-up Pattern, which results in a much more crystal clear sound. Additionally, the pop filter aids in this endeavor.
Because of its excellent audio quality, this microphone is ideal for online teaching and other live recordings. However, as a whole, this set performs admirably in any setting and comes at an affordable price. This microphone model is not to be overlooked. You've got it all: podcasting, dubbing, singing, recording, meeting up and chatting.
Final Thoughts
Choosing a microphone for online teaching via webcam does not have to be a difficult procedure fraught with specifications and technical jargon. All you need is a great plug-and-play device that captures clear audio quality, has little background noise, and is reasonably priced. The move from classroom to online teaching is difficult enough; selecting a microphone should be a relatively simple task that improves your teaching game and helps you to engage students like never before.
That concludes our discussion of the finest mics for online teachers. If you currently own a headset with a built-in microphone, we recommend skipping the external microphone unless you want to significantly improve your audio quality. If you'd rather invest in a more premium pair of headphones, consider purchasing an external USB microphone. They have a noticeable effect on the audio quality.