"When you buy through links on aneverydaystory.com, We may earn an affiliate commission."
As online teaching continues to be popular, it is critical to ensure that teachers have high-quality recording equipment while recording their lectures on the internet. If you're planning on working with pupils or uploading lectures on the internet, you might wish to investigate the many cameras available to help you complete the task.
Long-recording video cameras for classes and meetings have become an invaluable tool in the age of video lectures, virtual meetings, and interactive experiences. They are now considered essential tools for the modern teacher, teaching assistant, and even business owner.
Whether you're working with collaborative learning or flipped classroom concepts or just want to improve your whiteboard records, you'll need to consider which camcorder or camcorders will be most appropriate for your needs and budget. Classroom videography, talking heads, whiteboard recording, and other scenarios are most frequently encountered.
Listed below are my top selections for the best long-term recording video cameras for use in classes, lectures, conferences, corporate training sessions, and other settings: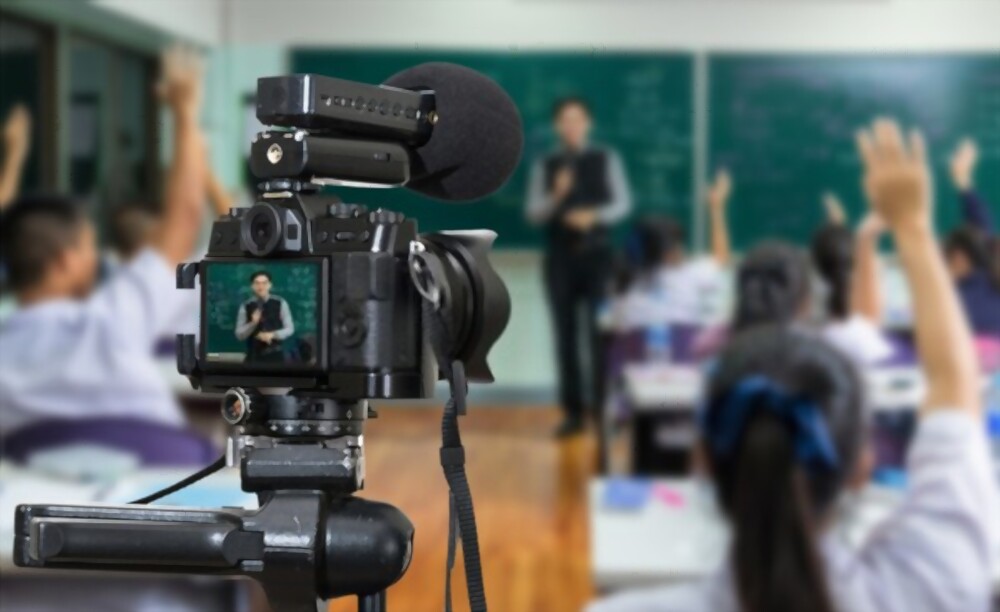 1. Panasonic Full HD Video Camera Camcorder HC-V770
What's on the inside:
– An incredible 20X magnification power.
– The ability to erase bright spots with a high dynamic range.
– The PiP video effect may be achieved by simply connecting your smartphone's camera to the Wireless Twin app.
– Slow-motion Video in High Definition
– Audio recordings made with a Wind Shield Zoom Microphone are the highest possible quality.
In addition, the camera from Panasonic Store has a unique feature called 'WiFi twin,' which enables the user to film a whole separate scene with a phone or tablet camera and then add it to the video as a "picture in picture." Aspects of this device that I particularly appreciate include the clever zoom and night vision capabilities. When shooting outside, you'll receive a wind-shielded microphone to help reduce background noise.
The downside is that, like other Panasonic cameras, this one exhibits some white balance concerns in low light, necessitating a manual color adjustment in unusual circumstances.
It's best used for long-form video lectures, PiP webinars, experimental and laboratory videography, and outdoor videography
2. Sony – HDRCX405 HD Video Recording Handycam Camcorder
What's on the inside:
– ZEISS Lens with a 26.8mm wide-angle focal length
– AVCHD and MP4 formats are available in 1920 x 1080 quality at 60 frames per second.
– An optical zoom that lets you see 30 times as far as normal and 60 times as far as clear.
– Video compilation from a variety of footage is performed automatically.
– Image stabilization using the Optical SteadyShotTM technology
– Face tracking and noise suppression are included.
– Smart Auto mode has 60 different scene combinations to choose from.
XAVCS-HD offers significantly improved depth compared to MP4, which is a significant improvement over the latter. Even though this cam from Sony allows you to seamlessly merge video from numerous recordings, additional software is required for any additional editing.
Although this camera does not support external microphones, the sound quality produced by the camera itself is quite good.
Ideal for capturing video lectures, PiP webinars, shooting experiments and labs, and filming the outdoors.
3. Canon XA11 Professional Camcorder
What's on the inside:
– A high-definition optical zoom with a 20x magnification.
– Image sensor with improved high-definition CMOS Pro performance and improved low-light performance
– Full-HD recording at 1920 x 1080 pixels
– SD card slots on both sides
– Priority Mode is highlighted.
– Data transfer capabilities via WiFi and FTP
– The screen is 3.5 inches in size and has a contrast ratio of 10,000:1.
– Gamma of 600 percent in terms of DR
The dual card is a true tradeoff because you can easily split 1080p and, say, 480p and prevent further transcoding for web publishing. This is what distinguishes this Canon camera as a multi-scenario tool. And, yes, the lighting is adequate for this budget-friendly alternative. I ran this camera through its paces in various darkened bunkers, lecture halls, and dark outdoor settings, and it passed with flying colors.
Perhaps the input/output area is a touch disorganized and could benefit from some organization. Aside from that, it's the real deal.
Shooting activities in the classroom, interviews, and presentations without worrying about low light situations is possible.
4. Sony HXR-MC2500 Shoulder Mount AVCHD Camcorder
What's on the inside:
– Sony G Lens with a wide-angle focal length of 26.8mm
– Excellent image integrity, with a 12x zoom.
– 1/4-inch Exmor R CMOS back-illuminated sensor
Low light sensitivity and autofocus performance are provided on par with industry standards.
– Video storage is provided via a built-in 32GB SSD drive.
With its excellent light attributes, long-lasting battery, and dependable Flash drive, this is a traditional semi-pro camera from Amazon Renewed Store that will keep you shooting for a long time without requiring a recharge.
As a perfectionist, you can go for a stand-alone microphone, but that's all up to personal preference. The majority of consumers are delighted with the sound quality of the product. Because the cam is not particularly lightweight, you'll want to be sure you have a sturdy mounting system.
Family videos, classroom videotaping, and outdoor activities are all options.
5. Kimire Digital Camera Recorder Full HD 1080P
What's on the inside:
– The video resolution is 1920 x 1080 (15 frames per second).
– Images with a resolution of 24M (6000 x 4500 pixels) are available.
– Zooming in with a digital zoom of 16 times
– A camcorder with a built-in flash
– Self-timer and webcam capabilities are included.
When utilizing the digital camcorder from Kimire brand, you can achieve a 270-degree rotation. A 3-inch LCD screen allows you to keep track of movements and visual displays to guarantee that everything is visible when recording lectures.
With a 16X Digital Zoom, it's as simple as can be! Up to 90 minutes of recording time is possible when the battery is completely charged. Fortunately, the Kimire's battery can be charged while in use, greatly extending its usefulness.
If you need to make any adjustments or simply want a break, you can pause recording with this camcorder while a classroom lesson is taking place. It's easier to record sound with a built-in microphone since it captures all of it.
6. Logitech Conference Cam BCC950
What's on the inside:
– Microphone with noise-canceling technology.
– A built-in speakerphone is included.
– 1080p video recording is supported.
– Remote for altering the camera's settings and using its most important features.
– A high-precision lens produces excellent resolution.
– Compatible with both Macintosh and PC platforms.
This camera from Logitech Store has a wide and strong base to record you for long periods and focus on your face or a whiteboard in the background. The integrated noise-canceling microphone cancels all background noises, leaving only your voice audible to viewers. You can walk freely within the room with the provided remote. The remote control enables you to alter the camera's position and other basic settings to focus on specific areas or objects. Additionally, I appreciate the 1080p resolution required for web recording. It ensures that the content you edit and share with your viewers is crystal clear.
Expect less from this camera than you do from others. Despite its high price, it lacks the features found on some more affordable cameras. You may discover that it generates an echo that overpowers your speech or that it is difficult to attach it to audio equipment.
7. SEREE Night Vision Vlogging Camera Recorder
What's on the inside:
– Camcorder with 24MP and 1080P Full HD Resolution
– Support for an external microphone and infrared night vision
– A USB cable can be used to connect the vlogging camera to the computer.
– Long video recording can be interrupted at any moment and continued from where you left off without having to create a new file.
– Full HD 1080p (30 frames per second) video and a 24MP picture.
Our next product is the SEREE R Night Vision, a high-definition but simple-to-use video camera from Seree Brand that can be used to record lessons in the classroom. Among the many functions available on this camera is a night vision option that allows you to record even when the surroundings are completely dark. Additionally, the camera has a time-lapse feature and can record while charging.
In addition to recording scientific experiments for middle and high school kids, this camera would be ideal for capturing other types of learning video content, such as creating instructional videos for teachers. The camera is very small and lightweight, weighing only ten ounces. This makes it convenient to transport whether you're recording lectures while on the road or at a conference.
Although this camera's video quality is excellent, a microphone is not included, so you need to purchase one separately.
8. Yisence Tech Video Camera Camcorder
What's on the inside:
– Video resolution of 2688x1520p(30FPS) and image pixel resolution of 42.0MP JPEG are supported.
– Vlogging camera has an LED Fill Light capability that can fill light in the dark when there is little or no light
– Two 1500mAh batteries power the digital camera.
– The digital camera has a 3.0-inch LCD screen and a 270-degree rotation feature.
– Allow the use of an extra 37mm telephoto lens.
The Yisence Tech Camcorder, a superb camera for everyday usage, is seen here. This camcorder is equipped with a slew of capabilities, including a webcam and the ability to transmit live video to the internet. It also comes with remote control, allowing you to operate the camera without having to take your hands off the wheel.
To save time while preparing for a lesson, the remote control of this camera is undoubtedly the most useful feature. Turning on the camera with the remote off-screen saves you from having to remove footage of you walking to and from it. With two batteries, it can run for longer periods on the road.
Even though this camcorder is excellent, it does not have attachments other than a remote control and batteries. To use an external lens or tripod, you must purchase these items individually.
9. LUAZHECT Camera Camcorder 2.7K 30FPS 36MP 16X
What's on the inside:
– 2.7K Full HD Camcorder with 36MP Digital Camera
– YouTube Vlogging Camera with a Variety of Functions.
– Infrared Night Vision Video Camera.
– Utilizing the accompanying USB cord, it can be used as a webcam.
– Two Batteries Recording While Camcorder Is Charging Using 2.4G Remote Control
Here we have LUAZHECT 2.7k, a camera from Luazhect that can be used at home and on the go. The LUAZHECT camcorder contains a 3-inch flip screen, a zoom lens, and a built-in microphone. The camera comes with two batteries that may be recharged and remote control.
This camcorder has a wide range of video features, including slow motion and time-lapse, which can help teachers be more creative in their lesson plans. Slow-motion videos could demonstrate physics principles for middle and high school pupils. Because it has so many simple-to-use capabilities, this camera allows for creativity even when not in use.
Some folks may find the reversed screen functionality irritating while filming. If this happens to you, attempt to stare directly into the camera's lens as if you were speaking to your students.
10. HAOHUNT Video Camera Camcorder
What's on the inside:
– Video Camera with Full HD 1080P Resolution.
– The small camera and light, measuring only 120x50x55mm and weighs only 260g.
– Pause and record while the battery is charging.
– AVI and JPEG formats are supported by the video camera, which has a 1080P video resolution and a 24M image resolution.
– A vlogging camera can double as a webcam.
Here we have the Video Camera Camcorder from HAOHUNT, a camera equipped with a plethora of capabilities. This camcorder can record 1080p films and features an optical zoom of up to 16x. Additionally, it features a self-timer, a webcam, and anti-shake functionality.
This camera includes a television output, which would be ideal if you taught in a classroom environment using pre-recorded courses. It's also small and light, making it excellent for outdoor and on-the-go filming, as well as a long-lasting camera. It is great for online education because it can also function as a webcam.
Although this camera includes a battery, it does not have a remote control. There is, however, the possibility to configure a self-timer if you dislike spending excessive time editing!