"When you buy through links on aneverydaystory.com, We may earn an affiliate commission."
Middle school is a great time to play games that help reinforce important reading and writing skills. These ELA games will keep students engaged as they develop an understanding of vocabulary, comprehension, spelling, and more. Many English Language Arts teachers have struggled to find a list of challenging game ideas for their lessons with middle schoolers.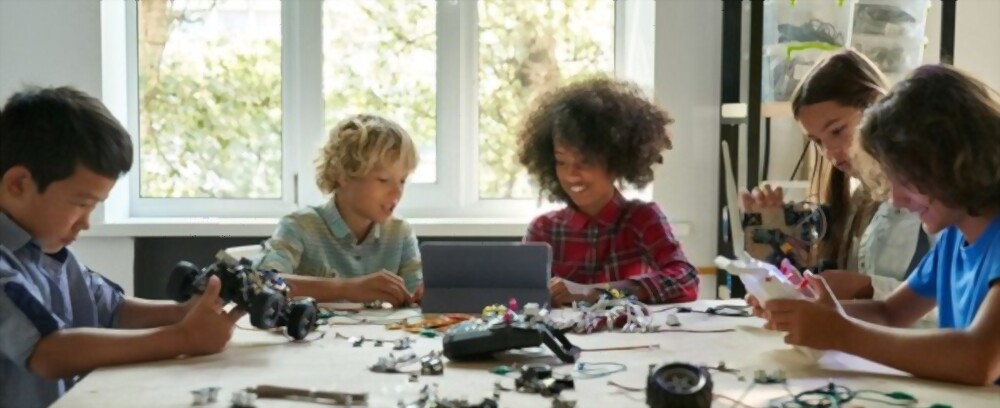 If you're looking for a fun way to engage your middle-grade students in the subject of English language arts, look no further than these 20 games! I've included everything from adaptations of classic trivia games to interactive word scrambles. You can use any of these games in your classroom as a way to get students speaking and exploring their ideas. Some games also work well for differentiated lessons and could provide opportunities for extra challenges based on the needs of your class.
1. Board Race
I know hardly a single EFL instructor who does not incorporate this game into their classroom instruction. Board Race is a fun game for revising vocabulary, whether terms from the most recent lesson you taught or words from a previous week's session. Additionally, it can be utilized at the beginning of the lesson to get pupils moving. It's an excellent approach to assessing your pupils' prior knowledge of the subject you're about to teach.
This is best played with six or more pupils – the more, the merrier. I've used it in classes with students ranging in age from 7 to 25, and it's worked well in all age groups.
2. Hot Wad: Parts of Speech Game
Vocabulary practice with a twist on a hot potato! On pieces of paper, jot out various objectives for children to accomplish! Then gather the scraps into a ball. Assemble pupils in a circle and turn on some music. Students circulate the ball in a clockwise direction until the music ends. The person holding the ball must unwrap a scrap of paper from it.
The teacher speaks a word to the youngster, and the player responds. For instance, what grammatical category is it?! If the player properly responds, he or she remains in the game. You can write sight words on scratch paper for younger kids. Students must state the word that they unwrap!
3. Vocabulary Pictionary
The English language arts teachers are continuously challenged to expand their pupils' vocabularies if you're rushing through lists of SAT terms this year, schedule time for revision with your kids every few weeks by playing vocabulary Pictionary.
Simply divide your lists into heaps of words. Divide pupils into groups and then into teams. Distribute paper, pencils, and cards to each player and explain how Pictionary works.
Each team will examine the identity card, call "go," and begin drawing. The team that correctly guesses the vocabulary word first earns a point. When the game is declared over, the team with the most points wins.
4. Word Wheel
This engaging game allows children to communicate and hone their linguistic skills! Simply toss vocabulary terms into a lunch bag for the activity. Students spin the game's spinner and then draw a word. Once they receive their message, the adventure truly begins!
Students express themselves through acting, drawing, rhyming, or defining their terms. Additionally, they may be required to use it in a sentence, identify the part of speech it belongs to, or provide a synonym or antonym. It's a chance game! To download and print the spinner and a recording sheet, go here.
5. Charades
Students in both middle school and primary school will enjoy this charade game. Individual sheets of paper with vocabulary terms should be placed in a box. Divide the class into teams and have your students pick the pieces of paper one at a time, acting out the words for their teammates to guess. 15-30 minutes of this interesting game will provide your kids with a necessary brain break while they continue to learn.
6. Reading Bingo
Are you looking to encourage students to try new novels in your independent reading library? Create some enjoyable Bingo cards, including titles you recommend, and include a little bonus for completion. Make reading more pleasant for your children by using these seven entertaining independent reading bingo cards. Simply choose a fun award and distribute the cards. Then let your students astound you with their reading abilities! Additionally, you can develop genre cards to encourage kids to explore new genres. I prefer to award a little prize for bingo and a larger one for a completely blacked-out card.
7. Call My Bluff – Two Truths and A Lie
Call My Bluff is a fun game ideal for the beginning of the semester as a 'getting to know you' game. It's also an excellent icebreaker for students unfamiliar with one another, which is especially important if you teach a small class size.
The game is great for training speaking skills, but make sure you leave time afterward to comment on any faults students made during the game. (I like to do this after the game to avoid interfering with their fluency by correcting them as they talk.)
With older groups, you may have a lot of fun, and you might be surprised at what you discover about some of your pupils when playing this EFL game.
8. Interactive Story-Telling
Interactive stories are tremendously entertaining! First, have students collaborate on a Google Doc with a humorous prompt by taking turns writing line-by-line stories in the document.
As an alternative, you may accomplish this orally at a Google Meet or Zoom session by the time each storyteller for 30 seconds to a minute for each storyteller. The next storyteller begins up where the previous one left off, and they must continue the plotline based on what they have already heard from the previous storytellers.
You may make it more interactive by holding contests for the most amusing, well-written, and original group stories.
9. Simon Says
Simon says is a fantastic game for young learners to play. If you're sending them home on a Friday afternoon or getting them up in the morning on a Monday morning, this one is sure to have them energized and wanting more. The one hazard I've discovered with this game is that pupils cannot put it down once they've started playing it.
10. Build A Story: Collaboration Game
This is a fantastic game for small children. Whether you're rousing them in the morning on a Monday or sending a fun socialization game, engage pupils and inspire them to write! Throughout the room, scatter random nouns, verbs, and adjectives. Each student must locate one of each. If the activity is being conducted with younger kids, the components of speech can be color-coded.
Once each student has a partner, they begin collaborating on an original story that incorporates their nouns, verbs, and adjectives. They must develop a central character, a place, and a storyline for their story and develop a structure for it. What happened first, then what happened next, and finally, what happened last? What is the primary focus of the narrative? This one is certain to pique their interest and leave them craving more. The only downside to this game that I've discovered is that pupils will never want to quit playing it.
11. Balderdash
Even if you don't have a board game, you can still play Balderdash with your school pupils. Divide your students into four halves and give each section five dictionary words to write down on separate slips of paper for each group. Distribute the scraps of paper evenly among the bowls of each squad.
The game is simple to play and enjoyable; one team member reads a word from the bowl, and their teammates jot down their interpretation of the phrase — encourage your pupils to be as goofy and creative as possible with the writing prompts. The reader can vote for the team member whose definition was the most accurate.
12. Word Jumble Race
Using this word jumble race game in the classroom to build teamwork and instill a sense of competition among kids may be a great learning experience. Who cares how old you are; we all appreciate a good competition, and this game is popular among people of all ages, particularly children. In addition to verb tenses and word order, it is beneficial for developing reading and writing skills and understanding grammar and punctuation.
13. Beach Ball Discussions
If you haven't come across this delightful concept on Pinterest yet, I'm glad to share it. Simply get a cheap inflatable striped ball and write some essential questions that may be utilized for any content. Then, when discussion time arrives, toss it into the air and allow a student to ask the first question they see upon catching it.
When the time comes for the next inquiry, re-pose it; alternatively, you might have the catcher pose and respond to a question. Alternatively, create another iteration. Remember that you cannot disconnect as a student when a beach ball is hurtling through the air above you!
14. Escape Rooms
Escape rooms are incredibly popular, but there's absolutely no reason you can't create one in your class. Choose a fun theme for your space (e.g., Egypt, Alcatraz Prison, a Viking village) and work creating the space. Once it's completed, students will be asked to complete the tasks independently (as a group) or in pairs.
This year, escape rooms have become extremely popular. Students can race around the room to find hidden clues, solve puzzles, and finally discover the prize if you set up a time limit. While they need an initial investment of effort to become familiar with how they operate, there is a reason for the widespread interest.
15. Kahoot!
Kahoot is an incredibly simple tool for creating quizzes for your students. Create an account and a quiz, and then students can log in and compete live in your classroom. You must check out a one-on-one classroom if you're taking classes there.
You can construct discussion warm-up quizzes based on the night's reading, vocabulary refresher quizzes before actual quizzes, and even pre-test quizzes to gauge students' prior knowledge going into a unit. Once you've gained some familiarity with Kahoot, you'll notice numerous ways to incorporate it into your curriculum.
16. Mr. Nussbaum Language Art Games
Mr. Naussbaum's website includes games and learning exercises from every subject area for students of all ages and grade levels. It includes language art activities, punctuation and sentence puzzles, historical text structures, spelling, and other educational resources, among other things.
17. Hangman
Hangman is a classic game of vocabulary and will hold students' attention while at the same time practicing their reading skills. The words are taken from popular culture, making it a perfect fun interactive game for younger children.
This popular game is a favorite of all pupils, although it might become monotonous after a short period. This game is best played for 5 minutes at the beginning of the class to get everyone warmed up, or for 5 minutes at the conclusion if you have any extra time. It is effective regardless of the number of students in the class.
18. Hunts
When a prize is tied to these classroom activities, you can expect your pupils to put forth their best effort to complete the quest. Puzzles that engage their critical thinking skills and team exercises to improve their communication and listening skills can help make the activity more enjoyable.
19. The Mime
Miming is a fantastic tool for students to practice their verb tenses and their verbs simultaneously. A teacher who has limited resources or planning time and those who wish to break up a longer class with something more engaging may benefit from this activity as well. It may be adapted to nearly any linguistic issue that you might be concentrating on at the time.
This game can be played with any age group, though adults will likely become bored with it far more quickly than children. To keep them interested, make as many connections as you can between what they will mimic and your group's particular interests.
20. Word Clouds
It's easy to overlook a word cloud when deciphering the deeper meaning contained inside a text passage. It's a simple application that you might have dismissed as "nice fluff" rather than a "helpful academic tool" while looking for the deeper meaning in a text passage. Most word cloud algorithms operate in the same, straightforward manner; the greater a word is in the cloud, the more frequently it is used in the text. A quick glimpse at a cloud might provide a quick preview of a section or allow you to examine language. So, what does this mean for the courses that you teach?