Engineers make up the backbone of our society, and we must support young people in their efforts to serve as tomorrow's best and brightest problem solvers. To that end, we've compiled a list of 25 engineering kits for high school students, so they can explore the world of design and problem solving with hands-on experiments. These kits cover all the bases from robotics to circuitry to constructing bridges.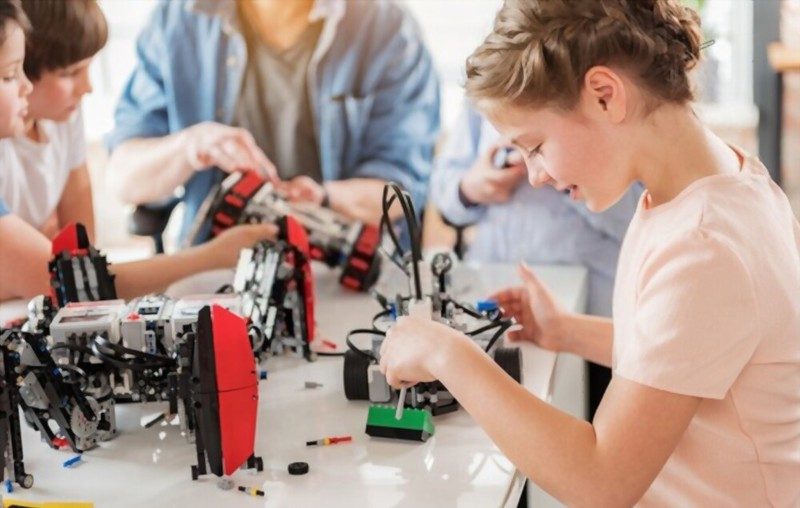 Whether you're looking for an exciting science project or want to teach your child about taking care of their environment through eco-friendly engineering projects (or both!), these kits are perfect for any ambitious youth who wants to learn and grow with STEM experiments. If you're a high schooler interested in engineering, this list of 25 Engineering kits will help you build simple models and get your ideas together for the next great project.
1. Elegoo Uno R3 Project Smart Robot Car Kit
Currently, STEM is one of the fastest-growing disciplines of business and education. This acronym stands for science, technology, engineering, and math. The STEM areas are in high demand, but how can you get into them without breaking the bank? Here are some suggestions. The UNO R3 Smart Robot Car Kit from Elegoo Store will assist in developing hands-on programming abilities, knowledge of electronics engineering, and understanding of robotics. There are 24 different types of module parts in the kit, which may be controlled via IOS and Android devices.
2. Owi Inc Elenco Teach Tech "Hydrobot Arm Kit"
The new HydroBot Arm Kit from OWI Inc Store is certain to excite young engineers. Because it is propelled by water, there is no need for a motor! They can manipulate the multi-axis arm using levers and hydraulic power. Everyone may benefit from a helping hand every now and then! While constructing an operational, functional arm with this kit, students will be able to apply and demonstrate a thorough understanding of fluid hydraulics and simple machine core ideas.
3. Thames & Kosmos Wind Power V4.0 STEM Experiment Kit
To harness the power of the wind, build a real wind turbine. The wind is among the most promising options available today in terms of clean, renewable energy. From the ground up, your pupils will be able to construct a wind-powered generator. This kit from Thames & Kosmos is an illustrated step-by-step handbook that guides students through the building process. Aside from that, it provides advice on blade design and delivers innovative ideas.
4. 4M 4574 Brush Robot DIY Science Engineering Robotics Kit
With the Engineering Robotics Kit from 4M Store, you can assemble a robotic brush and then leave it to clean up spills. In a fun and interactive way, the 4M Brush Robot teaches impressionable students about the scientific research of robotics. There are no extra tools or knowledge requirements because the kit includes thorough instructions and all of the necessary components. Especially suitable for young science enthusiasts, particularly those with a passion for robots. Recommended for children aged 8 and up.
5. 4M Paper Circuit Science Kit
Utilizing this incredible kit, you will learn the fundamentals of electrical circuitry. Learn how to transform cardboard into an intruder alarm, a desk lamp, and other useful items using your newfound expertise. This is a complete set of parts, and detailed instructions are given to complete the project.
6. Electronics Exploration Kit
One of Snap Circuits starter STEM kits has 14 parts and more than 20 projects that teach students about fundamental circuitry. The supplied color manual was specifically designed for "engineers" under 15. An abundance of step-by-step illustrations and few words. In addition to the circuit's technology, each snap circuit set includes additional safety features embedded into the parts. Learning about electronics and building circuits is a fun and educational experience for young engineers.
7. Tinkering Labs Robotics Engineering Kit
The Tinkering Labs Electric Motors Catalyst STEM Kit will let you unleash your inner inventor. Teachers and parents worldwide have been inspired by the TED presentations of the education visionaries who founded San Francisco's Brightworks School and created the initial Tinkering kit. Kids ages 8 to 12 can build their own DIY robotics kits, but adults can get in on the fun. As soon as you've completed the 10 challenges, you're free to start brainstorming your own ideas!
8. Circuit Cubes Mechs Move
With Circuit Cubes, you can bring your toys to life by adding electricity, motion, and light to them. Circuit Cubes, developed by STEM educators, can switch on a light, power a motor, or spin wheels, and they're compatible with your beloved LEGO bricks. Using Circuit Cubes is a fun approach for students to learn about the fundamentals of STEM. They encourage children to use their curiosity and imagination to find new things.
9. Kuman Complete Starter Kit with Detailed Tutorial and Reliable Components
Manufacturer and exporter Kuman specializes in the design, development, and production of Learning Kits and Tools and the marketing of these products. Electrical engineering students will find this Elegoo kit ideal for their research projects. It's an excellent teaching tool that may be adapted for use in a distant learning setting with no difficulty.
10. Engino Discovering STEM Structures Constructions & Bridges
In high school physics class, nearly everyone was required to participate in a bridge project. You construct a bridge capable of supporting the appropriate weight using popsicle sticks or wooden dowel rods. The Discovering STEM Structural and Bridge Kit from Engino Store makes your bridge-building skills even better. This kit includes nine alternative bridge designs that demonstrate the many sorts of forces used in the construction of bridges and other structures to maintain their weight.
11. Strawbees Imagination Kit
Construction toys by Strawbees are award-winning toys that attempt to spark children's imaginations while making STEM learning enjoyable. The Imagination Kit is an excellent choice for anyone who appreciates problem-solving in a creative manner. It includes 400 pieces and 105 challenge cards, and a journal to jot down ideas.
12. Thames & Kosmos Hydropower Science Kit
You might ask what water and energy have to do with STEM or even engineering you might ask? Everything. The Thames and Kosmos Hydropower Science Kit teach children about the utilization of alternative renewable energy sources. This kit, which includes 12 experiments and building projects, uses water energy to power the mechanical components. The final outcome is the illumination of an LED.
13. Snap Circuits Light Electronics Exploration Kit
Check out what the new Snap Circuits LIGHT can do with your music and be impressed by what you can achieve. Connect your iPhone or other mobile device and enjoy your music while the lights change in time to the beat of the music. The visual effects produced by the strobe light with rotating patterns will wow you.
14. SpaceRail Game 60,000mm Rail
Don't give up on your goal of mastering SpaceRail! This vast and challenging sixth-level advanced set provides many different routes for your marble to follow. These routes include a screw conveyor as well as a vertical corkscrew. SpaceRail is the pinnacle of indoor amusement. If you're a physics teacher or an experienced Lego builder, this set is for you.
15. 4M 3782 Green Science Solar Rover Kit
It's easy for kids to learn solar energy with this 4M Solar Rover Kit. Create a solar-powered rover using a repurposed Coke can. This kit contains everything you'll need to start from scratch and build a solar-powered automobile. It comes with step-by-step instructions. A young physicist interested in mechanics and alternative energy sources will find this device ideal. Ages 8 and up are recommended.
16. Elenco Practical Soldering Project Kit
As a result of this soldering practice project, you'll learn how to solder properly, become familiar with a range of electronic components, and create a two-tone European siren. Multivibrator circuits, like this one can be built with this kit. Every electronic technician will one day have to work with printed circuit boards. When dealing with printed circuit boards, whether you're building or repairing them, you need to be familiar with the fundamentals of working with these devices.
17. Rokr 3D Wooden Puzzle for Adults Model Kit Marble Run Craft Set
A work of art from ROKR Store that you may construct yourself! Wooden substance in the traditional sense, retro design resembling a waterwheel. If you're in the market for a three-dimensional puzzle, this classic model kit is a must-have! Through gears and organs, they work in unison. The steel marbles will go along the track when the hand crank is turned. A compelling illustration of the importance of mechanical education.
18. Stem Robot Building Kits
The coding robot toys for children, your kids can put it together in two hours and drive it around the home, exercising their brains and hands! Build a movement chain by dragging and dropping icons that represent various functions, such as timers or switches. This is a terrific STEM project from GP TOYS Store for kids aged 8-12, and it's easy to use.
19. Makeblock mBot Ultimate Robot Kit
The Makeblock platform's flagship robot kit, the Ultimate, offers a wealth of functionality and excellent interoperability. Learning mechanical structures, electronic modules, and programming skills are easier with this device's help. Over 160 mechanical components and modules make up the most complex robotic kit, Ultimate.
20. Korg littleBits Synth Kit
The Synth Kit is a powerful yet simple-to-use modular synthesizer that will assist you in bringing out your inner rock star. The Synth Kit, which was developed in collaboration with Korg, makes it simple for amateur and professional musicians to experiment with the classic synthesizer instrument. This enables you to create interesting new sounds and create your own infinitely configurable and extendable analog modular instrument with this method.
21. Horizon Fuel Cell Technologies Fuel Cell Car Science Kit
The educational materials offered by Horizon demonstrate the science behind renewable energy technology in an engaging and tactile way that is suitable for all ages and abilities. As technology continues to develop toward carbon-free energy systems, the ability to innovate is being placed in the hands of our next generation of scientists. The beginning of a clean energy future begins today in classrooms worldwide.
22. Teenii Electricity and Magnetism Experiment Kit
This kit from Teenii Store is a wonderful present for children who want to learn about and understand the science and mathematics that underpin electricity and magnetic attraction. The documentation that comes with the kit also has straightforward but succinct descriptions of each included element. Everything you need includes a voltage meter, an ampere meter, a tiny light bulb, a generator, a motor, and magnets. Simply follow the directions to conduct various experiments and discover new things about the world.
23. Topstronggear 8 Gauge Complete Amp Kit
This is the ideal supplement if you are a high school science teacher. It will walk your pupils through the process of designing a speaker with this hands-on learning kit. Rather than simply reading about the science behind why speakers work, students can create their own speaker from scratch. The kit from TOPSTRONGGEAR Store is well suited for students at an advanced level of secondary school, as it assumes an interest in electrical engineering and physics.
24. Smithsonian Mega Science Lab Multi
Discover everything from volcanoes to the weather, crystal growth, dinosaur bones, microscopic science, and outer space with this multi-lab science set! This is a truly comprehensive science package. A true scientific sampler that includes incredible adventures. It is risk-free and simple to complete. There are step-by-step instructions supplied.
25. Engino Discovering Stem: Levers, Linkages & Structures Building Kit
Using a minimal number of components, the Engino system allows youngsters to make simple or complicated models in a short period. Applying a greater amount of force can be accomplished by using levers. Learn how to construct models with an intricate motion by connecting many levers, and then apply what you've learned to diverse machinery.
26. Thames & Kosmos Biology Genetics and DNA Multicolor
Learn about genetics, the branch of biology that deals with heredity and variation, and DNA, the acid that stores the blueprints for life, in a hands-on experiment in the lab. In a test tube, you can see the DNA of the tomato in action as you isolate it. Learn about how traits are handed down from parents to their children by studying inheritance. For more information on the inheritance process and how qualities are passed down through the generations, look at these fun games on inheritance.