"When you buy through links on aneverydaystory.com, We may earn an affiliate commission."
There are many ways that a math bulletin board can be created to make the subject come alive for your students. Math is an important subject to learn and one of the reasons why teachers do all they can to help their students retain knowledge.
There are many great sites on the internet where teachers can find bulletin boards that will work well in their own classroom. We have put together a list of the 26 best math bulletin boards we found on the internet that are creative and unique.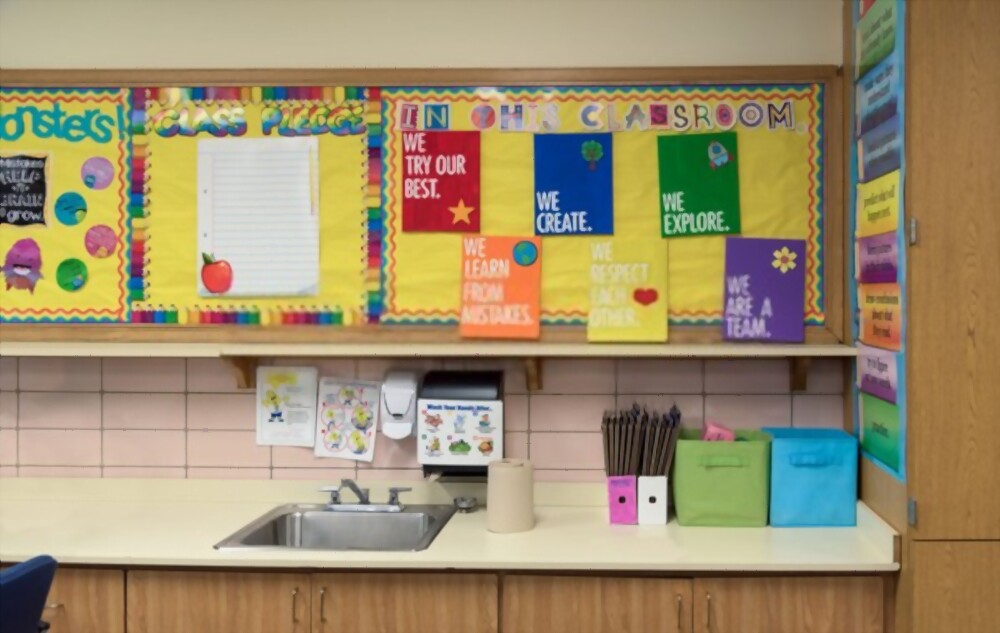 This list is not complete and does not include all of the math bulletin boards we found on the internet. The list includes the best ones that stood out to us and have been used in our classroom. These bulletin boards can be created for almost any grade level and are great resources for teachers to use in their own classrooms!
1. MATH TALK
This bulletin board is a super cute way to help remind students of the four math processes they are learning in math. The board provides the keywords for addition, subtraction, multiplication, and division which are sure to come in handy as they solve word problems.
Learn more: A Touch of Class Teaching/Math Talk
2. What's The Pattern
"What's The Pattern" bulletin boards teaches students about Pascal's triangle in an interactive way with the help of the numbers and a simple pattern.
Learn more: Learn with Math Games/What's The Pattern
3. Operation: Equation
Operation: Equation is a math game that helps students practice the fundamental skills of algebra. The game board consists of an equation grid for practicing linear equations, quadratic equations, and polynomials. Students are given different numbers and have to move those numbers on the grid to the appropriate pockets depending on what type of equation they are representing.
Learn more: Learn with Math Games/Operation Equation
4. Math Alphabet Word Wall
Many teachers use a math-themed alphabet to reinforce the definitions of 26 math concepts. This is an alphabet with one letter per day of a week, and each letter stands for something in math.
Learn more: Math in Demand
5. Coordinate Graph
The Coordinate Graph is a bulletin board used to graph linear equations using lines. Lines are drawn between points in the coordinate plane that correspond with each other by having an x value equal in magnitude but opposite in sign.
Learn more: Coordinate Graph
6. MATH BOGGLE BOARD
A math boggle board is a grid-shaped display of random numbers on which students will use touching numbers (one large number on top, several small numbers in between) as well as touching arrows (to link the small numbers together) to create number sentences.
Learn more: The Routty Math Teacher/MATH BOGGLE BOARD
7. Ice Cream Project
If you've ever had a hard time getting your students to absorb math concepts, then here's an idea for a bulletin board that will make student progress—and ice cream! This project is especially suited for kindergarten and first-grade students because it engages them in looking at numbers.
Learn more: bluebonnethome/Ice Cream Project
8. Time Conversions
The time conversion posters on this math bulletin board are both colorful and useful. With a list of different time conversions printed on the poster, students can learn how to convert minutes and seconds into hours, days, weeks, and months.
Learn more: My Math Resources/Time Conversions
9. Equation Rainbow
If you're like me and think that math is boring, then the equation rainbow math bulletin board for kid will be just what your students need to have their eyes light up. The equations that they have to solve can get complicated at times, but the reward is worth it. Your students can find the gold at the end of the rainbow by solving each equation correctly. The path that leads them there is the color that leads to their gold.
Learn more: equation rainbow
10. Can You Find Your Shape?
A shape math bulletin board for kids is a great way to introduce shapes for pre-kindergarten and kindergarten-aged children. This can be fun and interactive for their little minds.
Learn more: The Class Room Creative/Can You Find Your Shape?
11. Wanted Polygons
For teachers, especially those teaching geometry, a Wanted Polygons bulletin board is a great educational tool. Students choose one shape to create a wanted poster that includes its definition and the other characteristic information. They are then placed on the board to become learning tools for other students who are doing homework or studying for an upcoming test.
Learn more: _thepointlesspencil/Wanted Polygons
12. Our New Year Matholutions
It's time to make some resolutions for the new school year! We are excited to help you bring your resolution into reality. Check out our article to see how you can add a bulletin board this year. Our New Year Matholutions Math Bulletin Boards will create a fun party-themed bulletin board celebrating all these future improvements.
Learn more: Scaffolded.math
13. Place Value
Bulletin boards are an excellent way of demonstrating math concepts and these bulletin boards on place value help children understand this tricky concept while making it both easy and fun.
Learn more: Gwschoolsupply
14. Fraction Mania!
Fraction Mania is a bulletin board for kids learning about numbers and fractions. It features weekly challenges and reviews that are designed to help kids practice their fraction knowledge. The bulletin board also provides a great place to ask your fraction questions and find resources with answers.
Learn more: Supply Me/Fraction Mania!
15. Odd And Even Street
If your kids are already counting down the days until Halloween, then they're probably also looking forward to all of the costume parties and decorations in school. Aside from those fun items that can be used for decorations, there's also a cool math bulletin board idea that will help them practice their math skills too.
Learn more: Supply Me/Odd and Even Street
16. Treasure Math
Treasure Math is a math-themed bulletin board for kids where you can create treasure hunts that have students tackle problems in an interactive and exciting way. While the goal is to have students solve problems, they will get closer to the treasure, which could be anything from a fun math activity as a class or a little extra recess.
Learn more: letsbefranco/Treasure Math
17. How To Learn Math
There are many different ways to help children learn math, and bulletin boards are just one example. However, they can be an especially fun way to keep children engaged while learning difficult concepts. Bulletin boards are a great tool for helping children learn math because they are interactive, creative and fun.
Learn more: Math Equals Love/How to learn math
18. Mind Boggling Math
A mind-boggling math bulletin board for kids! Students who are struggling with their math homework can even find out how to solve their problem. This free math resource is an amazing idea for students and parents.
Learn more: The Teacher Studio/Mind Boggling Math
19. Jump Into Math
It is a very colorful board with a lot of pictures and math facts about math. The board is for kids but anyone can enjoy this bulletin board. I love how the creators of this board tried to include diversity into their creations by putting people from different ethnicities up on the bulletin board. Overall, I think that this bulletin was put together very nicely by including pictures and facts about math that seem to be very important for kids.
Learn more: Aqua Shoes/Jump into Math
20. The Very Clever Counting
The "Counting" bulletin board is a visual representation of the counting sequence and can be used on day one of kindergarten or in the 2nd grade. The variety of colors and activities are sure to provide hours of entertainment for any age.
Learn more: Kailee Chick
21. Math Is Everywhere
The Math Is Everywhere math bulletin board was created by a teacher in a kindergarten class. The goal of the bulletin board is to show and teach the students that math can be used in many different ways, both inside and outside. This will hopefully inspire them to want to do more with math because they see that it isn't just in the classroom! The Math Is Everywhere math bulletin board is full of photos, drawings, and graphs depicting both mathematical concepts as well as real-world applications of mathematics.
Learn more: Middle School Math Man/Math is Everywhere
22. Statistics Suits
Interactive bulletin board for middle school students. For each hand of cards, students are to fill up their sheets exactly as depicted on the board. Each card's value is represented by one of the four aces found at the bottom of the key.
Learn more: Better Bulletin Boards/Statistics Suits
23. Order Of Operations
Order of Operations is a vital concept for upper elementary and middle school math students to grasp. It is an easy way to remember which calculation you should do first in order to come up with the correct answer: Parentheses, Exponents, Multiply and Divide (left-to-right), Add and Subtract (left-to-right).
Learn more: My Math Resources/Order of operations
24. Math Mistakes Error Analysis
The Math Mistakes Error Analysis math bulletin board for kids is just one of the many fun, interactive ways to help kids improve their math skills. By discussing common errors and problems, students learn from and correct each other's mistakes in a safe environment!
Learn more: Math Mistakes Error Analysis
25. Types Of Slope
Math bulletin board for student on the four forms of slope: positive, negative, zero, and undefined (also known as a line segment). It can be used in a classroom or at home to learn about slope and how the different types affect the graph.
Learn more: My Math Resources/Types of Slope
26. Math Word Wall
Many students intuitively associate math with school and consequently think about it as a chore. A word wall may sound like an odd suggestion for a classroom project, but given the importance of language in mathematics, such an undertaking is bound to engage students in the subject. The idea is to create a "Wall of Words" where the posters are words related to math: addition, subtraction, numbers, fractions etc. This not only introduces learners to key vocabulary but also provides them with education on new ways of understanding these concepts through visual representation.
Learn more: Scaffolded Math/math word wall