The majority of teachers are female. Therefore we've put together a special guide for all female instructors out there on the finest teacher tote bags. However, when it comes to male instructors, most of them prefer either a teacher-specific backpack or a messenger bag.
There are more options for messenger bags than there are for backpacks. If you want something that will last longer than a backpack, opting for a messenger bag over a backpack is the way. You will understand why these bags are superior to backpacks by the end of this piece. Continue reading to discover a little more about them.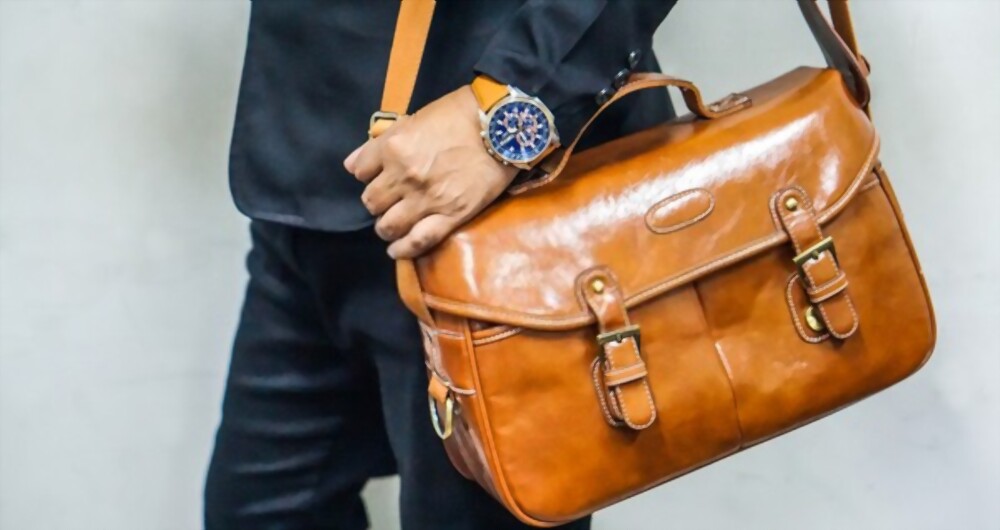 The best messenger bags for men in the education field are often top-notch and consider schools' needs. Men typically need to carry more than females, and these bags are the perfect solution. Messenger bags help you stay organized, look professional, and have everything you need on campus. This post will cover 23 different messenger bag options that we think are worth your time.
1. Targus Laptop Bag
A small, lightweight computer bag that's ideal for workers on the go. This computer bag is meant to protect your device while you're on the go, with its useful compartments, shoulder strap, and high-quality construction. The laptop bags from Targus Store are roomy, with larger compartments for files and a laptop and smaller compartments for notepads, a power bank, etc. There are several ways to carry this bag, including a grab handle, a shoulder strap, and a rear trolley strap. Overall, the density is ideal for optimal protection.
2. Kenneth Cole Messenger Full-Grain Colombian Leather Bag
Kenneth Cole Reaction's 'Risky Business' leather flap-over work messenger bag is a must-have for anyone who needs to carry their business essentials in style. A fully lined interior, a large main compartment that can fit laptops with up to 15.6-inch screens, a full-length zipper accessory pocket, two open-top organizational pockets, and a rear exterior open top pocket for easy access to frequently needed items are just some of the many features that come standard with this bag.
3. Samsonite Colombian Leather Flap-Over Messenger Bag
This bag is ideal for the working professional. A traditional, masculine design will go with any workout attire or casual outfit with ease and will not date. While it may not be the best fit for everyone, this is the bag for you if you prefer to dress in a collared shirt.
This messenger bag from Samsonite Store is spacious and can comfortably accommodate a 15.6-inch laptop (but not larger), books, wires, and headphones without difficulty. Because this is a high-quality leather bag, don't expect any bells and whistles to come with it. This is a high-end messenger bag with a sophisticated design for working professionals.
4. MATEIN Messenger Bag for Men
Because of the soft material from MATEIN used to construct this bag, you will have no shoulder pain! This is especially important for instructors who work in high schools. Carts for instructors to transport their goods from one class to another aren't always the best solution for them. Students wandering from one class to another might make pushing a cart a major hassle. The padded shoulder strap and pen compartments make this a well-worth-while purchase!
5. KROSER Business Messenger Bag
Given the features and appearance of this backpack from KROSER store, it is quite remarkable. With a comfortable shoulder strap that makes long commutes to the office or school a breeze, this messenger bag/laptop bag is ideal for the traveler, teacher, or business work in all of us.
It's waterproof, but it includes RFID compartments, but maybe most importantly for travel. This protects your credit cards from scan theft while you are out and about. While an RFID wallet is preferable, you can feel secure carrying sensitive items such as a credit card or passport in this purse.
6. Floto Novella Roller Buckle Briefcase Messenger Bag in Full Grain Leather
In addition to being composed of full grain Saddle Brown leather, the Novella Roller Buckle Briefcase features a solid brass roller buckle closing. The smooth, high-quality roller bar buckle makes opening and closing this style effortless. This briefcase's calfskin leather was vegetable-tanned in Tuscany to produce rich color tones.
The matte (oil) finish gives it an old-school appearance, and scratches may be quickly recovered by rubbing the leather. This leather purse will soften and develop a gorgeous patina over time. Leather has been used to line the interior of this briefcase for added protection.
7. Ytonet Business Messenger Briefcases for Men
If you have a huge laptop but don't want to spend a fortune on a messenger bag, this is the bag from Ytonet Store for you. Maybe you're looking for a more spacious messenger bag that's still within your budget? If this is the case, the Ytonet briefcase is ideal for you.
This laptop bag is spacious enough to accommodate laptops up to 17 inches in screen size. Even while messenger bags of this size have fallen out of favor in recent years, they are still an excellent choice for teachers and other professionals on the go who prefer a briefcase to a backpack.
8. VASCHY Vintage Briefcase
A great messenger bag from VASCHY Store. With its spacious padded laptop pocket, this is a good alternative for teachers who use 15.6- or 17-inch laptops. It is even large enough to accommodate a 17.3-inch laptop. It has two large zipper pockets, ideal for storing your power bank. It also has two large side pockets, ideal for storing a water bottle. When it comes to teaching, we all require one of these to keep our throats moistened.
9. Cenzo Italian Leather Men's 3 Gusset Briefcase
This briefcase from Cenzo Store is crafted in Italy from polished calfskin leather and brass hardware. Additional bracing was added to ensure that it stands straight when empty. Calfskin leather was vegetable tanned in Tuscany to provide rich color tones, and the semi-gloss finish helps repel stains. Over time, the leather of this bag will soften and develop a beautiful patina. The Cenzo features three gusset compartments measuring 1.75″ deep, an envelope pocket, a back zipper pocket, an interior leather organizer, and a key holder. It is produced in Italy.
10. Cuero DHK 18 Inch Vintage Messenger Bag
The DHK is a high-end messenger bag from Cuero Store that will make your friends envious. This bag is included on the list due to its striking appearance. This bag is great for anyone seeking an eye-catching laptop bag straight out of a western film. This is an excellent choice if you require a large laptop/messenger bag. It's pretty spacious, readily accommodating a 15.6-inch laptop, a tablet, and books and folders. Additionally, it features numerous pockets and zippered compartments.
11. NEWHEY Men's Messenger Bag
The NEWHEY Store has created a functional messenger bag. This bag's zipper closure makes it ideal for storing and protecting your electronic devices. It has a flap that zips over the compartment, which is excellent for keeping your papers from becoming wet as well. Plenty of slot pockets is included in this design. Pens, pencils, and even highlighters can be conveniently stored in them. When it comes to not being organized, there is no longer any need for you to worry.
12. Emissary Laptop Messenger Bag
The Emissary laptop bag is a straightforward leather messenger bag intended for business use. It is available in black or brown. In addition to having the appropriate appearance for an office setting, it is lightweight and spacious enough to accommodate all of your work-related materials. You should consider this alternative if you need something easy to carry your laptop and a few folders but don't want to go with a standard black messenger bag.
13. Taygeer Messenger Shoulder Bag
This bag from Taygeer is designed for teachers who wish to go on a business trip and present at symposiums. When you have a suitable work bag, it will be much easier to carry everything you need. Make use of the large central pocket to store your textbooks. Simply open the front zipper pocket and stuff it with two pens, a mouse, a notepad, and your power banks, then close the zipper pocket. A fantastic option for the traveling instructor because of the ample storage space.
14. IndianHandoArt 10″ Inch Leather Messenger Bag
This bag provides adequate storage space for even the most unorganized teachers to organize their workdays and personal life. It includes three interior access pockets and is crafted of real leather that is water-resistant to keep your belongings safe. The leather accent on this bag has a particular scent that makes it stand out. It's ideal for your electrical devices, and for primary school, we require water resistance as a requirement. This bag fulfills all of those requirements!
15. KomalC 18 Inch Leather briefcase Laptop Messenger Bags for Men
This messenger bag from KomalC Store is made of fine leather. It comes in various colors, is on the larger side, and is an excellent choice for both work and play. If you're looking for a professional messenger bag that can hold a lot of stuff, this bag is a good option.
It accommodates up to a 15.6-inch laptop and has numerous pockets and internal storage, and a phone pocket, allowing you to swiftly and simply organize your teaching supplies. With a shoulder strap and a top handle, this tough leather bag is ideal for someone looking for a long-lasting messenger bag.
16. VanGoddy Laptop Messenger Bag
Designed to look like a briefcase but perform like a messenger bag, the Chrono by VanGoddy is a stylish laptop bag for the modern man on the go. The spacious front outer pocket has a magnetic fold-over closure to easily access preferred items and accessories.
Organize your books, binders, notebooks, and more in the Main Compartment's large storage space. Hook and loop fabric straps attach a laptop in the second compartment, which is padded. An adjustable shoulder strap is included, and a built-in bag strap that can be attached to your rolling baggage for hands-free travel.
17. Amazon Basics 15.6 Inch Laptop and Tablet Case Shoulder Bag
Amazon makes a messenger bag, and it's a pretty excellent messenger bag. This bag is at the top of the list because it is a generic, universally appealing messenger bag from a well-known brand. If you're searching for a simple bag that you can use for work or play, the messenger bag from Amazon Basics is a good option.
A 15.6-inch laptop or smaller is recommended (no 17-inch computers, since they are too large), and it includes two compartments and a strap. As a result, you may separate your laptop from your documents or files in one desk section.
18. XINCADA Canvas Messenger Bag
This messenger shoulder bag from XINCADA Store is composed of high-density cotton canvas that is both wear-resistant and long-lasting. Because it is constructed of high-quality materials, you will be able to enjoy it for an extended period of time. The decent capacity and detachable shoulder strap allow it to be used as a shoulder bag or handbag, depending on your preference. It is an excellent choice for school, business, the outdoors, and even everyday use, among other things.
19. Clifton Heritage Leather Messenger Bag
This bag from Clifton Heritage Store is made of full-grain leather and has enough space to carry a tablet, a laptop, and a few books for the digital educator. This is the ideal teacher utility bag for convenient access. Internal compartments are easily accessible, and the shoulder strap is cushioned and adjustable.
The bag transforms into a fashionable carrying handle when the shoulder strap is removed. A robust handle meets your immediate requirement for grasping and moving rapidly.
20. Floto Roma Leather Messenger Bag Briefcase Crossbody
The Roma Messenger from Floto Store is crafted from full-grain calfskin leather and features brass or stainless steel hardware. It is composed of Italian Full Grain Calfskin Leather, which gives it a luxurious appearance. In Tuscany, the leather was manually dyed to ensure it was of the highest possible quality. This Floto vegetable tanned leather bag measures 10″ high by 3″ broad by 15.5″ long. Floto vegetable tanned leather is natural, soft, flexible, and durable. All of the products are designed and manufactured in Italy.
21. KomalC 16 Inch Buffalo Leather Briefcase Laptop Messenger Bag
This multi-purpose backpack is appropriate for even the most demanding of educators. We require enough space for a large 16-inch laptop and the flexibility to access our materials quickly and easily. This bag is available in various neutral colors and offers enough space for everything you need for remote teaching. There are three color variations available and the day-to-day items you require, such as pens or pencils—documents used in schools, such as rubrics for grading papers.
22. Floto Firenze Laptop Leather Briefcase
In addition to solid brass hardware, the Floto Firenze Laptop Briefcase is crafted from full-grain vegetable-tanned calfskin leather. This leather was hand-tanned in the Etruscan tradition in the heart of Tuscany, allowing it to soften, patina, and create a smooth touch. Only natural plant extracts and oils were used to achieve the rich, brilliant color and the soft, semi-gloss finish that you see here.
23. Seyfocnia Store Leather Messenger Bag
A top-quality PU leather shell fabric is used to construct this leather messenger bag from Seyfocnia Store. Polyester fabric is used to construct the lining. Features include a huge, fully interior lined, cushioned laptop compartment that supports laptops up to a 17.3-inch screen and several large pockets for quick access to essentials, and a padded tablet compartment. Because of its unique shape, this bag can be used as a briefcase, suitcase, or laptop bag.