"When you buy through links on aneverydaystory.com, We may earn an affiliate commission."
Have you ever been worried about being parents in the 21st century, especially for the first time? I bet you did some time, and some are even worried too much about being parents. I understand this feeling because I was in the same situation when I had my little girl for the first time.
Being a good parent in modern society is not an easy thing
See Also:
How about bringing up your children to become a freethinker? Yes, we all want our child to be independent in thinking and doing.
Dale McGowan's great and caring aide Parenting Beyond Belief was the thorough primary book to offer a general way of thinking of non-religious child-rearing. Raising Freethinkers is a down to earth spin-off, giving explicit responses to regular inquiries and over 100 exercises for guardians and their kids.
To get to know more about the outlook of two different books among many helpful books for parenting on Parenting Weekly, please read my brief review below. These two are for people who are expecting to be parents and want to achieve more successful parenting methods.
Parenting Beyond Belief: On Raising Ethical, Caring Kids Without Religion
Caption: Parenting Beyond Belief is a wellspring of thoughts, points of view, and counsel from driving scholars and regular guardians in this developing world.
Author: Dale McGowan
Overview
It may be challenging to ponder life's unavoidable issues without the appropriate responses that religion appears to give, yet it gets a lot harder once youngsters are included. Those on the voyage of collective child-rearing will discover backing and strengthening in Parenting Beyond Belief: On Raising Ethical, Caring Kids Without Religion, Second Edition, a book of numerous points of view altered by Dale McGowan.
This is an especially significant hole in nonbeliever writing, which is the reason I'm so happy to see a genuine exertion being made to connect it. Albeit a few books, similar to the FFRF's Just Pretend, have tended to this subject, we severely need a higher amount of them.
Furthermore, this book appears to be of excellent extension and quality, covering a broad scope of significant points: strictly blended relationships, mainstream training, humanist functions, moral guidance, showing youngsters passing, and that's just the beginning.
A brief review of the content
As far as establishing the philosophical framework for our position, skeptics have accomplished all that anyone could need. Regarding making an overpowering media nearness and political association. Despite everything we have far to go, yet promising advancement has been made.
Presently, books like this likely could be at the cutting edge of the "third wave" of nonbeliever activism. Skeptics are moving into society, living nearby every other person in receptiveness and trustworthiness. They build up a lot of social structures that can straightforwardly contend with and give an option in contrast to religion.
Yet, what's genuinely gotten my advantage is that Mr. McGowan has arranged a genuinely astonishing cluster of big agnostic names and illuminating presences to be his patrons.
The book highlights unique articles by Richard Dawkins, Julia Sweeney, Penn Jillette, Dan Barker, and Annie Laurie Gaylor, and the sky is the limit from there! With a cast of givers like this, how might you be able to turn out badly potentially?
Raising Freethinkers : A Practical Guide for Parenting Beyond Belief
Caption: "Raising Freethinkers is dynamic, thought-provoking reading for anyone, but non-religious parents will discover they no longer need to feel quite so alone." --January Magazine
Author: Dale McGowan & Molleen Matsumura
Overview
Raising Freethinkers covers each theme, so non-religious guardians need to know to assist their youngsters with their very own ethical, scholarly, and enthusiastic improvement. Also, remembering sound guidance for strict, more distant family issues, demise, and life, mainstream festivities, pondering, and addressing, and that's just the beginning.
Here guardians will find down-to-earth and compelling approaches to:
- Help youngsters accomplish strict proficiency without inculcation
- Explore life's importance and reason
- Promote a sound point of view on sexuality and self-perception - Encourage eager interest
- Help kids deal with death and misfortune
– Find and make a connection with their parents
Complete with audits of books, DVDs, educational programs, instructive toys, and online assets pertinent to every section theme, Raising Freethinkers helps non-religious guardians bring up their kids with certainty.
A brief Review of the Content
Concentrating on "the snapshot of the inquiry" as the establishment for all free-thought child-rearing, the methodology holds quick to the possibility that, rather than most Western strict conviction frameworks, there are no un-askable inquiries and no inconceivable contemplations. "I need the possibility that questions can be dreaded due to the appropriate responses they may create to bewilder my children," composes co-writer Dale McGowan.
At the point when my children asked me how profound the lake that outskirts our city is, I followed "Raising Freethinkers'" guidelines to mirror the miracle back to the kid as a beginning stage for ingraining necessary reasoning abilities. So I didn't quickly furnish them with an estimation. I let them think about the response for some time as they looked over the edge of a kayak into the water's profundities.
With regards to illuminating my children about religion, I'm progressively disposed to quickly give the "right" answers than I am to welcome miracle and interest. Even though I will probably give them exact insights concerning the significant religions rehearsed on the planet combined with a substantial portion of doubt without forcing my very own pessimism, it hasn't generally been a simple parity to strike.
"Raising Freethinkers" has set me up for the numerous situations my children will look at as they characterize their convictions. It also includes consciously exploring social and institutional spaces where their beliefs may conflict with the opinions of the more substantial part, making the significant network as a joint family, and taking care of inquiries concerning life and demise.
In this rational way to deal with child-rearing and living, there's "no stone that can't be overturned if you think there may be something under it. Furthermore, there consistently may."
General Consideration of Two Books
It can be said that two editions of the same author are related and supplemental. From the title, you can know that these two are for the only purpose: educating and forming the methods of good parenting without religion.
If you read them all, it will be more specific to form the ideas of becoming good parents. And I will recommend every dad and mom to read both of them.
I'd prescribe it to any readers who are attempting to figure out how to urge their kids to consider instead be lead through life. There are portions of the books that affirm that even as free scholars ourselves, despite everything we fall once more into old propensities for empowering supporters with, "Because I said as much, that is the reason! Presently stop it!." child-rearing.
It moves the audience to look outside of that and change their method for child-rearing to raise individuals who aren't hesitant to pose inquiries.
The Meming of Life
A meme is an idea, habit, or other "unit of culture" that is spread from mind to mind just as genes are spread from body to body. This exquisitely useful term was coined by Richard Dawkins in The Selfish Gene. These are very popular blog posts that mr Dale had written since 2010:
vegehumilitarianism
An unreliable Witness
blasphemy, the game
Is somebody watching Tim Minchin's cholesterol?
Not that it's a competition, but…
Inside Charlie's Playhouse
Those Scary Three-Letter Words
laughing matters 1: humor and critical thinking
Going around the messengers
Congratulations, Dr. Ann
Not that it's a competition, but…
Christianity and the pressure to believe
Dear Mr. Taylor
Science, interrupted
change is…good?
responses to "spare the rod"
the father review redo
getting concrete: international day of peace
reaching out to harry AND sally (3 of 3)
Nice Guys Finish–an interview with Hemant Mehta
Big Brothers
You want this book
Glass houses
David Foster Wallace
merry krismas to all
Anatomy of a Frequently-Asked Question
The announcement
"Black people are not nice"
Put down the knife! Now back away, slowly…
Christianity and the pressure to believe
Flow
Unnatural
Born this way?
The Empire Strikes Back
Best Practices 1: Widening circles of empathy
ode to a mother-in-law
Pushing the point…or not
When good people say (really, really) bad things
Best Practices 2: Encourage active moral reasoning
The Social Network
Not just because I said so
Help save a good district from itself
One of these things is not like the others
When science goes south
The incredible shrinking woman
EyePlejjaleejins
Where all roads lead
visit dalemcgowan.com/category/parenting/ for more information about parenting, kids, critical thinking, nonbelief and nonbelievers, fear and best practices.
Frequently Asked Questions
Is Parenting Beyond Belief the first book for nonreligious parents?
There have been some excellent shorter books and booklets on parenting without religion, with more limited scope and by smaller presses. Parenting Beyond Belief is the first comprehensive parenting book by a major publisher on raising children without religion. And fortunately not the last! Raising Freethinkers: A Practical Guide for Parenting Beyond Belief is now available at Amazon.com.
How large is the audience for such books?
Enormous—and growing. In 1990, 8 percent of Americans identified themselves as nonreligious. By 2008 that sector had grown to 15 percent. A minimum of seven million nonreligious parents are raising children in the U.S. today, and doing so with limited resources. It is estimated that over 10 million "nominally religious" parents in the U.S. attend church for social and structural benefits and would welcome a secular parenting book.
How is Raising Freethinkers different from the first book?
Parenting Beyond Belief articulates a general philosophy of nonreligious parenting. Raising Freethinkers offers more specific, practical advice, including answers to the 100 most common questions nonreligious parents ask, over 100 family activities and over 200 recommended books, DVDs, organizations and websites to continue finding ideas and answers.
Why do nonreligious parents need resources specifically for them?
Religion has much to offer parents: an established community, a pre-defined set of values, rites of passage, a means of engendering wonder, comforting answers to the big questions, and consoling explanations to ease experiences of hardship and loss. Parenting Beyond Belief demonstrates the many ways in which these undeniable benefits can be had without the harmful effects of religion. It is also intended to show secular parents, who often feel isolated in their disbelief, that they are far from alone.
I don't believe in the existence of a supernatural God, but I consider myself religious in a liberal sense. Is this book for me?
"Without religion" in the subtitle refers to the more commonly understood definition of religion as "belief in a divine or superhuman power to be obeyed and worshipped as the creator and ruler of the universe" (Webster's New 20th Century). In short, it refers to theistic religion. The broader definition preferred by some denominations (including Unitarian Universalism) of religion as a set of strongly-held beliefs, values, and attitudes is obviously not what we are parenting without. So if you are a parent raising children without ideas of a supernatural god, divine revelations, or holy scriptures, this book is indeed written with you in mind.
You mention "the harmful effects of religion." What harmful effects?
Honest questioning is too often disallowed in monotheistic religion, the word "values" turned on its head, and an "us-vs.-them" mentality reinforced. Many feel that fear—of God, sin, doubt, and difference—is more prevalent with religion than without, and that children often learn to obey authority rather than develop their own judgment.
Do these books intend to convert parents away from religious parenting?
Not at all. The books are resources to help parents who have already decided to raise their children without religion to do it well. Many religious readers have praised the tone of the books, which encourage co-existence, not conflict. Anything that helps parents to be better parents, regardless of their beliefs, is a good thing.
How can you not believe in God when…[fill in the blank]?
A fine question, but that's not our topic. Though the book includes one essay with the classic arguments for and against religious belief, that's not the main purpose—and if we spend time arguing about disbelief itself, we will never get to parenting! Readers wishing to engage those fascinating and worthy questions should look to the many outstanding books exploring basic questions of religious faith and doubt. This book is for those who have already investigated those questions and decided that religion is not for them.
How has Parenting Beyond Belief been received?
Many readers who were worried that it would be "anti-religious" have expressed pleasant surprise after reading it. "Remarkably even-handed" is a common response. Though some contributors are strongly critical of religious ideas, others express a continuing affection for it. The first sentence of Julia Sweeney's essay, for example, is "I loved being Catholic." Others urge secular parents to be religiously literate, to empathize with believers, and to applaud the good works of religion—at the same time urging them to stand up against the hatred, ignorance and divisiveness that can also flow from religious belief.

Most of all, the book reveals that believers and nonbelievers share most of the same values. Like people of religious faith, nonbelievers value love, honesty, kindness and generosity, are captivated by wonder and moved by the mysterious, seek consolation in times of loss, and treasure the companionship of others. We want to raise children who are ethical and caring. Nonetheless, polls indicate that nonbelievers are the most mistrusted and feared minority in the U.S. This fear is groundless—and this book can comfort people of faith by helping them realize that there is nothing to fear from nonbelievers. Our shared dreams for our children show that we are far more alike than unalike.
Aren't these books just encouraging indoctrination in a different direction?
The defining value of freethought is the right of individuals to think for themselves. Childhood indoctrination of any kind denies that right. Parents instill values, but choosing a worldview that expresses those values must be in the hands of the individual. Children should not be labeled in any way. Parenting Beyond Belief and Raising Freethinkers underline the importance of keeping children open and "undeclared" so they can freely self-identify with the worldview of their choice when they are older.
Do the books' contributors always agree?
Parenting Beyond Belief practices what it preaches by offering diverse opinions. What other book would have two ministers and Penn Jillette? There's even a point-counterpoint in which two authors square off on how to handle the Santa Claus story. And this is precisely the model we want to present to our kids—not lockstep agreement, but a healthy, open, friendly exchange of ideas and an invitation for you to sort it out for yourself. The four contributors to Raising Freethinkers follow the same philosophy.
What topics are covered?
Parenting Beyond Belief begins with personal essays by such secular parents as Julia Sweeney, Penn Jillette and Richard Dawkins, followed by chapters titled Living with Religion, Holidays and Celebrations, Being and Doing Good, Meaning and Purpose, Dealing with Death, Questioning, the Wonder of Science, and Seeking Community. Raising Freethinkers follows a simiar topical framework but offers a more practical approach, centered around 100 common questions, 100 activities, and over 200 resource reviews for nonreligious parents.
How can children be moral without religion?
Both books have chapters devoted to this very topic. Behaving morally makes sense, and most people behave well for sensible reasons—even if they think they are relying on commandments. Psychologist Dr. Jean Mercer contributed an essay in PBB describing the six stages of moral development. Children are more likely to move to the higher levels of development and to retain a more nuanced and reliable moral sense if they learn the reasonable principles of ethical behavior than if they rely on parental or scriptural authority.
Dealing with death must be a challenge.
It always is, isn't it? Even those who believe in an afterlife tend to cry at funerals and try hard to delay their own passing. There's no greater challenge for a human being than knowing life will end. But an increasing number of people have come to believe that real maturity requires us to come to terms peacefully with mortality rather than pretending we don't die after all. That life ends has rightly been recognized as the single fact that lends life genuine preciousness. Several consoling insights from philosophy are included in Parenting Beyond Belief.
What could possibly replace Heaven as a consolation in the face of death?
Don't forget that along with hope of Heaven comes fear of Hell. The naturalistic view dispenses with both. Our remaining fear of death has a lot to do with our failure to really grasp nonexistence—something we already "experienced" before birth, after all. We weren't afraid then. Why fear a return to that fearless condition? The Rev. Dr. Kendyl Gibbons has written a marvelous, practical essay for the book on how to talk to children about death without recourse to supernatural illusions.
What's a minister doing in a book about raising kids without religion?
Two, in fact. Kendyl Gibbons is a minister in the Unitarian Universalist denomination. Many people aren't aware that most UUs describe themselves as either humanists (46 percent) or atheists (19 percent) but still want the other benefits of belonging to a church fellowship. Kendyl's experience of taking secular families through grief and loss is powerfully evident in her writing. She is joined in the book by the Rev. Dr. Roberta Nelson, who writes about the need for religious literacy. And Raising Freethinkers is co-authored by Jan Devor, a Unitarian humanist religious educator.
Isn't it important for kids to feel part of something larger than themselves?
Of course it is. Fortunately as human beings we are already part of many things larger than ourselves. Our families, our communities, humanity, and the interconnected web of life on Earth are just a few examples of larger things that give us purpose and context. Setting religion aside does not suddenly make us islands unto ourselves. It should instead underline our interconnectedness and reliance on each other.
So religion isn't all bad?
Of course not. Like most human creations, it's a mixture of good and bad. We should embrace the best elements while finding our way out of those that are undesirable. The most important freedom we can give our children is the freedom to think, to discern, to determine for themselves what's good and what's bad in anything. But when we place ideas beyond critique, the bad survives along with the good—and that's not good for anyone. Only if we agree to put all of our ideas on the table can we work together to separate those ideas that are unworthy and life-destroying from those that are noble and life-affirming.
click here for more questions about parenting topics.
About the author Dale McGowan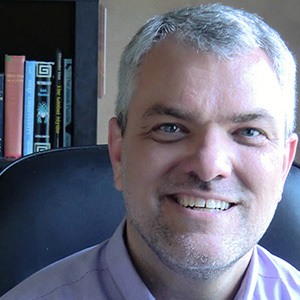 Caption: Dale is an honor winning educator of music, donor, and writer of eight books and three web journals
DALE McGOWAN has one foot in expressions, the other in sciences, and the other in non-religious life. He twofold studied music and transformative humanities at UC Berkeley, then considered film scoring at UCLA before leading a school ensemble while acquiring a Ph.D. in Composition from the University of Minnesota.
Music
While being a partner teacher at St. Catherine University, Dale showed music hypothesis, music history, and coordination, just as interdisciplinary courses focused on composing and basic reasoning, winning the college's Faculty Teaching Award for his creative methodology. His organizations won acknowledgment in the Boston Art Song and American Composers Forum rivalries and have been debuted in the U.S. and U.K.
Composing and Nonreligious Life
Dale is supervisor and co-creator of Parenting Beyond Belief and Raising Free-thinkers, the principal far-reaching assets for non-religious guardians. He composes the familiar child-rearing web journal The Meming of Life and shows workshops for non-mystical guardians over the United States.
He right now fills in as U.S. Interchanges Coordinator for Nonviolent Peaceforce, a worldwide known military personnel peacekeeping association, and as an official executive of Foundation Beyond Belief, another humanist magnanimous and instructive endeavor.
In 2008 he was named Harvard Humanist of the Year by the Humanist Chaplaincy at Harvard University. Dale holds degrees in physical human studies and music hypothesis from UC Berkeley and the University of Minnesota. He and his significant other Becca, a first-grade instructor, live in Atlanta with their three kids.
For full bio of Dale McGowan, click here.
Conclusion
I believe the two books offer extraordinary prompts and proposals and guidelines for guardians in bringing up their youngsters. For guardians who need their youngsters to have fearlessness, have the option to have an independent mind, settle on sound choices, have regard and empathy for other people, and have a nearby cherishing association with their folks.
There are proposals for religious and non-religious child-rearing. Raising Freethinkers and Parenting Beyond Belief are extraordinary assets for books to peruse to your youngster, motion pictures to watch with them, games to play, discussions to have, approaches to celebrate, and make your kid consistently feel significant and cherished.
Related: