"When you buy through links on aneverydaystory.com, We may earn an affiliate commission."
Learning to write is just one of the many benefits of learning how to read. The ability to read, comprehend and understand words is a precondition for learning about language and becoming an effective communicator. Reading fosters curiosity by exposing children to new topics, ideas, and vocabulary in addition to developing skills such as listening comprehension and oral expression. Many would say that one cannot learn without reading so why not make it fun? Here are 18 fun phonics activities for kids that teach children through games and hands-on activities how they can improve their reading skills while having fun doing so!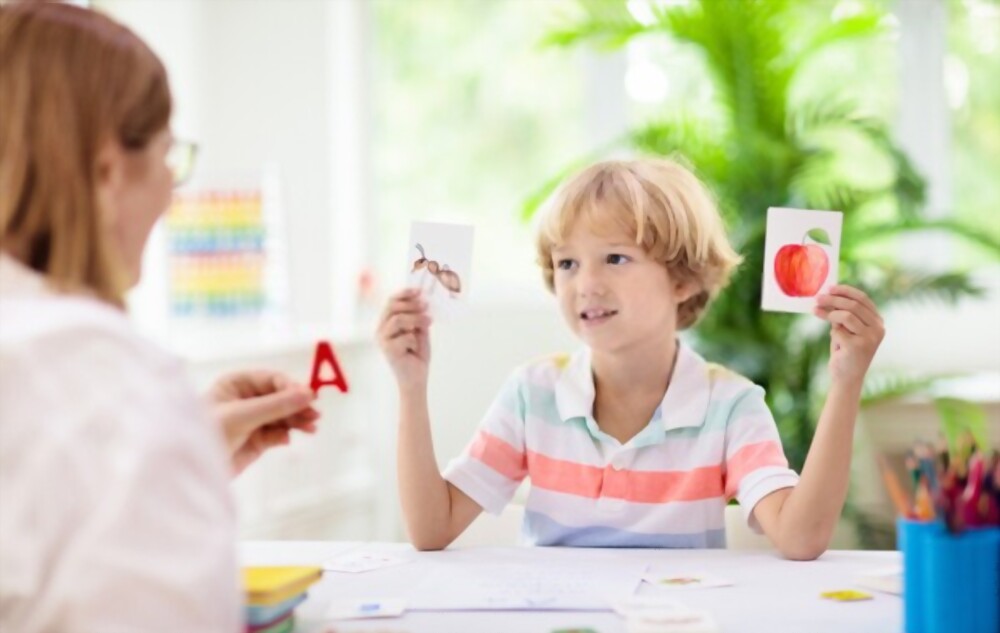 1. Letter Sounds Race
A Letter Sounds Race is an engaging alphabet activity for kids of all ages. It starts with a starter letter sound and then students race to find the corresponding letter on their own "race" mat.
Learn more: Inspiration Laboratories/Letter Sounds Race
2. Alphabet Ball
I'm sure you've seen the popular alphabet game, Alphabet Ball. Now it can be turned into a language learning activity! Kids will love rolling the ball bearing to spell out words and phrases.
Learn more: Hands-on as We Grow/Alphabet Ball
3. Toss And Blend
Learn letter blends in a fun way! You only need plastic cups and ping pong balls. Set out the cups with different letter blends (tape them down if they tend to fall over). If they can spell the word "ball" with that letter combination, they get a point. If your kids have mastered all of the blends, try this game with two balls.
Learn more: Education/Toss and Blend
4. Gross Motor Phonics Games
Gross motor games are a great way for kids to be active, increase their physical activity levels, and have more fun while learning! In this guide we will go through three great gross motor games that also work on building phonics skills as well.
Learn more: Learn Play Imagine/Gross Motor Phonics Games
5. Phonogram Connect Four
Phonogram Connect Four is a fun, interactive phonics game for kids. Use your letter tiles to line up words that start with the same sound. Fill up your board, then try to play four in a row to win!
Learn more: Mrs T's First Grade Class/Phonogram Connect Four
6. Four-In-A-Row Letter Sound Games
The Four-in-a-row game is made up of a series of letter sounds that have to be repeated in order by the player. The player can also skip letters to make the sequence more difficult for them (or easier for them!).
Learn more: The Measured Mom/Four-in-a-row letter sound games
7. Alphabet Phonics Cubes
The Alphabet Phonics Cubes are an excellent addition to in the classroom. Students are able to use them with the blocks to create words and sentences, master letter order, and develop language skills.
Learn more: This Reading Mama/Alphabet Phonics Cubes
8. Rainbow Hop Letter
This activity is a new spin on the old alphabet activities we used to do in grade school. The idea behind it is to teach children letter sounds in a fun way by associating them with colors.
Learn more: Fun Learning for Kids/Rainbow Hop Letter
9. FLIP TOP PHONICS
More than just a flip-top, Flip top phonics is an innovative way to teach reading by engaging students in game-style learning. It's a quick and easy way for them to learn consonant and vowel sounds, as well as about the letter names and some of the most common words with those sounds.
Learn more: No Time for Flash Cards/FLIP TOP PHONICS
10. SPIN & RHYME
There are so many excellent activities that use spin and rhyme to help kids learn how to sound out letters in a word and then combine them together to form words. Challenge your learners to create a silly rhyme and come up with a similar-sounding word. You'll need paper, pencils or pens, and some objects for the students to use.
Learn more: No Time for Flash Cards/Spin and Rhyme
11. Just Swap 1 game
Learn more: This Reading Mama/Just Swap 1 Game
If you have a child who loves spelling games, then you'll want to print out this word list for them to use. Students will move from one box to the next, changing just one letter from the original word listed in each box.
12. KABOOM Game
Learn more: Fun Learning for Kids/Kaboom Game
This activity is a simple one that's fun for students of all ages. Lots of ice cream sticks are written with letters on them. They are then placed inside a cup and pulled out. Students then must think of words starting with the letter that is on the stick that they pulled out.
13. Stretching Out Words
Kids often find themselves struggling to read words that are unfamiliar or unusual. In order to help learners better pronounce a word, we should encourage them to stretch it out, first sounding the letters individually before blending them together.
Learn more: Hands on as We Grow/Stretching Out Words
14. Phonics I-Spy Discovery Bottle
In this I-Spy game, students shake the bottle and describe the object by telling their companion what letter it begins with. The partner must properly guess the object before their turn begins.
Learn more: The Imagination Tree/Phonics I-Spy discovery bottle
15. Digraph Wheels
It doesn't matter if you're a teacher, parent or daycare provider, digraph wheels make learning fun for kids and easy for parents! Digraphs are two letter combinations that produce one sound. Words containing digraphs are tricky for young readers to spell.
Learn more: Playdough to Plato/Digraph Wheels
16. CVC Words
The CVC Word Pairs is a game that helps teach the letters in words while they learn two-letter words that follow a pattern of consonant-vowel-consonant at the end.
Learn more: Kadeen Teaches/CVC words
17. Blends And Digraphs Bingo
A good game of bingo is always fun, and these free printable bingo cards to practice blends and digraphs are sure to occupy any restless minds. You may have seen our post about word family games for kids and we're delighted to offer you some more free, printable sight word games. Blends are when two letters come together (such as "sh") which make one sound. Digraphs are when two letters come together that make a different sound (like the "th" in "then").
Learn more: The Measured Mom/Blends and Digraphs Bingo
18. WATER BALLOON PHONICS
Water balloons are colorful, lightweight, and fun to make. They also come in lots of different shapes and sizes which means there are lots of activities for kids to enjoy. Here are some quick ideas for ongoing water balloon phonics activities that can be done in the garden or the backyard.
Learn more: Mess for Less/WATER BALLOON PHONICS