Believe it or not, many teachers experience vocal difficulty during their careers. When you consider it, it's entirely understandable — the voice is their primary instrument, they use it daily, and they're required to be loud most of the time, especially when there is excessive ambient noise. So, if there is no pre-installed PA system, is there a method to safeguard your vocal apparatus and avoid speaking loudly? To that end, you may bring your PA system.
Portable voice amplifiers are low-cost equipment that might assist you in avoiding vocal difficulties. This post will cover what to look for when purchasing portable voice amplifiers, explore their benefits, and present you with our picks for the top five portable voice amplifiers for teachers in 2022. As a result, we've compiled this list of the best 15 teacher-friendly portable voice amplifiers to save you trouble in the future.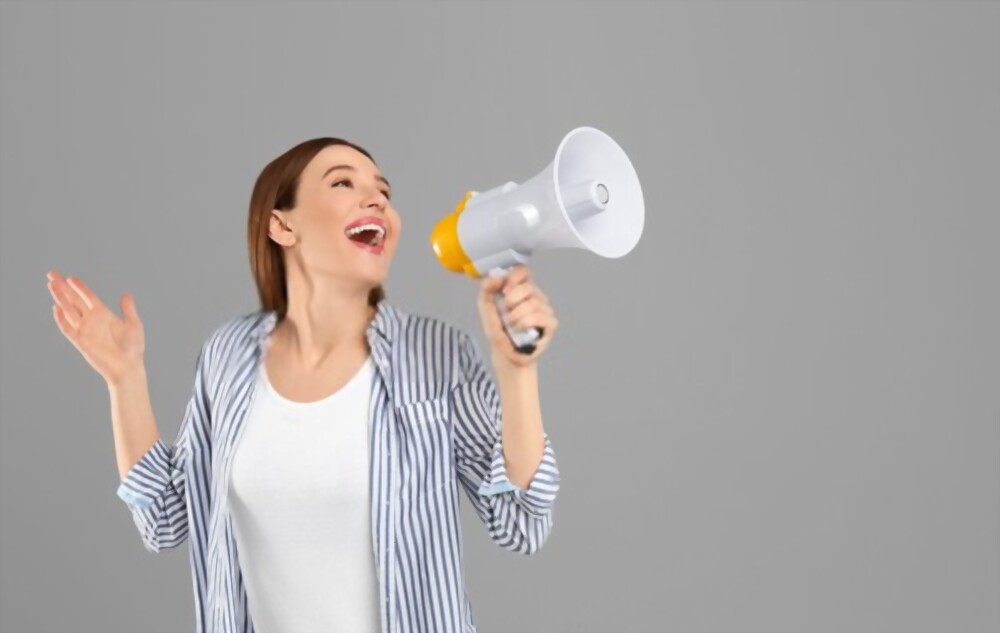 1. Zoweetek ZW-Z258
A voice amplifier from ZOWEETEK Store is a small speaker equipped with a 3.5mm microphone input. The speaker is 4.1in width, 1.4in in-depth, and 3.4in height and weighs about 0.36lb. You'll find a clip for attaching the speaker to your belt or pocket on the back.
The speaker's control and input system are straightforward. There is a USB port for audio playback (up to 32GB) on the left. A micro USB charging port is located on the right. The remaining controls and inputs are located at the top. Three playback controls, a mode button, and a volume/power dial are included. Additionally, two inputs are a microphone input and a micro SD card slot.
Additionally, the amplifier can be used as a connected speaker with any audio source with a 3.5mm output; however, you must use the mic input. Additionally, you can play audio files stored on a USB stick or micro SD card.
2. W WINBRIDGE Portable PA System
Instead of the typical Wedge S92 transmitter with a boom mic, this portable PA system from W WINBRIDGE Store features a U5 handheld Bluetooth microphone and a U8 wireless headset microphone. The speaker generates a pleasant, clear sound that is audible to a gathering of 50-150 people.
The primary pa speaker unit is strong and well-built, with easily accessible control buttons. The wireless voice amplifier includes two portable microphones that you can set anywhere in the room for up to 50 feet of communication range. Additionally, you can rapidly change the wireless microphone to a headset if desired.
However, the headset's build quality and microphone's performance may be improved. Again, the actual PA system is solidly constructed, but the accompanying accessories appear to be on the cheap side.
3. HW HAOWORKS Wireless Voice Amplifier Bluetooth
These portable voice amplifiers provide up to thirteen hours of battery life after only three hours of charging from HW HAOWORKS Store. This package includes a Bluetooth headset and a microphone. It includes Bluetooth connectivity, allowing you to play music directly from your phone. Even better, this portable speech amplification device is waterproof, allowing it to be used in the great outdoors.
Additionally, this small gadget includes an audio input for connecting additional devices. With 18W of power, you can be certain that the speaker will be heard clearly. This multipurpose equipment includes a microphone headset, a manual power cord, and a 3.5mm charging wire.
This portable speaker weighs less than a pound and includes a small rechargeable battery, making it convenient to carry. The premium design has a microphone headset and Bluetooth connectivity. The device may be used continuously for up to 12 hours on one charge! This voice amplifier includes a USB cable, an AUX cable, a belt for carrying, and a wall charger.
4. Giecy Portable 30W Voice Amplifiers
The speaker device from Giecy Store is rectangular with rounded corners. It's extremely tiny and equipped with a clip on the back for easy attachment to your belt or pocket. The speaker driver is located in the front and is shielded by a robust ABS mesh. All physical interfaces are located on the right – a mic input, a micro SD card slot, a USB port, and a DC charging input (not micro USB).
All controls are located on the top. An LCD display indicates the frequency, track number, and battery status, among other things. Two dials are located on the left and right sides of the top panel – the reverb dial and the volume/power dial. Below the displays are three playback control buttons and a mode button for switching between amplifier mode, Bluetooth speaker mode, FM mode, USB mode, and micro SD card mode.
A single 30W driver is housed within the speaker. The continuous power output is most likely ten watts. The sound signature is heavily centered on the midrange. Even at maximum power, the vocals are crystal clear and distortion-free. According to the product description, the Giesy voice amplifier can cover a vast area and is suitable for large groups (100+).
5. ZOWEETEK Voice Amplifier Microphone Headset
This is one of the greatest voice amplifiers for teachers for under USD 40.00 and less than half a pound in weight. The Zoweetek's sound is crystal clear and sharp, devoid of noise and distortion. It's portable and has a built-in speaker loud enough to fill a large classroom of 1000 m2.
This compact and lightweight voice amplifier measure approximately 4 inches in length, making it ideal for attaching to the rear of a belt or pocket. Additionally, if necessary, you can tie it around your waist or hang it around your neck. This device features a high-quality rechargeable lithium battery that allows for continuous operation for 12 hours.
Charging this device is simple and convenient, as it requires only a USB cable and only takes three to five hours to fully charge. Adjustment options are available for the wired head-worn microphone. You can adjust the distance between your mouth and the microphone in the most comfortable manner.
6. Voice Amplifier MAONO Portable Rechargeable Mini Speaker
The Maono C01 amplifier is a small, rechargeable wired microphone that features a belt and an LED display. It has a coverage area of around 1000 square feet and is loud enough to fill an entire room.
The cardioid microphone takes up only your speech and rejects background noise, making it suitable for outdoor events or noisy rooms. The device of Maono is equipped with a 1500 mAH rechargeable lithium battery that provides up to 10 hours of run time. Finally, it's compact and lightweight, with a gorgeous rose-gold tint.
7. GIGAPHONE G100S 30Watts Portable Voice Amplifier
The G100 amplifier from Gigaphone Store features a 30-watt output, is extremely loud, and is suitable for indoor and outdoor use. The sound is crystal clear since it is not affected by ambient noise, and the amplifier's body is lightweight and includes an innovative design that protects it from shocks, dust, and falls.
Because its innovative circuit design avoids transmitted speech distortion, it is suitable for field trips and huge college classrooms, as it operates well while moving. The lack of an AUX input makes it difficult to listen to music. Finally, it includes a strap for securing it around your neck and is sensitive enough to be used while wearing a mask.
8. WinBridge Wireless Voice Amplifier
This little but potent speaker system from WinBridge includes a slew of functions that will assist you in communicating your message without straining your vocal cords. They include a high-quality wireless headset with a battery life of up to 5 hours. You can't go wrong with Bluetooth technology to help spice up any presentation!
This incredible headset features a detachable microphone that may be worn over the ears, shoulders, or disconnected for use as a handheld microphone. It features an auxiliary music connection, an easily accessible volume control, and a USB port, weighing less than a pound. You can communicate with your audience from up to 50 feet away while maintaining social separation, protecting yourself and others from potentially hazardous viruses.
9. VoiceBooster Voice Amplifier 10watts
While the VoiceBooster MR1506 may lack some of the features and versatility of some other tiny voice amplifiers, it does offer a very clear and powerful sound, which is ultimately what a voice amplifier should do.
This is perhaps the most understated-looking small voice amplifier available. It appears to be somewhat antique in appearance. It has the same boxy design with a plastic mesh front that many similar devices have, but it feels more retro.
The mic input, volume/power dial, and power indicator are located on the top. Auxiliary input and DC power/charging port are located on the right panel.
The speaker has a 10W output. The sound signature is centered on the midrange, ideal for the primary objective. The voice is distinct and distinct. The MR1506 is quite loud, even more so when used inside or in smaller groups of up to 30 people.
10. SHIDU Portable Mini Voice Amplifier
The voice amplifier of SHIDU is a fantastic value and features an adorable design and color! If you're a teacher or instructor searching for a handheld, feminine, brightly colored wired microphone, this one is ideal. It's simple to use, has excellent sound quality, and is compact. It's tiny yet packs a punch with a 10-watt output and crystal clear sound.
You may rest assured that this amplifier will cover the entire room with a huge group of 25 to 100 individuals. This stable accomplishment is ideal for boosting your voice and conserving it.
As with the other instructor voice amplifiers discussed above, this one is powered by a 1800mAh rechargeable lithium battery. This device has an amplification time of 8 to 12 hours on a single charge. You can listen to music for up to 6 to 10 hours with a full charge. Additionally, you can play music from a TF card or USB flash disk.
11. NORWII S358 Portable 2000mAH Rechargeable Voice Amplifier
With a low price and a large volume, the NORWII is ideal for those on a budget. It is trendy, making it ideal for teachers, guides, and instructors looking to add a splash of color to their accessories. It is tiny and lightweight, with a coverage area of 10,000 square feet. Using these voice amplifiers from KNORVAY for instructors helps prevent mask muffles during instruction and is comfortable for all-day wear.
This one features a 2000mAh battery with 18 to 20 hours of battery life. A USB Type-C connector charges this small voice speaker. On the other hand, similar to the previous one, this one features an adjustable band that you can wrap around your waist or your neck and a clip on the back to attach a belt to your pants' waistline.
12. ION Audio Block Rocker Plus
The Block Rocker Plus of the ION Brand is a full-sized Bluetooth speaker equipped with grips and a telescoping handle for easy mobility. It's designed to travel with you wherever and wherever you require tiny, strong music output in a portable, lightweight package. This is excessive if all you are doing is teaching in a classroom, but it will come in handy if your class is huge, outside, or on a field trip.
The Rocker Plus includes an integrated battery with a charge meter and up to 50 hours of high-quality sound. Simply attach the provided power cable to charge. Additionally, a built-in USB 2.0 port for charging your mobile device.
Finally, the sound quality is outstanding, making this a wonderful gadget for music and voice. Due to its greater size, this is a niche product, but it may be the perfect fit for your school or classroom due to its greater size.
13. Bose SoundLink Color II
From the classroom to the field trip, the SoundLink Color Bluetooth speaker II of Bose Brand provides portable, full-range sound wherever you go. The Soundlink blends large sound with a tiny, water-resistant construction for mobility and durability. It's durable, with a silicone body that's easy to grip.
Additionally, device connectivity is quick and straightforward. If you have an NFC-enabled device, pairing is as simple as a touch. Thus, to begin using this gadget, you will want a separate microphone or Bluetooth-enabled headset to connect it to the sound link. Additionally, you can utilize this speaker to supplement any pre-recorded lecture or movie in class. In general, a helpful gadget for both audio and video in a large classroom setting.
14. Croove Rechargeable Voice Amplifier
This low-profile, comfy headset fits well and keeps the microphone in the proper place for speaking. Additionally, the voice amplifier of Croove features a variety of LED indicators that illuminate to indicate when the portable voice amplifier is fully charged and ready to use. When completely charged, it lasts approximately eight hours based on our usage.
The Groove Voice Amplifier covers approximately 4,300 square feet with excellent clarity, making it a viable option for a school auditorium. As is the case with many other possibilities, it has an adjustable waist/neckband and a detachable belt clip for hands-free portability.
However, the device's primary flaw is its build quality. It's not exactly meant to last and based on our usage, it did exhibit some early issues, such as buttons not working and audio producing some white noise, which resolved themselves upon powering on and off.
15. Hisonic HS120B Rechargeable & Portable PA
The main element (the speaker) has a simple boxy form with a top-mounted plastic handle. The entire enclosure is constructed entirely of strong ABS. The primary unit is quite substantial — it weighs 4 pounds and is 11in x 7in x 4.5in.
A plastic grille protects one 6.5in full-range woofer on the front side. On the top, there are six dials: two for wired microphones, one for the wireless mic's volume control, an echo dial, a tone dial, and an AUX input volume dial. There are also indications for power, charge, and RF/connection on the top.
You'll find a series of inputs on the left side — two wired mic inputs, an AUX input, an AUX output, and a speaker output. A power switch and an AC input are located on the right panel.
The speaker is equipped with a single 6.5in full-range driver with a 40W output. It's ideal for various indoor and outdoor events, including those with high attendance. Additionally, you can utilize the mic while listening to music via the AUX input.