"When you buy through links on aneverydaystory.com, We may earn an affiliate commission."
One of the most effective methods to channel children's natural curiosity is to introduce them to the vast realm of science. What causes the sky to be blue? What is it that makes WiFi function? Have you always wanted to learn about science but don't know where to start? As a parent, you probably want your children to explore the world and better understand what is around them.
Regardless of the topic area, any teacher can simply use digital technologies in their classroom instruction to provide ideal learning experiences conducive to in-depth understanding. Here are some websites that may help them do just that. Teaching your kids the wonders of science starts with the best educational sites for kids. They are completely free to use, and their interactive materials are meant to pique the interest of children and adolescents in the world around them.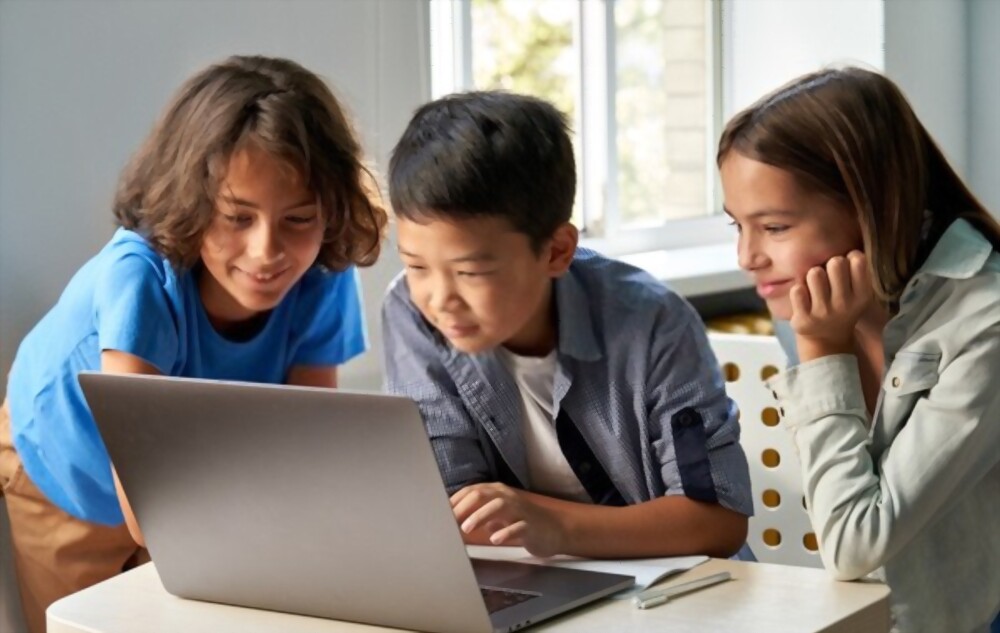 1. NASA Kids' Club
In this entertaining website developed for young brains, you can take off with NASA. Kids can find interactive "missions," simulations, games, podcasts, and more, which are intended to pique their interest in space travel and get them raved about it.
The website provides educational and engaging information to children ages seven and up by helping them to engage with NASA's rich heritage and innovative technology. NASA Kids' Club helps children understand space, Earth, the solar system, and beyond through engaging activities. They also help them understand their role in the larger world by looking at our changing environment; how we live today in conjunction with what happened thousands of years ago, just to name a few examples.
2. National Geographic Kids
Many kids are fascinated by geography and the natural world but do not know how to express their love for these topics. National Geographic Kids is a great way for children of all ages to read about, study, and understand the layout of our planet and the secrets that lie within it.
The website has games, videos, and more to help kids learn about geography at their own pace. National Geographic Kids is a timeless classic that will never go out of style. Its "brain boosters" and movies are short and engaging to watch, and they provide plenty of opportunity for further exploration.
3. Mystery Science
Mystery Science is an educational site that will appeal to scientists in all children—someone who wants to crack a missing person's case. With the help of this website, teachers can inspire their students to apply what they've learned in the classroom to real-world circumstances where they'll face challenges.
Examples include "Were dragons real?" and "Did the Vikings ever exist?" "Can you tell me how bacteria go into your body?" says the researcher. "How did pizza come to be?" says one. When you work through digital video mini-lessons geared for grades K-5, you'll be sure to start some interesting dialogues. However, the organization has compiled a list of lessons grade by grade that is ideal for remote learning.
4. BrainPOP Jr
This is a wonderful website that makes learning fun. Kids will love exploring interactive learning games and lessons. BrainPOP Jr is a collection of instructional cartoon videos and courses covering various science topics. Each featured science topic is accompanied by explanatory films, quizzes, and activities that reinforce the lesson.
BrainPOP's materials are similar to those found on Funbrain and include animated films, educational games, online quizzes, lesson ideas, instructional content, and various other educational activities. BrainPOP Jr. contains resources that cover more than 250 curricular themes, including science, mathematics, reading, language, social studies, and health, among other subjects.
5. Project Noah
Project Noah is a collaborative online community of nature lovers, artists, and scientists. The website offers a wide range of resources that enable children to explore the world around them in ways they have never before imagined. Project Noah also provides an engaging way to study nature, express creativity, and share ideas with others who have similar interests.
Project Noah will appeal to budding environmentalists since it provides a superb platform for educating about animals and connecting with others who share their interests. A nature education series and volunteer opportunities are available through Project Noah's Rangers program, run by volunteers. The website has many explorers-in-training who would love your help identifying the animals and plants!
6. Science Kids – Fun Science & Technology for Kids!
Science is a subject that many children take to naturally. They love to explore our world and all things science-related. Science Kids offers a variety of interactive lessons and programs for children of all age groups. The site's curriculum projects are also available to educators, which means they can use them as resources when they teach their classes.
This website engagingly makes learning fun by providing an animated and interactive environment that will please kids of all ages. As its name suggests, Science for Kids is a website that provides a wealth of educational science resources. It is possible to get various educational resources on the internet.
7. Ology – American Museum Of Natural History
Ology provides an excellent opportunity for children to learn more about the science of dinosaurs. The website's lessons are short and interactive, making them fun to use. The information provided by Ology is easy to understand, which makes it the perfect place for teachers and students alike.
Utilize this incredible resource from the American Museum of Natural History to go further into the world of science. Ology can be a great tool for exposing your students to a wide range of topics when teaching astronomy, genetics, microbiology, biodiversity, physics, and other disciplines. This method can also help them have a better knowledge of these subjects.
8. Bill Nye
Bill Nye is the go-to guy for science. He has been on TV for decades and has helped millions of people understand the world around them. Bill Nye's website offers a wealth of educational resources that will help make lessons and presentations more fun and entertaining.
Educating Bill Nye the Science Guy had gone a long way from when VHS tapes were rolled into science classrooms, and his latest programs demonstrate that science is still in charge. Whether it's his new Netflix series or a large archive of at-home and amusing science experiment ideas, there's something for everyone and every scientific topic.
9. Nova
Nova is a great site for learning about science in a fun and interactive way. This website provides an opportunity to learn more about the world around us by providing hints and history on science topics.
Nova has lots to offer people of all ages. Still, its colorful Exoplanet Lab and its real-world science experiments and games are particularly well adapted to young learners and educators. Nova is a favorite among scientific instructors, and it can always be counted on to provide high-quality information and resources to them.
10. Science Buddies
Science Buddies is an absolute must-have for anyone who works with middle-schoolers. Using this website, you can look for any science fair subjects that include a variety of interesting experiments.
These topics feature step-by-step advice, demonstrations, and explanations of scientific theories that are certain to ensure the success of your teaching. If you want to find the finest experiments for your students, use their 'Topic Selection Wizard,' which searches for the best experiments based on the topic matter, time constraints, difficulty, and other characteristics for engaging scientific learning at school and at home.
11. Easy Science For Kids
Kids and instructors alike will find a welcoming environment on the Easy Science for Kids website. This innovative site is filled with interactive activities, experiments, and resources that are perfect for those who want to learn more about animals, plants, the human body, and many other topics.
This is why Easy Science For Kids is the best free website for tutors and teachers. It's also where young kids can learn about science and have fun while doing it. There are a lot of free science worksheets and activity sheets, fun, and interactive educational quizzes, layering in activities, and more. You can also find a lot of the best science videos there.
12. Technovation Families
"Children are the future," according to this website. The same statement applies to Artificial Intelligence. A majority of parents (more than 80 percent) believe that technology will play an increasingly important part in their children's lives in the future.
Technovation Families website also has materials to help you prepare for future jobs. Introduce activities that elementary school children can undertake at their leisure to keep them interested in learning. They will transform everyday objects into interesting designs by following a series of movies or mini-projects as a guide. No-wire circuits, small aircraft, sound producers, and other projects are examples of what you can construct.
13. OK Go Sandbox
The OK Go Sandbox has made some of our generation's most interesting music videos. From interesting music videos to real-life science experiments, this website offers a variety of innovative methods for engaging science learning.
OK Go features a diverse set of lesson plans, ranging from short to large units, that contain teacher guides and behind-the-scenes anecdotes to pique your kids' interest in various science topics. You can investigate gravity, simple machines, optical illusions, and various other topics. OK Go's unique, and musical teaching technique will ensure that your children never become bored with scientific studies again!
14. COOL Science Experiments Headquarters
Cool Science Experiments website offers hundreds of science experiments that focus on chemistry, biology, physics, earth science, and more. You will find cool videos here that cover a wide variety of topics.
Cool Science Experiments' mission, founded by science teacher Danielle, is to provide pupils in primary school with engaging, simple, and practical science experiments. Students can access and learn from over 50 hands-on science tutorials available online. Musical jars, balloon blow-ups, magic milk, bouncing eggs, elephant toothpaste, and other popular experiments are available at home.
15. Science News For Students
Science News for Students has stories about cutting-edge research and technology and details the latest scientific discoveries. It is a free website that writes about science, medicine, space, the environment, and more.
Science News for Students was founded in 2003 and is an award-winning online publication devoted to delivering age-appropriate, topical science news to students, parents, and educators alike. An educational publication of the non-profit 501(c)(3) organization, Society for Science, Science News for Students, is published by the Science News Media Group, a division of the Society for Science. Science News furthers the Society's objective for Students, a free resource that brings cutting-edge scientific information to students inside and outside the classroom.
16. Science Bob
Science Bob is an entertaining and educational video resource covering basic science concepts. The content is suitable for people of all ages, from kindergarten through high school and elementary and middle school teachers.
Another science website was developed by Bob, a science teacher, and author. It provides a wide range of tools designed to help kids learn about the wonders of science in entertaining and engaging ways. These include experiments, science fair ideas, films, science resources arranged by subject, etc.
17. Carolina – Science Resources For Learning From Home
Are you searching for grade-specific science lessons appropriate for students in grades K-5? Look no further. Make a "Weather and Sky" presentation to a kindergarten class, or give a fourth-grade class a lecture on our "Changing Earth." The educational articles, at-home science exercises, updates on science in the news, and PDF downloads that you'll discover on this website will help you feel more prepared for your upcoming science class.
Carolina Biological Supply Company is dedicated to providing learn-at-home supplies to parents, instructors, and school systems for remote learning environments.