For many people, college is an exhilarating time, but it can also be a lot of work. Students need to balance their college studies with their personal life and enjoy learning new things, making it difficult to find the time or energy to study if you're working all the time.
The greatest study desks for college students are well-designed to maximize your productivity and overall comfort throughout your college years. Dealing with a creaking desk is a tried-and-true method for transforming any study session into a nerve-wracking ordeal.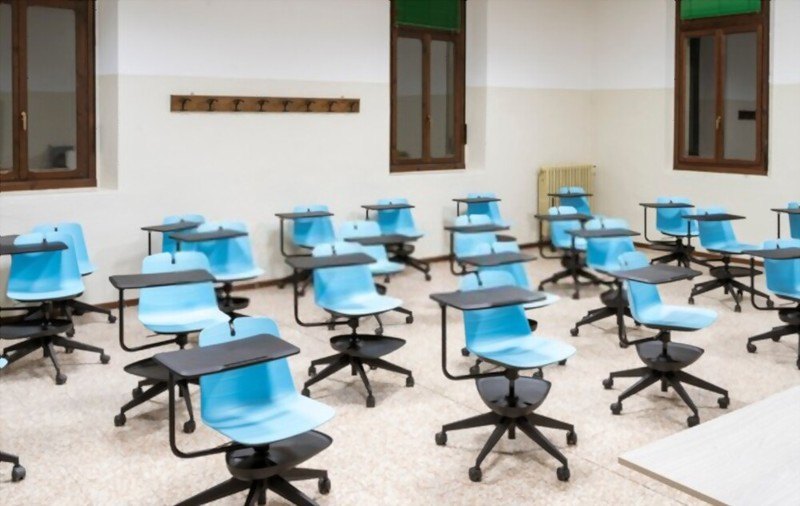 When selecting the best study desk for your school, you may have some difficulty determining which features produce the best outcomes. Certain desks may appear to be less expensive but are highly excellent at assisting you in acing your course. The following is a list of 15 highly rated study desks.
What's the Best Sort of Study Table?
When selecting a desk for your college studies, you may be wondering if the table will allow you to think clearly and focus while studying. Your study habits are paramount to success, so selecting the right desk is important. Your first consideration is whether you prefer an adjustable-height desk or a utilitarian fixed-height table. Each has its rewards and drawbacks to help you choose the specific desk that'll best serve your needs.
The adjustable-height desk is a popular choice among students because of its versatility. You can choose the height to suit your comfort preference, providing an ideal surface to work on while concentrating on your materials.
If space permits, we recommend opting for an L-shaped desk. Due to their greater surface area, they enable you to conveniently consult many sources of information concurrently. It's never been easier to reference and compare material from a few textbooks and your laptop!
15 Greatest College Study Desks
1. Flash Furniture L-Shaped Desk
Flash Furniture L-Shaped Desk is simply a piece of furniture with lots of space for college study. Due to its large flat top surface and several ergonomic features, the Flash Furniture L-Shaped Desk is one of the greatest college desks available.
This corner desk provides you with the much-needed room, whether you're working from home, taking online courses, or playing online games with friends. This beautiful and reasonably priced desk has a wide surface area and an open design ideal for modern settings.
The open design silver powder-coated frame includes the floor glides with self-leveling capabilities. The contemporary style desk is suitable for use in a modern or industrial home office, bedroom, or dormitory.
2. VECELO Wooden Desk
This functional piece of furniture gives your study area a sleek, executive style. The VECELO study table has a compact, lightweight form, perfect for small living areas or dormitories.
It is possible to install a two-tiered shelf on the left and right to serve as a bookcase or display shelf. No matter where you put it, in your home study, bedroom, or workplace, a multifunction table can be placed to serve as a work desk, office desktop workstation, study table, writing desk, or gaming table.
Legs that may be adjusted to prevent scratches on the floor. A solid steel tubing frame and a wooden desktop provide a large loading capacity and storage area. Durable laminate and turmeric metal accents are used to construct this high-grade MDF piece. It's simple to clean and is ideal for storing baskets, books, plants, and other types of decor.
3. FURINNO JAYA Study Desk
Design that is simple and attractive. The FURINNO JAYA computer study desk is functional and may be placed in any area with limited space. Engineered wood and PVC tubes are used in the construction of this product. It's going to be a good fit for your money and your space. With shelves on both sides, there is plenty of space for storage.
Store your daily necessities and important documents in the central compartment of this desk. The combination of these characteristics makes it one of the top college desks available on Amazon, one of the world's most popular e-commerce sites.
4. Rolanstar Desk
The classic industrial style of the desk, with its rustic veneer finish and metal frame, looks great and provides outstanding durability and stability. The Rolanstar computer desk's neutral color scheme and straightforward design make it suitable for various decor types.
You can utilize the wooden drawer to hold your notes and paperwork. The open shelf makes it easy to retrieve products that are frequently utilized. Adjustable shelf height enables the installation of computer towers of varying sizes.
The vast space on the wooden surface is ideal for working, learning, playing, and other home office activities. Provides ample legroom for resting and comfort. Rolanstar's raw materials comply with the EPA's TSCA Title VI and Carb Certification.
5. CubiCubi Study Computer Desk
The CubiCubi Study Computer Desk, which features a modern, ergonomic design, is a practical and welcoming student desk for everyone, especially university students, eager to let their imaginations soar. In addition to the basic computer desk, a storage bag and a hook are included. They are strong and long-lasting, and they connect the frame with triangle iron and diagonal scaffold braces.
A variety of sizes (32-40-47-55-63-inches) are available for various uses such as a home office, study, writing, and other activities such as reading. Melamine-faced board, steel, and non-woven fabric are used to construct this item.
6. BilBil L-Shaped Desk
The BilBil L-shaped smart workstation features a generously sized tabletop. It measures 59 inches in length and 24 to 39 inches in breadth. It can be adjusted between 27″ and 45″ to meet your specific demands.
This size smart desk is supported by a strong metal structure with two beams that can sustain up to 180 lbs. It provides greater stability and durability than a single-beam desk. The wide T-shaped foot is one of the most sturdy foot designs available.
The surface is resistant to water and wear and incorporates wire collection holes to help keep the workplace environment tidy. Additionally, the desk includes a hook accessory and a wire basket for hanging headphones, umbrellas, sockets, and other objects.
7. FLEXISPOT EC1 Electric White Standing Desk
The spacious 48″ x 30″ eco-friendly whole-piece desktop provides ample space for two monitors and a laptop, allowing you to quickly spread out and take on the workday's problems. A combination of an industrial-grade steel frame and a robust desktop enables a 154-pound weight capacity to accommodate your optimal working configuration.
The motor lift mechanism provides smoother height adjustments between 28″ and 47.6″, at a rate of 1″ per second and with less noise when operating. The FLEXISPOT ideal standing desk for individual and remote people who wish to work from home in an active, healthy, and productive atmosphere.
8. FEZIBO Standing Desk
The FEZIBO Standing Desk is the ideal study desk. From 27.36″ to 46.04″, there are three preset buttons to allow you to tailor the height to your liking. Organize and make your mouse and keyboard easily accessible. Because of the superior metal rails, you can expect long-lasting and buttery smooth tray sliding.
The lift system is constructed of heavy-duty steel. The frame was constructed of industrial-grade steel and could support up to 176 lb. The desktop is packaged in a splicing board and comes with a cable management tray and two hooks. Swivel casters allow you to move your desk around 360 degrees while keeping your floor safe from scratches.
9. OneSpace Stanton Desk
The OneSpace Stanton Desk is great for students who have busy lives. The college student desk's ergonomic design ensures that students don't become tense and uncomfortable while studying for long periods of time.
When you position the laptop on the top shelf, the 30-inch eye-level gap between your face and the screen preserves your vision and posture optimally. Additionally, the OneSpace Stanton Desk distinguishes itself from other desks by featuring an adjustable keyboard base. This convenient feature enables you to establish a negative keyboard tilt to maintain a comfortable working position for your wrists.
10. Techni Mobili Desk
These Techni Mobili Desk shelves are ideal for arranging textbooks and storing study supplies. Utility and equipped with two auxiliary racks weighing a combined 30 lb. You can place items such as clocks or plants on the top shelf. Additionally, the shelf behind the desk is an excellent location for books and paperwork.
Steel frame with anti-scratch powder coating. The open design will appeal to apartment residents and university students who require additional space. Assembly is quick and simple due to the lightweight materials and simplicity of the design.
11. SFFZY Desk
Simplistic design with a large full-size workstation makes this SFFZY Desk an excellent choice for home school pupils and college students. You have a tempered glass tabletop robust enough to hold a two-monitor rack. This desk is suitable for use as a computer desk, office desk, meeting table, study table, writing desk, or gaming desk, among other things. With this efficient desk, you can customize your home office. Increased desktop space – 80*58*76cm (LWH), providing ample surface area for writing, computer work, and other home office tasks. This desk is quite simple to put together.
12. Boraam Aero Desk Set
The Boraam Aero Desk Set is a must-have for anyone who lives in a compact space. The Aero is small enough to fit in college dorms, bedrooms, or small apartments, but it still provides a generous workspace. Even more space-saving convenience is provided by hiding the bench beneath the desktop when it is not in active use. 
This elegant study desk is the ideal first piece of furniture for those who like things modern and uncluttered. This rack is perfect for holding textbooks, pens, laptops or computers, and anything else you need for school. The metal table legs are designed in a hairpin style, giving it a nostalgic feel!
13. JJS Home Computer Desk
This JJSDesigns wooden desk contributes to creating an ergonomic and relaxing work environment. With a generous surface area and attractive storage solutions that simplify filing, this inexpensive yet high-quality writing desk is the ideal answer for you.
Unlike other desks in the marketplace, this one is made of melamine, protecting it from daily wear and tears. No worries if anything spills on top of it. Simply wipe it down with a clean towel, and it will look as good as new. The rust-proof steel structure and supporting beams ensure this desk's ultimate solidity.
14. Merax Large Office Desk
The Merax Large Office Desk is a desk that will instantly capture your heart. The thickened metal frame provides improved stability and enables the writing desk to support a maximum weight of 220 lbs. The desk is constructed with a high-quality metal frame and MDF board, ensuring stability and longevity. Meanwhile, a smooth, water-resistant desk surface will enhance your office experience. The desk with a bookcase provides ample storage for copiers, books, magazines, office supplies, and mainframe computers.
15. HOMEYFINE Computer Desk
The HOMEYFINE Desk is a working and gaming platform regarded as one of the greatest desks for college students due to its performance-oriented design.
The computer desk is made entirely of superior steel and chipboard and is extremely stable, sturdy, and durable. With the rack, it is possible to mount it on a computer display, it is simple to use, and it features an attractive structural design that balances use and aesthetics. It's easy to keep clean and neat because of the high-quality material and elegant finish.
Conclusion
As we conclude this evaluation and guide on the best desks for college students, I hope you have a decent notion of what you want. Consider the features offered by each desk before making a decision based on the factors discussed in this article. If you spend a significant amount of time at your workplace, you should consider purchasing an ergonomic chair.
When it comes to studying, there is nothing more stressful than feeling like you don't have enough space. By reviewing the best home study desks, you are making the right choice. With so many options available, it can be difficult to decide which one will be a good fit in your room, but at least now you know what to look for!