"When you buy through links on aneverydaystory.com, We may earn an affiliate commission."
Even though mathematics is described as a "language," it is truly a skill. So it shouldn't come as any surprise that children need to practice to develop mastery and proficiency. For this reason, the teacher of mathematics (the parent too) needs to provide their students with plenty of practice opportunities at home or in school.
Many people will think that it's all nonsense; the game is nothing to educate here. However, educators have created many educational games for a long time for elementary students. Making the most of the appeal of games, these educational games lead children into a colorful, fun and practice many useful foundational skills for exploration of the world. This article lists 35 of the best games for 1st graders: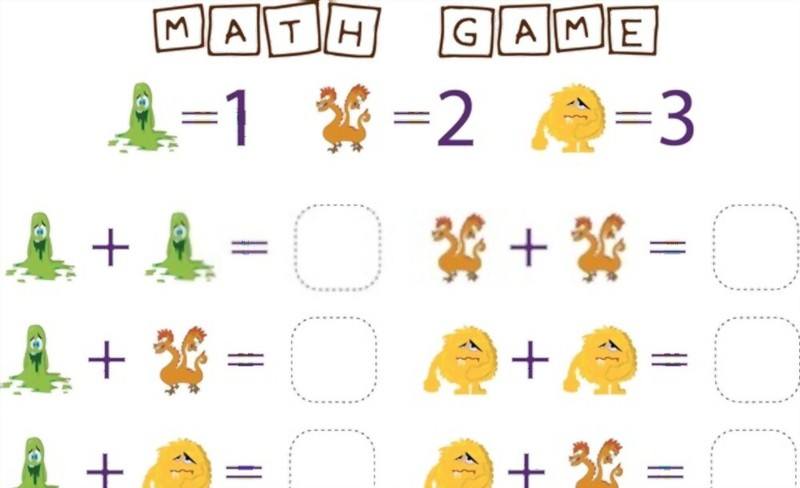 1. Monster Math
During this math game for 1st graders, the learner will master fundamental arithmetic abilities while assisting Maxx, the friendly monster, as he explores the world, battles foes, and saves his pal Dextra. In addition, there is a multiplayer feature that enables children to compete with other children online while they are learning. Leveled from 1st to 3rd grade, this program may be downloaded for free.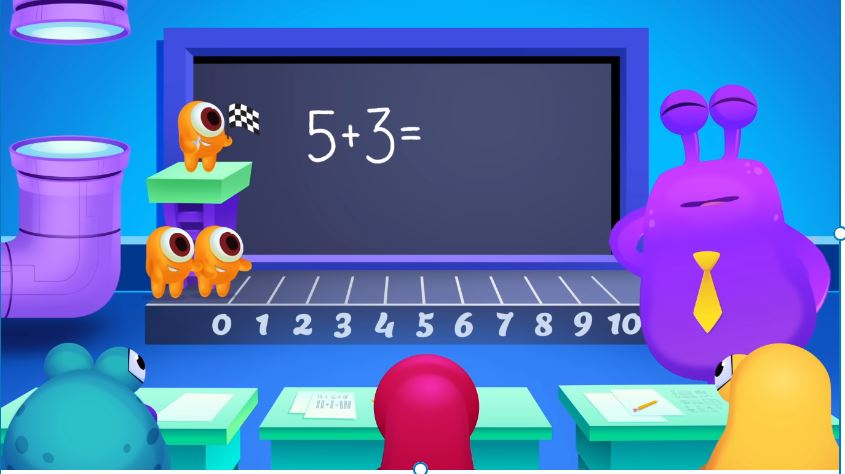 App Store: https://apps.apple.com/us/app/monster-math-kids-fun-games/id931943412
Google Play: https://play.google.com/store/apps/details?id=com.makkajai.monstermath2free&hl=en_US
2. Splash Learn
All visual learners are invited! A self-paced coursework program is the goal of this math software, which aims to make mathematics entertaining and engaging. On the other hand, the fifth-grade level concentrates on multiplication, division, fundamental algebra, and fractions and decimals in the 1st grade. Virtual awards, a progress dashboard, and explanations for incorrect answers are some of the app's notable features.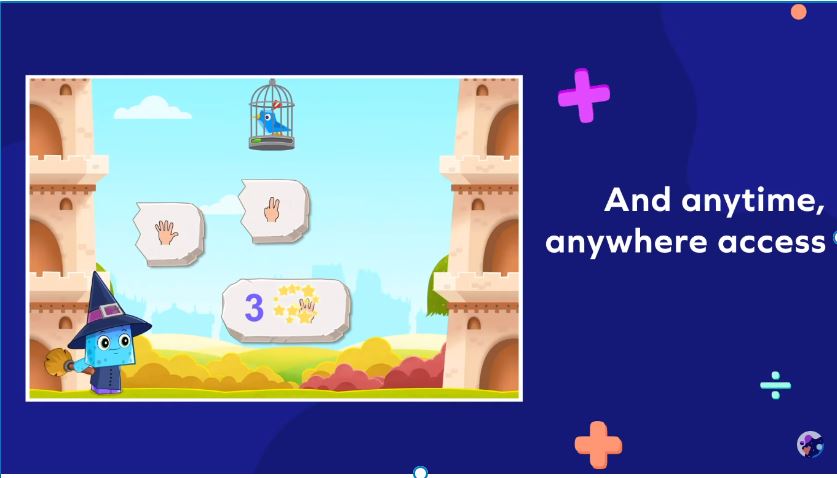 App Store: https://apps.apple.com/us/app/splash-math-games-for-kids/id672658828
Google Play: https://play.google.com/store/apps/details?id=com.splash.kids.education.learning.games.free.multiplication.reading.math.grade.app.splashmath&hl=en_US
3. Khan Academy Kids
This program, created by Stanford Graduate School of Education researchers, will teach your child arithmetic via the use of charming animal characters. However, it also includes programs for writing, writing, communication, problem-solving, physical development, social and emotional development, and other subjects. A tailored experience is made possible by adaptive features, ensuring that children get the most out of the digital game.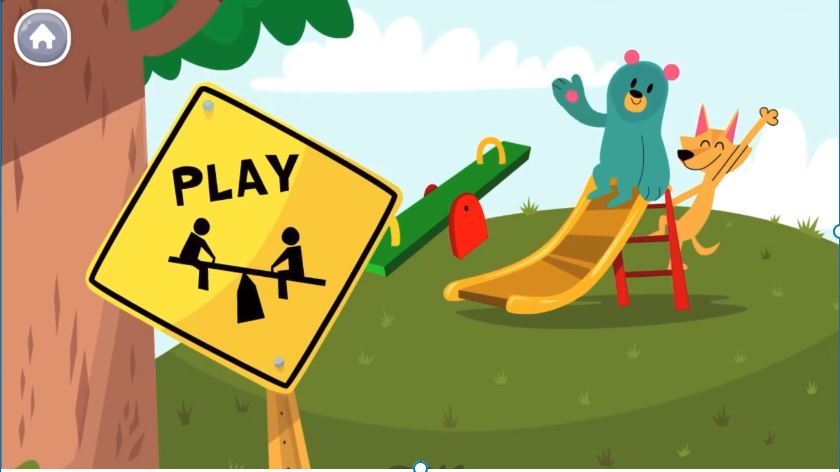 App Store: https://apps.apple.com/us/app/khan-academy-kids/id1378467217
Google Play: https://play.google.com/store/apps/details?id=org.khankids.android&hl=en_US
4. Moose Math
This game is for kids aged 4 to 7 who need help understanding the differences between addition and subtraction, with skill-building characters of the North American moose. This game teaches children how to play along with another player in real-time and keeps track of their progress during their game.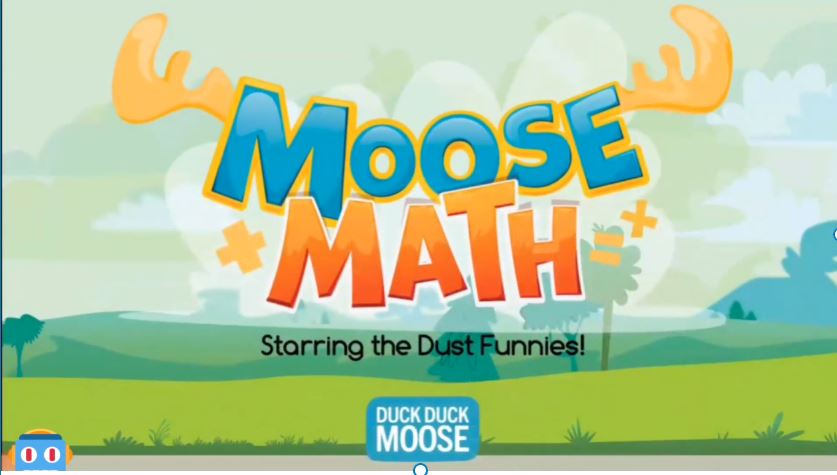 App Store: https://apps.apple.com/us/app/moose-math-games-for-kids/id1146141807
Google Play: https://play.google.com/store/apps/details?id=com.totalsolarpower.moosemath&hl=en_US
5. Xtra Math
This is another free website that enables children to practice arithmetic topics in a fun, interactive environment. You set all of the settings as the instructor. This includes the order in which the information is presented and the time allotted to each user to respond to the questions. They began with addition and progressed to subtraction, followed by multiplication and division. It's a contest to see who can solve the most issues in the shortest amount of time.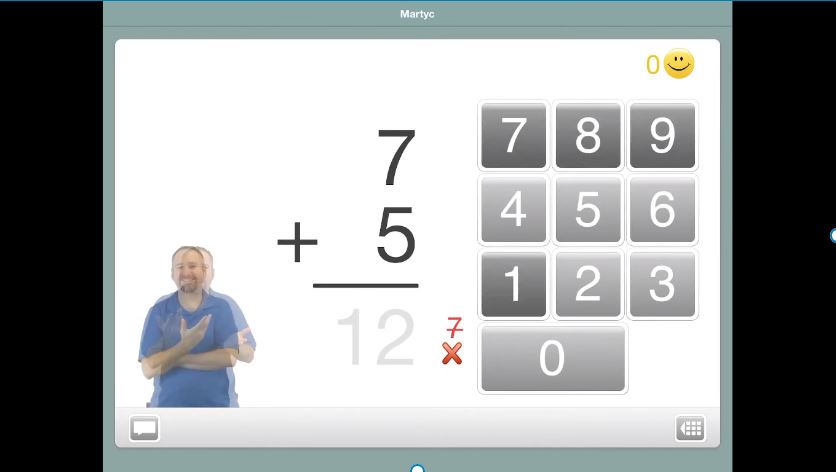 App Store: https://apps.apple.com/vn/app/xtramath/id882931712
Google Play: https://play.google.com/store/apps/details?id=org.xtramath.mathfacts&hl=en
6. Addition Scale
Experiment with addition and subtraction equations to better understand the equal sign's meaning. Select a number and drag it to the ridiculous scale to balance the equation and the scale. Teachers rely on Toy Theater to create educational games that are safe and effective for primary school classes. It's free to play, but it's priceless for education.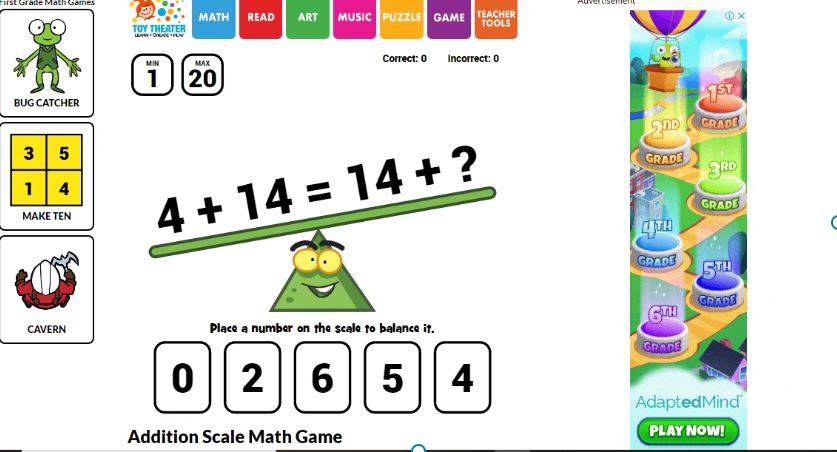 Learn more: https://toytheater.com/addition-scale/
7. Subtract the Slime
This simple, easy-to-use math game teaches children basic addition and subtraction skills. This math game for 1st graders allows 1st-graders to practice their calculation skills without using a computer by playing the game with colored slime as an activity.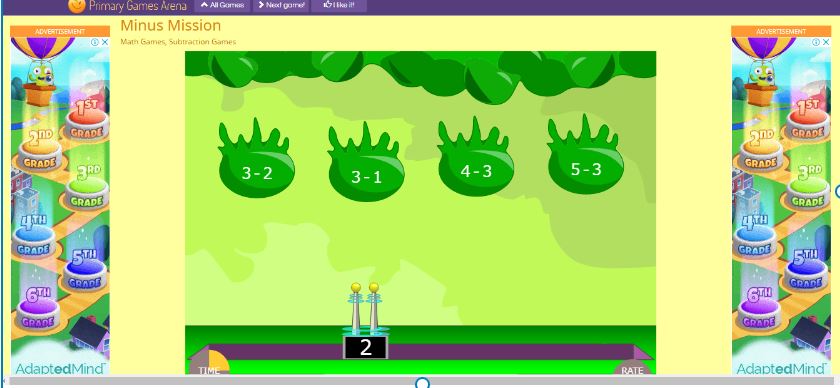 Learn more: https://primarygamesarena.com/Play/Subtract-The-Slime-407
8. Kangaroo Hop
Children learn fundamental shapes with this arithmetic game. While guiding your kangaroo around a pond packed with lily pads of various kinds, your children will develop important shape recognition abilities. Additionally, 1st-grade students must master straight-line drawing and recognize a range of geometric forms to advance in their schooling. So why is there such a frenzy? You're required to "jump" over the ground forms.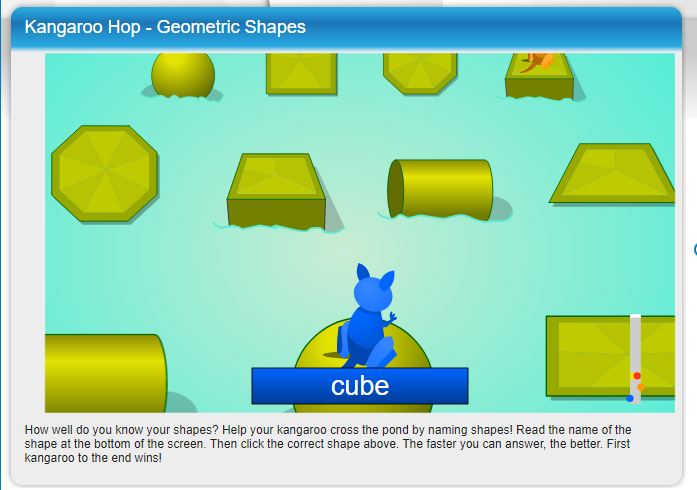 Learn more: https://www.mathgametime.com/games/kangaroo-hop-geometric-shapes
9. Time to Half-Hour
Students must match digital clocks to their analog clocks to complete the assignment. Half-hour time is one of the math abilities learned in this matching game. With Time-to-Half-Hour, your children will learn how to read digital and analog clocks. This math game for 1st graders is also a fun way to practice telling time.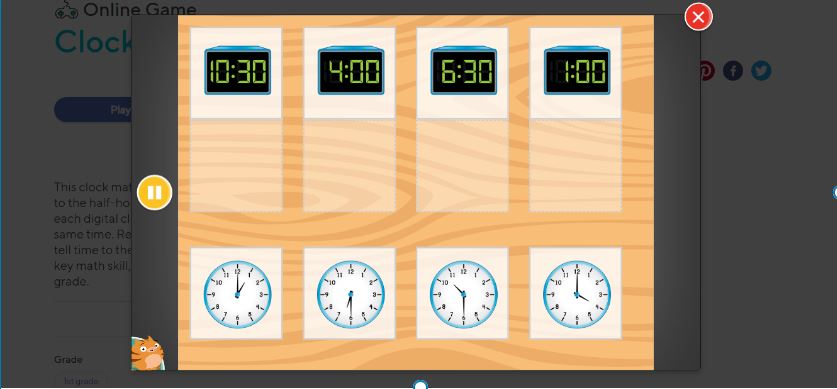 Learn more: https://www.education.com/game/clock-match/
10. Less Than or Greater Than
Teach kids about the concepts of less than and greater than for numbers 1 to 20 with this arithmetic game created just for first graders. Students will determine which mouth is pointing towards the bigger of two numbers using the traditional mnemonic strategy of the alligator mouth to convey the meaning of the less than and greater than signs. With two-digit digits, this game tests your numerical awareness.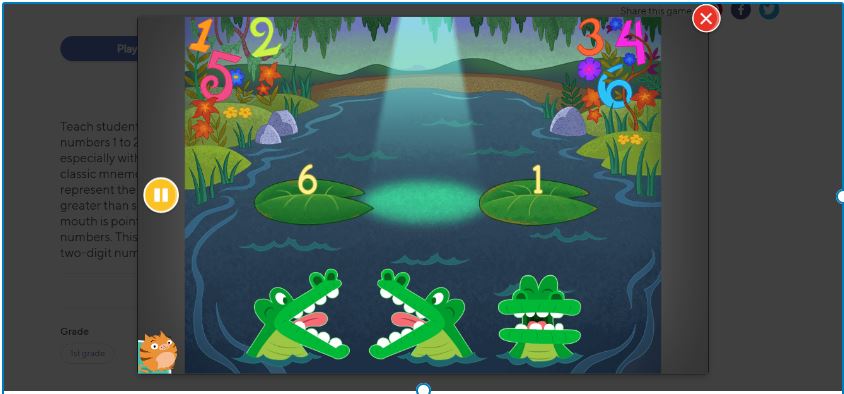 Learn more: https://www.education.com/game/less-than-greater-than/
11. Square Tangram
Corrective surgery on Muggo the Robot is a great chance for your pupils to get experience. Additionally, it helps young students understand how triangles and squares and even parallelograms join together to produce bigger shapes. This is a great tool for reinvigorating their studies.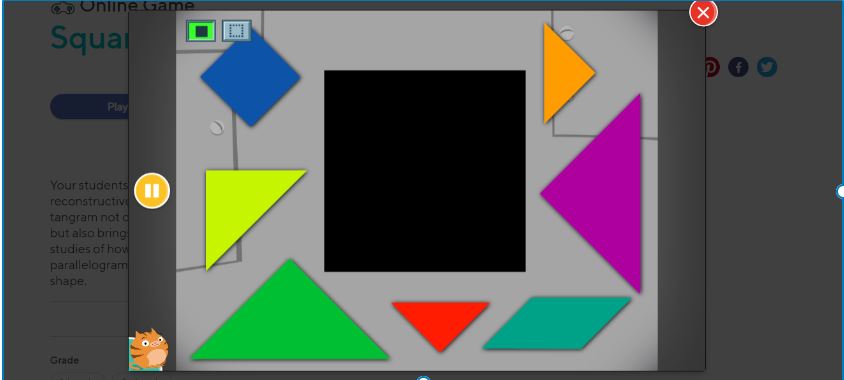 Learn more: https://www.education.com/game/square-tangram/
12. Bubble Buster: Addition to 10
In addition to 10, this bubble-bursting game aids kids in honing their talents. To create ten, students must touch two digits simultaneously as rapidly as possible. One of the most important aspects of math fluency in first grade is learning to add inside the 10-digit range.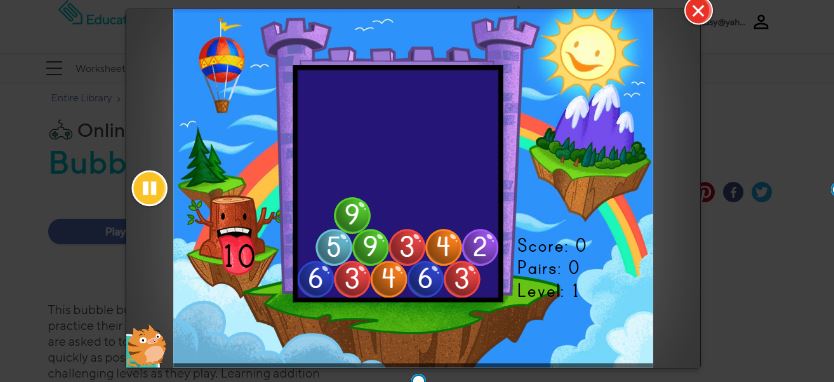 Learn more: https://www.education.com/game/number-pairs-bubble-buster/
13. Balloon Pop Subtraction
This 1st grade game is a lot of fun for all youngsters who are learning about subtraction. Children are given subtraction problems, and they must explode balloons to discover the answer! There are three difficulty levels, a bonus round, and score reports.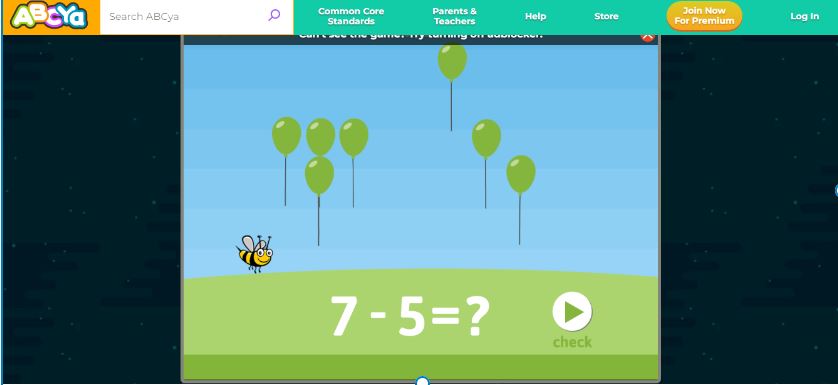 Learn more: https://www.abcya.com/games/subtraction_game
14. 100 Snowballs
Children like snow play! One hundred snowballs is a fun interactive exercise that allows youngsters to engage with a winter landscape by moving the mouse snowballs. Children may make whatever they choose as long as they use no more than 100 snowballs! This game is ideal for use in a classroom setting with an interactive whiteboard.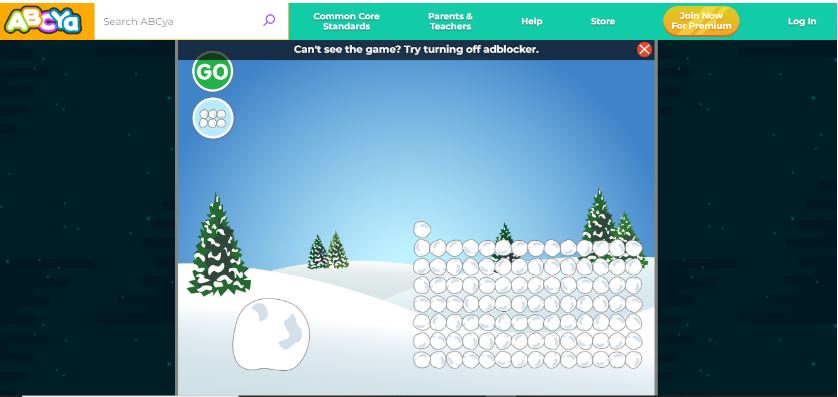 Learn more: https://www.abcya.com/games/one_hundred_snowballs
15. Adventure Man Dungeon Dash Numbers
Adventure Man returns, but this adventure with the assistance of his courageous pal Danger Dame! Assist them in escaping the Numbers Dungeon by collecting money and jewels and responding to questions about even, odd, and composite numbers. Are you brave enough to escape this horrible dungeon?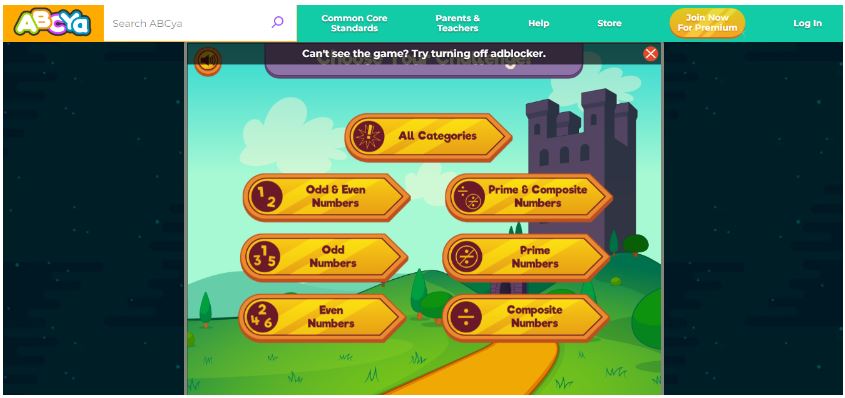 Learn more: https://www.abcya.com/games/adventure_man_dash_numbers
16. Puzzle Pics Addition Facts
Decide on a goal amount to practice with. Place the puzzle piece in the grid square that has a missing number. Keep an eye out for the appearance of the mysterious photo. The object of the game is to complete the puzzle.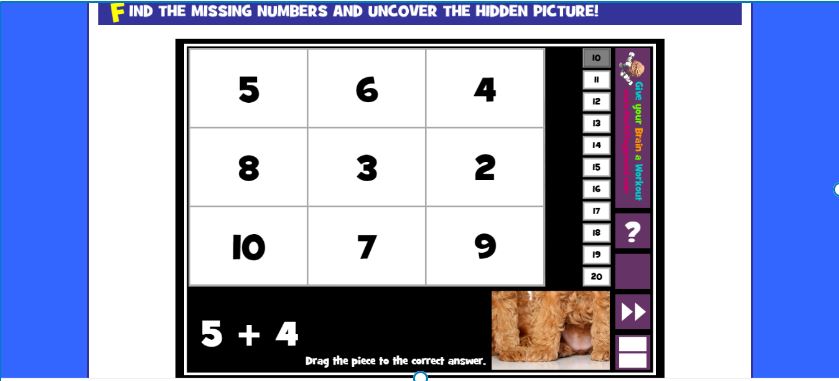 Learn more: https://www.mathplayground.com/puzzle_pics_addition_facts_to_20.html
17. Ducky Race
Do you know all of the subtraction facts up to and including 12? Do you have the ability to subtract numbers mentally? Put this vital talent to the test and assist your ducks in winning the competition. Each time your ducks cross the finish line, they can gain further points. This is a challenging game that requires mental computation and a steady hand.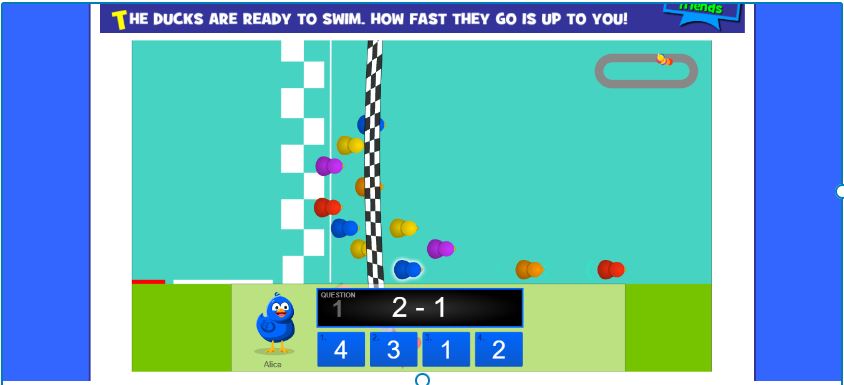 Learn more: https://www.mathplayground.com/ASB_Ducky_Race_Subtraction.html
18. Alien Addition
Our space companions want you to get familiar with them as well! The Alien Addition game is also suitable for kids of other ages. It's a simple learning process, but it may require a bit of your time and effort to finish. The buttons are interactive, so you can hear the sounds they make when pressed by your fingers.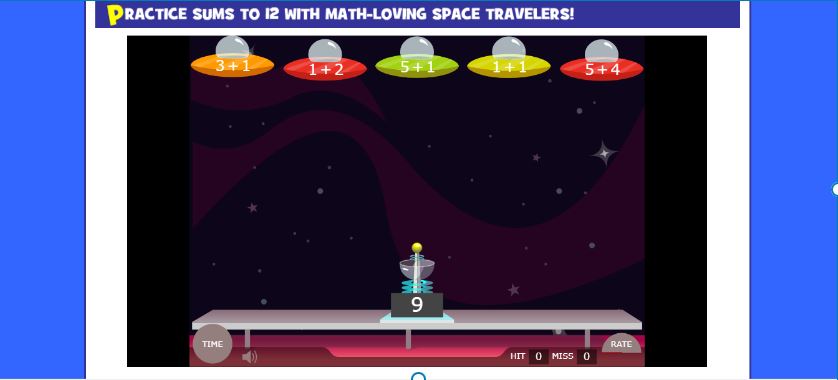 Learn more: https://www.mathplayground.com/ASB_AlienAddition.html
19. Identifying Shapes By Attributes
This simple quiz on recognizing shapes by characteristics can help you brush up on your child's geometry skills in the first or second grade. Students will follow up with the narrator's directions by clicking on the shape that most closely fits the hints he or she provides. Additionally, students in second grade will be able to use triangles, rectangles, and other geometric forms.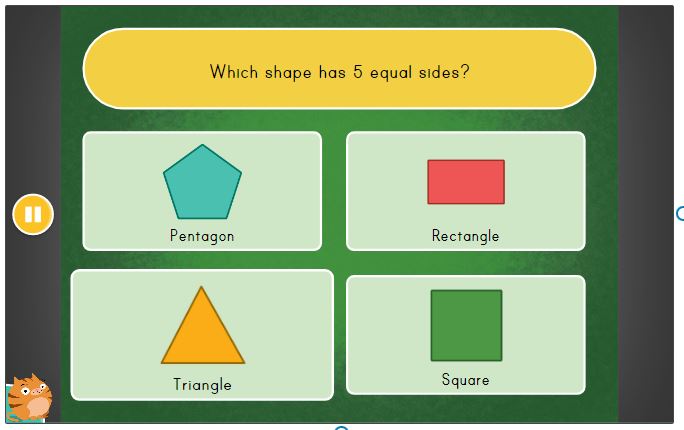 Learn more: https://www.education.com/game/identifying-shapes-attributes/
20. What Time Is It?
How is the time? Students serve as timekeepers in this game by determining which clock displays the time specified by the storyteller. This visually appealing game is brimming with interesting graphics of a range of analog clocks that will assist learners in practicing telling time to the hour and quarter. Knowing how to read an analog clock is a fundamental arithmetic ability that is most often studied in the first grade.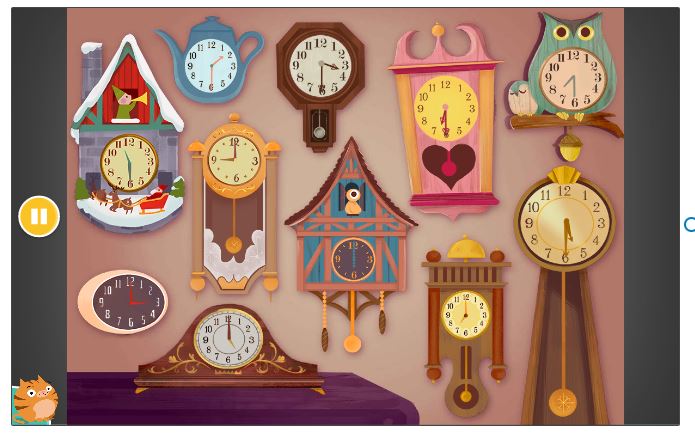 Learn more: https://www.education.com/game/what-time-game/
21. Dino Bones: Two-Digit Addition Within 100
All you archaeologists out there! Dig up dinosaur bones and complete skeletons by properly solving addition problems in Dino Bones. First-graders can practice two-digit by one-digit addition while playing this online game, enhancing their arithmetic skills and setting the groundwork for more complicated learning in the future.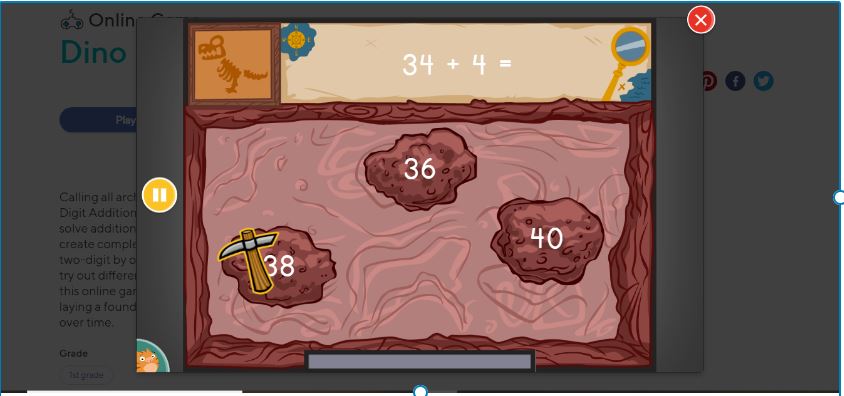 Learn more: https://www.education.com/game/dinobones-two-digit-addition-within-100/
22. Break The Bank – Sorting
Fun for all ages! Break the bank and learn how to organize money effectively! – In this game, children will have the opportunity to break open amusing piggy banks to find coins and dollars hidden within them. Correctly sorting and organizing your money will enable you to access a rewarding bonus game.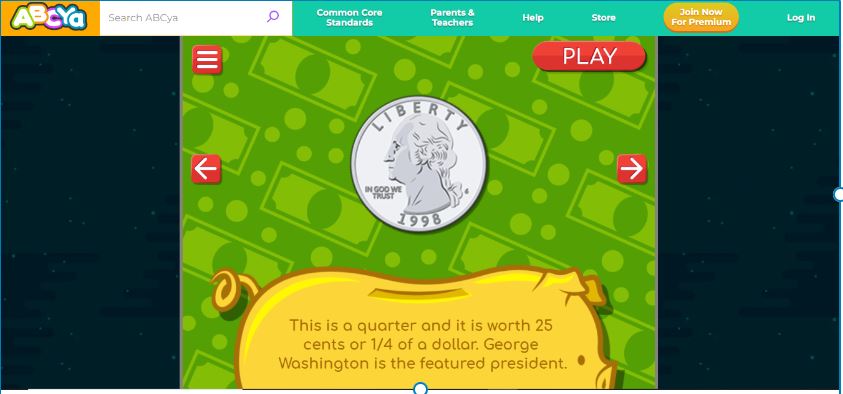 Learn more: https://www.abcya.com/games/break_the_bank_sorting
23. Crocodile Game
Similarly, shapes are useful in developing pattern recognition in children, particularly by examining how polygons are named according to their number of sides. Your children or kids can practice identifying shapes by playing this crocodile game on discovering shapes based on the popular game Snakes and Ladders, which will keep them entertained. We've included both two and three-dimensional forms to help children build their vocabulary even further.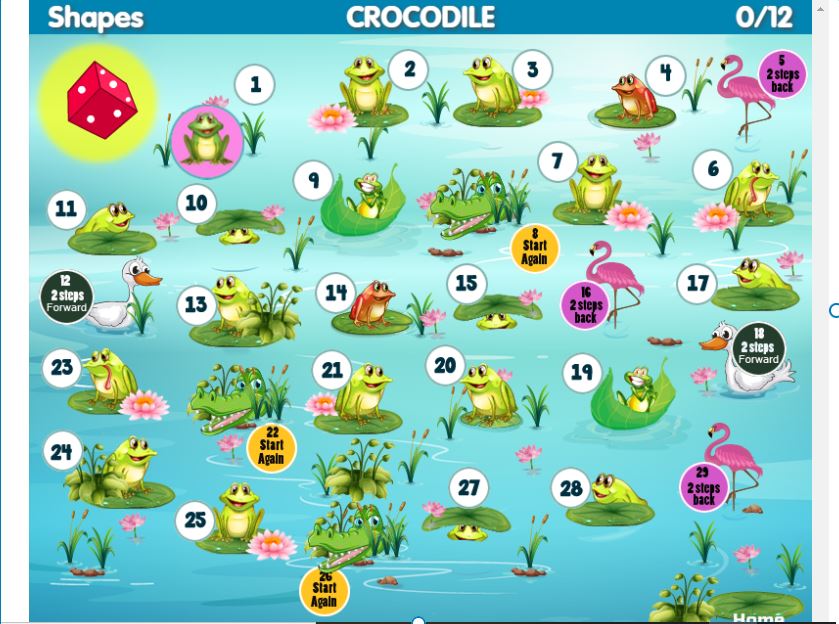 Learn more: https://www.math4children.com/crocodile-games/shapes.html
24. Addition Game with Racing Cars
With the help of this vehicle racing addition game, you can improve your mental calculation skills and reflexes. Complete the additional questions as quickly as possible to increase your car's speed. Get ready, set, and go!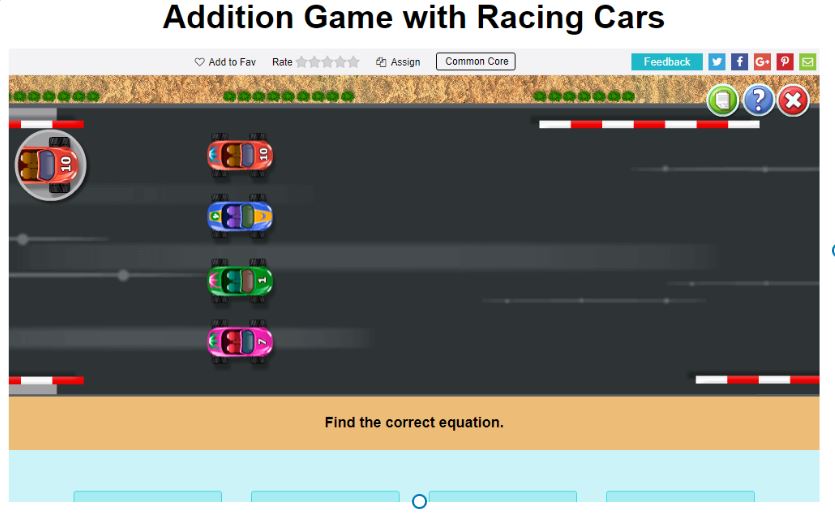 Learn more: https://www.turtlediary.com/game/addition-car-race.html
25. Purchases: Do You Have Enough Money?
Send pupils to a web store to challenge their understanding of money. Checking their bank balance is a necessary step before purchasing a specific item. Students will learn arithmetic as an abstract concept when they look at the coin's face rather than its value. If they get the answer wrong, there are clear instructions to guide children through re-evaluating their response and practicing coin identification.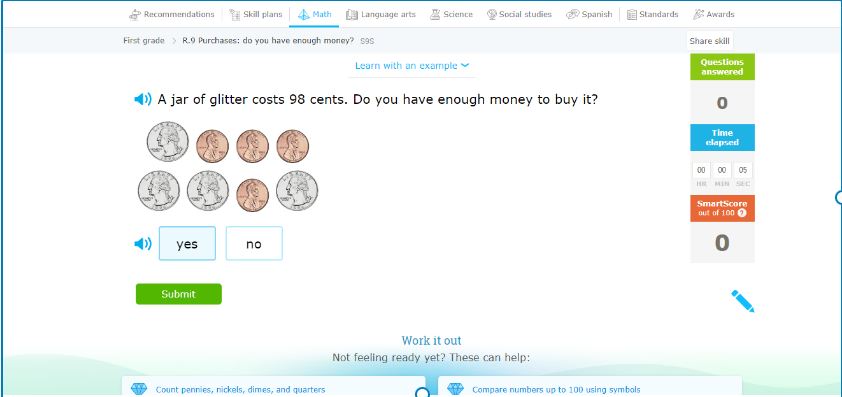 Learn more: https://www.ixl.com/math/grade-1/purchases-do-you-have-enough-money
26. Jumping Chicks – Counting Game
With Jumping Chicks, you can practice your counting skills. At the bottom of the screen, you will see a number. Click on the lily pad that corresponds to the number you want to move your chick forward. Make sure to count attentively, but move rapidly as well!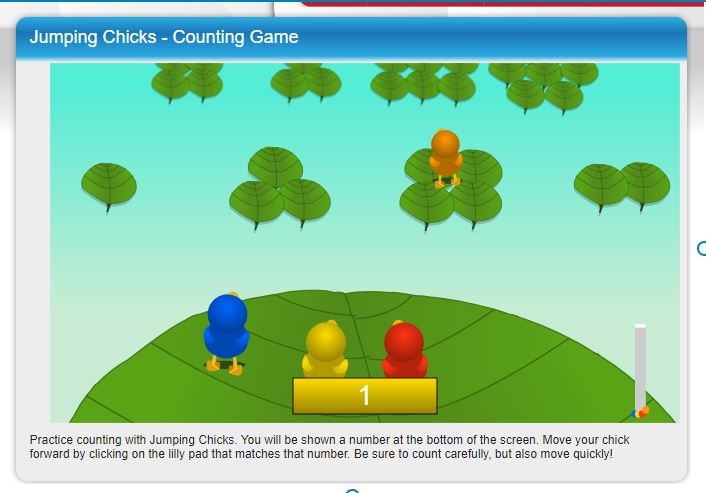 Learn more: https://www.mathgametime.com/games/jumping-chicks-counting-game
27. Counting Fish
Children must first count the amount of fish swimming in front of them before clicking on the number that corresponds. A more than and less than suggestion system is used in this early learning game to assist toddlers in learning the values of numbers. Three levels of difficulty have been added; the child must score 70percent or higher to proceed to the next level; voice prompts have been added, and a creative bonus activity has been included when all three levels have been completed.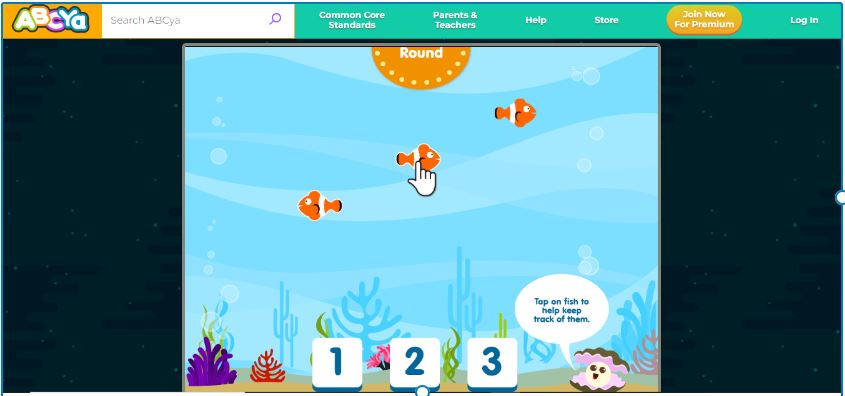 Learn more: https://www.abcya.com/games/counting_fish
28. Subtraction Pizza Party
Make a pizza apron—the time it's to cook up a storm. Kids use pizza toppings to solve subtraction problems and ensure that each client gets precisely what they order in this fun, interactive math game using pizza. This first-grade arithmetic game uses digital metacognitive strategies to help students visualize the solution to problems rather than depending on mental subtraction skills.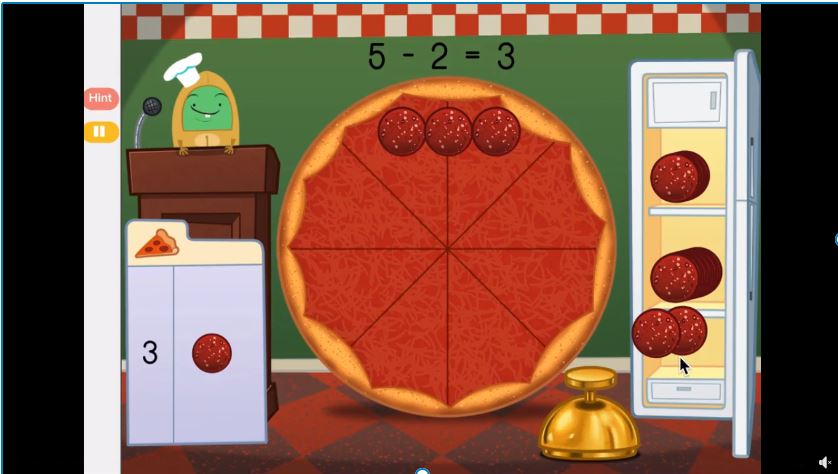 Learn more: https://www.education.com/game/subtraction-pizza-party/
29. Rubik's Snake
Rubik's Snake is a game where you have presented a picture and then shown a snake. You must twist and spin the snake to produce the specified forms. It's a lot more difficult than it appears. Consider how the shape travels to better control it as you progress through the levels.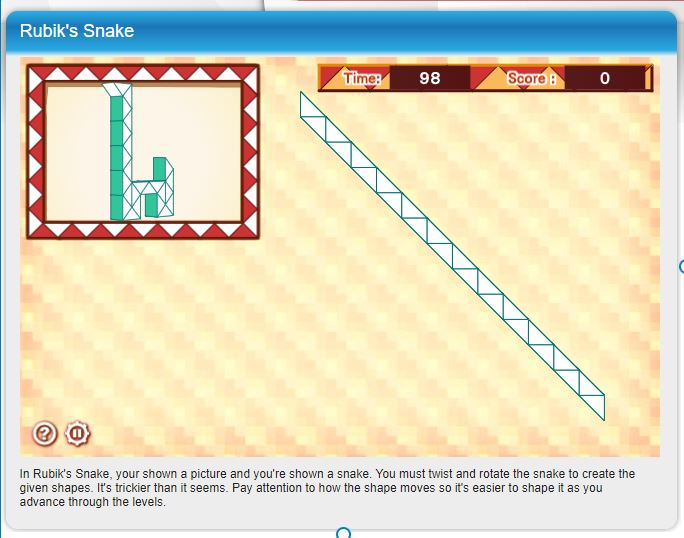 Learn more: https://www.mathgametime.com/games/rubiks-snake
30. Whack An Answer
Once again, it's time to start playing Whack a Question. Prepare to WHACK an object with the solution written on it after calculating the answer to the provided problem. You must act quickly to prevent the solution from being lost. Points are awarded based on how quickly you complete the course.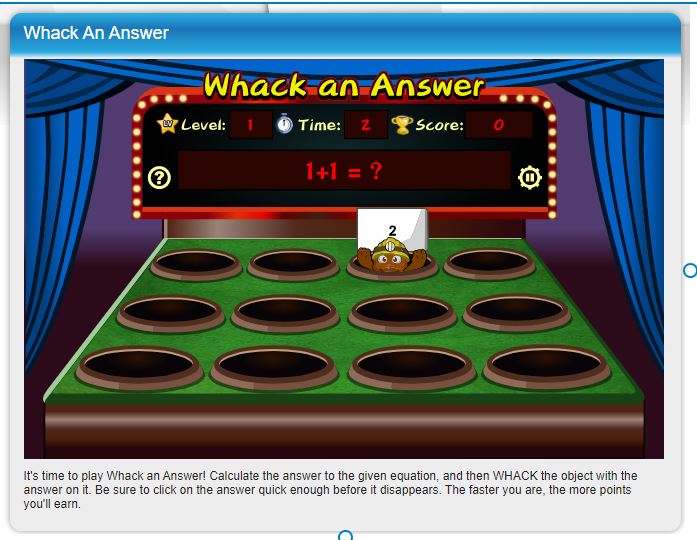 Learn more: https://www.mathgametime.com/games/whack-an-answer
31. Fuzz Bugs
To sharpen their pre-math skills, have your first graders practice counting, sorting, and comparing fuzzy bugs in this engaging activity. Fuzz Bugs are a great way for kids to practice counting to ten, sorting by color and number, and more!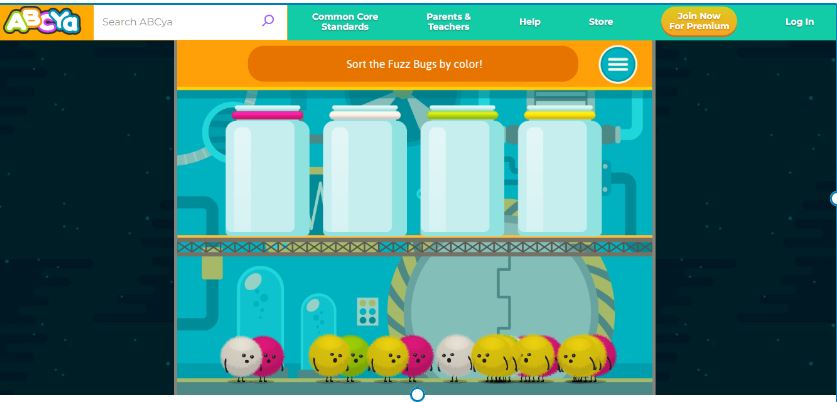 Learn more: https://www.abcya.com/games/counting_sorting_comparing
32. Cavern Addition Game
There are two objectives to the online cavern addition game. Students must first swing across the cavern, collect jewels, and then answer a math equation with the stones. To increase the game's difficulty, each level will include a new bat, and children must avoid swinging into these annoying pests during their fun-filled voyage. It's a fun cave crawling game that helps children build their addition and subtraction abilities, establishing the groundwork for future arithmetic skills.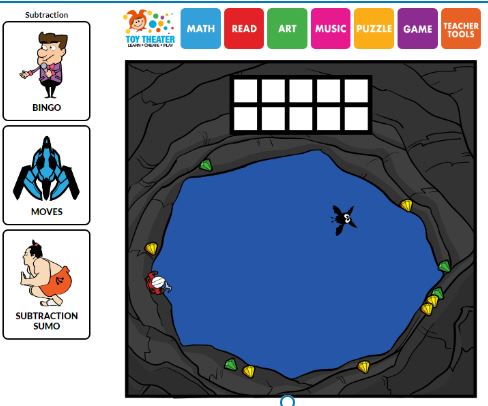 Learn more: https://toytheater.com/cavern/
33. Treasure Diving: Addition Fact Families Within 20
With Treasure Diving: Fact Families Within 20, you'll dive deep into addition practice. Children will select the correct addition expression for assigned fact combinations as they race to reach the sunken gold chest in this undersea learning adventure. Geared toward first-graders, this game is an excellent approach to increase pupils' mathematics competence and critical thinking.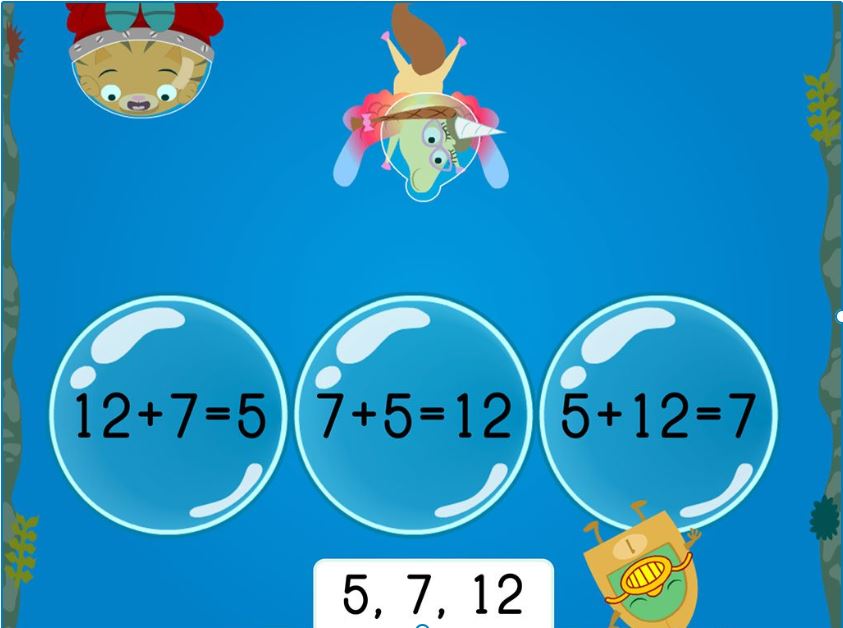 Learn more: https://www.education.com/game/treasure-diving-addition-fact-families-within-20/
34. Guess the Number
To learn to compare numbers, children will use their reasoning abilities. The game chooses a mysterious number, and the player guesses at it before moving on to the next number. Players are notified if their guess is larger or less than the mysterious number and are given a chance to improve. The mysterious number can finally be discovered once a player has eliminated all other possible numbers. Guess the number as quickly as possible, and you'll be rewarded with visuals like a squirrel munching a snack or a dog in a wig!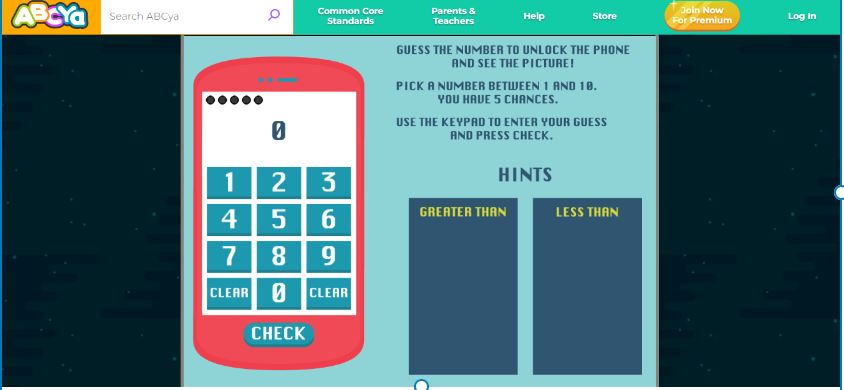 Learn more: https://www.abcya.com/games/guess_the_number
35. Fruit Weighing Game
Respond to the questions by picking the most appropriate response. This game is an excellent tool for introducing children to the metric system fun and engaging way.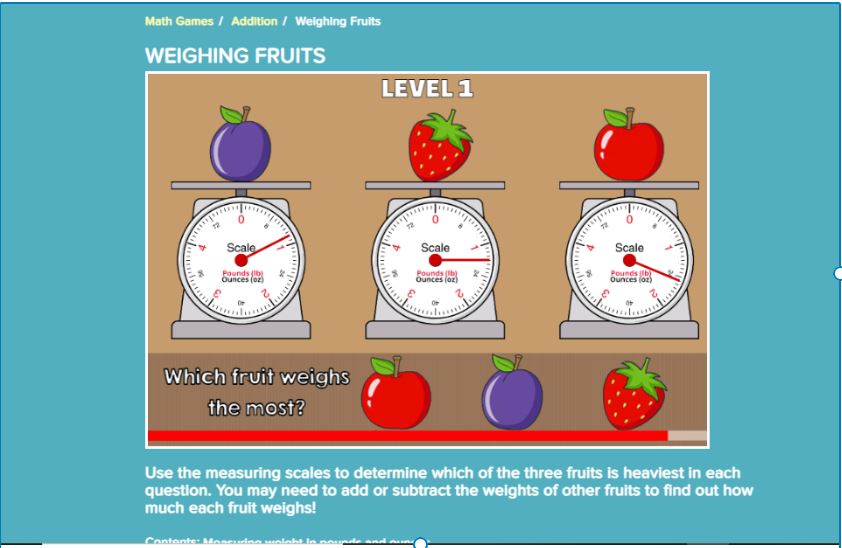 Learn more: https://www.coolmath4kids.com/math-games/weighing-fruits?tid=1
36. Make 10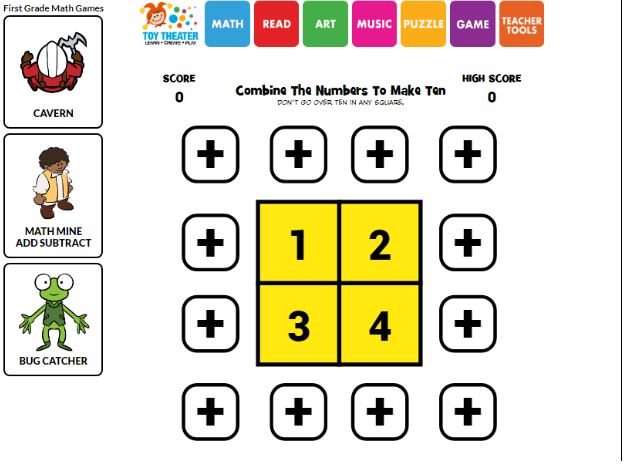 Learn more: https://toytheater.com/make-ten/
37. Kitten Match
Many teachers recommend this lovely math lesson for preschool and first-grade children. It's a simple group matching game that makes learning numbers fun. If the goal is 9, what two numbers will you use to reach it? Take advantage of this opportunity before the other kittens arrive.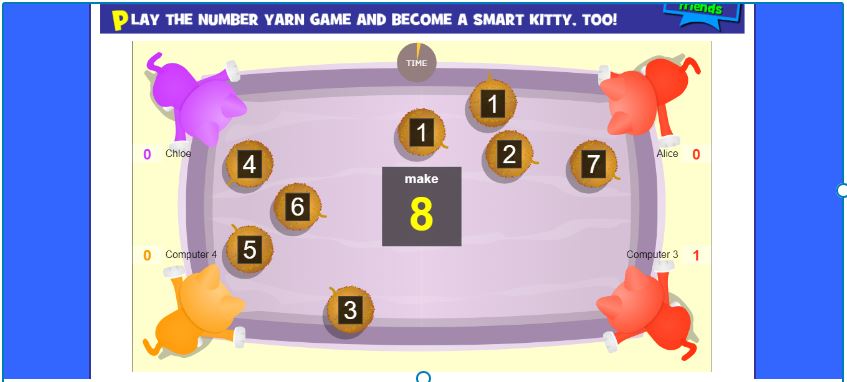 Learn more: https://www.mathplayground.com/ASB_KittenMatch.html
38. First to Five
It's a great way for kids to work on their addition skills while having fun! Aim to roll five of a type first against the robotic Snake Eyes opponent by swiping the screen to add up your dice's totals and clicking on the whiteboard to see your final score. Re-rolling the dice is as simple as swiping your finger across the bottom-left corner of a game screen.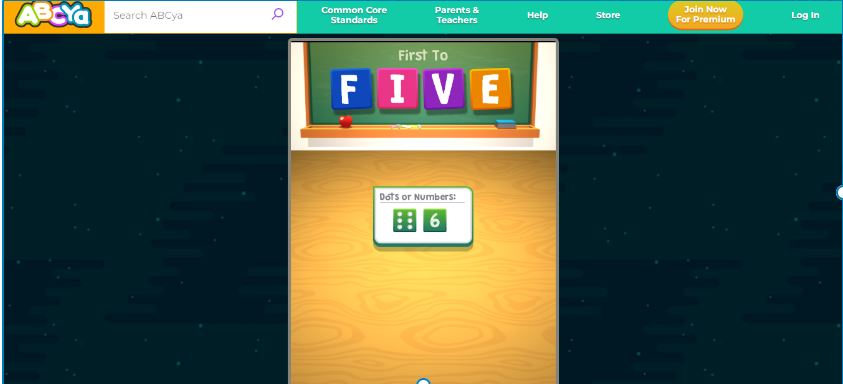 Learn more: https://www.abcya.com/games/first_to_five