"When you buy through links on aneverydaystory.com, We may earn an affiliate commission."
The origin of Norwegian names lies in the Vikings and Norse mythology. Norway is a mountainous nation renowned for its extensive forests and salmon-filled fjords. Norwegian, a Germanic language descended from Old Norse, is spoken by five million people worldwide.
The most likely reason you are seeking Norwegian boy names is that you are expecting a child. If you wish to shed more light on your Nordic background, incorporating some Scandinavian culture into your family is a fantastic option.
Following is a list of the most popular baby names for your child. Some of these names have royal connotations, while others are robust and indicative of the Nordic warrior spirit. Check out the fascinating history, common varieties, and the most popular Norwegian boy's name!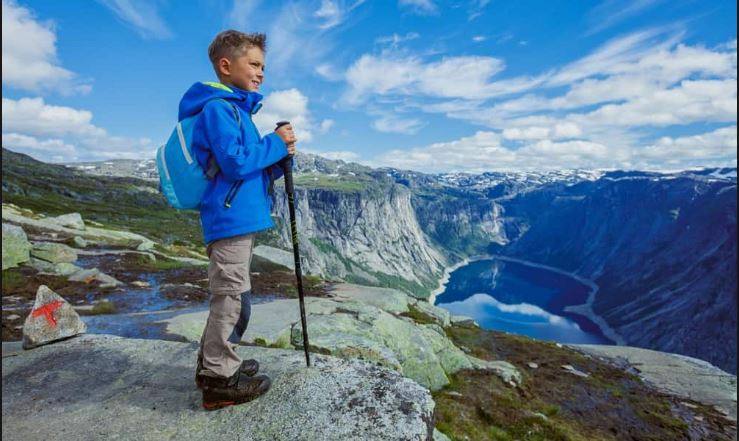 1. Aksel
Recently, Aksel has repeatedly been ranked among the most common Norwegian male names. Because "Axel" is such a common name, this is a clever moniker that has an attractive pronunciation and works well in any language you might encounter. Aksel is derived from the Hebrew name Absalom, which signified "father's peace."
2. Age
It's possible that at first, you'll think this is a peculiar name, but in Norway, it's really quite common for boys to be given this moniker. You probably already know this, but "age" can also imply "ancestors" or "wisdom." Even though the name isn't used as frequently as it was in the past, we continue to adore it.
3. Alexander
Alexander is an "oldie but a goodie" name that recently topped the American popularity lists. Alexander means "defender of men." Alexander could be a daring name choice to remind your boy to be confident and courageous. If Alexander is too common for you, there are many attractive alternatives to consider.
4. Alfrothul
Have you always desired a child's name that reflects your easygoing nature? If so, Alfrothul could be the ideal name for your son. The meaning of Alfrothul is "of the sun." Alfrothul may sound like a throwback to the 1970s, but it can hold its own among the new age crowd. Alfrothul does not roll off the tongue as easily as Alf, but that can still be your son's nickname.
5. Alv
When choosing names for their sons, Norwegian parents frequently go for letters that have a little harsher sounding version of the letter in order to substitute softer versions of the letter. In Norway, the name "Alv" is also sometimes used instead of "Alf," and it can imply either "friend of the elves" or "noble buddy."
6. Asbjorn
Asbjorn is an old Norse name that has been adopted as a given name in both Denmark and Norway. This name is perfect for you if you aren't concerned about learning a new alphabet. The name literally translates to "bear God," making it an excellent choice for households that place a high value on the natural world.
7. Arild
The name Arild has a strong and commanding presence. Arild stands for "battle commander" or "favor." Arild may serve as a compass for you to follow while you travel the path of parenthood. Arild is the perfect person to characterize a new baby as the two of you learns to navigate your relationship with one another.
8. Amund
Amund has two meanings: "sword protection" and "bridal gift." Amund may represent the unwavering support of family for your beautiful child. Alternately, Amund could refer to a child conceived on the wedding night. Both meanings of Amund stem from a place of love, and who wouldn't want their child to be associated with that?
9. Ansgar
The name Ansgar comes from Germanic languages and literally translates to "spear of god." It is most frequently used as a male given name in Germany and Scandinavia, whereas its usage in the United States is extremely uncommon.
10. Andreas
One of the most distinctive forms of Andrew is the name, Andreas. The meaning of the name Andreas is "strong and manly." It is clear that Andreas has the potential to be an honorable name for a child who is about to be born, particularly one who has been anticipated for a very long time.
11. Anders
Anders is pronounced differently than its spelling, yet its peculiarity makes it worthy of consideration. Anders is described as "tough and masculine." Anders may mirror the rough and tumble lifestyle of his father and mother. Anders could be given the name Andy.
12. Alfred
During the Viking Age, people in the Northern Hemisphere most likely encountered this name for the first time. The name Alfred was given to 215 infants in Norway in the year 2020, despite the fact that it is used more frequently these days in Denmark and Sweden.
13. Arne
Because of its robust definition, Arne has the potential to earn you some major cool points with your son. The name Arne can be interpreted as either "ruler" or "powerful as an eagle." It's possible that Arne will represent your son soaring through life.
14. Brynjar
The name Brynjar, which is traditionally used in Norway and is sometimes shortened to "Bryn," originates from the Old Norse name Brynjarr (with two r's), and it was originally spelled with only one r. The name is a made-up one that is composed of the terms meaning warrior and armor combined together. It has the meaning of "protector."
15. Baldur
In Norse mythology, Baldur has multiple meanings, but "god of light" is the most prominent. Baldur was the son of Odin, and it is stated that he was killed with a dart made from mistletoe. Your infant boy's name, Baldur, could poignantly commemorate a deceased relative or ancestor's legacy.
16. Bard
Bard, which is often spelled "Baard," is a Norwegian term that was borrowed from the Old Norse word Bárr. This name is a lovely option for those looking for powerful Norwegian male names. This name implies both peace and war, which is very peculiar.
17. Berrant
Strong bear is the meaning of the name Berrant, which offers bold affection. Berrant may appear scary, but it is the epitome of a parent's immense love for his or her child. Bear would be an endearing moniker for your pet.
18. Borg
Borg is an ancient Scandinavian name for boys that is enchanting despite its brevity. The fact that the surname Borg literally means "from the castle" suggests that the Borgs had a long and illustrious past. It's possible that Borg is a portent of an upcoming addition to the royal family.
19. Bragi
As a name that means "God of poetry and music" or "the best," Bragi has a wonderful aura. Bragi gives voice to the sentiments you have wanted to express for your son. If you want your son to admire the arts and be creative, Bragi may be the greatest name for him.
20. Borre
Borre has an endearing characteristic that helps it stand out. The definition of Borre is "useful." Borre could symbolize your parental obligation to advise and assist your newborn son throughout his life.
21. Christoffer
You have almost certainly come across the name "Christopher" in the past; Christoffer is only the Norwegian variant of Christopher. This name is extremely common in the entirety of Scandinavia, and its meaning is identical to that of Christopher, which is "one who carries Christ within his heart."
22. Christian
It is not surprising that Christian is a religious name, yet it is a cute choice for a child. Christian implies "follower of Christ," but if you are not spiritual, do not feel suffocated by this. Christian may be an appropriate name for a Christmas-born son.
23. Christen
Norwegian form of the English word "Christian," which denotes a Christian man. It is commonly spelled in a variety of ways because it is one of the most popular names in the entire world. This is a common name among royal families.
24. Dag
No, this is not the word people use when they mispronounce "dog." Dag is an excellent Norwegian male name that is also widespread in Denmark and Sweden. The term "day" can be traced back to the Old Norse word, which was dagar.
25. Daniel
According to popularity statistics, Daniel has been a family favorite for decades and has strong spiritual ties. Daniel means, "God is my judge." If you are familiar with the biblical account of Daniel, you may appreciate this emblem of courage for your adorable son. Danny would be a fantastic nickname for Daniel.
26. Didrik
Didrik is a common Norwegian form of the Germanic name Theodoric. Didrik means "thunderbolt." It may be the ideal substitute for the name Derek because it has a similar sound, it's unique, and it doesn't have any "dad" overtones.
27. Dyre
There are two possible origins for the name Dyre: the Old Norse word "drr," which means "dear, expensive, priceless," or "dr," which means "wild animal, deer." It doesn't matter if your son is "dear" to your heart or if he roams the woods as freely as a "deer"; the name Dyre could be a good fit for any scenario.
28. Elias
Around 900 years ago, in Scandinavia, the name Elias, which has its origins in the Bible, was first recorded as being used as a given name. Elias is the 13th most common name given to newborn boys in Norway today, despite the fact that it is the name given to the most newborn boys in Sweden.
29. Eggther
Eggther is likely to elicit a few stares, but a good name will always attract notice. Eggther is defined as the "protector of the giants," which depicts the Norwegian military. Eggther may represent your family's readiness to protect and guide your adorable boy.
30. Ebbe
Both Ebba and Ebbe are examples of names that are rather prevalent in Norway. In the first case, "Ebba" refers to a female, but in the second, a male is intended. Ebbe is a diminutive of the name Eberhard, which means "wild boar," and it is also a possible diminutive of the name Esben.
31. Egil
Egil possesses a bold quality that sets him apart from the other people. "edge of the sword" is what the name Egil implies. If you enjoyed the jousting scenes in Spartacus, you would find that Egil has an ancient, medieval feel that is evocative of those moments. Your young son might benefit from Egil's reassurance that he need not be afraid.
32. Edvard
This is another instance of Norway using non-standard letters in non-standard positions. Edvard is a Scandinavianized variation of the English name Edward. It is one of the most prevalent Norwegian boy names, and its meaning is "rich guard."
33. Eiel
Eiel is odd and unusual but doesn't lack intrigue. The name Eiel literally translates to "born to inspire dread." A child that is born during the scary season may find the name Eiel to be an exciting option.
33. Einar
Einar is an Old Norse name that derives from the phrase "lone warrior," making it an excellent choice for any warrior in your universe. This is a book that has a fantastic title since it sounds like a name that would be given to the main character in a fantastic tale. Eye-nar is the correct pronunciation of Einar.
34. Even
Even is an intriguing masculine name that originates from the Old Norse language in Norway. Even is not simply an alternate spelling of the name Evan; rather, it derives from Eivindr, a name that can either mean "the winner" or "the gift." The name "Eivind" is also acceptable for usage as a boy's name in Norway.
35. Erling
Erling is a lovely name that has the potential to make your child feel like a king. Erling signifies a royal because it means "son of the chief." Your baby boy is a miniature version of you; therefore, it would be appropriate to call him Erling.
36. Espen
It's possible that giving your youngster a name like Espen would help him feel more connected to God. A divine selection, Espen means "God bear." God has given you a rare gift to call your own. Espen's warm personality will envelop both you and your child in a blanket of affection.
37. Evinrude
Evinrude has a cool yet odd sound that may capture your attention. Ole Evinrude, a Norwegian-American creator of motorboats, bears the surname Evinrude. Evinrude stands for "swift boat." Evinrude is a possible sporting name for a boy.
38. Filip
Filip is a common Norwegian boy's name because it is simple to spell and pronounce. Norway consistently replaces the "ph" sound in our names with a single f. Filip is an alternative form of Philip that means "friend of the horses."
39. Finn
Because it is simple to both spell and pronounces, Filip is a common choice for a boy's name in Norway. The sound of "ph" in Norwegian names is standardized to be pronounced as a single "f." Filip is an alternative form of Philip that means "friend of the horses."
40. Frode
It is difficult to determine with absolute certainty whether the country — Denmark, Sweden, or Norway — has the highest usage rate of the name Frode. In either case, the term is widely used over all of Scandinavia, and it is used to refer to a person who is astute, knowledgeable, or exceedingly erudite.
41. Fridtjof
This name for a boy in Norway has a meaning that isn't exactly good, but it's definitely badass. The name, which originates from Old Norse, can be translated as both "thief" and "peace." If you were to give your son the name Fridtjof, you would be labeling him as a disruptor of tranquility.
42. Frank
The word "frank" means "free," which may shed some light on the origin of phrases like "being frank" or "being candid." People in the northeastern part of the United States, such as in the city of New York, frequently call sausages and hot dogs by their German name, Frankfurter, which can also be pronounced as Frank. This is common in the city of New York. This is a cool fact to know.
43. Geir
Geir first appeared in the 1930s as a given name. Nonetheless, it was a component of ancient Norsk names such as Asgeir and Torgeir. In the 1960s and 1970s, two percent of male births in Norway were given the name Geir. Geir is tough and robust enough to earn our approval, despite its declining popularity.
44. Gaute
Gaute is an entirely Norwegian masculine name derived from Old Norse mythology. The initial name of the band was "Gauti," which can be broken down into the phrases "goths" and "mean from Sweden," respectively. You can cover two Nordic countries with only this one article.
45. Goran
Goran is a name that is found in many regions of the world now, but it remains incredibly popular in Norway. The apparent meaning of the masculine name is "mountain guy" or someone from the highlands. It is occasionally a substitute for George in Norway.
46. Gjurd
This name is more difficult to pronounce than some of the other Norwegian boy names that we have researched and considered using. Thankfully, both its appearance and its sound are outstanding. Derived from the Germanic name Godfred, the meaning of Gjurd is "God of Peace."
47. Hakon
In recent years, Hakon has emerged as one of the most popular choices for a boy's name in Norway. This name, like many of the others that have been discussed in this post, derives from Old Norse and dates back hundreds of years. The name, which means "highest son," was frequently given to members of the Royal Family.
48. Halle
The name Halle is more commonly given to boys than girls in Norway, despite the fact that it is widely used for girls in various areas of Scandinavia. The name Halle originates from the Old Norse given name Halli, which in earlier times in Norway meant "rock." This name is often shortened to "Hal" by some people.
49. Hans
If you're a fan of the Star Wars franchise, the name Hans might excite you because of its likeness to Han Solo. The meaning of the name Hans is "God is generous." There is a possibility that Hans is a reflection of thankfulness, and who better to be thankful for than your own child?
50. Helge
Helge is the masculine variant of Helga. Helge has a classic sound that would represent your child beautifully. Helge signifies "fruitful" or "sacred." Should you choose to give your angel the name Helge, he will live a life of progress and spirituality.
51. Havard
The name Havard is used frequently for boys born in Norway and is found all around the country. The name can occasionally be seen spelled in a slightly different way, and it appears to be derived from Old Norse. The name Havard, according to many sources, means "protector."
52. Hugin
Hugin is a magnificent boy's name that also has a significant history. The word "thoughtful" or "mindful" is how Hugin is described. Hugin may embody some of the qualities that you envision your child developing when he gets older.
53. Ingemur
The name Ingemur literally means "famous son" or "son of Ing," thus it's kind of like calling your child "junior." Even though Ingemur is not likely to be his father's name, you can consider giving it to your son as a middle name so that it can still stand for their relationship as father and son.
54. Ingolf
This uncommon Norwegian male name will appeal to parents with a preference for strange-sounding names. Ingolf is derived from the Old Norse name Ingolfr, which originated with the ancient Germanic God Ing. The name translates to "God wolf."
55. Ivar
Ivar deftly hooks our attention with the mysterious significance of the phrase. It's possible that you'll be dealing with a rowdy young man if you give him the name Ivar, which means archer. Ivar may stand for the unwavering commitment you have to your child in order to secure his success.
56. Jorgen
Jorgen is another Norwegian variation of the name George. Jorgen can also be abbreviated to "Jorg" due to the availability of numerous variations for this popular name. The name simply means "farmer," which is identical to the name's original meaning.
57. Jarle
Jarle was a title of nobility awarded to chieftains, second only to the monarch and equivalent to the English Earl. Although the title has existed since the Middle Ages, Jarle as a given name did not become popular in Norway until the 1940s. Jarle is powerful and distinguished, giving your youngster the confidence to be a pack leader!
58. Jonas
The name of the person who now holds the position of Prime Minister of Norway. During the early 20th century, the name Jonas was particularly well-liked in rural areas. The name experienced a brief rebound in the early 2000s, but it has since fallen further down the popularity rankings.
59. Jakob
Another well-liked choice for a boy's name in Norway, Jakob, is derived from the well-known English name Jacob; however, the letter "c" is changed to the more forceful "k" sound. Some sources claim that the name originates from the term "Supplanter," which is a common surname in Scandinavia. This is a common name in Scandinavia.
60. Jens
In Norway and the rest of Scandinavia, John is shortened to Jens, which is a little more fascinating version. This name is found in many locations in Scandinavia, including Denmark, Sweden, and Norway, as well as the Faros Islands. Jens signifies "God is merciful."
61. Karl
Karl is a spirited form of the name Carl. Karl means "free man" or "man." Karl is an excellent multi-cultural choice because it is well-known in numerous nations. Karl could be an appropriate name for the son of a man who can't wait to meet his doppelganger.
62. Kennet
This is an enjoyable alternative to Kenneth. You may still refer to your little son as Ken or Kenny. The origins of Kennet are Norway, Scotland, and Ireland. The name is derived from the word "Caonh," which signifies handsome or attractive.
63. Kasper
Kasper is an unorthodox spelling of the highly popular name. Kasper means "treasurer," which may be an endearing way to express your deep affection for your son. Due to its association with the animated series Casper the Friendly Ghost, the name Kasper might also suit a baby born on Halloween.
63. Ketil
Ketil also spelled Ketill, is a popular name in Norway, Sweden, & Denmark that derives from Old Norse. The name originally meant "cauldron" or "kettle," but through time, it also came to imply "helmet." Ancient rites utilized ketill to collect the blood of animals slaughtered.
64. Lars
Lars sounds like it belongs in the Milky Way, yet its meaning is more grounded. The name Lars means "crown with laurel." Laurel was originally used to form those iconic wreaths that the Greeks wore as a symbol of recognition when they won an athletic competition. Lars may represent the birth of your baby son, a physical accomplishment for which you certainly deserve a trophy.
65. Leiv
You can also spell this name Liev, although doing so would give it a Yiddish flavor and make it less prevalent in Norway and Scandinavia. Leif is one of the more popular names in these countries. The word "descendant" or "heir" can be found in Old Norse, where the name Leiv originates.
66. Loke
It's possible that you've detected a pattern in this list of names, one that draws attention to the presence of Old Norse mythology & gods. Loke is an adaptation of the Old Norse word Loki, which is the name of the Norse god of mischief.
67. Ludvig
The name "Ludvig" translates to "great fighter." A version of Ludvig, Ludwig, was the given name of the great composer Ludwig van Beethoven, lending the name a noble connotation.
68. Magnus
The name Magnus sounds archaic and dowdy, yet its meaning is actually much the reverse of its appearance. The name Magnus is derived from the word "greatest." Every parent thinks that their kid is the most amazing kid in the world. Because we are confident that you won't be any different, we think it's appropriate that you pick Magnus.
69. Magne
Magnus is an intriguing name that is acquiring a great deal of popularity worldwide. Although it is not as prevalent as it once was, the name Magnus still carries a great deal of weight. Magne is the Norwegian form of the name Magnus that can be used if you desire something a bit different.
70. Morten
Morten is an old-fashioned boy's name that, based on its prevalence in Norway, is surprisingly still in use. Morten, which means "Mars" and is also a given name, maybe too bold for some families. Morten is a sophisticated choice for a boy's name.
71. Noah
The biblical name Noah has experienced a revival not only in Norway but also in a number of other nations. In 2016, an astounding 19,144 baby boys in the United States were named Noah. This number also includes instances of the variant spelling Noa.
72. Nikolai
In contrast to Nicholas, the name Nikolai has a more buoyant vibe. The name Nikolai literally translates to "people of triumph." Your son may find that talking to Nikolai provides him with a source of inspiration and reassurance that he is a victorious person.
73. Oddvar
Oddvar may appear precisely as it is spelled, unusual, but it was a top 100 name in Norway, so it can't be too strange, right? Oddvar translates as "pointed" or "the spear's point." Oddvar could represent your desire for your son to have a keen intellect.
74. Oddmund
This is a Norwegian male name that, at first hearing, sounds quite a bit like the more common name Edmund. In truth, it has its own history and meaning. Oddmund is derived from the Old Norse parts "Oddr," which means "sword point," and "mundr," which means "protection."
75. Oskar
As stated previously, many Norwegian boys' names replace the "c" with a "k" sound. Oskar is one example of this. The name Oskar, which is the Scandinavian equivalent of Oscar, literally translates to "the spear of God" or "the companion of deer."
76. Olav
It is common practice to name sons after Saint Olav, the patron saint of Norway. It's possible that Disney's Frozen has had some kind of influence in recent times.
77. Oliver
Olivier is the Norman-French version of the English name Oliver. However, it's possible that the use of the word in the Nordic region has its origins in the Old Norse name leifr.
78. Pal
How amusing is the name of this Norwegian boy? It is essentially a truncated version of the name "Paul," but it appears that your small son will make friends with everyone (or pal). The definition of Paul is "modest" or "little." Historically, it was used when two guys shared the same name.
79. Per
One of the most common first names in Norway, Per, is derived from the name Peter and is shortened to Per. A rock is referred to as "per." If you are looking for a powerful name for your son, you might want to consider Per as an option.
80. Rasmus
Rasmus is a well-liked choice for a boy's name in Norway, and it has also garnered a significant amount of interest in other regions of Scandinavia. The word "beloved" is derived from the Greek word "Erasmus," which gives the book its name. In Scandinavia, a saint with this name has also been recognized.
81. Robert
Robert's notion of "bright renown" is upbeat. Robert could reflect your infant son's enchanting aura. Robert could also be a nice approach to convey to your son that you have faith in him. Robert is affectionately known as Rob, Robbie, and Bob.
82. Rune
Because of its audacious nature, Rune will cause heads to turn. Rune means "secret." If you like names with an air of mystery about them, you might like the name Rune.
83. Roald
Roald is a modern variant of a wonderful Old Norse name composed of the parts hrór for "fame" and valdr for "ruler." Roald is probably best known as the author Roald Dahl. This title essentially means "renowned ruler" or "famous champion."
84. Sander
In Norway and the rest of the Nordic region, variants of names such as "Alexander" are relatively common. The name "Sander" is a variant of Alexander, and it's a wonderful option if you're searching for a name that is unique but easy to remember. The name signifies the protector of mankind.
85. Sindre
We adore the intriguing and distinctive tone of this name, as well as its quirky spelling. Sindre means "mythical dwarf" and is derived from the common Scandinavian name Sindri, which likewise has this meaning.
86. Simen
The pronunciation of Simen can be off-putting, yet judging by its continued popularity, people continue to adopt it for their sons. Simen translates as "hear." It's possible that simen is a symbol of your desire for him to speak his thoughts and establish himself when it's required.
87. Stig
Stig is a modern variant of the Old Norse name Stigr, which translates to "Wanderer" and is probably better recognized in the UK and US for stuff like Top Gear. Stig, unlike the majority of Norse names, is uniquely associated with Old West Norse.
88. Svein
Svein is a form of the popular Norwegian boy's name Sven, which has appeared over the world in recent decades. This name, like other variations such as "Svend," allows you to combine a common name with a distinctive spelling. The name Svein means "boy."
89. Tallak
Tallak is derived from "Torleikr," which means "Thor's game" in Old Norse. According to scholars, the name translates to "Thor's sport" or "Thor's play." This name can also be spelled "Tollak."
90. Theodor
Theodor needs a little introduction, as it has been a popular baby name for many years. Theodor means "gift of God" Theodor is an honorable name that will make your angel feel extra cherished.
91. Torkel
Torkel is one of the Norwegian male names that, despite the prominence of Norse mythology, does not appear elsewhere in Scandinavia. Torkel means "Thor's cauldron" and is one of the many names associated with the Thunder God.
92. Thor
Thor was a Germanic god who was best known as Odin's son for his lightning and thunder-related strength. Thor utilized a sledgehammer as a weapon against his adversaries. It's possible that Thor would make an interesting choice for the name of a son born to Marvel comics readers or mythology enthusiasts.
93. Tore
Tore's potent essence will have a stronghold over you. Tore is also known as "thunder" Tore could be a very spiritual and strong bond between you and your child, much like its meaning. Tore can be used to describe the endless love you will share with your beautiful young child.
94. Trond
Trond is a traditional Norwegian name that can be given to boys. The name Trond, which means "to thrive and grow," is an excellent choice for a youngster. It's possible that Trond will indicate a happy and fulfilling life for your child.
95. Ulf
This name originates from Old Norse, and its meaning is profound despite its apparent simplicity. It is derived from the word "wolf" in Norse, which is where the name Ulf originates. It is a wonderful way to reconnect your family with the natural environment of Norway.
96. Ulrik
Ulrik is the Norwegian variation of the name Ulrich, which is very widespread in the region. It is a good selection for individuals who choose a name that is highly Scandinavian. The name Ulrik literally means "strength of the wolf." There is also a variant for women that has two k's in it (ulrikke).
97. Viggo
This is still a rather uncommon name in most areas of the world, but you will hear it more commonly in Norway, as well as in a number of other areas of Scandinavia. The name Viggo is a shortened form of an Old Norse word, and the prefix "vig," which translates to "war," is included in the name.
98. Valdemar
Valdemere is a frequent title in Finland, Norway, Sweden, and Denmark. It is often abbreviated to Vald or Valde. As the Scandinavian variant of the German name Waldemar, this Norwegian name signifies "mighty" and "renowned."
99. Vidar
Vidar, which made it into the top 100, has a lot of charms on the local level. Vidar means "silent god." Your son may learn from Vidar that even when one is quiet, one can nonetheless exude authority.
100. Yngvar
Yngvar is an Old Norse name for boys that means "protected by Yngvi." Because it is derived from an Old Norse deity, it is likely to be one of the more challenging Norwegian boys' names to pronounce and spell for families who are not originally from Norway. Yngvi was the god of warfare and struggle in Norse mythology.