"When you buy through links on aneverydaystory.com, We may earn an affiliate commission."
As science concepts are constantly changing and developing, kids have to grow up learning them at a rapid pace. However, this may be a time-consuming and frustrating procedure for parents and educators. If you are looking for a fun way to help your young learner keep up with the latest scientific breakthroughs, then here are some great projects you can use during family time to stimulate discussion about the latest scientific discoveries. These 45 science projects for 4th graders will keep your child engaged all year long!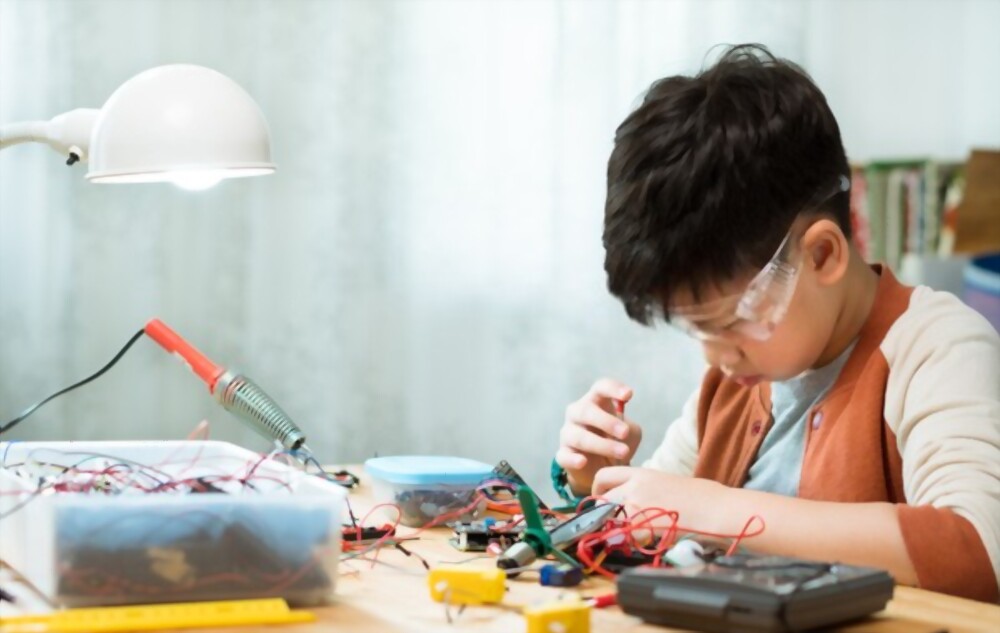 1. Transfer Of Energy
Collect some marbles! This simple transfer of energy science experiment is a wonderful method to illustrate how energy is transmitted from one thing to another. This exercise requires some thought: What happens when a traveling marble collides with numerous immobile marbles arranged in a row? Find out by tossing the first marble!
2. Volcano Science
The volcano science project is one of the most popular science fair projects globally, and it's easy to see why. It's entertaining and simple. Make your model out of an empty bottle, some cardboard, a few old newspapers, and any other odds and ends you can find about the house.
3. Snow Volcano
Making a volcano is a traditional science experiment for youngsters that everyone should try. It mixes science education for children with the awe-inspiring effect of a snow volcano science experiment. However, the setup and cleanup might be time-consuming. This snow volcano is an easy-to-set-up and quick-to-clean-up winter science activity!
4. Melting Snowman Winter
Children will like this melting snowman, in which they will melt the snowman utilizing a fascinating winter scientific experiment. This snowman activity for preschoolers is ideal for toddlers, preschool, pre-k, and even elementary school students who want to sneak in a fun winter project where they will make a snowman and then melt it using snow science experiments for kids.
5. What If There Is No Electricity?
Make this handy paper flashlight, and learn about basic electric circuit principles! This activity is an excellent experiment for children because it will undoubtedly bring the science of batteries to their attention.
6. Make A Super Cool Lemon Battery
This instruction on constructing a lemon battery is excellent for a quick science fair project, a really fun home science experiment, or a classroom science exercise that requires no preparation. An intriguing experiment, Lemon Power is one that you can try to replicate with various fruits. Which fruit is the most effective battery? Experiment and see what happens!
7. Melting Snowman Slime
With this incredibly glittery and goofy Melting Snowman craft activity, your children will have a BLAST! They will have to race against the clock to construct a cute snowman out of the snowman slime before the snowman melts back into a puddle. This is a fantastic snowman activity for children during December, January, and February. You have to try these basic winter activities for elementary school students if you want to succeed.
8. How Do Antacids Work?
In this project, students investigate the chemical reaction when water is mixed with effervescent antacid tablets. This hands-on lesson demonstrates how a material might behave differently when reduced in size to the nanoscale range. It's interesting for students to see the difference in reaction time between an unbroken antacid tablet and an unbroken one cut into several pieces.
9. Science Project On Tooth Decay
Maintaining healthy teeth is critical for chewing food, which is necessary for digestion. Due to the critical nature of teeth, tooth decay can be a major concern. A scientific fair project enables students to demonstrate how tooth decay occurs and how it can be prevented. You'll need numerous samples for this job, and you're unlikely to have a collection of teeth. Do not be concerned. Eggshells are an excellent replacement, and you may obtain as many as you require.
10. Mice And Music
If you're testing mice in a maze, consider testing mice's response to music. It is, in fact, an excellent experiment that has been replicated numerous times in laboratories. Scientists seek to examine the impact of various musical genres on mice to make connections with children. REMEMBER that if you choose to utilize live animals in your science fair project, you must ensure that the animals are not harmed!
11. Exploding Snowman
Children will go crazy for these simple winter activities for elementary students, which they will want to repeat repeatedly! Children will utilize a few common household items to create the winter science experiment to produce a baking soda and vinegar scientific experiment. Prepare for exciting giggles as the snowman grows larger and larger until it POPS! Use this as a snowman activity for children during the chilly months of December, January, and February!
12. Make A Lemon Volcano
After successfully creating a lemon battery, I found a lot of lemons asking to be utilized in another great science experiment. Therefore, what did they do? A lemon volcano can be built! There are so many lemons in our pantry that we could create the rainbow's most beautiful creation with them all. Consider this excellent technique to utilize those lemons!
13. Force And Motion Stations
Students in fourth-grade science already understand that magnets attract certain metal items. They will do this experiment to determine the minimum distance between a magnet and an object for attraction to occur. Combine magnets of varying diameters with objects of varying weights.
14. Homemade Lava Lamp
This project will take around 2 hours to complete, including the experiment and the writing of the report. Children will learn about the interaction between oil and water in terms of density, as well as the presence of hydrophilic and hydrophobic substances, by participating in this activity.
15. A Magnetic Primer Designer
How are scientists able to "replicate" DNA? They employ a technique known as Polymerase Chain Reaction or PCR. The critical component of this process is a short bit of DNA called a primer that adheres to the larger piece of DNA you wish to duplicate, called a template. In this Magnetic Primer research project, you will investigate how the amount of matches and mismatches in a primer affects its ability to adhere to, or anneal, the DNA template during polymerase chain reaction (PCR).
16. Make Frost In A Can
Making frost in a can is a simple science experiment that kindergarten students enjoy. Kids can do this frost experiment at home without becoming cold will delight them, children. For parents, teachers, and homeschoolers alike, this easy salt and ice experiment is a great way to teach children how frost forms in the winter.
17. Ice Salt And Water Temperature
We use ice to cool or maintain the temperature of our drinks. Nobody enjoys warm lemonade or drink, isn't that correct? With this enjoyable, simple science for kids, teach children about the effect of ice and salt on temperature. This ice and salt experiment is quite easy to conduct and is ideal for encouraging children to investigate and think critically about their surroundings.
18. Growing Bacteria In Petri Dishes
Are you looking for the greatest bacteria science fair projects that will truly impress your friends and family? Steve Spangler Science has a fantastic collection of bacteria culture ideas, hands-on experiments, and science fair projects for children! Our super-fun projects and bacteria culture experiments will allow your young scientists to witness incredible and memorable bacteria growth in front of their eyes — in a petri dish in their home or classroom!
19. Earthquake Experiment And Interactive
Set a plate of jelly on the table and then begin constructing a structure on top of it. Wobble the dish once the structure is complete so that the jelly rattles and causes the structure to collapse, showing the science of seismology.
20. How To Do the Light Total Refraction Trick?
This may be a magic trick, but we assure you that it is not! Create the illusion of colors appearing and disappearing, convert numbers to letters, etc. The Zip Lock Bag Water Refraction experiment is a basic and straightforward but awe-inspiring experiment. Simply submerge the zip lock bag in water to remove the image. It does appear to be magical.
21. Fizzy Love Potion
This Valentine's Day, bring science to life by including some hearts and a delightful WOW effect that will keep youngsters engaged and learning fun. This is a simple Love Potion valentine's science project with a little extra zing because it is a chemistry science experiment. Thus, by incorporating these Valentine's Day scientific experiments into your day at home or at school, you may add some learning to the Valentine's Day theme.
22. Bridge Project
This initiative investigates the fundamental physics of bridges. The goal is for the student to understand which shapes are the most structurally sound through experimentation, as well as the fact that many elements are taken into consideration in the field of engineering and construction. Physics is applied practically in this project, taking place in a real-world setting.
23. Valentines Day Oobleck
Have your children ever attempted to play with Oobleck? Oobleck is an enthralling non-Newtonian fluid that possesses both liquid and solid qualities! It truly is an enthralling science experiment for children to investigate and play with. They created a Valentine's Day science variation of Oobleck to provide a very enjoyable Valentine's Day exercise for elementary pupils. Utilize this for your Valentine's Day theme, scientific exploration of states of matter, or a fun Valentine's Day idea.
24. DIY Hovercraft
This experiment has proven to be one of the most effective methods of proving the power of air time and time again. Create a floating hovercraft and learn about friction and air pressure as you go.
25. Floating Dry Erase Rainbow And Shapes
The following is yet another mind-blowing science demonstration that youngsters will want to perform repeatedly. Dry erase markers are used to draw on a shallow dish or plate, and then water is progressively added. This is because the marker is insoluble in water and will float to the top of the water!
26. Glittery Purple Valentine Slime
Within 5 minutes, you can put together this incredibly entertaining Valentine Activity. Make this Valentine Slime in minutes with only a few simple supplies, some of which you may already have at home. They are easily obtained from your local craft store, Amazon, or Walmart if you do not have them. Use this in conjunction with your creative Valentine's Day ideas for kids.
27. Paper Airplane Science
Create your theory about paper aircraft, and then conduct your experiment to test that idea. This article will provide you with all of the information you require.
28. Sunscreen Painting
Do your children become irritated when you apply sunscreen to them? Alternatively, you might say no outright. Demonstrate that sunscreen does protect from dangerous ultraviolet rays. Make this a full-fledged experiment by experimenting with different SPFs or comparing it to other creams or lotions that do not contain SPF.
29. Gummy Bear Osmosis
Perhaps you've seen some of the interesting, basic scientific experiments available online, but one that caught our eye was testing osmosis using gummies. Jordyn C. Jordyn, one of our contributors, conducted this gummy bear osmosis experiment with her children. We'll share her results below; however, if you want to do your experiment, here's everything you'll need.
30. Magic Milk
I enjoy simple yet meaningful experiences that encourage young children to investigate, explore, and marvel at the world around them. The magic milk scientific project should be simple, quick to complete, and have a fantastic WOW moment. This experiment using milk and food coloring satisfies all three criteria! At home, in the classroom, or at your homeschool coop, try this milk science experiment for kids' fun Valentine's Day activity!
31. Unpoppable Bubbles
Is it possible to hold a soap bubble in your hand? Yes, this is correct! A small amount of glycerin makes the soap bubble layers more durable, allowing you to gently toss them from person to person without breaking them.
32. Crystal Names
A complete list of fourth-grade science experiments would be incomplete without mentioning crystals. Growing crystals is a popular activity among children of all ages, making it an excellent opportunity to teach them about supersaturated solutions. When you first shape pipe cleaners into the shapes of their names, the traditional experiment takes on a whole new meaning.
33. Does Mint Cool Things Down?
Mint is a perennial blooming herb that comes in a variety of varieties. It thrives in shaded, chilly, wet places. Numerous individuals appreciate mint's mild, refreshing flavor. Mint-flavored gum, breath fresheners, and hard candies frequently advertise the cooling effect of mint by incorporating pictures of frost and ice. However, is this impression a result of the mint's true cooling effect?
34. Which Food Will Rot First?
It's critical to communicate to your children that they don't have to wait to realize their ambitions of becoming scientists; they can start right away in their kitchens. They only need to think like a scientist to succeed. The first thing they require is for them to begin with a question. My little scientists came up with the question, "Which food will go bad first?" Here's how we went about trying to figure it out!
35. Newton's Law
Newton's First Law asserts that an object in motion will continue to move unless acted upon by an external force. Use a string of beads to demonstrate Newton's Law of Gravity when the beads are pulled ever so little and then begin to fall out of a glass or other container.
36. Layered Liquids Density
Are you trying to come up with a nice Valentine's Day science project for February? When the layered liquids stack up in gorgeous Valentine's day hues, the children will be amazed. This will be one of the most memorable valentine's science experiments that they will ever participate in. This Layered Liquids Density exercise is a terrific approach to teaching children about density through a fun, hands-on, and visually appealing density experiment that they will enjoy.
37. Oil Spill Experiment
This oil spill exercise will assist you in gaining a better understanding of the negative impacts of oil spills on the marine ecosystem. We have all heard of oil spills and their devastation of Mother Earth and the marine life that depends on it. However, those who do not encounter these impacts firsthand are unaware of their magnitude.
38. Beach Erosion Demonstration
Where has the beach vanished? Have you ever observed how the coastline changes after a large storm? Why does the seashore have a different appearance? You're observing the effect of coastal erosion, and you can now set up a beach erosion activity and demonstration to demonstrate to your children how it works. This simple and enjoyable ocean science exercise is certain to be a favorite with your children, as it incorporates hands-on learning!
39. A Ping Pong Catapult
If you were a member of a raiding army in the Middle Ages, a catapult would have been extremely useful for destroying castle walls. However, only if you could accurately aim it! You will experiment with catapult technology in this science project. With a rubber band-powered catapult, you will launch ping pong balls into the air. The catapult design makes it simple to measure and repeat the force with which the ball is launched and its direction, allowing you to establish the optimal catapult settings for reliably hitting the goal.
40. Leprechaun Rocks
When it comes to concealing their gold, leprechauns are cunning. It is insufficient to seek refuge at the end of the rainbow. As a result, even if you reach the end of the rainbow, you will not discover a gold mine. They'd never make it that simple. However, you may come upon some strange green rocks – leprechaun rocks if you look about. With this leprechaun rocks scientific experiment, you'll discover the secret science of luring the Leprechaun to release their treasure.
41. Amazing Food Coloring Flower
This simple Flower Science Experiment will teach children about the elements of a flower, the floral's life cycle, and capillary action – all while engaging them in a wonderfully beautiful flower activity! Children will be able to paint flowers using this flower experiment – even turning white flowers into two-color blooms! This color-changing flower experiment is one of the most incredible kindergarten science experiments I've ever seen. Get started by printing out the free food coloring flower experiment worksheet.
42. Make An Anemometer
Using your very own anemometer, determine the wind speed! Simple earth science is demonstrated using a garden contraption constructed of paper cups, tape, straws, a pencil, and a thumbtack.
43. Simple Geranium Photosynthesis
This SIMPLICITY photosynthesis project enables children to learn about photosynthesis visually. With just a few readily available supplies, you can do this plant experiment for kids in minutes. Your children will like learning and retain much more information about what they do than what they hear. And introducing your children to a world of inquiry, curiosity, and trial and error will prepare them for success in any endeavor they pursue in life.
44. Balloon Rocket
The balloon rocket experiment is an excellent example of a children's science project that may be carried out at home, in the classroom, or at science fairs. It's always enjoyable to work on science projects and learn about the research's rationale. The balloon rocket is an excellent science experiment for 4th Grade Science Projects.
45. Make A DIY Weather Vane
As spring approaches, we observe various changes in the weather, making it an excellent time to investigate with some fun weather activities for kids and weather experiments for kids to help children learn more about wind, rain, clouds, and more! I'll demonstrate how to create an EASY weather vane, a DIY compass, and additional weather topics that 4th students would enjoy. Therefore, get a few readily available materials and construct this handmade weather vane today.