"When you buy through links on aneverydaystory.com, We may earn an affiliate commission."
An anchor chart is a teaching tool. While teaching a class, you and your students collaborate to construct a chart that summarizes the most critical content and tactics. By making thinking visible both the teacher's and students' anchor charts foster a culture of literacy in the classroom.
If you haven't already, you'll love using these in your classroom next school year. Anchor charts are incredible teaching tools for virtually any subject! Whatever subject you teach math, reading, writing, science, or even social studies anchor charts are an excellent tool for reviewing topics, engaging students, and assisting pupils in visualizing a variety of new content.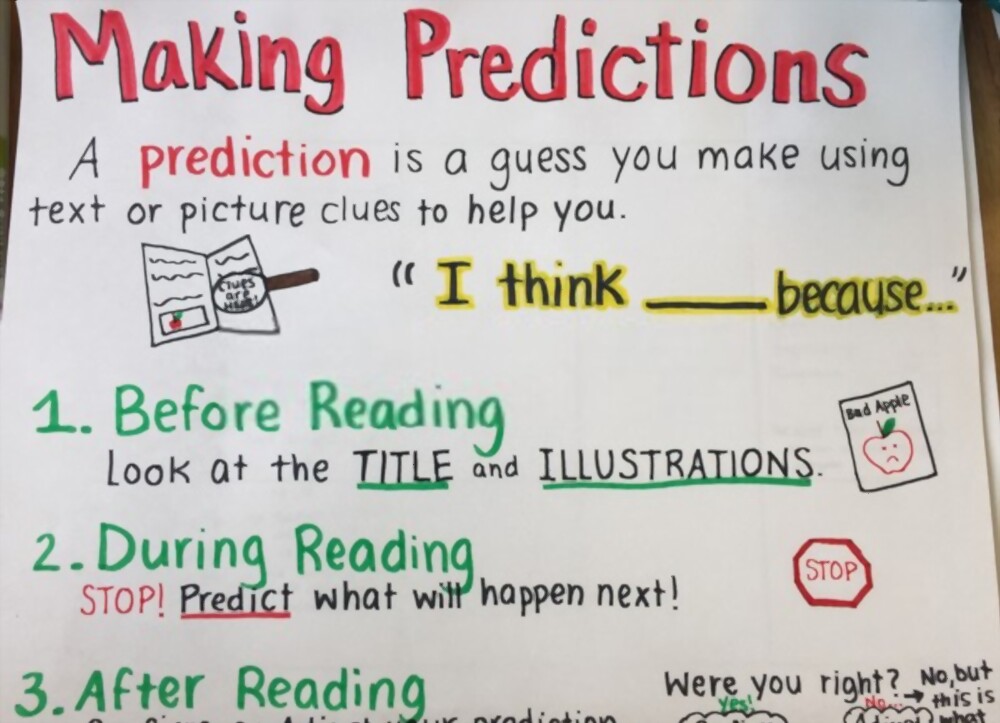 The following 30 anchor charts are a selection of the greatest ones we could discover online and in the world of teacher bloggers. Enjoy!
1. Note-Taking Anchor Charts
It was always a source of contention when teaching older students who wanted to highlight EVERYTHING in a nonfiction text when they were taking notes from it. In addition to outlining WHAT they should be searching for when reading, it also provides them with a method of categorizing the most significant material, which will make it easier for them to refer back to later. I'm looking forward to trying this out the next time I'm working on nonfiction notation.
2. Questions To Ask While Reading
This chart covers a wide range of topics, from causal relations to points of view and more. Use color to highlight the various categories and make it easy for students to find their focus while reading. Questions like these encourage pupils to consider the purpose of reading in and of itself. They also help children think about crucial fundamentals such as location and characters.
3. Weather Maps
When you're in 5th Grade, the weather patterns are amazing. As a lesson, have students tune in to their local news channel to view the weather and then go over this weather map together.
4. Expository Text
When it comes to explaining a topic or issue, sometimes more than words are required. This anchor chart can assist in visualizing some of the several ways that something might be explained to a reader in text or graphic form.
5. Story Elements
Your pupils will become better readers if you go through the major elements that make up a tale with them. They'll be aware of what to look for, and the process of searching for these components will make reading appear like a fascinating scavenger hunt.
6. List Keyboard Shortcuts
Keyboard shortcuts can save you valuable time when writing a paper, especially if you use these in your classroom. Before pupils need to type a document out from scratch, it's a wise idea for them to learn the keyboard shortcuts and adapt their typing habits accordingly. It helps differentiate between the various keyboard shortcuts with powerful, colorful icons that make it easier for learners to find and use them.
7. Retelling Anchor Chart
Anchor charts that provide a visual and an approach that students can use outside of the classroom are a favored kind of teaching tool! The pupils will eventually internalize these procedures and will be able to move away from utilizing a cueing system entirely and instead only using their hands or not using any cueing system at all.
8. Control The Clicking
Although children quickly master touchscreens, they may require little instruction on mouse abilities.
9. Clouds
Improve your kids' artistic abilities by using this fantastic Cloud Anchor chart!
10. Main Idea
Communicating the main idea is a difficult skill for young kids. Having an anchor chart that replicates graphic organizers that students might see on examinations or want to construct to help them record their ideas can be useful at times, especially in the early stages of learning. This interactive anchor chart is a fantastic representation of that choice! This one is one of my favorites.
11. Improve Web Browser Skills
When children are exploring the internet, they require a basic understanding of using a browser. Don't forget to inform them about the wonders of reopening previously closed tabs!
12. Summarizing
There are a few distinct popular forms to choose from when it comes to summarizing. Even though many schools are going toward the SWBST method, I favor the three-sentence format because it is more consistent with what kids see on state assessments and applies to fiction and nonfiction texts.
13. Cause & Effect
There are less interactive cause-and-effect anchor charts on the market today. However, the notion of creating a book-specific version during a mini-lesson is one that I like. Some of the other charts, I believe, would be more appropriate for introducing the concept and displaying it to aid pupils in recalling the skill. No matter which style you choose, each of these will be an excellent visual aid in the classroom.
14. Create Strong Passwords
Using a specific password for every site is frustrating, and it's easy to forget passwords and lose access to the sites you have visited. This is a life skill that they will require throughout their careers.
15. Read, Cover, Remember, Retell
With this notion, you can prevent pupils from skimming longer texts. By doing so, they'll be able to break down the content into manageable parts and comprehend what they're reading.
16. Character, Problem, And Solution
Decide on the key theme by deciding who does what and for what reason! This nonfiction main idea anchor chart is a great tool for summarizing the three main elements of a story's plot. When reading, your students will have these three elements at the forefront of their minds and can easily refer back to them as they read deeper into the work. You need to print it off in color and make sure you have plenty of room on your board!
17. Point Of View
There's a lot of potentials to include lesson ideas with this anchor chart. You can present your students with a situation and then ask them how they would express that in the story. What would the details be? In what ways does it evolve throughout time? Is the story told from a particular person's perspective, or is it an entity, etc.? This is a particularly great person vs. team conflict starter too!
18. Decimal Place Value
Along with serving as a visual help for children as they progress through the decimal learning process, this well-organized anchor chart will also function as a reference tool.
19. Before, During, And After Reading
This is another main idea anchor chart that will benefit fifth graders. Students can track what has happened involving the protagonist, what has changed about the setting, and how the character's personal growth has impacted the story.
20. Character Analysis
If you enjoy teaching character traits and analysis, this is your job. To master this ability, you'll need an anchor chart, especially if you're looking at changes over time. The following are just some of the favorite anchor charts for teaching this concept.
21. Just-Right Book
In many ways, a child's current reading abilities are intertwined with their comprehension, and understanding how to select the correct book can help them acquire confidence in their abilities.
22. Inferring & Drawing Conclusions
Both inferring and concluding are extremely difficult skills for kids to grasp. As a reminder of the procedure and an opportunity for students to practice, anchor charts are a must-have. They came across some cool anchor charts on Pinterest that you want to test out with children the next time you teach them about problem-solving skills.
23. Decimal Operations
Here's an excellent example of an anchor chart that may be utilized consistently during an entire instruction unit. Teachers can use student suggestions and brainstorming to fill in the blanks as they are taught the various procedures!
24. Author's Mood
By determining the author's tone and mood, a reader might learn much about the story. Students can see examples of both words in this diagram, which shows their differences.
25. Responding To Text – Citing
Many students have a notion of what they want to express but struggle to put it on paper. Sentence stems can be enormously beneficial to struggling readers and writers. They're also an excellent scaffold for your English-language students. Even if your pupils do not require sentence stems, you may want to outline the stages involved in producing a high-quality response such as this one. It's an excellent technique for students to double-check their answers before submitting them.
26. Theme
Many students find it difficult to identify the story's theme since it asks them to distill an entire story down to its most essential idea. Students will benefit greatly from these two anchor charts, which will aid them in remembering what the topic is and categorizing the books they've been reading according to frequent themes in literature.
27. Summary Sentences
Sticky notes might help you make sense of longer, more intricate passages by creating summary phrases for each paragraph or section. When reviewing tests or producing papers, they'll be quite beneficial to you.
28. Multiplication By Multiple Digits
This is a multipurpose anchor chart suited for all grade levels. It can aid learners in remembering times tables, and it's also great for use during reading comprehension instruction. Students will like having a place to check-in when they need a refresher on how to multiply multi-digit numbers with this brightly colored chart! It also features a fantastic pneumonic device that helps people remember things without looking at them.
29. Volume
Volume is a lesson that is always enjoyable! It's difficult to overlook this useful graphic whether you teach it visually with movies and anchor charts or interactively with hands-on activities. There are so many activities you can use to strengthen students' understanding of this skill, so keep your options open!
30. Author's Purpose
Different approaches are used to teach students to determine the author's purpose. While some teachers employ the P-I-E acronym, other tactics are gaining favor. Students are urged to think more critically about what the author attempts to portray via their writing, as illustrated by the following graph.
31. Meaningful Monitoring
A critical aspect of reading comprehension is monitoring one's comprehension. To be a good reader, you need to understand how much you know and what remains unknown to you. This graphic provides an excellent process for monitoring your comprehension. Self-monitoring is critical for reading comprehension achievement at all levels. Giving kids some self-reflection questions to consider as they read is an excellent first step toward comprehension.
32. What Reading Looks Like
A lot of kids don't realize what reading looks like. They think they are learning to read when they are learning to decode words, but this graphic illustrates that you are reading an entire passage to learn how it works. As depicted in this reading anchor chart, setting expectations for what reading looks like can help create the framework for comprehension.
33. Food Chains
This is a very simple but effective anchor chart for students to use when discussing the structure of food chains. This helps them understand that there are many different ways to classify animals and make sense of the system. When it comes to teaching food chains and webs, it is a blast! Using this really simple anchor chart, you can engage pupils and start their minds churning for more information.