"When you buy through links on aneverydaystory.com, We may earn an affiliate commission."
Using writing prompts may be a great way to spark your imagination and get your creative juices flowing, especially when you're not feeling particularly motivated. Writing prompts are great because they can take in so many various ways, one of the most appealing aspects. Tell us how you felt and how it influenced your thoughts and feelings about what happened and the emotions that you experienced. You could also want to discuss how that dread made you feel after the conversation.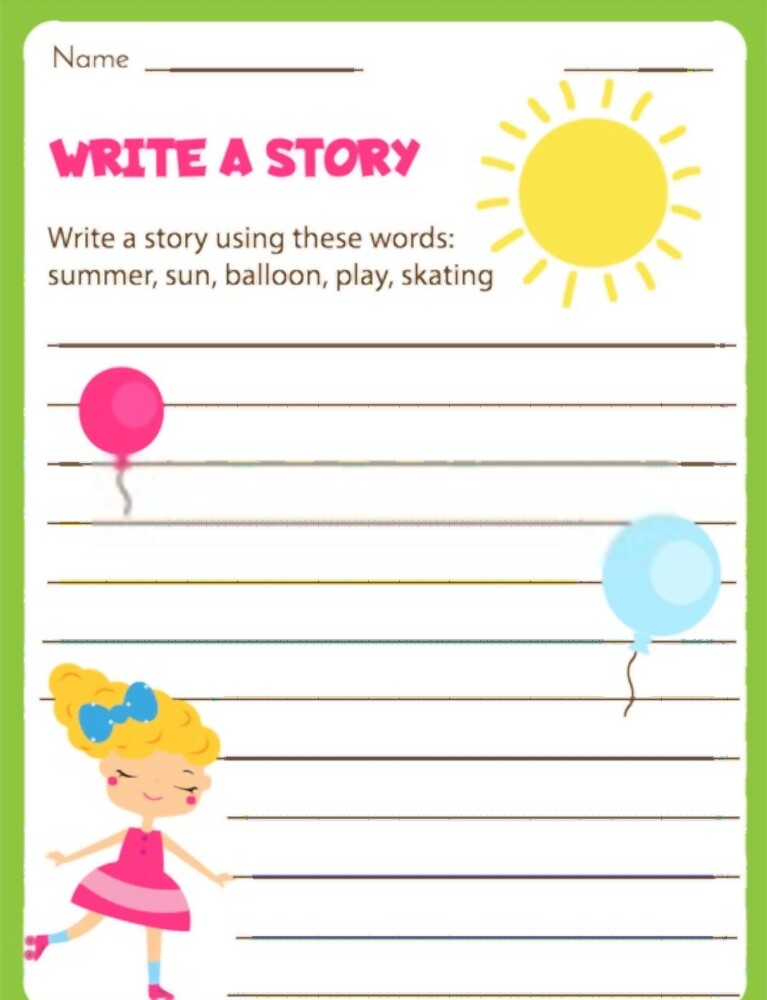 Please write about another instance in your life when anything made you feel uncomfortable. The following is a collection of creative writing prompts for 5th-grade pupils, including some examples.
1. What is the most valuable thing you own? Why is it unique?
2. Describe a cherished memory of spending time with your family. Why was it enjoyable?
3. Give us a rundown of your current top ten favorite tunes
4. Do you know the most successful method for helping others who are less fortunate than you?
5. Write down a piece of advice you received from a friend or family member that you've never forgotten
6. Make a list of five places you'd want to see
7. What are the top six skills you possess?
8. The finest location to live is where?
9. Tell your favorite movies that you never grow tired of viewing
10. Write about something you'd like to get better at
11. What three things can you do today to go closer to realizing your goals?
12. To get started, pick a word and write anything based on the image that comes to mind
13. What's your weirdest habit? In what way did you come up with it?
14. Write about a person who has positively impacted your life
15. Which present would you most want to receive?
16. A perfect morning routine should write down so that you can follow it all the time
17. Were there three things you'd like to learn from your teacher?
18. How can you aid others who are less fortunate than you?
19. What can you do to cultivate a more positive self-perception?
20. A list of 10 things you like about yourself
21. Are there any activities that should reserve for guys or girls? Why or why not?
22. Is there something lacking in your life that you would like more?
23. Do you have any unhealthy habits or attitudes that you need to eliminate?
24. What measures can you take to be the most confident version of yourself?
25. What's preventing you from being happy, and what can you do?
26. What is the most enjoyable program on TV today?
27. One thing that would make anybody in the world ecstatic is
28. Where would you go if you could go to any place in the world?
29. What do you plan to carry with me in the future?
30. Write a thank-you note to yourself
31. What one thing would you alter about the world if you could?
32. What can you do daily to show your love and concern for the people in your life?
33. Is it possible to see the good in your five worst shortcomings, and how do you go about accepting them?
34. What would you alter about the world if you had the power to do so?
35. In your opinion, what makes a good buddy the best person you know?
36. The most essential thing in your life is
37. What five accomplishments can you point to that are very satisfying?
38. Create a picture of your perfect "dream life"
39. Is it better to be the most intelligent, nice, or funny person in the class? Why?
40. What can you do during the week to better care for yourself?
41. Prior to December 31, what are your top three goals for the year?
42. Is it fair to hold your parents responsible for your mistakes?
43. What can I do each day to show others greater compassion and love?
44. In your opinion, what are the top ten things that bring you the most joy?
45. Should students be required to wear uniforms, and why? To what end?
46. Write a letter to your future self that is full of positive advice
47. Choosing between giving and receiving, which would you prefer do?
48. In their own words, how would your close friends characterize you?
49. Do you think there are extraterrestrial life forms?
50. Which do you value more, natural ability or learned ability?
51. What do you like best about where you go to school?