"When you buy through links on aneverydaystory.com, We may earn an affiliate commission."
As a parent, you'll become well acquainted with the baby clothing market. So which brands are worth your time? Parents today have more choices than ever when it comes to buying clothes for babies and kids. But if you're looking for a personalized recommendation based on what's hot in fashion and what actually lasts through multiple kids, this is the article for you. Whether you've got a newborn or will be expecting it soon, here are the most popular baby clothing brands that best suit your needs.
While 2021 was intended to be the year of new beginnings in the post-pandemic world, especially for new moms with their kids, 2022 is starting to seem like the year of new looks, and the greatest baby clothing brands will assist you and your child achieve just that. Toss out the old, out-of-date clothes your kid has been wearing and start fresh with these adorable boutique baby clothing manufacturers.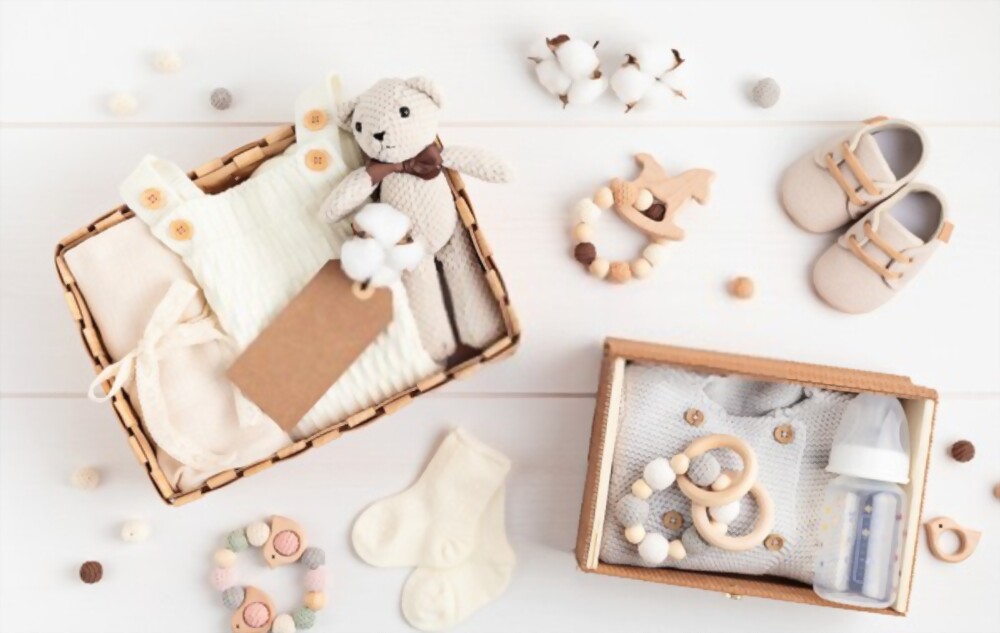 1. Burt's Bees Onesies
Burt's Bees clothing, which is widely liked for its supple, organic cotton fabric as well as its earthy designs, is sold on the company's official website, in addition to Target and Amazon. The brand's onesie sets are very well-liked and are available at a reasonable price. The name of Burt's Bees is printed on a tag sewn into the fabric of the chest of the majority of the onesies, while others include adorable patterns for boys, girls, and unisex styles.
2. Carter's: Cute & Comfy
Because it has been in business for so many years, Carter's is quite knowledgeable about children's clothing. Babies aren't concerned with their appearance, but they do worry about how comfortable they are. This is undoubtedly the reason why Carter's carries such a massive selection of reasonably priced rompers, bottoms, and bodysuits made of soft cotton. They are an excellent starting point for constructing a baby's wardrobe because they offer all the essentials at prices that are easy on the wallet.
3. Old Navy
With Old Navy very adorable and on-trend baby apparel, you can save money without compromising on your little one's sense of style. Due to the fact that their sizes range from "up to 7 pounds" to 24 months, there is a lot of potential for development in their appearance. The site is organized into categories that range from the $5 Everyday Magic line to Unisex, Mommy Matching, & Newborn Essentials. These categories make it simple to traverse the site and locate just what your baby needs (in addition to a great deal more)!
4. Minibrook
Minibrook apparel business was founded by Nina Westbrook, a Black mother of three who also owns the Little Ark Boutique in Oklahoma City. It has beautiful cotton basics that look snug and adorable for all genders.
The vast majority are crafted in Los Angeles using organic cotton. Additionally, everything is pre-washed there, ensuring that the finished product is supple and free of any off-putting chemical odors. Any item from the brand may be mixed and matched, but they are particularly fond of the asymmetrical hooded rompers.
5. Clover Baby & Kids
Clover produces babie and children seats that are designed for everyday use and include creative, hand-painted prints. All of the garments are made from a viscose-spandex blend, making them cool and comfortable.
With sizes ranging from 0 to 3 Months to 5/6T, this is an excellent alternative for matching sibling presents. It is an even more attractive location to shop because shipping and returns are free. We are particularly intrigued by the design partnerships with artists of color, which showcase outfits that nobody else on the playground will be sporting.
6. Maisonette Baby
Consider Maisonette to be the best baby store for clothing, toys, and presents. The site is the ideal location to locate small, independent companies with one-of-a-kind aesthetics, many of which are produced responsibly. Products for infants are available on the website, including apparel, accessories, gear, and toys. This website is an obvious choice if you need to get a present for a baby shower for a person who is difficult to shop for.
7. Primary Baby
Free of logos, phrases, gender preconceptions, and images, Primary Baby provides parents with well-made fundamentals in a variety of pleasant colors, designs, and styles. Onesies, zippered footies, jeans, and more are available in a variety of sizes and more than a dozen color options, with the majority manufactured from organic cotton. With sizes ranging from newborn to 18 to 24 months, it is simple to dress your kid with durable fundamentals for years to come.
8. Hanna Andersson
Hanna Andersson's clothing is made from 100 percent OEKO-TEX-certified organic cotton, which is free of potentially hazardous chemicals. Additionally, the firm is committed to employing recycled materials for outerwear. They adore the thoughtfulness of the designs, which include prints that coordinate with numerous outfits, snaps instead of buttons, and other components that make it easy for parents and caregivers to dress and undress infants.
9. Monica and Andy
Monica and Andy have a variety of incredibly soft organic cotton clothes for newborns. The Preemie size is designed for infants weighing less than 5 pounds, whilst the Newborn size accommodates infants weighing between 5 and 9 pounds. Choose products individually or opt for the Preemie Box, which has five best-selling items that can be styled in eight distinct ways. This assortment allows your beautiful baby to feel comfortable in garments that fit just perfectly.
10. Patagonia Kid
Despite the fact that they are an investment, Patagonia's baby buntings are made to last through numerous hand-me-down wearers. The buntings are made from 87 % recycled materials (down or fleece) and come in a variety of patterns with varying degrees of warmth, some with feet and some without. Buntings are easy to place on a baby and provide excellent protection; fussy babies cannot remove them. Sizes range from newborn to 5T and are said to run somewhat large.
11. Gerber Childrenswear
More than 30 years ago, Gerber Childrenswear became the proud owner of the trademark for the onesie, which is still in use today. As a direct consequence of this, their online store carries a wide variety of economical options for onesies.
Onesies are available from Gerber in a variety of sets in the girl, boy, and gender-neutral hues, ranging in size from newborn to five years old. The larger sets, which come in a variety of sizes to accommodate your child's development over time, unquestionably score very highly in terms of value.
12. L'ovedbaby
L'ovedbaby essentials are distinguished by their exquisitely understated hues. Their garments are crafted using formaldehyde, heavy metals, and genetically modified organisms-free certified organic cotton that is one hundred percent in content (GMO).
The brand also offers a selection of apparel made from organic cotton muslin that is extremely soft. Newborn to 24-month sizes are available for infants. You may find clothing for your infants, children, and even yourself on the website.
13. Jazzy Organics
Jazzy Organics' objective is to provide certified organic cotton alternatives for children ranging in size from 0 to 12 months to 4T while supporting sustainable and healthy farming techniques. They provide a small but intelligent selection of rompers and bodysuits with animal and fruit-shaped designs in the most sophisticated manner. The romper's foot cuffs can be folded when the infant is little and unfolded as they grow.
14. The North Face
The North Face, yet another well-known winter gear company, includes wind coats, fleece jackets, down buntings, and other cold-weather wear for newborns, toddlers, and children.
There are a few infant accessories, such as hats and socks, in addition to the restricted selection of outerwear. Consider purchasing during the off-season to take advantage of discounted pricing or opting for gender-neutral motifs and hues for the best value. We especially like the brand's miniature winter puffer jackets.
15. L.L.Bean Toddler and Baby Clothing
L.L. Bean, which has its headquarters in Maine, is therefore familiar with the winter climate. The manufacturer provides a selection of raincoats, snowsuits, and coats for infants and children, in addition to long johns and other layering pieces that are designed to keep wearers warm and dry from the inside out.
In addition to those, they sell the cutest little hiking boots and snow bibs for toddlers that you have ever seen. Cuteness alert!
16. Pact
Clothing sold by Pact is made of organic cotton and is produced in a factory that supports fair trade practices. Tops, bottoms, bodysuits, and sleepwear are some of the stylish items available for infants. When you see their cozy and casual comfort wear, you won't be able to resist the urge to buy something for your mother as well.
There are a few designs mixed in with the rest of the group, but mostly you'll find simple silhouettes and gentle rainbow hues that are appropriate for all baby fashions.
17. Freshly Picked
Moccasins are another popular choice for infants since they have a cushioned footbed and are easy to put on and take off. The incredibly popular moccasins sold by Freshly Picked are available in a wide variety of colors (including eye-catching metallics!) and styles, some of which have fringe and bows on top of other embellishments.
18. Garanimals
Since 1972, the Garanimals brand has been operating with the goal of assisting parents in "affordably, charmingly, and simply dressing their tiny ones." Today, it provides a variety of high-quality items, including solid essentials, patterned pieces, and other options, all for affordable costs on a daily basis, without the need for any special discounts.
Garanimals is an excellent place to shop that won't break your budget if you're searching for a place to stock up on bodysuits or amusing graphic tees, and this is the place to go.
19. Gap Baby
Many of Gap's styles come in newborn sizes that are labeled "up to 7 pounds." The color scheme is predominantly pastel and relaxing. You'll find a choice of comfortable materials and a good balance of at-home and on-the-go alternatives (footed sleepers, onesies) (dresses, and overalls).
Keep an eye out for bargains and savings stacking events (when you receive a percentage discount in addition to a standard sale), especially when purchasing baby things that are too small to last long!
20. Cat & Jack
Target is a one-stop store for practically anything baby-related, including apparel. Cat & Jack is a shop brand that offers brilliantly colored alternatives with quirky and contemporary graphics. Onesies, leggings, swimwear, coats, and even accessories are available. The brand provides a one-year guarantee against rips/tears/damage, and returns are allowed with a receipt.
21. Zutano
The Zutano booties have been a longtime favorite among new parents. These booties are available in a variety of colors and patterns to complement any ensemble, as well as a variety of materials, including warm fleece, cooling cotton, and organic cotton.
The booties (available in sizes 0 – 24 months) are designed with two snaps to assist them in remaining on and conform to your baby's feet and ankles. In addition, you can select grips for older kids who are walking or leave the grips off for younger babies who are simply reclining.
22. Goumi Kids
Goumi booties were highlighted on ABC's Shark Tank as shoes for infants that won't slip off. Sizes range from preemie to 12 months and have two snaps to accommodate your baby's growing feet.
The color selections are mellow earth tones produced from viscose from bamboo and organic cotton blend fabric that is 70% by weight. In addition, the company distributes mitts to premature infants in the NICU and reserves 10 percent of its sales for anti-human trafficking programs.
23. Posh Peanut
The bamboo fiber that is used to make Posh Peanut clothes is noted for having properties that include being lightweight, elastic, and breathable. Their knotted gowns are really plush and comfortable, making them ideal for tight all-day use. In addition to this, the prints are charming and especially photogenic, which is perfect if you intend to do a newborn picture session. You can even get mom an outfit that matches yours if you really want to go all out!
24. Kate Quinn
Kate Quinn offers a selection of "organic and artisan" clothing for infants and children, crafted from elastic modal, bamboo, and organic terry. Even though some of their collections do not meet the requirements of the Global Organic Textile Standard (GOTS), this information is presented in a way that eliminates any misunderstanding.
The brand explains that, for instance, their soft and elastic bamboo clothing is manufactured from an eco-friendly, sustainable semisynthetic fabric. It's also worth noting that sales through the internet occur on a regular basis. In 2018, the brand shifted from a wholesale business model to a direct-to-consumer online approach in an effort to make luxury baby clothing more affordable.
25. Kickee Pants
Are you ready for the most comfortable and stretchy baby clothing ever? Because the viscose fiber used in the production of all Kickee apparel comes almost entirely from bamboo, each and every item of this brand's children's wear is extremely breathable, incredibly plush, and supple enough to allow a child to run, jump, and play freely without feeling constrained. In addition, the soles of all of their footies are equipped with non-skid dots, ensuring that even the slickest surfaces are not a problem for fledgling walkers.
26. H&M Baby
H&M is up to date on all the newest trends and can outfit your child to be a fashion leader. And with pieces such as breezy ruffled rompers, jacquard-knit sweaters, and trendsetting overalls, you shouldn't be surprised if you start to envy your little one's closet. You can choose from among literally hundreds of different trendy designs, all of which are offered at the affordable pricing for which H&M is famous.
27. Birdie Bean
Birdie Bean is one of the top designers of affordable baby clothes and accessories. One of their main goals is to make mom's life easier when it comes to shopping for the essentials. A brand of daywear & sleepwear for infants and toddlers that is breathable, comfortable, and made from sustainable materials. Prints are typically only available in limited quantities, and a significant number of them are distributed in the context of charitable releases. In these cases, a percentage of the proceeds is donated to charitable organizations.
28. Preemie Store
The Preemie Store offers alternatives for infants as small as one pound and specializes in clothing for babies with specific medical needs. The NICU-appropriate robes include open shoulders so that parents and nurses may clothe infants without upsetting I.V.s or monitors.
There is a broad assortment of bodysuits and wraps available for premature infants weighing in at 3 to 6 pounds. These bodysuits and wraps offer handy velcro shoulder flaps & snap fasteners. Not to mention the gorgeous collection of baby socks and mittens.
29. Kissy Kissy
Kissy Layette sets produced by Kissy are highly regarded by parents-to-be, and with good reason. Because the firm uses only the finest quality Peruvian Pima cotton, each and every item of clothing feels as though it is gently kissing or cradling the wearer's skin. The preemie collection is comprised of convertible gowns, beanies, and footies that include snap closures along the front and inseam for the purpose of facilitating the process of changing diapers. This collection, like your child, is petite but mighty.
30. Little Me
The next brand on the list is Little Me, which has received approval from parents. The newborn collection is made entirely of cotton and has neutral bodysuits with lap shoulders, footie pajamas with easy snap fastening from head to toe, and gorgeous sleeper gowns with peek-a-paw cuffs to avoid self-scratching. Even better, none of the items had scratchy labels that could aggravate the baby's sensitive skin in any way.
31. MORI
MORI – a business founded in the United Kingdom, is committed to manufacturing the highest quality baby garments from eco-friendly materials. The characteristic fabric of the company is a combination of organic cotton and bamboo. As a result, the clothing is buttery soft, breathable, and thermoregulating to maintain a comfortable temperature for your child.
MORI provides exquisite long-sleeve kimono bodysuits with foldover mittens, classic short-sleeve, and tank-top versions, and the cutest turtleneck bodysuits available. With sizes spanning from newborn to toddler, you can rest assured that this will continue to be one of your favorite childrenswear brands for years to come.
32. Green Sprouts Baby
This eco-friendly Green Sprouts brand manufactures swimming suits with reusable swimsuit diapers integrated into the design. Choose from their selection of separates, or go for an adorable one-piece for a newborn girl and a two-piece rashguard set for a child. These diapers are meant to absorb common messes outside of the water, as well as safeguard against filthy incidents when swimming. In addition, they contain a wicking liner to prevent diaper irritation.
33. Tea Collection
The floral, fish and fruit-themed designs adorning Tea Collection's infant swimwear are almost too adorable. But those bathing suits have more to offer than just a stylish appearance: UV-protected bikinis, swim trunks, rash guard one-pieces, and more come in sizes up to 4T.
Even reversible sun hats in complementing patterns can be purchased from the firm. Looking for a one-stop-shop that carries everything you need to outfit your baby? In addition, Tea Collection is one of the top brands of baby clothes to choose from if you want stylish attire.
34. Finn + Emma
Finn + Emma is a GOTS-certified organic baby clothing brand that takes pleasure in its heirloom-quality products. Moreover, the firm uses non-toxic, eco-friendly dyes to create modern graphics that are suitable for both boys and girls. We particularly adore the brand's range of timeless footies, bodysuits, leggings, and accessories that can be mixed and matched for everyday wear.
35. Colored Organics
Another fantastic place to get cotton children's clothing created sustainably is Colored Organics. Peruse the variety of color-block bodysuits or select a cool piece with a pattern. The trendy styles can be worn together or separately, and both tiny boys and girls can wear them. Each purchase from this company benefits a child in need, as it is affiliated with philanthropic organizations.
36. Janie And Jack
Janie And Jack are one of the greatest baby clothing labels for fashionable, slightly preppy infant apparel. The seasonal designs are constantly on-trend, and the accessories are ideal for future fashion heroes. The website also has a section dedicated to wardrobe shopping to help you create fierce ensembles. And you've arrived at the perfect place if you're searching for something timeless. This brand also offers an extensive collection of timeless childrenswear styles.
37. Nununu
This hip baby clothing line from Nununu, worn by mini A-listers such as Mason Kardashian, features striking gender-neutral prints with a rockstar atmosphere. You can anticipate seeing a lot of skulls, stars, and stripes, as well as gray, black, and subdued pinks. A word of caution: your child will likely be dishing out some impressive looks, which may need you to step up your own fashion game.
38. Spearmint Love
Are you hesitant to choose just one brand of baby clothes? Check out this band called Spearmint Love. This online store carries fashionable brands from all around the world, like Oeuf, MilkBarn, and Emile St. Ida, among many more. Not to mention Spearmint Love's very own in-house collection, which is available for purchase. Because there are so many options, you are sure to find a stylish ensemble that is perfect for your little one.
39. Baby Deedee
There are a few reasons why we adore Baby Deedee pajamas. In addition to a full-length front zipper, their "sleepsie" also has a crotch zipper that runs between the legs, making diaper changes much easier.
Additionally, they are one of the best baby clothing brands for pajamas in various weights to accommodate differing temperature requirements. The assortment features quilted footies, velour-lined cotton one-pieces, lightweight cotton T-shirts & short sets, and even a fleece alternative. Furthermore, Baby Deedee's sleep sacks are fantastic.
40. Roller Rabbit
The brand Roller Rabbit comes in at number ten on our list of the finest clothing brands for infants. The brand's colorful print pajamas are created of Pima cotton from Peru, which is known for being the softest cotton in the world. The footie pajamas have snap closures down the leg inseam and along the front, making it simple to put them on and take them off quickly for diaper changes in the middle of the night.