"When you buy through links on aneverydaystory.com, We may earn an affiliate commission."
Depending on the culture, names can have meanings that vary from country to country. People in ancient Greece named their children after gods; scientists in China call their discoveries by Latin nomenclature like "Nebula". In Native American cultures, the names often reflect their religious beliefs and mythology but still make sense linguistically.
The names given to people stay with them as they grow up and turn into adults. There is no set of rules on how one chooses their name. A name is a unique word that's become entrenched in our everyday speech. It can be used to pinpoint a person's gender, ethnicity, where they're from, and so on. But did you know that your name also has meaning? Start discovering the meaning behind the name Benjamin.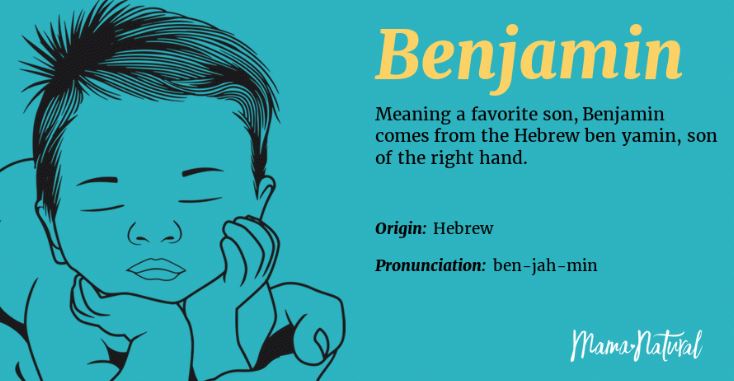 What Does The Name Benjamin Mean?
From the Hebrew name בִּנְיָמִין – Binyamin, which means "son of the right hand" or "son of the south." This name is derived from the roots בֵּן – Ben, which means "son," and יָמִין – Yamin, which means "right hand, south." Because the names Jamin and Yamim both mean "of the south" and "year," respectively, Benjamin might also mean "son of the south" or "son of my old age."
Benjamin is mentioned in the Old Testament as being Jacob's twelfth and youngest son. He is also credited with founding one of the Hebrew tribes that lived in the south. Rachel, who passed very shortly after giving birth to her baby, gave him the name Ben-oni, which means "son of my sadness." However, his father eventually changed his name to Ben, which means "son of my joy" (see Genesis 35:18).
Ben is a commonly abbreviated form of the name Benjamin, which is popular in many Christian, Jewish, and Muslim communities due to its biblical significance of the name Benjamin. Every religion has a few different spellings of its name. As a result of what transpired with Benjamin in the bible, the name Benjamin is frequently given to parents who feared they would never be able to have children or even another kid.
What Is The Origin Of Benjamin?
Benjamin is derived from the Hebrew word Binymn, which means "son of my right hand." This name is found in the holy Hebrew scripture known as the Samaritan Pentateuch, where it is written as Binyaamem and translates to "son of my days." This name's popularity can be attributed, in part, to the fact that it is associated with several biblical overtones.
Benjamin is the youngest of Jacob and Rachel's twelve sons; he was formerly known in the Bible as Benoni. As a result of this connection, the expression "the Benjamin of the family" is commonly used to refer to the youngest child in the family. This name is common in a variety of religions and cultural traditions all around the world, after the person who established the Hebrew communities that were the most southernmost at the time of the apostles. This name is well-known all over the world not only because of the significance of the symbol it bears but also because it is attractive and unique.
What Is The Popularity Of Benjamin?
Benjamin is one of the world's most common names. Its popularity has grown over time. The name was prominent in the 1890s, following which its reputation faded until it regained its position during the 1970s. In the last two decades, Benjamin's popularity index has consistently placed the name among the top 30 in the United States. According to Social Security Administration data, the name fluctuated between ranks 19 and 26 between 2000 and 2010.
The SSA data also indicates that the name's popularity rose in 2015 when it entered the top ten in the United States. It is a traditional and sophisticated name that never goes out of style, which is one of the primary reasons for its widespread use. The highest Benjamin baby name ranking from 2016 to 2018 was number six. Since 2019, the name's popularity has decreased somewhat to rank 7, but it has not exited the top ten. This reflects the name's uniqueness and its potential for future rank advancement.
Globally, the interest in the name Benjamin by Google Trend is believed to be significant. Over the past decade, the name has consistently ranked above 55. In September 2012, while the name's ranking was 85, a rise in usage was seen. This name's highest ranking, 100, occurred in February 2020 and is anticipated to grow in the years to come.
How Do You Pronounce The Name Benjamin?
Ben-jaa-min
Ben-juh-min
BEN-yuh-min
What Gender Is The Name Benjamin?
The name Benjamin is almost always referred to in its masculine form. A feminine form of Benjamin, Benjamina is a name that has been used.
Where Are The Most Searches For The Name Benjamin Performed?
According to the current pattern of search activity for the name Benjamin around the world, France is currently in the first place, followed by Canada. In terms of popularity, the United States, Chile, and South Africa are among the countries where the significance of the name is among the highest. According to the historical trends of people looking for their names in the United States, Massachusetts currently holds the number one spot, with Connecticut coming in a close second. The popularity of the name extends to other states such as New York, New Jersey, and Vermont.
Various Forms Of Benjamin
Benjamin is a name that is common in many different religions and cultures, and it can be spelled in a variety of ways. The various forms of the name Benjamin are presented in the following list, along with the various ways in which it can be spelled. There are a few additional ways to spell Benjamin, including:
| | |
| --- | --- |
| Name | Origin |
| ? Binyamin | ? Arabic and Hebrew |
| ? Benjámin | ? English, Jewish, Hungarian, and French |
| ? Veniamin | ? Greek |
| ? Benjaminas | ? Lithuanian |
| ? Venyamin | ? Russian |
| ? Bünyamin | ? Turkish |
| ? Venijamin | ? Macedonian |
| ? Beniamino | ? Italian |
| ? Benjamim | ? Portuguese |
| ? Běnjiémíng | ? Chinese |
| ? Peni | ? Hawaiian |
Names Similar To Benjamin
Ben is most commonly a shortened variant of the name Benjamin, but Ben (which means "son" in Hebrew) is also capable of being used as a name in its own right. Furthermore, there are a number of other names beginning with Ben. These names include Benedict, Benicio, Benito, Bennett, and Benvolio, who is best known as a character in Shakespeare's "Romeo and Juliet."
| | |
| --- | --- |
| Other boy names starting with B | Other boy names from the Old Testament |
| ? Beckett | ? Abraham |
| ? Bernard | ? Aaron |
| ? Blake | ? Elijah |
| ? Boyd | ? Ezra |
| ? Bradley | ? David |
| ? Brent | ? Daniel |
| ? Brian | ? Jacob |
| ? Bruce | ? Joshua |
| ? Benson | ? Nathan |
| ? Benejamin | ? Noah |
| ? Blaydin | ? Seth |
Benjamin's Common Nickname
In most cases, close friends or loved ones are the ones that bestow upon you a nickname; this is the moniker that they use to refer to you. Benjamin is known by several different nicknames; some of them are as follows:
| | |
| --- | --- |
| ? Ben | ? Jammy |
| ? Bunny | ? MinMin |
| ? Benja | ? Min |
| ? Benj | ? Jamin |
| ? Benzino | ? Jam |
| ? Benoni | ? Banjo |
| ? Biniam | ? Benny |
| ? BanoBruce | ? Benji |
Middle Names Complementing Benjamin
The selection of a proper middle name is equally as important as the selection of a first name. Therefore, it is important to give this choice of middle name for your child a lot of thought before making a final decision. The list that follows provides examples of some of the best double names that may be used with Benjamin:
| | | | |
| --- | --- | --- | --- |
| ? Christopher | ? David | ? Harris | ? Charles |
| ? Joseph | ? Jacob | ? Frederick | ? Richard |
| ? Thomas | ? Elias | ? Adam | ? Daniel |
| ? Henry | ? Levi | ? Graham | ? Deam |
| ? Paul | ? Allen | ? Finn | ? Jonathan |
Related Sibling Names To Benjamin
Choosing Benjamin-compatible names for his siblings can make it easier to keep your children's names consistent with one another. As a result, the following is a list of some of Benjamin's sister names and brother names:
| | |
| --- | --- |
| Sister Names | Brother Names |
| ? Eliza | ? Alexander |
| ? Cecily | ? Sebastian |
| ? Amelia | ? Jonathan |
| ? Madison | ? Theo |
| ? Audrey | ? Gabriel |
| ? Felicity | ? Samuel |
| ? Naomi | ? Gideon |
| ? Caroline | ? Nicolas |
| ? Lilianna | ? Orion |
| ? Eleanor | ? Gibson |
Names Sounding Like Benjamin
There are numerous names that sound like Benjamin, just as there are numerous variants of the name Benjamin itself. There are times when parents desire to give their child a name that sticks out due to its unique pronunciation. The following names are examples of words that rhyme with Benjamin:
| | | |
| --- | --- | --- |
| Name | Meaning | Origin |
| ? Benito | ? Blessed | ? Latin |
| ? Benedict | ? Blessed | ? Latin |
| ? Bennett | ? Blessed | ? English |
| ? Benniton | ? Little blessed one | ? American |
| ? Benson | ? Son of Ben | |
| ? Bentley | ? Bentgrass meadow | ? English |
Celebrities With The Name Benjamin
More people throughout the world were familiar with the name Benjamin as a result of its association with a number of well-known individuals. As a result, more parents gave the name Benjamin to their children, either as a first or middle name.
| | |
| --- | --- |
| Benjamin Franklin | American statesman, scientist, inventor, and philosopher |
| Benjamin Harrison | The United States' 23rd President |
| Benjamin Wade | American lawyer and US Senator |
| Benjamin K. Miller | American judge |
| Benjamin Kallos | American lawyer and politician |
| Benjamin Franklin Perera | Sri Lankan Sinhala diplomat |
| Benjamin Zephaniah | British poet and writer |
| Benjamin Zhang Bin | Chinese Manhua artist and illustrator |
| Benjamin Tee | Singaporean scientist and inventor |
| Benjamin Smoke | American musician |
| Benjamin McKenzie | American actor |
Benjamin In Pop Culture
The name Benjamin has been given to a significant number of fictional characters throughout the history of popular culture. You may recall the following:
| | |
| --- | --- |
| Benjamin Lafayette Sisko | Captain on the TV show "Star Trek: Deep Space Nine" |
| Benjamin "Ben" Ripley | main character in the book series "Spy School" |
| Benjen Stark | character on "Game of Thrones" |
| Benjamin "Ben" Grimm | also known as The Thing, a character in Marvel Universe |
| Benjamin Brown | character in Jenny Nimmo's "The Children of the Red King" series |
| Benjamin Woodman and Trilo Quist | ventriloquist duo in a video game 'Ace Attorney' |
| Benjamin "Ben" Wyatt | character on TV's Parks and Recreation |
| Benjamin "Ben" Mitchell | character on British soap opera "Eastenders" |
| Benjamin Price | a character on TV's "Ravenswood" |
| Benjamin Hubert Horatio Humphrey Seaver | character on TV's "Growing Pains" |
| Benjamin Kirby Tennyson | main character on animated series "Ben 10" |
| Benjamin Suddlechop | barber in The Fortunes of Nigel (1822) by Sir Walter Scott |
| Benjamin Braddock | main character in the film "The Graduate" |
Conclusion
When deciding on a name for your child, there are lots of factors you will have to consider before making a final decision. One important thing that you should keep in mind is that a name can help to shape his personality and influence everything he does throughout his life. When it comes to choosing a name, try to choose one that has meaning and implications, such as Benjamin.
Choosing an appropriate name for your child might feel like an overwhelming undertaking, especially if you want the name to be one of a kind and distinctive in the world. A lovely name, such as Benjamin, could be perfect for your new baby. This is one of the top 50 most popular names in the United States, and it sounds both ancient and contemporary at the same time. As a result, giving your child the name Benjamin, which has both a significant and pleasant connotation, can turn out to be beneficial in the long run.
FAQS
How would you describe Benjamin's personality?
Benjamin is a name that suggests an individual who values independence and has a free-spirited nature. Your love of new experiences and excitement makes you unconventional in every way. You are very quick to make conclusions that are rational, especially when faced with a perilous or challenging circumstance.
Is Benjamin a somewhat uncommon name?
According to statistics provided by the SSA, the name Benjamin has retained a high level of popularity over the course of the years. More specifically, the name has remained in the top 10 since the year 2015 and has ranked in the top 25 or within close proximity to that number since the year 2000. On the other side, the name comes in at number 37 on the list of most common names on the website FamilyEducation.com.
In terms of money, what is a Benjamin?
The United States one-hundred-dollar bill, known colloquially as a "Benjamin," includes a likeness of Benjamin Franklin on its reverse side. "Benjamin" is a slang term for the 100-dollar bill, which features Benjamin Franklin as a founding father of the United States. The short tale "The Curious Case of Benjamin Button" was written by F. Scott Fitzgerald. In 2008, "The Curious Case of Benjamin Button" was adapted into a movie starring Brad Pitt as the titular character.