"When you buy through links on aneverydaystory.com, We may earn an affiliate commission."
Have you been considering lovely and melodious French names for your son? You've come to the perfect place if you have French ancestry or are looking for a boy's name with a French flair.
Not only are French names rich with gorgeous meanings, but they are also fashionable and romantic. Whether you want to connect with your French ancestry, appreciate the French language, or are simply seeking a unique name for your baby boy, we have the ideal name for you!
Are you prepared to begin exploring names for your baby boy? Choosing a name for a baby is an exciting experience for parents-to-be, and many are getting ideas from French boy names! Here are some of our favorite French names for a baby boy.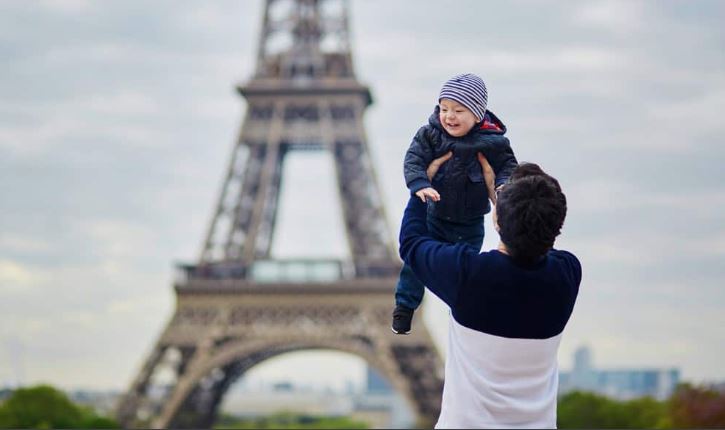 1. Aimé
Aimé is an Old French boy's name that means "beloved." Aimé Leon Dore is a well-known fashion and lifestyle firm based in Queens, New York. The main store on Mulberry Street in Manhattan has a Parisian living room decor and is recognized for collaborations with Puma, New Balance, and Porsche.
2. Achille
With roots in the Greek name Achilles (which means "pain"), Achille was formerly a prominent French baby boy name before fading from popularity in the 1960s. Achille was found in the 1990s and rose in popularity until 510 babies were given the name in 2019!
3. Adélard
An Adélard is a French term that literally translates as "noble, brave." Adélard Took is a fictional character from Tolkien's world who appears in The Lord of the Rings. He is a librarian who enjoys umbrellas and appears in the film adaptation of the book of the same name.
4. Anthelme
The name Anthelm was derived from the German name Anthelm, which means "zeal" and "protection." This was the name of a notable French bishop from the 12th century. It was also the middle name of the renowned French politician and gourmand Jean Anthelme Brillat-Savarin. His honor is bestowed upon a French triple-cream cheese. Yum!
5. Aristide
As the French and Italian versions of the Greek boy's name Aristides, this name has fallen out of favor, making it exceedingly unusual and unique. The name's meaning, "the best," is perfect for your son.
6. Alain
The French form of Alan is Alain, which means "little rock, handsome, lovely." Since 2002, it has not been in the top 100. In 1985, 83 boys in the United States were given the name Alain, which made a brief but surprising debut on the US charts.
7. Alexandre
The French name Alexandre means "man protector." Alexandre Dumas, a prolific French author of the 19th century, authored dramas, romances, and travel novels. Great adventures like "Count of Monte Cristo" and "The Three Musketiers" have garnered the most of his acclaim.
8. Adrien
It's a boy's name, but it's pronounced A-DREE-YEHN when spoken by a native French speaker. (In French, the feminine form is written Adrienne, but both spellings have the same sound.) Roman Emperor Hadrian's name was likewise taken from the Latin Hadrianus. Also derived from this name is the name of the Adriatic Sea.
9. Alfonso
Alphonse, the French form of Alfonso, means "noble, prepared."
The French term "Alphonse and Gastoning" describes two individuals who are too friendly with one another. You are Alphonse and Gastoning if, while standing in front of a doorway with a friend, you both say, "You go first" and "No, after you."
10. Amable
Amable is a French name for boys that means "lovable." Amable Troude served as a naval lieutenant in the French Navy during the Napoleonic Wars. We believe that this relationship provides an excellent French boys' name for a family with a maritime background.
11. André
André is one of the most common French newborn boy names, but it has variants in many other languages as well. In English, this name would be Andrew; however, in Russian it is Andrei. Andreas is a Greek name that means "manly, robust, and warrior."
12. Antoine
This gorgeous French boy's name is shared with the famous French novelist Antoine de Saint-Exupéry, who penned one of my favorite books, The Little Prince. The basis of the name is the Latin name Antonius, which means "very praiseworthy."
13. Barnabé
What could be more adorable than this boy's name? This biblical name is derived from the Aramaic name Barnabas, which means "son of the prophet." You may know the more modern form Barnaby, which is closer in sound to the French name.
14. Blaise
Although the original meaning of this 5-letter boy's name is to stammer or lisp, it is a beautiful name that glides off the tongue. One of the most well-known bearers was the 17th-century mathematician Blaise Pascal. Maybe your son will follow in his footsteps and become a math whiz as well!
15. Baptiste
This one-of-a-kind name was once highly religious, as its French meaning, Baptist, was an homage to Saint John the Baptist. It is a terrific option for any parent, religious or not.
16. Beau
You'll understand why Beau is one of the most popular French boy's names once you learn its meaning. This name is derived from the adjective "beau," which means handsome and attractive. Some parents also opt to spell it as Bo, making it one of the most popular boy's names in Scandinavia.
17. Benoît
Benoît, the French form of Benedict, literally translates as "blessed." Benoît was initially spelled Benoist, which was a mistake. However, the "s" has increasingly been replaced in numerous French nouns by circumflex stress above the "i."
18. Barry
This name, which literally translates as "a marksman or a spear thrower," is as classic as they get.
19. Bérenger
This elegant-sounding French boy's name is derived from an ancient German name. It loosely translates as "bear" and "spear." The French name was chosen by royalty, but it is still quite uncommon, making it a distinctive option for your baby boy.
20. Cédric
Cédric is a Celtic boy's name that means "plenty." According to our study, Cédric is the French version of Cedric, not the other way around. According to scholars, Sir Walter Scott borrowed the Brythonic name Caratacos for his fictional character Cedric. Ancient Britain, as well as Brittany, France, had names that were derived from the Brythonic language.
21. Chance
We are intrigued by this distinctive and stylish name, the French variant of Chauncey. It has received endorsements from Larry King and Paul Hogan, and its popularity is growing thanks to the rapper Chance the Rapper (real name Chancelor).
22. Claude
The name Claude derives from the Latin word claudus, which means "crippled, lame." French painter Claude Monet is usually considered the originator of the Impressionist movement in France. The term "Impression, Sunrise"—the title of one of Monet's paintings—helped to popularize the Impressionist movement. Your baby boy's middle name could alternatively be Claude in French.
23. Côme
This French name is a combination of the Latin and Greek names for boys, Cosmas and Kosmas. It signifies "order" or "decency." In 2019, the popularity of the name KOM, pronounced simply as KOM skyrocketed.
24. Curtis
This bold, clear name signifies courteous and polite – a fantastic characteristic for your new family member! It's always in style because of its association with notable athletes and entertainers like Curtis Jackson (50 Cent).
25. Dieudonné
When it first debuted on the name charts in the early twentieth century, it was a popular French boy's name. However, it never caught on and only made sporadic appearances on them after the 1930s, with the last appearance being in 1953.
26. Dion
Dion, which literally translates as "child of heaven and earth," has a profound meaning while also sounding very amazing. This name is as powerful as Celine Dion's incredible career because of its ties to the Canadian legend.
27. Dorian
Dorians are Greeks who live in the Doris district. Dorian signifies the "gift of the sea, child of the sea." The moniker Dorian Gray was first used by Oscar Wilde in his masterpiece The Picture Of Dorian Gray. He was named after the Dorians, an Ancient Greek tribe from Greece's northwestern provinces.
28. Dieudonné
This unusual French boy's name is pronounced DYUU-DAW-NEH and means "given by God." A variant of the Latin name Deusdedit, which was granted to two popes, the name is derived from the name. In French-speaking African countries, the boy's name Dieudonné is extremely popular.
29. Damien
Damien is a man who wants to be tamed. Damien Hurst, a British modern artist, made news in the early 1990s when he displayed pieces made from dead animals suspended in formaldehyde.
30. Emile
Emile is a popular masculine variant of Emily that is formed by adding an 'e' to Emil to give it a French twist. Means rival your other children will be extremely envious of their brother's fashionable name.
31. Emmanuel
The name of this French infant boy is derived from the Hebrew Immanuel, which means "God is with us." The University of Cambridge's Emmanuel College, founded in 1584, is a British constituent college. John Harvard, the most distinguished of Harvard College's founders, graduated from Emmanuel.
32. Edmé
Here we have the abbreviated French form of the boy's given name Edmond, which is derived from the English name Edmund. The name "wealth" and "protection" are derived from the Old English language. Because of its modest length, the short French version is a unique alternative for your baby boy.
33. Étienne
Stephen's French equivalent, Étienne, means "crown, wreath." Étienne Fjord is located on the west side of Graham Land, which is part of the Antarctic Peninsula and Antarctica's closest point to South America, and it is a favorite stop for small cruise ships.
34. Éliott
This French boy's name was originally an English surname. It originated from the medieval biblical name Elias. There are many spelling variations such as Elliot, Eliot, Elliott, and Elliott.
35. Elouan
Elouan is considered to be a symbol of good light. Elouan is a wine company established in the state of Oregon in the United States. For more than a century, Elouan has been producing Pinot Noir, Chardonnay, and Elouan Rosé from grapes grown in Napa Valley.
36. Émeric
The name Emmerich is derived from the German Emmerich, and the French pronunciation is ehm-reek (with just two syllables instead of three). It is an abbreviation for "whole ruler." Alternatively, the English name Henry may be a direct descendant.
37. Évariste
In Greek, the name Evaristus means "pleasant," which is taken from the Latin name Evaristus. The name EH-VA-REEST is pronounced EH-VA-REEST in French, and it has a distinctive sound.
38. Elias
This Latin variation of the boy's name Elijah is well-known not only in French but also in a variety of other languages and cultures. In Hebrew, the name means "God is Yahweh." There are two versions of Elijah's story: the Old Testament and the New Testament. In addition, numerous saints had the name, frequently with a Latin spelling.
39. Fabien
Fabien is derived from the Latin word faba, which means "bean." If you've been calling your unborn child Bean, Fabien, which was popular in France throughout the second part of the twentieth century, could be a stylish French male name.
40. Félix
This boy's name is very popular in France, Spain, and Portugal. It's also frequent in a plethora of other languages without the accent. The boy's name has Roman origins and means "fortunate" in Latin. In Roman times, the name was used as a nickname, and it was eventually adopted by saints and popes. Your little son will be blessed with this auspicious name!
40. Fabrice
Fabrice means artisan. This strong French boy's name is pronounced FAB-REES, which regrettably sounds too much like the Febreze air freshener product line.
41. Gilles
Giles is a French boy's name that is derived from the English name Giles, which in Greek means "young goat." Giles is a diminutive form of the name Giles. The French pronunciation of the boy's given name is ZHEEL, which has a distinctive sound. For the time being, disregard the meaning of this brief name!
42. Gaston
Gaston is a French masculine name originating from the Ancient Germanic word gast, which means "stranger, guest." Possibly the most well-known person with this name is Gaston from Disney's Beauty and the Beast. Surprisingly, Gaston does not present in the original story. The unique and fascinating character was developed by scriptwriter Linda Wolverton.
43. Guy
Guy is a Norman French given name that is also a common boy's name in the United Kingdom. When spoken in French, the word is pronounced GEE. It is derived from the ancient German name Wido, which can mean either "wood" or "broad."
44. Gabriel
This popular name appears in virtually every language. It is pronounced GA-BREE-YEHL in French. The biblical archangel's name means "God is my powerful man" in Hebrew. Gabriel is also mentioned in the Koran.
45. Gabin
The usual French variant of Gavin is a place name derived from the Italian "of Gabii," which refers to a city in central Italy. It is a swerve away from the more popular Gavin. In France, it is currently among the top 20 most popular boys' names.
46. Gaultier
This is a more uncommon spelling of the names Gauthier and Gautier, both of which are French for Walter and can be found in the French language. The boy's given name, which is of German origin, translates as "ruler of the armies." Your little general has earned himself quite the moniker!
47. Gervais
This lovely French boy's name derives from the Latinized ancient German name Gervasius, which was also a saint's name. Also known as Ricky Gervais, the English actor, and comedian Ricky Gervais' surname may be familiar to you.
48. Geoffrey
This Norman-French name, which means "peace" and "territory," has German origins. It is also known as an English name because it was introduced to England by the Normans. Why not bring back this distinctive, old-fashioned French boy's name that was once popular in France and the United States?
49. Georges
Georges Braque and Georges Seurat are two of the most well-known artists of the modern era. The name derives from the Greek term for "farmer" or "earth-worker." Saint George, as the name is spelled in English, is frequently shown in art as vanquishing a dragon. Despite its basic origins, this traditional French boy's name carries significant weight!
50. Gérard
Those looking for a name that may be spoken with or without a vowel will discover this one to be used in a variety of languages, including English. It translates to "spear" and "brave" in German. It is frequently confused with Gerald, which is another French boy's name option.
51. Grégoire
This is the French form of the Greek name Gregory, which means "vigilant" or "alert" in Greek. The name was widespread as early as the third century. There were 16 popes with this name. In French, the name is pronounced GREH-GWAR, lending it a romantic quality.
52. Gaetan
This less commonplace name for boys means "of Gaeta," another Italian city, and is a great option if you're searching for a more distinctive French name for a boy.
53. Guillaume
"Will helmet" is a Germanic term common among the Normans. After William the Conqueror, the first Norman monarch of England, it became a popular English name. The French pronunciation may throw you off, as it is GEE-YOM without the W sound.
54. Henri
Henri is a French name that translates to "home rule." Henri, le Chat Noir is a popular web series about Henri, a black tuxedo cat with long fur whose existential ramblings are the subject of the episodes.
55. Hervé
Would you identify the name of this French boy as Harvey? Possibly! However, it has a far more distinct and lovely sound in French. The name means "battle worthy" in Breton and was once uncommon until it was reintroduced in the nineteenth century.
56. Hugo
Hugo has also spelled Hugh in English-speaking nations and has multiple meanings, including "intelligence," "thought," and "spirit." Hugo Weaving, who played Agent Smith in The Matrix films, is one of the most well-known individuals with this name.
57. Honoré
Honoratus of Honorius is the French boy's name, and it means "honor," as you might expect. Honoré de Balzac went by this moniker as a child. You may give your son this distinguished-sounding French-given name in celebration of his achievements.
58. Hubert
Hubert means brilliant heart. Aside from France, Hubert is also popular in Germany, Sweden, Poland, Estonia, the Czech Republic, Canada, and the United States. A French boy's given name in a mixed-heritage family is, therefore, a good choice.
59. Hercule
The name Hercule means glory. An English novelist developed Hercule Poirot, a fictional investigator based on Poirot name. As a character, Poirot has been portrayed on screen by a wide range of performers, including Kenneth Branagh, Orson Welles, and John Malcovich. He has appeared in 33 novels.
60. Isidore
Isidore translates as a gift from Aset. Aset is the Egyptian name for the goddess Isis, who is better known by her Greek name. As one of Egypt's first deities, it was believed that she protected the kingdom, ruled the natural world, and occasionally controlled fate.
61. Julien
Named after Julius, the ancient Roman general, this charming moniker honors a rising star. Although it is spelled Julian in English, it is a popular choice for celebrities such as Lisa Kudrow, Jerry Seinfeld, and Robert De Niro, who all go by the English spelling.
62. Jules
Are you a history geek who adores ancient Rome? Then the name Jules is exactly up your alley. The Latin word Julius, which means "devoted to Jupiter," is the root of this name. Additionally, Julius is an excellent baby name.
63. Jacques
As the French equivalent of Jacob and James, Jacques is a typical "nom français." It means "successor" and "one who follows." Jacques was the surname of numerous noble and aristocratic families throughout history, which is pretty cool if you're a history lover!
64. Jean
Jean is the French version of John which means "God is gracious." Jean was the most popular boy's name in France from 1900 to 1957. By 2019, Jean had fallen to number 96, indicating that it remains a popular French boys' name but is growing less prevalent each year.
65. Joël
This French boy's name is pronounced YAW-EHL. It is a Hebrew name that means "Yahweh is God." Joel was the name of a biblical prophet. Since the 1950s, the name's popularity has dropped in France, but it has gained ground in the United States.
66. Jean-Baptiste
The common French name Jean-Baptiste means "God is generous, to dip." Recognition of John the Baptist's prophetic status in various faith traditions led to the French male being given the name Jean-Baptiste in French culture. To pronounce Jean's "J," pronounce the "g" in the judge as if it were the "g" in Jean.
67. Joffrey
Joffrey is the French variant of the English name Geoffrey, which means "region of peace." Joffrey is an intriguing French boy's name. Even yet, we are concerned that it might be misspelled as Jeffrey, which is regarded to be a popular intentional misspelling of Jeffrey, or that it might be associated with negative Game of Thrones overtones.
68. Kylian
Kylian, the French version of Cillian, likely signifies church. Kylian has recently made its debut entry on the top 1,000 boys' names ranking in the United States after being popular in France at the turn of the twenty-first century. In that year, 227 boys were given the name Kylian.
69. Lafayette
We adore this historic French name, which is associated with the American Revolution's Marquis de Lafayette. It can be abbreviated to Fayette or, even more delightfully, fate.
70. Lucas
This boy's name appears in languages other than French. It's the Latinized form of the Greek name Luke, which relates to someone from Lucania, a region in southern Italy. The name is also mentioned in the New Testament. You can also write it as Loukas, Loucas, or Lukas.
71. Louis
The name of this French youngster is pronounced LWEE, not LOO-is as it is pronounced in English. The name derives from the Germanic name Ludwig, which means "glorious fight." This boy's name has been used by 18 French kings, making it a royal favorite. Include your young prince in the group!
72. Laurent
It was originally a Latin name with the meaning "from Laurentum," which relates to an ancient Italian city. Laurent was immensely popular in France in the 1970s, but while it has fallen in France, it has risen in the French-Canadian province of Quebec.
73. Léon
The name Léon means lion. Jean Reno portrays an assassin who reluctantly shelters a 12-year-old girl from the drug traffickers who murdered her family in the 1994 film Léon. Natalie Portman portrays Mathilda in her debut film role.
74. Luc
If you're looking for a way to shorten Luke or Lucas, you can use the French nickname Jean-Luc instead. It derives from the Latin name Lucianus, which means "bright." Lucien is the lengthier form of this French name, so you may want to consider it if Luc sounds too short or simple.
75. Leo
The Latin and Greek origins of the name Leo provide its meaning: lion. This might also be a nickname for your boy if you choose the Old French-based names, Leonardo or Leonard. For males, the name Leon and for girls, Leona is a charming variation of this popular name.
76. Mylan
This is a popular baby boy name in the Netherlands and France. Originally a Slavic name, it means "gracious" or "dear." A city in Italy shares a similar name, although its origins are distinct. Other alternatives are Milan, Milann, Milàn, and Mylann.
77. Maurice
The history of the name Maurice is extensive! It is derived from the Latin name Mauritius, which is used to characterize the inhabitants of Mauritania. It also appears as a surname in other languages, including Morris in English, Mauricio in Spanish, and Moritz in German.
78. Maël
This is a popular French boy's name in the Brittany region. It's most likely derived from a Celtic term that means "chieftain" or "prince," according to the dictionary. The name Mael can alternatively be written Mael or Maél, depending on the context.
79. Matis
The name Matthias means "gift of Yahweh" in Greek for those of you who aren't familiar with the biblical context. Many distinct terms can be used to refer to "math," such as "Mathys," "Mattiz," "Matijs," "Matthijs," and "Maththis."
80. Maxime
As a result of its wide appeal and easy pronunciation, the French boy's name Maxime, commonly known as "Max," has become a worldwide phenomenon. The name is derived from the Latin word Maximus, which means "the greatest," therefore, it is a highly powerful name for your son!
81. Nicolas
Nicolas is the French spelling of Nicholas, which is frequently abbreviated as Nick. Nikolaos, the Greek name for "victory of the people," is whence the name derives its meaning. Nicolas Cage, the actor, and former French President Nicolas Sarkozy are two renowned personalities with this name.
82. Olivier
This variant of the Germanic, Old Norse, and Latin boy's name Oliver is used by both the French and the Dutch. It means "olive tree" in Latin but "ancestor's descendent" in Old Norse. Pronounce it AW-LEE-VYE for an authentic, attractive, and melodious tone.
83. Pascal
Despite the fact that Pascal was the surname of the aforementioned mathematician, it is not uncommon for the name to be used as a first name in other situations. This is a Latin term with the meaning "relating to Easter," therefore, it is an excellent option if you are religious and wish to give your child a more spiritual name.
84. Philippe
No one has to guess that this is the French translation of Philip's first name. The name is less popular in France than it previously was, yet it remains stable in the French-Canadian province of Quebec. The name means "friend of horses" in Greek. Including your child in such an esteemed organization is a no-brainer.
85. Pierre
Pierre is another Biblical name, as it is the French form of Peter, one of Jesus Christ's apostles. It derives from the Greek word "petra," which means "rock." While Pierre is referred to be Pedro in Spanish and Portuguese, he is recognized as Boutros by the Arabic community.
86. Quentin
If you are familiar with Quentin Tarantino, you are certainly extremely familiar with this famous French baby name. While it literally translates to "the fifth one," the meaning isn't as powerful as you might hope; it's carried by the star power and ease with which it rolls off one's tongue that makes it memorable. Vote for the name Quentin if you envision your child becoming the next great film director.
87. Romain
Romain is a French variant of the name Roman, which has been more popular in recent years. It literally translates as "citizen of Rome." Roman is a romantic name that has special significance for literary parents because roman in French means novel.
88. Russell
When the name Russell was first coined, it was used to describe someone with red hair. Many parents are now opting for the name because of Russell Crowe and Russell Brand's success, making it an adorable choice.
89. Rainier
Rayner is the French version of the old English boy's name Rayner. The name has German origins and means "counsel" and "army." He was known as Prince Rainier of Monaco by his first name. They were famously wed by Grace Kelly, an American actress.
90. Simon
Simon is a French given name and surname with Hebrew origins and the meaning "to listen." Simply adding an "e" to Simon creates Simone.
91. Sévère
Fans of Harry Potter may recognize this boy's name, which is the French translation of the Latin name Severus. Before it was adopted as a first name, the name was originally a Roman surname meaning "stern." Several saints also shared the name.
92. Sylvestre
The French variant of the Latin name Silvester, which means "of the forest," this name may be ideal for a nature lover. Additional nature-inspired baby names could be interesting to you.
93. Tristan
Tristan, an Old French form of the Celtic boy's name Drust, appears in Celtic and Arthurian mythology. It can signify "riot" or "tumult" in the Celtic language but "sad" in Latin. However, you may choose it for its attractive pronunciation: TREES-TAHN. If you like legendary names, you may also enjoy these Greek mythology-based names.
94. Timothée
The French name Timothy is derived from the Greek name Timothy, which means "honoring God." In spite of the biblical connection, the names Timothée and Timothy didn't catch on until the Reformation. In France, the name has been consistently pronounced TEE-MAW-THE for the past two decades. Timothée Chalamet, an American actor, may also have a hand in this.
95. Terrence
Terrence Howard is a prominent American spelling version of the name Terence, and he is the star of the television series Empire. Terrence is as smooth as his character Lucious Lyon, and he is a smooth operator.
96. Vincent
Vinny, Vince, and other variations of Vinny are all acceptable nicknames for the baby boy name Vincent. It derives from the Latin word "Vincere," which literally translates as "to win" or "to conquer."
97. Virgile
You may have heard this name on the radio, as Kanye West frequently mentions Virgil Abloh, his creative director, in his songs. Virgile is a milder variant that has been neglected for decades and is due for a renaissance.
98. Xavier
The French pronounce the name Xavier as "za-vee-er," with emphasis on the first syllable, despite its Basque origins. It means "castle" and "new house," and it is also known in Spanish cultures as Javier and Xavi (for short), making it a very worldwide name.
99. Yves
Among French boy names, Yves is one of the most distinctive. If you hear the name "Yves Saint Laurent," you probably think of the famed fashion designer. But the moniker has been used by numerous other artists and painters. Yves is the name for the tree yew. As it is uncommon outside of France, many parents choose to use it as a middle name rather than a first.
100. Yann
Despite the fact that Yann is most usually used as a modern version of the ever-traditional John, it can also be used as a short form of the name Yannick. It has a profound meaning for religious parents, as well as a striking tone.