"When you buy through links on aneverydaystory.com, We may earn an affiliate commission."
If you are interested in ancient writings, mythological stories, culture, and a rich past, and you are seeking a rich and significant name for your child, Greek God baby names are a good choice. Greek god names are powerful, significant, rich, and uncommon. They are historical, with a captivating vibe and philosophical value. Deities, heroes, legendary stories, and even their names are reflected in the Greek deity names.
We've compiled a list of Greek mythology's renowned goddesses, gods, Titans, and warriors to get you started. Continue reading to learn about the meanings and tales behind some of the top Greek mythology baby names. Hopefully, you'll find the ideal name for your little hero or heroine.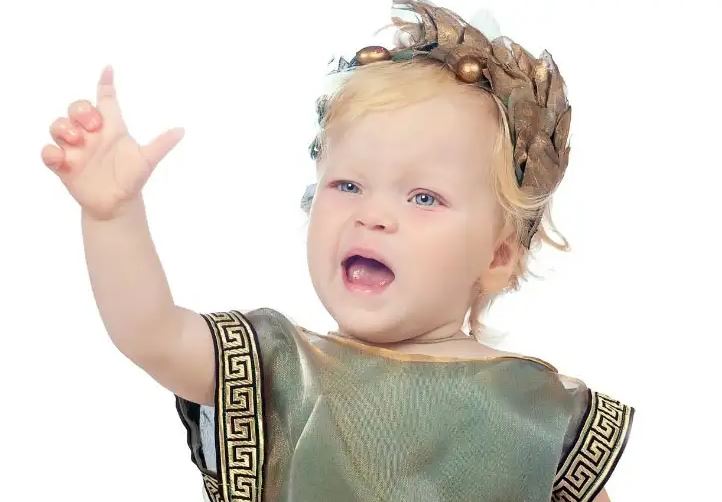 Greek Mythology Baby Boy Names
Let's start with a look at Greek Mythology baby names for boys. If you seek lovely and significant names for boys, the Greek God names will undoubtedly pique your attention. Therefore, let's investigate them jointly.
1. Adonis
This is a popular baby name derived from Greek mythology and theology. It is used to describe a person who is attractive and well-presented. According to their mythology, his given name indicates that he is Aphrodite's favorite.
2. Atlas
Atlas was a pre-Olympic Titan deity of astronomy who was forced by Zeus to carry the sky on his shoulders forever. Because of this god, our old-school world maps were dubbed Atlas maps, and the name "Sea of Atlas" comes from the Greek for the Atlantic Ocean. Atlas is a fitting name because it signifies "to endure."
3. Ajax
Ajax was a powerful fighter during the Trojan War. He was reportedly named after an eagle given by Zeus as an omen of his impending birth. This hero occurs in both Homer's The Iliad and Shakespeare's Troilus and Cressida.
4. Apollo
Greek deity Apollo was revered for his prowess in a wide range of fields, including music as well as prophecy and medicine. He subsequently became the sun and light god. The name may derive from a word that signifies "strong."
5. Argus
This name means "luminous" This name was shared by multiple figures in Greek mythology. One Argus was a beast with a hundred eyes, while another Argus was the guy who constructed the huge ship, Argo.
6. Achilles
Despite the fact that the meaning of this name is unknown, Achilles is regarded as one of the most valiant Greek heroes who fought in the Trojan War. He was murdered by an arrow that struck his heel, which was the only portion of his body that was vulnerable.
7. Adrastos
You can consider giving your brave little hero the name "not inclined to run away," which literally translates as "not inclined to flee." Adrastos was the name of a powerful king of Argos who appeared in Greek mythology.
8. Alexander
The phrase comes from Greek and means "defender of man." It is possible that the hero Paris was known by the name Alexander at some point in Greek mythology.
9. Adrian
In Greek mythology, Adrian is a benevolent and affluent individual. This is a wonderful option if you are seeking a name with a sleek and stylish modern feel.
10. Arun
Arun is a popular name for males in India. Its meaning is "sun" or its reddish light. In Indian mythology, Arun (sometimes spelled Aruna) is the sun deity Surya's charioteer. Some sources give this name as a variant of Aaron, which means "high mountain." Arun is a great name for a baby boy, regardless of how it's spelled.
11. Bacchus
It is also known as Dionysus in the Greek pantheon, but Bacchus is a different name for him. This name is currently employed infrequently.
12. Brontes
In the Greek language, the word Brontes implies 'thunderous.' In this case, it refers to one of the three heavy cyclopes in the group.
13. Castor
Historically, Castor was considered to be Pollux's identical twin brother. In the aftermath of his death, it is stated that his twin brother Pollux petitioned Zeus in order for them to be reunited. After that, they were turned into the constellation of the zodiac.
14. Cephalus
With the name Cephalus comes the mythology of a devoted Greek husband who remained true to his wife, despite being greatly tempted by the goddess Eos. In addition, the name implies 'head.'
15. Charon
Charon is the ferry operator who was responsible for transporting the deceased to Hades. It is a representation of 'fierceness.'
16. Damon
Damon is a God from Greek mythology who represents the qualities of trust and loyalty in a relationship of friendship. He put his life in danger in order to defend his friend.
17. Diomedes
This name, which is derived from a mix of Greek words that signify "of Zeus" and "to think," is a fearsome one. One of the most famous Greek heroes, Diomedes, was instrumental in defeating the Trojans.
18. Dionysius
A good time was what Dionysus was all about. He was the god of wine, festivals, and celebrations. Due to the fact that this name has not appeared on the most popular baby name list in the past ten years, it will most likely be a unique choice for your child's given name.
19. Eros
Eros is one of the primordial gods, recognized as the deity of love in Greek mythology and the son of Aphrodite; his Roman counterpart is Cupid. As with Erasmus, the word "Iran" means "love" in Greek. When you name your baby boy after a god who is the embodiment of love, you can't go wrong.
20. Endymion
Endymion was a beautiful figure in Greek mythology. He was believed to be king and resided in the Elis region. Endymion received his beauty from his father, Zeus. Endymion fell in love with Selene, the Titan moon goddess, and beseeched Zeus for eternal youth. According to its connotation, Endymion is associated with beauty and love.
21. Eryx
Eryx was the name given to Poseidon and Aphrodite's son, a ruler of Sicily in Greek mythology. Eryx was a renowned boxer who was ultimately vanquished by Hercules. Eryx is on our watchlist. It is not now viral, but we see it as a potential alternative for Eric.
22. Griffin
Griffin is not the name of a god but rather a mythological dragon that was worshipped in Greek mythology. With an eagle-like head and wings, as well as the body of an animal, griffins can be likened to the mythical "dragons" of the Middle Ages. According to several Greek tales, a griffin drew Apollo's chariot. It's also a frequent Welsh name that translates to "strong lord."
23. Glaucus
With the aid of magic and ceremony, one can make oneself invincible with the help of the herb Glaucus. In Greek mythology, it's a well-known expression.
24. Hector
Hector, the Greek God, was renowned for his role as the most effective fighter for Troy during the Trojan War. In addition to being the son of King Priam and Queen Hecuba, he was also the grandson of King Priam.
25. Hyperion
Hyperion, a Titan, was the father of Helios, the sun god, Eos, the dawn goddess, and Selene, the moon goddess. Hyperion presided over the sun and light. There were 12 Titans at first; nevertheless, the name of Hyperion is less well-known than that of the other Titans or gods. Cronus, Zeus's father, was Hyperion's brother.
26. Helios
Derived from the Greek word for "sun," Helios was the young deity who traversed the sky on a chariot.
27. Hermes
Hermes was the name of the Greek god of travel and commerce, but you might think of it as the name of a well-known fashion label. This is a name that is associated with quickness and fortune. Named after a word that literally means "boundary-maker," the term is likely to be derived from this.
28. Jason
Jason was a Greek hero who was best known for his position as the leader of the Argonauts, which he played in the Odyssey. It is a fairly common given name in the United States.
29. Kana
In Pacific mythology, Kana is a Maui demigod. Supposedly, Kana walked to the edge of the abyss and returned the stolen sun. This is possibly why he was regarded as the deity of reproduction, dawn, the sun, and the sky. The name Kana may potentially derive from the Japanese term of the same spelling that means "powerful."
30. Linus
This name translates to "flax." Linus was the deity Apollo's child in Greek myth. He was also regarded as a great musician and a teacher to the immortal Herakles, according to legend.
31. Leander
Leander translates to "lion man" in Greek. Leander is not a god, but he plays a key role in a tragic mythical love story; yet, he and his real love, hero, an Aphrodite priestess, spend forever together. Their romance story has been extensively referenced in literature and the arts. In spite of its obscurity, it has recently been used regularly in southern Europe and the United States.
32. Lykos
This name, which translates as "wolf," was given to a number of characters in Greek mythology.
33. Myles
Myles was the name of the monarch of Laconia, and it was most likely derived from the Greek word for "mill." This is a classic-sounding name with Greek mythology roots that you might want to consider for your upcoming young boy.
34. Midas
When Dionysus granted a desire to Midas in Greek mythology, Midas became a king who could do whatever he wanted. Midas' desire was granted, and everything he touched turned to gold. This Greek tale is the source of the phrase "Midas touch."
35. Mentor
As part of his preparations for the Trojan War, Odysseus placed Mentor in charge of guarding his palace and his son. A mentor is a combination of the words "thought," "strong," and "power." 'Mentor' was a wise and trustworthy advisor.
36. Neilos
This is the river's Greek name, which means "Nile River." Neilos was the deity of the Nile. Given that the Nile River was a vital source of life and commerce for thousands of years, this would be an impressive and strong name for your infant boy.
37. Nestor
As a name in Greek mythology, this one is associated with both knowledge and longevity. It is derived from a Greek term that means "returning home."
38. Oden
Oden is descended from a Norse god of magic and knowledge. For the sake of expanding his knowledge and gaining strength, Oden is said to have frequently turned to magic. It signifies "inspiration, anger, and frenzy" in the Old Norse language. Backstreet Boy Nick Carter's son Odin shares the name of a Swedish icebreaker ship, which is kind of cool.
39. Paris
In Greek mythology, Paris was responsible for the outbreak of the Trojan War by kidnapping Helen of Troy. Despite the fact that the meaning of Paris's name is unknown, he was ultimately victorious over the strong hero Achilles.
40. Pan
Pan was a god who appeared to be half-man, half-goat in Greek mythology. Meadows, flocks, and shepherding are all things that he is associated with. The name is most likely derived from a word that means "protector."
41. Patroclus
The term derives from the Greek phrase meaning "glory of the parent." Patrician was a warrior who fought the Trojans in a war of liberation.
42. Prometheus
This name is derived from the Greek word foresight, which means "forethought." The fire was discovered by Prometheus, a Titan from Greek mythology, and he shared his discovery with the rest of humankind.
43. Priam
This name could be derived from a Greek word that means "redeemed." While Troy was at war with Greece, Priam reigned as its king. He had several children, including the warrior's Hector and Paris, who are both remembered today.
44. Simon
Name that means "flat-nosed" in Greek and has become popular because of its origins in the language. Simon was a demigod who lived on the island of Rhodes and was one of the island's earliest occupants.
45. Theseus
Most likely, the root of this moniker is derived from a verb that means "to set or place." Theseus was a courageous king of Athens. According to Greek legend, the King of Crete, Minos, demanded that Theseus sacrifice seven sons and seven females to the Minotaur every seven years. The Minotaur was slain by Theseus instead of one of the children. He was successful with the assistance of Ariadne.
46. Troy
One of Greek mythology's most famous episodes is the Trojan War, which took place in Troy. Troy was located in the region known as Asia Minor, which is now Turkey. The Trojan War began when the city's prince, Paris, abducted or eloped with Sparta's queen, Helen. Troy is a common name in the United States. Its popularity peaked in the 1990s and declined before the turn of the century.
47. Thanatos
Thanatos was the Greek deity of peaceful deaths. He is not always shown as a god; occasionally, he is considered a spirit. Thanatos was not to be confused with Hades, the king of the Dead, who was noted for being stern and uncompromising. Thanatos may not be the ideal name for a child. Despite his soft disposition, it does not seem prudent to associate your infant with death.
48. Xanthos
The name "yellow" is derived from the color yellow. It was the given name of a number of characters in Greek legend.
49. Zephyr
This Greek god was the king of the west wind, which brought delightful breezes in the spring and summer. This may be a fantastic option for a little guy who will provide you with joy and warmth.
50. Zeus
Zeus, whose name stood out in Greek mythology, was the deity of thunder and the sky. Greek mythology holds that the god Zeus is the most powerful of all the gods, ruling over all of humanity. The name is derived from a word whose root means "bright" or "sky."
Greek Mythology Baby Girl Names
How about exploring some lovely, pretty, and strong newborn girls and female Greek God names? Let's examine some well-known and uncommon baby girl names inspired by Greek goddesses.
51. Athena
Choosing the goddess of battle and wisdom from ancient Greece for a daughter who will grow up to be both wise and powerful is an appropriate option. Athena, the goddess of Athens, the Greek capital's patron deity, has a long history of association with the city.
52. Astraea
Astraea is a beautiful name for the Goddess of Justice in Greek mythology. This is a lovely and old baby girl's given name for you.
53. Artemis
Artemis is the Greek equivalent of the Roman goddess Diana, and she is the goddess of hunting and the protector of the forest. Her name may be derived from the Greek word arktos, which means "bear." She enjoyed the companionship of animals and was claimed to have been born fully grown in order to assist in the delivery of her twin brother, Apollo. The novel series Artemis Fowl was recently made into a film.
54. Anthea
This lively name is derived from the Greek word for "flower" or "bloom." This could be the perfect name for your child if you're seeking one with floral and mythological connotations!
55. Aella
Aella was a formidable Amazonian warrior whose name was derived from the Greek word for "whirlwind." She fell in battle against Herakles while defending Hippolyta's waistband. Hippolyta's authority as Amazon queen was symbolized by the magical waist belt.
56. Aphrodite
Aphrodite was the goddess of love, beauty, and desire in Greek mythology. Poets in the nineteenth century referred to her as the Goddess of Love or the Venus of the Sea, among other titles. It's possible that it comes from a term that means "foam-born."
57. Chloe
This word, which literally translates as "green shoot," refers to a new plant that emerges in the spring. This was the moniker given to the goddess Demeter in ancient Greek mythology.
58. Cassandra
Cassandra was a Trojan princess who was endowed with the gift of prophecy by the deity Apollo, who also happened to be her father. Alternatively, it is probable that the name derives from a Greek phrase that literally means "to shine" or "to excel."
59. Clio
Kleos, which means "glory" in Greek, was the goddess of history and heroic poetry. As a Muse, Clio served as a source of creative energy for artists of many kinds, including poets, playwrights, musicians, and others. She's credited with bringing the alphabet to Greece, according to legend.
60. Calliope
Calliope was the goddess of epic poetry in ancient Greece. She is often regarded to be Homer's inspiration. For Homer's Iliad and Odyssey, she served as an inspiration.
61. Calypso
As the name suggests, Calypso was a nymph who fell madly in love with Odysseus and was named from a Greek phrase meaning "she who conceals.
62. Circe
Originating from a Greek term that may have meant "bird." When Circe transforms Odysseus's crew into hogs, Odysseus forces her to reverse the transformation, and they are transformed back into men.
63. Dione
It is derived from the Greek term dios, which means "of Zeus" and thus signifies "goddess." In some Greek mythology, Dione was the mother of Aphrodite, according to legend.
64. Daphne
This name translates as "laurel" in Greek. According to Greek mythology, the lovely Daphne was transformed into a laurel tree in order to evade the advances of the deity Apollo while still being attractive.
65. Danae
There are several lovely Greek mythology baby girl names derived from Danae. To prove she was Perseus' mother, he disguised himself as a golden shower.
66. Demeter
Goddess Demeter was a fertility deity who was revered for her role in promoting agricultural prosperity. In addition to being the mother of Persephone, she was Zeus's sister. There are numerous variants of Demeter, such as Demetria.
67. Electra
Electra was named after the Greek word for "amber," and she assisted her brother in the murder of their mother and her lover as retaliation for her father's murder.
67. Echo
Echo was a mythological nymph whose love for Narcissus finally drove her to vanish, leaving just her voice behind. Echo is an uncommon name that is ubiquitous in popular cultures, such as the character Echo from The 100 on the CW.
68. Freya
Freya, from the Norse goddess of fertility, is a popular name in the United States. Freya, a lilting and beautiful name, has enjoyed immense popularity in the United Kingdom over the years and currently appears ready to crack the top 100 in the United States. This famous name is spelled differently over the world.
69. Gaia
Gaia was the earth goddess in Greek mythology. She is frequently identified with the Roman goddess Ceres and is credited with creating humankind, mothering all of the gods, and giving birth to most of the world's land. The earliest reference to Gaia that we find is in Hesiod's poem Works and Days, where she is said to be a Titan mother to Cronus (Cronos.)
70. Hera
Hera is a goddess from antiquity who was revered as the supreme being in the cosmos. Her given name translates as "protector" and "of the season" in ancient Greek. She is frequently pictured as gorgeous and posing with a peacock when referred to as Juno. After marrying Zeus, she became known as a deity and controller of marriage, families, women, children, and pregnancy. Hera is also the designated name of a minor planet, 103 Hera.
71. Helen
Helen, whose name likely derives from the Greek word for "torch," was the daughter of the great god Zeus and his consort Leda. When Paris kidnapped Helen in Greek mythology, the Trojan War was sparked.
72. Harmonia
Greek mythology tells us that Harmonia was the child of Aphrodite and Ares. The name indicates harmony or accord. If your little girl could bring peace to the world or simply add a little sweetness to life, this could be a fantastic name for her.
73. Hermione
Helen and Menelaus were said to have had a daughter named Hermione, according to Greek legend. Hermes is the Greek deity of messengers, and her given name is derived from him.
74. Halcyon
Halcyon means "kingfisher bird" and was a legendary bird referenced in Greek mythology. It is one of the more unusual names that may or may not work in today's society. If you're looking for a one-of-a-kind name, this one is perfect.
75. Iris
Iris, whose name in Greek means "rainbow," was a goddess of the rainbow who also served as a messenger to the gods.
76. Ione
Ione, which means "violet blossom" in ancient Greek, is a sea nymph. If you're looking for a name with roots in such wonderful things as flowers and the sea, this is a lovely option.
77. Irene
Greek goddess Serene Irene had the middle name "Irene," which means "peace" in Greek. In mythology, she was known as the goddess of peace and had one of the most recognizable names. In Roman times, the name Irene was spelled Eirene, and it quickly became well-known throughout Europe, particularly in the Netherlands, Denmark, and Greece, among other places.
78. Kore
Kore is the Greek word for "maiden." Persephone, the daughter of Zeus who was taken by Hades, goes by the name of Kore. According to one version of the legend, Hades fell in love with her and married her so that she may become the underworld's goddess of love.
79. Larissa
In Greek mythology, Larissa appears as the nymph daughter of Pelasgus, a fourth-century Greek saint. This elegant and graceful name is popular in both Greece and Eastern Europe. Neptune's Larisa moon carries the name of the mythological character.
80. Leda
Leda is a Greek word that means "joy." Leda was the lovely mother of Helen of Troy, who was herself a stunning woman. It's an unusual name in the United States, but it's widespread in several European nations – in Italy, Leda is pronounced lay-dah, which becomes "lay-dah" in English.
81. Metis
The wife of Zeus. According to prophesy, Metis' children would be wiser than Zeus; therefore, after she became pregnant, Zeus devoured her. In the end, though, their daughter Athena emerged fully grown from Zeus's head.
82. Melia
"Ash tree" is the meaning of her given name in Greek, which is a derivative of the word "honey." She was a Greek nymph who was born as Okeanos's daughter and was the daughter of the god.
83. Medea
Known as a sorceress in Greek mythology, she aided Jason in his quest to collect the fabled golden fleece. Chrysomallos, a winged ram, was the source of the Golden Fleece, which symbolized monarchy and might. The name Medea may be derived from a term that means "to think" or "to plot." She exacted severe vengeance on Jason for betraying her.
84. Melaina
In Greek mythology, a nymph. "Black" or "dark" is the meaning of the name, which comes from a Greek term.
85. Maia
Maia is mentioned in both Roman and Greek mythology. Her name comes from a Latin word that means " good mother." Hermes's mother, Atlas's daughter, and the oldest star in the Taurus constellation, the Pleiades, are all named after her. She is also the inspiration for the month of May. In Roman mythology, she is regarded as the goddess of spring.
86. Melissa
Melissa is derived from the Latin word miles, which means "honey." Consider email. King Melliseus, also known as "bee man" or "honey man," had her as a child, and she was the only child. Her name was Melissa, and she acted as Zeus's nurse, feeding him, of course, honey. This is what she was called.
87. Nephele
Nephele is the name of a cloud-based goddess that Zeus created. Nephele is not a common name in the United States, but it is a wonderful name that we expect to see soon on the charts.
88. Nyx
Nyx was a powerful nighttime goddess. She was not seen as a positive goddess. Nevertheless, the name sounds modern enough to overlook its history.
89. Persephone
According to Greek mythology, Persephone was the daughter of Zeus and Demeter. She was chained to Hades for three months each year, which is why she is considered both a goddess and a queen. Her mother's kingdom has many similarities to her own – Ceres, in addition to being the goddess of reapers and grain, also presided over springtime. Persephone was married to Hades in the underworld; they both had undying love while they were apart from each other.
90. Penelope
This name signifies commitment and faithfulness in partnerships. It was during the Trojan War that Penelope had to fight off suitors while her husband Odysseus fought.
91. Phoebe
Known in Greek mythology as Phoebe, a Titan whose name translates as "bright" and "pure," she was associated with the moon. When it comes to naming your future daughter, this name could be a perfect choice.
92. Pallas
It is most likely derived from the Greek word for "woman." Pallas was a friend of the goddess Athena, and he was responsible for her death by accident. In honor of Pallas, Athena adopted the name Pallas for herself.
93. Rhea
A titan named Rhea was the mother of many gods and goddesses in Greek mythology. When you consider that Rhea was the mother of the first generation of Greek gods & goddesses, you would think that this is a fantastic name for a tiny girl who is destined to leave an indelible impact on the universe.
94. Selene
Although Selene was primarily known as a goddess of the moon, she was also associated with the goddess Artemis on numerous occasions. According to legend, Selene was the personification of the moon, while Artemis was a goddess who was related to the moon to some extent.
95. Themis
In English, the name literally means "divine law" or "law of nature." Themis was a Titan who presided over custom and natural law, and she was also a goddess. She was frequently shown with scales in her hands and a blindfold over her eyes.
96. Thalia
One of the Nine Muses, Thalia was in charge of comedy and pastoral poetry. She was one of the Nine Muses. 'Bloom' comes from a Greek word that literally means "to flower."
97. Tisiphone
The fury Tisiphone is a well-known name in Greek mythology, and she is the name of one of the furies. It is a term that implies avenge.
98. Terpsichore
There were nine Muses in the pantheon: Terpsichore was one. She was known as the "Goddess of Dance" and "the Goddess of Drama."
99. Tethys
It was Tethys who was referred to as "the Titan of the Sea." Aside from that, she was also Oceanus's spouse.
100. Xanthe
In Greek, the name Xanthe means "golden" or "yellow." Demeter's exotic epithet, Xanthe, refers to the goddess of agriculture and the harvest. Xanthe was a popular name for blonde baby girls in ancient Greece. It's a memorable moniker, making it one of the more uncommon choices.