"When you buy through links on aneverydaystory.com, We may earn an affiliate commission."
Bulletin boards are an excellent method of disseminating critical information. Teachers use bulletin board space to display academic materials, student learning tools, and bulletins and calendars to keep parents informed of classroom activities. Interactive bulletin boards can be used for much more than that! Create an engaging environment for your pupils to motivate them to practice new abilities and remain actively engaged in their studies.
Every educator is well aware of the educational value of bulletin boards. Interactive bulletin boards are visually appealing and engage students in activities, games, and chores that help them build their knowledge and skills.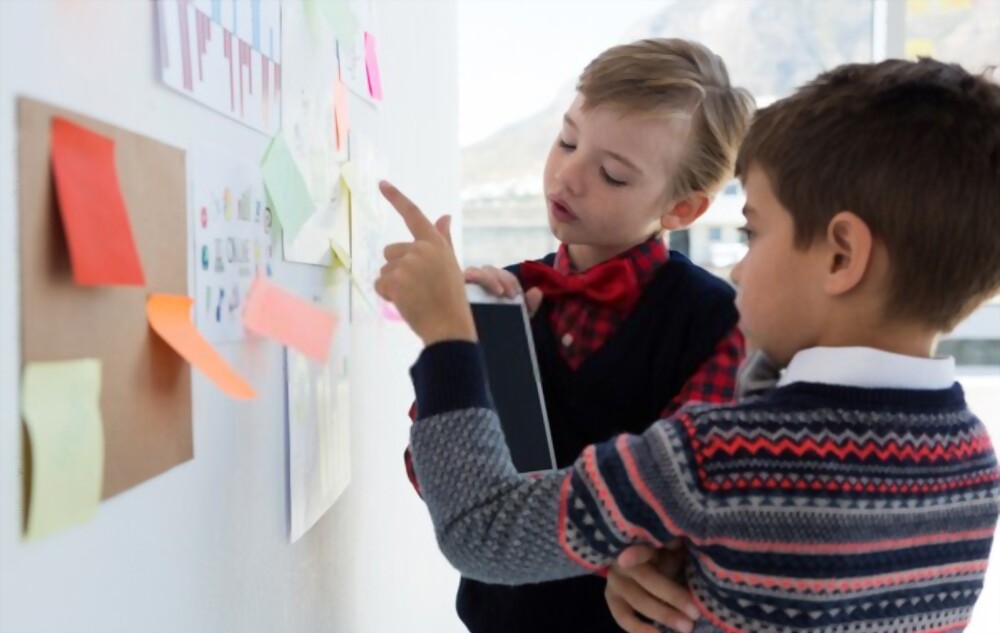 Here is a collection of the top bulletin board ideas and classroom door displays for instructors to use when creating their bulletin boards. Our shortlist is full of fantastic ideas and variety, such as bulletin boards for different grades, themes, and seasons; it was tough to determine what to leave out.
1. Construct A Sorting Station
Using sorting, you can provide your kids with a quick and simple approach to practicing a skill you have been working on in the classroom. Sorting things by color or size is appropriate for younger children, while older pupils can sort math problems or creatures that live in different environments.
2. Establish A Matching Game
With a bulletin board-mounted interactive matching game, kids can match math problems, spelling words, and states to their phonic sounds or capitals. This visual display board is a fantastic tool for teaching young pupils to recognize letters and numbers. As an option, you could have them match upper and lowercase letters and numerals written in different fonts, or you might just ask them to do so.
3. Apple Tree Counts
This is an excellent start-of-the-year board for autumn. Its straightforward setup appeals to new preschoolers! Cut five treetops from green construction paper to create this board equally, as many brown tree stumps should be removed. Assign numbers 1-5 to the tree trunks. Connect the trees to the bulletin board using double-sided tape. Slit each treetop with care. You may make apple sticks by pasting apple shapes to thin craft sticks.
4. Set Up A Classroom Library
Create a classroom library if you are looking for a great way to get your students interested in reading. Organize the books in the center of the bulletin board or near folding tables or desks so that students can easily read them. Encourage independent reading while also improving reading fluency skills with this bulletin board that kids may color after reading their assigned reading materials.
5. Pumpkin Shapes
Students will be able to engage with the pumpkin farm displayed on this bulletin board. Students must "pluck a pumpkin" off the vine to use this bulletin board. (These felt vines were available for purchase at a craft store as a Christmas decoration.) Their rough side will adhere straight to the felt, making them ideal for this project.) The children will identify the shape of the pumpkin and then "load" it into the wagon that corresponds to the shape they identified.
6. Our Future Is So Bright
It's truly inspirational. The instructor read aloud from the essays her students had written on their futures. On the website, you will get writing prompts and craft templates.
7. Host A Morning Brain-Boosting Activity
While these may look like cute pictures, they are flashcards that can be used to boost students' cognitive skills. Students can use this bulletin board to generate questions in response to an answer that you supply.
8. Five Senses
Are you using a Mr. Potato Head to teach your kids about the five senses? Then this bulletin board is ideal to accompany the unit of study! To use this bulletin board, kids select the potato component and adhere it to the potato shape. Certain students prefer to do this assignment completely, according to the book. Others enjoy creating a ridiculous potato head. As long as people are conversing, considering their five senses, and exercising their right to choose, this activity is a success.
9. Who Am I?
You may encourage your students to put their thinking caps on and grab their iPads with this fascinating, interactive bulletin board idea from teacher Jess Porter. Although Porter, a Western Pennsylvania learning support teacher for third and fourth graders, created this bulletin board to commemorate Women's History Month, it can be used at any time of the year and with any lesson by using some QR code magic.
There are a lot of great QR code resources out there!
10. Take What You Need
Each envelope should contain a list of book recommendations for each category. Place the title, author, and/or call a number of the book on the shelf so that students can easily find it in the book collection.
11. Sudoku
A big game board, such as sudoku, can be displayed on a bulletin board. A move on the board can be made whenever pupils have a few minutes of spare time.
12. "I Wonder?"
To engage your pupils at the start of a new unit of study, consider establishing an "I Wonder…?" Wall. As you bring a new topic into your lectures, provide a space for your pupils to jot down their questions and opinions in a separate notebook. An excellent approach to stimulate higher-order thinking and inquiry-based learning at the start of any unit can be utilized at the beginning.
13. Snapshots Of The Year
Every year, Snapshots of the year has to be the favorite bulletin to get. Perhaps it is because it is the final one, but it is also significant to me since it reflects what we have accomplished and my students' attitudes toward our learning. The most difficult aspect of the job is teaching the Polaroid concept to kids. Once the students have completed their "snapshot" pictures of their favorite class activity, the real fun can begin!
14. Keep A Record Of Your Journeys
Social studies teachers will appreciate this bulletin board. Students can add photographs or small tokens to a map of the United States or the world by traveling to different locations and placing them on the map. Learn about key historical landmarks and events by looking at the bulletin board.
15. Gingerbread Man
Run as fast as you possibly can! He's impossible to catch since he's the gingerbread man! To create this bulletin board, start by cutting out the shape of a gingerbread man from a large piece of brown felt. A large group process painting project in which the kids sponge-painted large sheets of white butcher paper is depicted in the photo below. The finished paintings were tacked to a bulletin board to serve as a bright backdrop, rather than throwing them away. Children can decorate a gingerbread man for this board using their imaginations while retelling a well-known fairy tale.
16. "Who Said It?"
As they try to determine if modern music performers or nineteenth-century poets wrote certain words, your high school language arts students will be challenged to think critically and creatively.
17. Famous First Lines
Are your students prepared to write a novel? Teacher Stephanie Ryder's interactive bulletin board concept can have children excited about chapter books in no time. Set up the renowned first lines of several classroom classics on your board, and have your students flip up to check if they got it right or incorrect.
18. Create A Massive Coloring Book
Given that coloring has been shown to alleviate stress and promote pleasure, why not develop a massive coloring book for your students? Students can color whenever they have a few minutes available or take a break to color if they feel pressured.
19. Spotify PlayList
Make this Spotify Playlist display into a Book-ify playlist to add a literary twist to your music listening experience! It is possible to urge pupils to jot down book recommendations on each worksheet line.
20. Make A Nonsense Word
If you're looking for a way to keep your pupils engaged and entertained in the classroom, this is the display! It's as simple as printing a few word bits, putting them in envelopes, and having some fun! Word bits are separated and reassembled by the students, who then use these jumbled-up words to read! Make a class list of kids' nonsensical word creations and have them read them out loud to the class as an added learning experience. They can also attempt to decipher the number of letters, sounds, and syllables in each fictitious Word. This can be fun.
21. "Guess Who."
Write a description of yourself and draw a picture to help students improve descriptive writing. After that, you bury the solution beneath their painting in plain sight. Using favorite literature characters or pop cultural icons as inspiration, assign this task to high school pupils.
22. Search A Rooney Wall
A search a Rooney, you may be asking yourself, is what on earth is it?! It's just that simple! Students are challenged to utilize their talents of observation and deduction to identify interesting items in a search for a Rooney, which is an outstanding visual display! Send a student to the search a Rooney if they have difficulty concentrating.
23. Mitten Match
Bring your children to this mitten matching center when the weather is too cold to play outside. Attach yarn across the width of the bulletin board to create a "clothesline." Clothing pins should be attached. Designate the clothespins with a letter or use a matching mitten to label the space underneath. Cut out mitten shapes or purchase a bundle of mittens that have already been cut. They should be labeled following the theme of the board.
24. Shout Outs
With the help of a bulletin board that allows kids to post compliments, encourage children to offer one another shout-outs. Along with fostering a culture of compassion, kids will be encouraged to congratulate their friends, which will result in a healthy competition among them.
25. Genre Bulletin Board
Genre Bulletin Board is an excellent opportunity to sneak in some additional language arts reviews! Students will read the question and self-check their responses by lifting the flaps. As with last month's board, this month's board features interactive flaps with a question on the outside and an answer on the inside. Half of the board's twenty flaps feature the title and description of a book. Students use both to determine the genre they believe it belongs in!
26. Valentine
Special Delivery is reserved just for your devoted preschool kids. This bulletin board design is ideal for February, whenever your classroom has a post office theme or your pupils might use some extra love. To create this bulletin board, use construction paper to create giant colorful envelopes. Each envelope should be labeled with a unique number.
Make numerous giant hearts out of construction paper or buy pre-cut cardboard heart shapes. Each heart should be labeled with a unique representation of the numbers. You can create these images or print the bulletin board cards included in this set.
27. Recommend New Books
Distribute to students rectangles that will be used as the spines or covers of their books. After finishing books they truly appreciate, they can write the title on the spine or sketch a picture of the cover to keep as a reminder of what they're reading. Set up a bookshelf on the bulletin board so that students can use it to select their next favorite book based on the recommendations of their classmates.
28. Exercise Gross Motor
Physically active children require active centers to keep their minds and bodies functioning properly. This bulletin board labeled "exercise station" will assist kids in burning off excess energy while also fostering the development of pre-reading and pre-math skills. It's a mutually beneficial arrangement. Print images of six distinct sorts of workouts to create this board. The images below are included in this Nutrition Circle Time and Centers resource. Affix a number 1-6 to each exercise.
29. Count Down Calendar
This final interactive classroom exhibit is certain to pique your students' interest! Create a countdown calendar for a class event or occasion! Are you anticipating a celebration? Are you planning a field trip? Countdown to the day with enjoyable activities and resources associated with the event. Each day, surprise your class with a different surprise activity.
Using Classroom Decoration Pack – Space Theme, create an excitement-inducing countdown display for a class field trip to the planetarium!
30. Blind Date With A Book
A creative approach to assist readers in discovering new novels. Each student selects their book depending on their personality and taste.
31. Christmas Light Up The Season
This endearing Christmas board allows kids to express their acts of kindness by writing them on small lights that adhere to the trees. How enjoyable it is to watch it grow as Christmas break approaches!
32. When You Grow Up
A fun question to ask preschool students is, "What do you want to be when you grow up." Print out photographs of various community volunteers as inspiration for this board. Attach them to the bulletin board and a library pocket, if possible. Small photographs of each child in your class should be printed out and taped to a craft stick.
33. I spy Board
It's time to put your hot glue gun to good use. In your leisure time at the conclusion of class, this board is ideal for playing a short game of I Spy.
34. Question The Answer
Unquestionably a winner! This is an excellent method of engaging critical thinking. Simply supply response, and the students are responsible for providing the inquiry. Save time by preparing replies many weeks in advance. Each student is given a number that indicates where their question should be written on the board.
35. Ocean Stories
Occasionally, an open-ended center is what young pupils require to engage in creative thinking and story-telling practice. To create this board, you'll need to cover half of the board in blue felt, which will help it to mimic the ocean. From felt, cut out fish, and various ocean shapes. After reading aloud a selection of ocean books to your kids, encourage them to recreate the story on the felt board. Encourage them to create new stories and collaborate.
36. Boggle Math
There are numerous advantages to game-based learning. Boggle is a math game based on the popular letter game, but with a numerical twist. How to play can be found at the link below.
37. Crayon Color Sorting
Rainbows make us swoon, and this rainbow-colored board will add vibrancy to your spring classroom!
To create this board, download and print the crayon images and colorful elements from HERE. The crayons should be stapled to the board. Each crayon should have three pushpins beneath it. Using a hole punch, create a small opening in the center of each photograph. A paper clip can be added. First, students select a picture card and label it with the object's color. They then attach the image to the appropriate crayon's pushpin. Continue sorting and identifying images until all are identified.
38. Donut Shop
A fun technique for children to practice money math is to make a classroom bulletin board into a restaurant menu. It's up to students to choose from the menu and determine how much money they'll need to purchase the products. Toy or hardware stores can be substituted for a toy or hardware stores in the same way.
39. Are You Ready For Some MATHball?
A fantastic arithmetic learning game with a sports theme. Teams get points by correctly solving math questions. It is entirely up to them how difficult they wish to make it; the difficulty level is proportional to the distance traveled.
40. 30 Days Of Thankfulness
Thanksgiving is observed throughout November. To encourage kids to express their gratitude, create number cards and post the days of the month on the classroom wall. On the reverse of each card, students can write down what they are grateful for.