"When you buy through links on aneverydaystory.com, We may earn an affiliate commission."
If you're from Italy, congratulations on your gender reveal! Traditional gender roles and stereotypes have been replaced by the 21st century. Today's mothers do not need to agree with their partner about the name for their baby. Babies are born and given the word without any other input from the father. This means that parents have a lot of choices in naming their children, but they can also choose names that are less traditional or generic than others to express themselves better.
In this article, we've gathered our best sources of Italian baby boy names that might match your palette or express yourself better than others.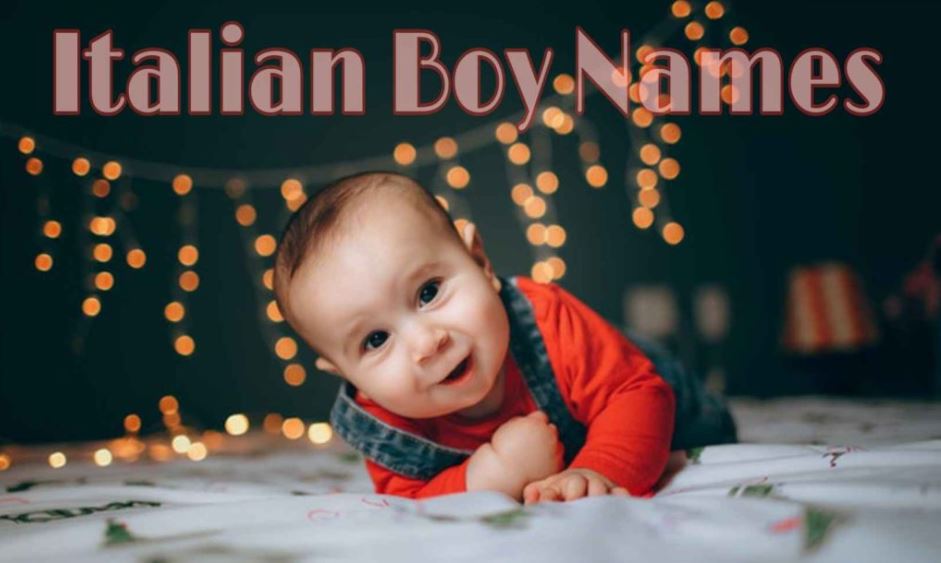 1. Abramo
Abramo is an Italian word that means "many" or "father of many." Abramo was a popular figure in Renaissance Italy, according to sources. Abramo was the 192nd most prevalent boys' name in Florence, Italy, in 1427.
2. Agapito
Agapito is an Italian and Spanish name for a boy that means "beloved." Agapito is more common in Spanish-speaking nations than in Italy nowadays, both as a surname and forename.
3. Adalberto
Adalberto is an Italian version of Albert that signifies noble and radiant. Adalberto Libera is regarded as the father of the Italian Modern architectural style. Libera designed the Cathedral of La Spezia and the Palazzo dei Congressi in Rome.
4. Ademaro
Proto-West Germanic origins From Proto-Germanic *audaz ("wealth, riches") or *aalaz ("noble") (the two roots were occasionally muddled) and *mraz ("fame").
5. Aldo
Aldo is an old, noble name. Aldo is most commonly connected with the multinational shoe retail brand in the modern world, having evolved from an Ancient Germanic name element.
6. Agatino
Agatino translates to "good." Agatino Romero, a record producer, musician, and DJ from Catania, Sicily, was born in Germany. Romero believes himself "still a real Italian" despite his birthplace.
7. Agostino
Agostino is an Italian version of the Roman name Augustinus, which meaning "to grow." Agostino Carracci was a painter, engraver, printer, tapestry designer, and art teacher in the 16th century. The Accademia degli Incamminati, one of Bologna's first art institutions, was founded in 1582 by Carracci, his brother, and his cousin.
8. Alfeo
Alfeo is a Hebrew name that means "to change." The Apennine Mountain range, which runs the length of Italy, includes Monte Alfeo. Monte Alfeo, in the Province of Piacenza, rises 5,146 feet above the surrounding landscape as a pyramid.
9. Alessio
Alessio has derived from the Greek also, which means defending or assisting. Alessio Romagnoli is a center-back for A.C. Milan in Italy, serving as captain. Romagnoli also represents Italy at the international level.
10. Amerigo
Amerigo translates to "ruler of the house." Amerigo Vespucci was born in 1454 in the Republic of Florence as an explorer, merchant, and navigator. After landing in Brazil, Vespucci deduced it was a new continent, and mapmaker Martin Waldseemüller named it after him.
11. Alvise
Alvise refers to a well-known battle. Some Italian names are regional variants of forenames from other languages. Alvise is a Venetian variant of Louis, derived from Ludwig's Germanic name.
12. Amedeo
Amedeo is Latin for "I love God." In 1904, Amadeo Giannini, a Spanish variant of this first name, founded the Bank of Italy in San Francisco. It was formed specifically to help immigrants turned down by other banks. Giannini's bank became Bank of America afterward.
13. Armando
Armando is a Spanish and Italian name that means "army man." Pitbull is the stage name of Armando Christian Pérez, a professional wrestler. Pitbull's fifth studio album, Armando, is also the title of his first Spanish-language album.
14. Antonio
Antonio's meaning is unknown, and the widespread assumption that it signifies a flower is inaccurate. Antonio is currently the 14th most popular boys' name in Italy and ranks 170 in the US boys' name rankings. As a result, it's a good option for an American Italian. Antonio is a firm, masculine name that is easily shortened to Tony.
15. Arcangelo
The Italian word archangel is arcangelo. Arcangelo Carcieri was born in Italy and emigrated to the United States with his parents in 1907. Carcieri mastered woodworking while working in a shoe factory, which led to his profession as a sculptor. He created the sculptures in Parkman Plaza in Boston.
16. Bartolo
Talmai's son is Bartolo. Bortolo Nardini is an Italian alcoholic beverage firm that has been family-owned and operated since 1779. They make a fourth of the world's grappa, a brandy created from the leftover grape solids during winemaking.
17. Arturo
The Italian form of Arthur is Arturo. Arturo Di Modica, an Italian artist, immigrated to the United States in 1970. Charging Bull, Di Modica's most renowned piece was left on Wall Street in the middle of the night as a gift to the American people.
18. Aureliano
Aureliano translates to "golden" or "gilded." Since the 19th century, this lovely, poetic boy's name from Italy has been steadily declining. Perhaps the title should be revived, perhaps for a golden-haired boy.
19. Benigno
Benigno is a lovely, kind word. Benigno was a famous traditional Italian boys' name in the nineteenth century, although it is now considered a name for elderly men. As a result, it could be a suitable choice for an Italian name with a vintage vibe.
20. Battista
The name Battista is an Italian masculine name that means Baptist or Baptized. Battista is the Italian variant of Baptiste. It is a given name as well as a surname.
21. Benito
Benito, the Italian version of Benedict, means "blessed." Benito Martinez is most known for his role as David Aceveda in The Shield. Since then, he's been on shows like Sons of Anarchy, House of Cards, The Blacklist, and 13 Reasons Why.
22. Bonaventure
In Italian, Bonaventure means "good fortune." Bonaventure Cemetery in Savannah, Georgia, became famous after being included in Midnight's book and film in the Garden of Good and Evil.
23. Caio
The meaning of Caio is uncertain. However, it could mean "rejoice." The biblical name Gaius is spelled Caio in both Italian and Portuguese. Caios from Brazil, which is less common in modern-day Italy, are more likely to be encountered.
24. Calogero
Calogero is Spanish for "lovely elder." Calogero is derived from the Ancient Greek, or Kalos, which means excellent, fair, sound, and v, or Geron, older man. As a result, the name's literal English meaning is "lovely old man."
25. Carlo
Carlo is a slang term for man. Author Carlo Lorenzini used Carlo Collodi's pseudonym to write as a journalist, humorist, and author in Italy. The Story of a Marionette, commonly known as Pinocchio, was written by Collodi when he became disillusioned with Italian politics.
26. Callisto
Callisto is Latin for "most beautiful." Callisto is a Greek mythology girl's name and an Italian boy's name. Zeus, the Greek god, fell in love with Callisto and had her transformed into a bear by his wife, Hera. Callisto was therefore renamed the Great Bear constellation.
27. Clemente
Clemente means mild and merciful. Clemente Susini's wax models, equal parts art and scientific anatomical resource made him famous. The Anatomical Venus, a life-size lady whose layers can be peeled to show different aspects of human anatomy, is his most famous model.
28. Carmine
Carmine is an Italian boy's name that means "garden." Carmine Coppola earned the Academy Award for Best Original Score for the Godfather II soundtrack, which he co-wrote with Nino Rota. Coppola has worked on several other films, including those directed by his son, Francis Ford Coppola.
29. Cleto
Cleto comes from the Greek word Anacleto, which means "invoked." Cleto Rodriguez Freeway is a section of US Route 90 in San Antonio named after Medal of Honor recipient Master Sergeant Cleto Rodrguez. Cleto received a Bronze Star, Silver Star, and Purple Heart.
30. Constantino
Constantino signifies steadfastness and consistency. Constantino is the Italian version of Constantine's traditional name, which has never entered the top 1,000 boys' names in the US. Constantine has seen several popularity surges in the United States.
31. Donato
Donato translates to "gift." Donatos Pizza, based in Ohio, has over 200 stores in ten states across the United States. In Ohio, the firm produces its secret recipe for pizza dough before shipping it to retailers.
32. Cosimo
Cosimo refers to decency and order. Cosimo was the name of several members of the de Medicis, an Italian banking and political dynasty. The family's power increased steadily from the 15th century until the family's kingdoms disintegrated in the 18th century.
33. Dante
Durante is a medieval version of Dante, which means "to endure." Dante Alighieri is better known by his moniker Dante. Dante, best known for The Divine Comedy, pioneered the use of common English in literature rather than Latin. This made his work more widely available.
34. Elmo
Elmo is a nickname for Erasmus, which means "beloved." An electrical field around a sharp or pointed object induces ionization of the surrounding air molecules, resulting in St Elmo's fire. This produces a faint glow that is best visible in dim light.
35. Efisio
Efisio is a Greek word that means "from Ephesus." Every May 1st, the Sardinian cities of Cagliari and Pula celebrate the Feast of Saint Efisio. It originated in 1665 when the town made a vow to revere Sant'Efisio for saving them from the plague.
36. Elpidio
Elpidio translates to "hope." Sant'Elpidio a Mare, Italy, is situated on the ruins of an ancient Roman city devastated in the early fifth century. In 887, an abbey was established on the site, and the town grew up around it.
37. Enea
Enea is an Italian word that implies praise. Since 2001, Enea has been gaining popularity in Italy. Enea is presently rated number 32 in the Italian boys' name rankings, with 1,478 births named Enea in 2019.
38. Elvio
The Italian form of Helvius is Elvio. A praenomen, or forename, was usually followed by a woman similar to modern family names, and finally a cognomen. Cognomen began as a joke, but they were eventually passed down from father to son. Helvius was a Latin cognomen that meant "blond."
39. Enrico
The Italian counterpart of Henry is Enrico, which means "home-ruler." Enrico would be a fantastic fit for a family with mixed cultural ties who wanted to celebrate Italian lineage and a Henry relative.
40. Enzo
Enzo's significance is unknown. Enzo Ferrari started his career as a CMN test driver in the automotive industry. Before creating Ferrari S.p.A. in 1947, he worked for Alfa Romeo as a race driver before building and managing the racing squad.
41. Ercole
Hercules is known in Italy as Ercole. Although most native English speakers pronounce Ercole as ER-cole (two syllables), the accurate Italian pronunciation is ERR-ko-Leh (three syllables).
42. Epifanio
Epifanio is derived from the Latin name Epiphanius, which means "appearance." Epodoanio is derived from the same root as an epiphany. Despite popular belief, Epifanio is not a new name in the United States. In 1885 and 1888, Epifanio was among the top 1,000 Victorian boy's names.
43. Ettore
The Italian word Ettore means "to hold, to possess." Ettore Boiardi was a 16-year-old Italian cook who arrived on Ellis Island in 1914. In 1929, he launched a restaurant in New York, where customers requested bottles of his sauce. Chef Boyardee is Ettore's moniker.
44. Ermes
Ermes could be derived from the Greek word Hermes, a pile of stones, or a boundary marker. Ernest Borgnine's real name was Ermes Effron Borgnino, but he went by Ernie's moniker. Borgnine's father, Camillo, changed the family name to Bourgoine and his surname to Charles to seem less Italian. Ermes changed his name to Ernest in the same way.
45. Ezio
Ezio translates to "eagle." The protagonist of several Assassin's Creed games is Ezio Auditore da Firenze. Because of his distinctive character development arc, the surface is frequently referred to as the face of the entire franchise.
46. Fausto
Fausto is derived from the Latin name Faustus, which means lucky. One of the names for tropical cyclones in the Eastern North Pacific is Fausto. Five hurricanes and two tropical storms have hit Fausto. In 2020, the name was last used in this capacity.
47. Felice
Felice is the Italian version of Felix, which means fortunate or prosperous. Felice is a typical Italian boy's name that has recently gained popularity as a girl's name in the United States. So, if you name your son Felice, expect a few raised eyes.
48. Fabio
Fabio translates to "bean." Most of us know Fabio Lanzoni as Fabio, the long-haired male model noted for his abs, spokesperson jobs, and appearances on TV and in movies.
49. Fiore
Flowers are called Fiore in Italian. Flower names for boys might be difficult to come by, so we adore Fiore, an Italian boy's name.
50. Filadelfo
Filadelfo is Spanish for "brotherly affection." Filadelfo is an Italianized version of the Greek word Philadelphos, from which the city of Philadelphia takes its name. Filadelfo could be a good choice for a family with ties to the city of brotherly love because of this link.
51. Frediano
The name Frediano comes from frigid, which means "cold." Fredianus was an Irish prince who went to a monastic school. He visited Rome, was elected Bishop of Lucca, and had the Basilica of San Frediano named after him.
52. Fiorenzo
Fiorenzo is a blossoming word. Choosing names that will impact your child's destiny is as old as games themselves. Fiorenzo has a lot of potential perks if you're looking for a character like this.
53. Franco
Franco is a combination of two names. Franco is an Italianized version of Frank, a Germanic name given to members of the Frank tribe. The second Franco is a contraction of Francesco, which is the Italian form of Francis and signifies "Frenchman."
54. Fulgenzio
Fulgenzio denotes radiance. There was an episode called Fulgenzio in the fourth season of Modern Family. Much of the episode is based on The Godfather's ending.
55. Fulvio
Fulvio is a tawny yellow color. Fulvio Zanardini is an astronomer from Italy who discovered two asteroids, or minor planets. 11465 Fulvio is the name of one of such asteroids.
56. Fredo
Alfredo, Frederico, and Goffredo are all abbreviated forms of Fredo. Fredo has become a slang name for someone of Italian descent who is regarded as a loser, a weakling, or the family's black sheep in various parts of the United States. It alludes to the character Fredo Corleone from The Godfather.
57. Gaspare
Gaspare translates to "treasurer." Gaspare is an Italian form of the surname Gaspari and the forenames Jasper and Casper. Gaspare Pacchierotti was a mezzo-soprano castrato who became famous for his singing performances worldwide.
58. Gaetano
Gaetano comes from the Latin Caietanus, which means "from Caieta." This name originated as a nickname in Ancient Rome, but it became a given name in Italy throughout the Middle Ages.
59. Gallo
Gallo is the Spanish word for rooster. Gallo can also refer to items from Gaul, a region of Western Europe inhabited by the Celts and initially described by the Romans.
60. Gastone
Gastone translates to "guest" or "stranger." Based in Zimbabwe and currently owned by Copperware, Gastone artworks create hand-painted copper artworks. The firm has also developed things exclusively for the US Marine Corps.
61. Gerardo
Gerardo denotes a mighty spear. Gerardo, an Italian, Spanish, and Portuguese name, is frequently confused with Geraldo, another word derived from the same root.
62. Gavino
Gavino could be a reference to Gabii city. Gavino is not linked to the English name Gavin, despite appearances. It's an Italianized version of the Latin name Gabinus. Gavino is mainly common on Sardinia's island.
63. Gennaro
January is called Gennaro. This simple Italian rendition of the Ancient Roman moniker Januarius would be a fantastic Italian boys' name for little boys born in January.
64. Giambattista
John Baptist is Giambattista's name. Giambattista Valli is an Italian designer who works in both ready-to-wear and haute couture. Valli has just begun collaborating with H&M, a Swedish company.
65. Giancarlo
Giancarlo is a combination of the Italian forms of John, which means "God is Merciful," and Charles, which means "army man." Giancarlo Esposito, an award-winning actor, was born in Copenhagen, Denmark, to a father from Naples, Italy, and a mother from Alabama, United States. Esposito is a Breaking Bad cast member who has also been in other Spike Lee films.
66. Giacomo
The Italian variant of James is Giacomo, which means "supplanter." Giacomo Gianniotti, a Grey's Anatomy actor, was born in Rome but raised in Toronto, Canada. Gianniotti worked in film and television in North America and Italy before becoming a series regular like Andrew DeLuca.
67. Gilberto
Gilberto is the Italian version of Gilbert, meaning "bright pledge." Gilberto is a common name in the United States, maybe because it is an Italian, Portuguese, and Spanish word. It was most popular in 1981 when it ranked 383rd out of 1,000 boys' names.
68. Gigi
The Italian boy's name Gigi is a contraction of the letters Gi. Gigi is a French girl's famous name in France and several English-speaking nations.
69. Gildo
Gildo translates to "sacrifice." Gildo is the masculine variant of Gilda's feminine name, which means sacrifice. On the other hand, the most famous Gildo was a Berber prince who came to power in the Eastern Roman Empire. Gildo means "king" in Berber.
70. Gino
Gino is an Italian abbreviation for names that end in gino. Despite its origins as a nickname, Gino has grown in popularity as a stand-alone name in the United States, outnumbering any of the whole terms for which it is short.
71. Giona
Giona translates to "dove." Some parents in the United States use the Italian boy's name Giona as a girl's name, but infrequently.
72. Giorgio
The Italian variant of George is Giorgio, which signifies farmer or earth worker. After recording some of Donna Summer's most renowned tracks, Giorgio Moroder was nicknamed the "Father of Disco." Midnight Express earned Moroder a Best Original Score Oscar, two Best Original Song Oscars, and many Grammys.
73. Gioachino
God establishes as Gioachino means. Gioachino Rossini composed 39 operas and numerous songs, piano music, chamber music, and a variety of religious compositions.
74. Giovanni
The Italian variant of Iohannes is Giovanni, which means "God is generous." Giovanni is a common name in Italy and among people of Italian descent. It had remained a popular name for males since the Renaissance when it was the number one name for boys in 1427.
75. Giuseppe
Joseph Giuseppe's Italian version means "he will contribute." Giuseppe Zanotti is an Italian shoe designer known for sculptural designs, high-end sneakers, and, more lately, jewelry, leatherwear, and handbags.
76. Giotto
Ambrogiotto, which means immortal, became Giotto. The proper pronunciation of Giotto is JEWT-to, which may not be evident to non-Italian speakers. If you chose this name for your child, you and they might spend a lot of time correcting the pronunciation.
77. Gregorio
Gregorio signifies being attentive and vigilant. Gregorio is an open-source program created to notate Gregorian Chants in square notation rather than the more common five-line staff.
78. Guido
Guido is a variant of Wido, which means "wood" or "broad." Guido has become a slang epithet for Italian Americans, mainly from urban, working-class backgrounds in North America. Because the word was considered a racial slur, MTV had to remove it from their Jersey Shore advertisements.
79. Graziano
Graziano is the Italian word for grace. Graziano could be an excellent match for Prudenzio, Fedele, or Leonardo, with a meaning similar to Puritan names popular during the Victorian era.
80. Italo
Italo is an Italian word. Italo is an Italian private rail firm that operates high-speed trains between Milan, Rome, Florence, and Naples at speeds of 189 miles per hour.
81. Loris
Laurence derived from Laurentum, which means Laurentum. Loris was derived from the Italian form of Laurence Lorenzo. It's pronounced Delores (without the d) rather than Doris (with an L).
82. Lamberto
Lamberto translates to "bright land." Disney commissioned 75 artists to construct a statue of Mickey Mouse in their unique style to commemorate the company's 75th anniversary. Lamberto Alvarez, an American painter, sculptor, and writer, was one of the artists.
83. Leonardo
Leonardo is an Italian word that means "brave lion." Leonardo, the number one Italian boy in Italy, is also number 7 in Mexico, 17 in Switzerland, 35 in Portugal, 86 in the United States, 91 in Australia, and 116 in the United Kingdom. Overall, Leonardo is the most common Italian boy's name in the world.
84. Luca
Luca comes from the Greek word Loukas, which means "from Lucania." While Luca is a masculine name in both Italy and Romania, it is a feminine variant of Lucius, which means light in Hungary.
85. Luigi
Luigi is Ludwig's Italian form, which means "great fight." Luigi is not only a SuperMario brother but also a Cars character. Casa Della Tires is owned by the Fiat 500, and his license plate reads 445–108, which is the coordinates of the leading Ferrari facility in Maranello.
86. Moreno
Moreno is derived from the Italian word more, which means dark-skinned. Moreno, which means dark in Spanish, is both a forename and a surname often encountered in Spain and other Spanish-speaking nations. It is also a slang term for persons having dark complexion in certain areas.
87. Manfredi
Manfried in this southern Italian dialect means "strong and calm." The Rocca dei Rettori, or Manfredi Castle, is located in Benevento, in southern Italy. A 7th-6th century BC necropolis, a 4th century BC rampart, and Roman waterworks have all been discovered on the site.
88. Oreste
Oreste is an Italian boy's name that means "mountain." Oreste is the primary character in the Oresteia, a trilogy of Ancient Greek tragedies. When Oreste commits matricide on Apollo's orders, the plays address the concepts of justice.
89. Natale
Christmas is known as Natale in Italian. In Italy, the masculine form of Natalia, the name Natale was commonly given to boys born on or near Christmas Day.
90. Noè
The Italian form of Noah is Noè, which means rest or relaxation. Noè is pronounced NO-eh and is written Noé, Noe, or No depending on the country, language, or culture.
91. Palmiro
Palmiro is a pilgrim's name. Palmiro was a medieval term for someone who had made a pilgrimage to Palestine. Pilgrims would bring palm tree fronds back with them. Therefore the phrase came from the Italian Palma, which means palm tree.
92. Orlando
Orlando is a well-known location. Orlando Bloom is an actor named after Orlando Gibbons, a 16th-century English composer and organist who was regarded as the foremost composer of his day.
93. Ottone
The definition of Ottone is debatable. According to some experts, Ottone is the Italian form of Otto, which is short for names containing the Germanic word aud, and so Ottone has the same meaning as Otto. Others claim that the name Ottone is derived from the Italian word for brass.
94. Paolo
Paolo derives from the Latin Palus, which means little, lowly. Since medieval times, the name Paolo has been widespread. It was a top ten name in the 1950s and 1960s, but it is now ranked 54 in Italy's full 1,000 boys' names.
95. Paride
The Italian name for Paris is a parade. The Italian name Paride comes from the Ancient Greek name Paris, the prince who stole Helen of Troy and set off the Trojan War. On the other hand, the Italians have a different name for Paris: Parigi.
96. Salvatore
Salvatore means "savior." Salvatores has a lot of potentials to spotlight. Better known as Lucky Luciano, Salvatore Lucania, is a popular name among gangsters, artists, entertainers, and sports heroes. Since the Vietnam War, Salvatore Giunta has been the first living winner of the Medal of Honor.
97. Rocco
Rocco denotes relaxation. According to the Social Security Administration in the United States, just eight babies were called Rocco in 1892, but by 1922, there were 388. The name continued to rise and fall in popularity until it peaked in 2009 when 785 baby Roccos was born.
98. Zeno
Zeno comes from the Greek name Zenon, which means sky or shine. Zeno of Elea was a Greek philosopher who invented several paradoxes, which are among the earliest examples of proof by contradiction.
99. Sante
Santo is a variant of Sante, which means a saint. Sante is a boys' name in Italy, but it is used as a toast in France and means "to your health."
100. Savio
Savio implies you learned or wise. Sávio Bortolini Pimentel, also known as Savio, is a retired Brazilian footballer who played for Real Madrid, Real Flamengo, Real Sociedad, and the Brazil national team.