"When you buy through links on aneverydaystory.com, We may earn an affiliate commission."
If you're a kindergarten teacher, it's likely that your students will be drawing at least once a week. It could be hard to come up with fresh ideas every time, but here are some inspiring kindergarten art projects for you to try! Whether you're looking for ideas for jungle drawings, painting beautiful masterpieces, or trying out some of our favorite coloring pages from around the web, there's something for everyone here.
Students of all ages can benefit from this wonderful resource. Along with ideas for art projects, there are also suggestions for what to do throughout the day. Explore different, creative activities that are fun and educational for your child! With these simple tips, your little one will be ready to take on the world!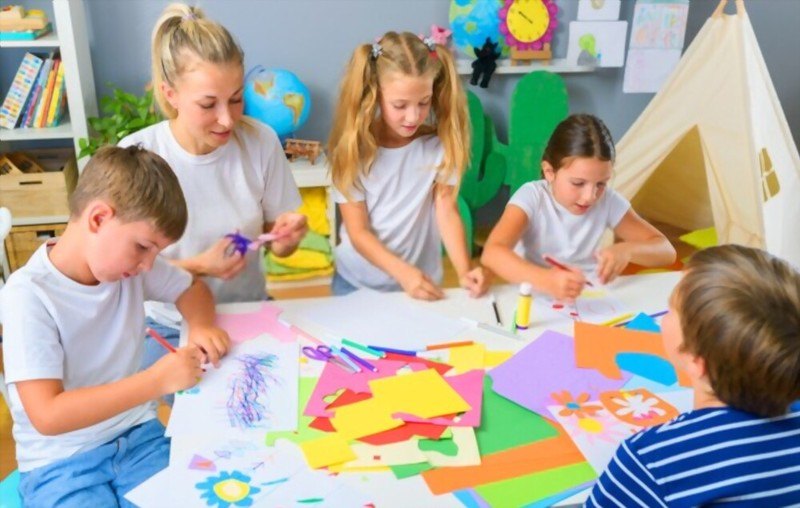 Top 40 Kindergarten Art Projects
1. Make a Paper Clip Painting
This art project is really simple and is great for kids of all ages. All you need are some plain paper clips, any color construction paper, and scissors.
Use a scissors to cut out a background shape (heart, circle, square, triangle) from the construction paper and then take the paper clips and fold them in half with the patterned sides facing inward. Then let your child fold up some pieces of plain white or colored construction paper into small squares (triangles or even circles).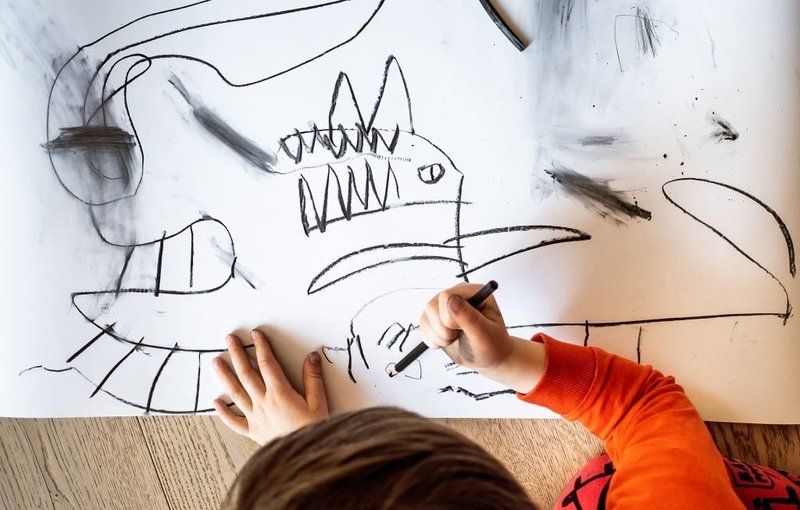 2. Make a Fizzy Baking Soda Print
Use scissors to cut out two 3-inch circles from a piece of construction paper. Then take the baking soda, mix it with water (1/4 cup baking soda mixed with 1/4 cup water), and in a squeeze bottle, squirt the mixture into one of the circles. Let the paper dry completely and then make another copy of this same pattern on the opposite side of the piece of paper.
3. Making Snowmen with Air-Dry Clay
This type of clay doesn't require any baking and it is ready to use in just a couple of days. There are many different kinds, but white is probably the best color for this project because it will show up well if you decide to paint on it later. Mix some white or colored clay with water in a small bowl. Use a pencil to draw on the shapes you want for your snowman and then make some extras for the snowboarder and sculptor. Let this dry completely.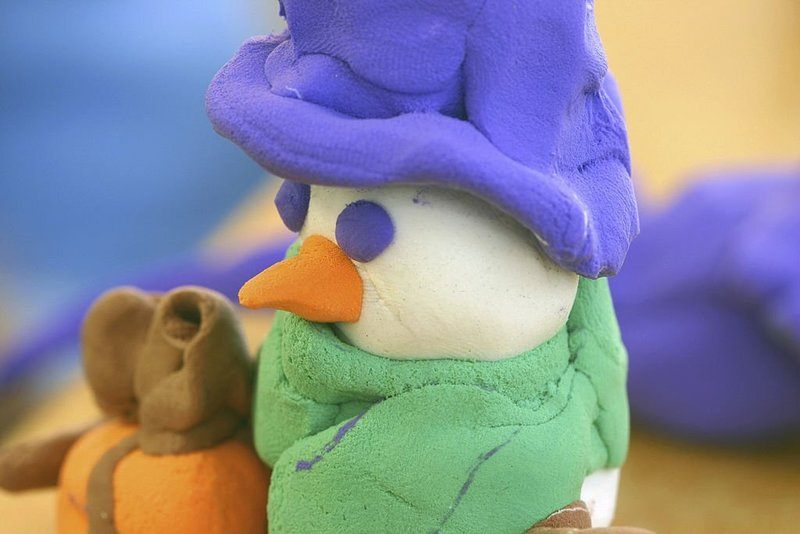 4. String Painting
String art can be as simple or as complicated as you want. There are many different colors of string and many different types of string. You can use any kind of paper like cardboard, newspaper, or old greeting cards and wrap it around the strings, or you can use anything round (potato chip bags, toilet paper rolls, etc.) to make mobiles. The possibilities are endless!
5. Cotton-ball Cherry Blossom Painting
Make a large circle (6 to 8 inches in diameter) with the short end of a black felt hat. This will be your background. Then take some colored construction paper and crinkle it up into tiny balls, so you end up with lots of little balls. Use toothpicks to stick the cotton balls onto the black circle so that one pointy ball is poking out of each corner, which will be your petals.
6. Clay Painting
This kind of clay doesn't require any baking and it is ready to use in just a couple of days. There are many different kinds, but white is probably the best color for this project because it will show up well if you decide to paint on it later.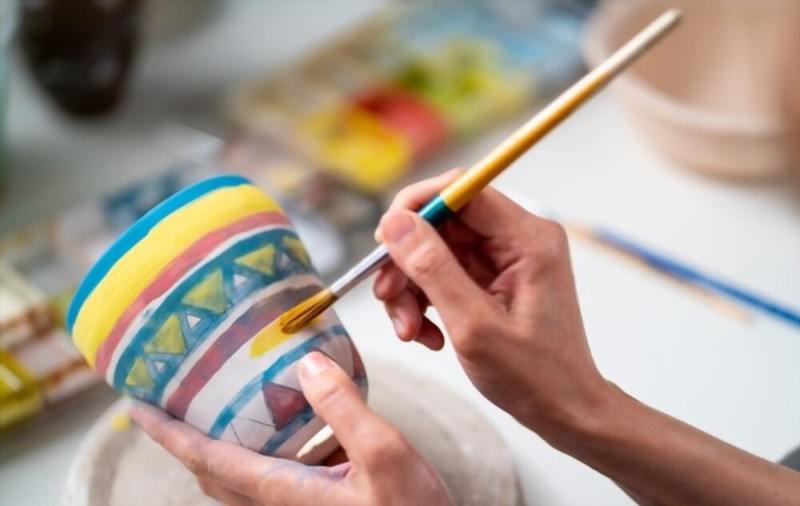 7. Coffee Filter Tulip Suncatcher
Use scissors to cut out a 6 to 8 inch tulip shape from yellow construction paper. Then take some blue construction paper and cut out a 7 to 8 inch tulip shape. Take some black construction paper, roll it into a thin strip, and then make some tiny little dots for the flower bees on the petals. Cut out a thin strip of green construction paper, scrunch it up, and then use a glue stick to hold it in place above the base of the petals.
8. Thumbprint Bug Art
Do this outside because it is a little messy! Dig up some small rocks and put them into a plastic baggie. Add some paint and let the children roll the rocks around in the paint to get them all covered. Then take some plain white construction paper, crinkle it up, flatten it out again, and let your child make thumbprints on the paper. Press each one of these prints down onto a rock so that the rock is covered with dark fingerprints. Then use another rock to smash up those fingerprints!
9. Fork Stamping Tulip Art
Make a fork out of a wooden chopstick. Paint a fork and let it dry completely. Then take some white construction paper, crinkle it up, flatten it out again, and let your child stamp the tulips onto the white paper with the fork. Then stamp the tulip petals and sew the petals onto the fork with a needle and thread. Let this dry completely. Use a sharpie to cut out some cloth flowers for the center of the fork so that it looks like a bouquet.
10. Coloring Rocks
Use some sandpaper to lightly sand your rocks. Then use bright colored crayons to color them in different patterns as you see fit! Some great ideas are to use yellow and red on one side and green and blue on the other side and then randomly mix them together.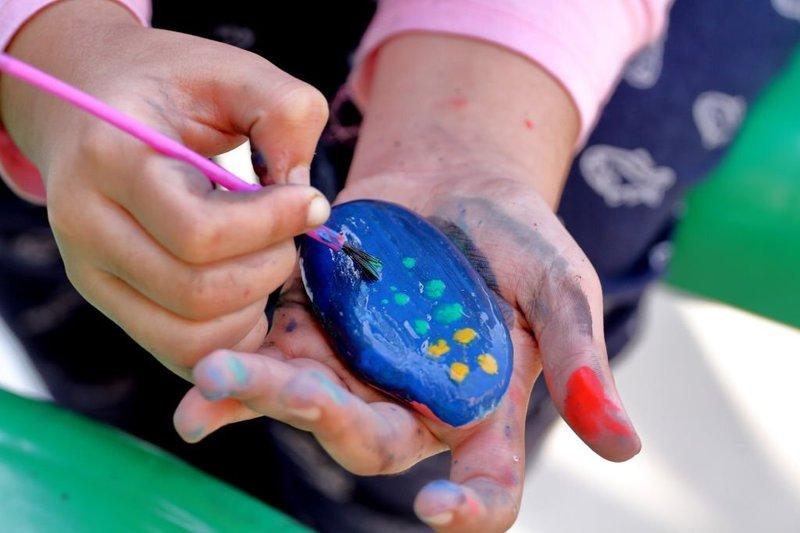 11. Abstract Painted Hearts
Cut out a piece of construction paper in the shape of a heart and let your child use crayons, paint, or markers to make some bright abstract designs on it. Use a needle and thread to sew up the sides of the heart so that you can hang it up.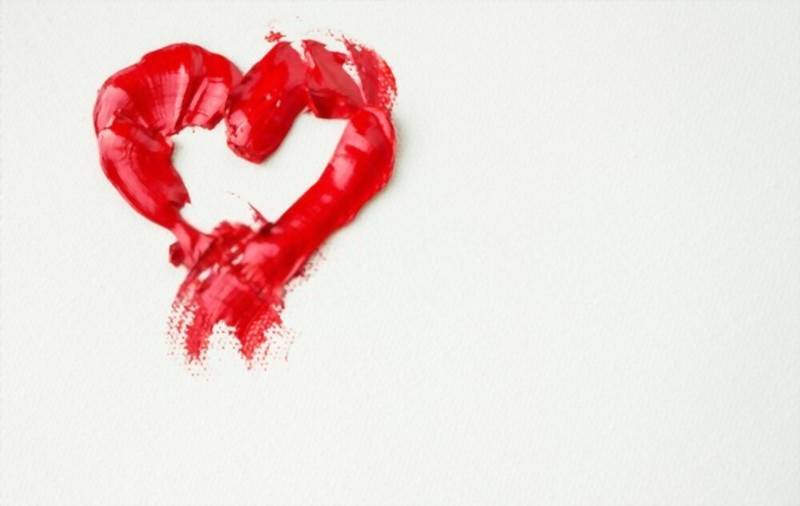 12. Painting With Circles
Grab a stack of plain, white construction paper and a bottle of paint in a fun color. Let your little artist use his fingers to make lots and lots of little circles. Then give him some paint and let him drip it onto the circles.
13. Butterfly Circle Art
Get a large piece of construction paper, some paint and brushes, and some round wooden dowel rods or Popsicle sticks. Make big circles on the paper with the paint on the end of a dowel rod or Popsicle stick.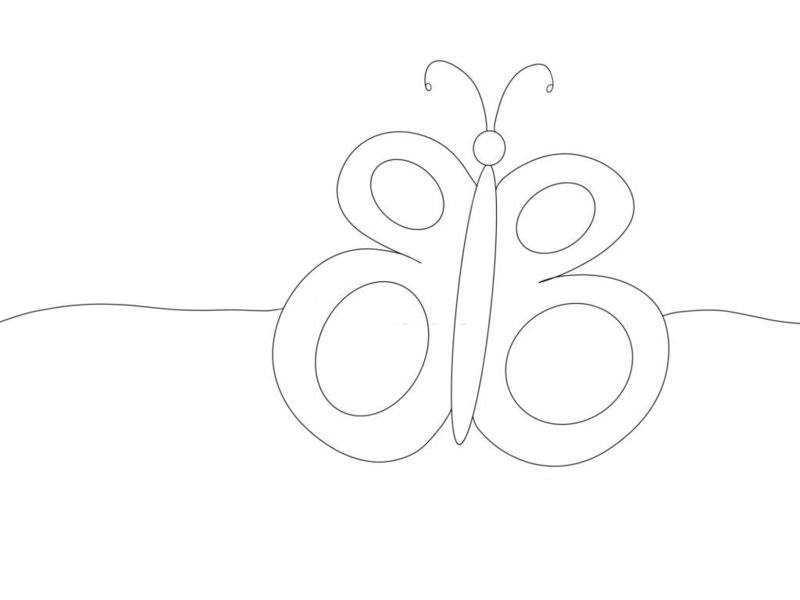 14. Ice Cube Painting
Make some ice cubes and let them freeze. Then take some paint, squeeze a small amount out onto the ice, and then use a plastic spoon to move the paint around so that it gets all over the ice, making for an interesting pattern and texture. Let this dry completely. Have your child place another ice cube under the first one (on top) to make it look like an icicle!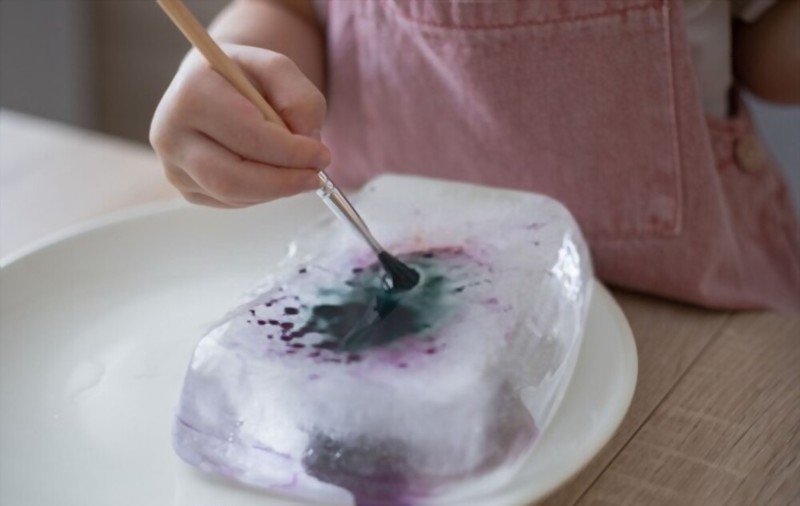 15. Splat Painting
For an outside painting project, use a shovel to scrape up some muddy dirt. Then have your child roll that dirt around in some paint. Then have them lay down a piece of paper, and then smack it flat with the paint-covered shovel! This is a fun way to make some abstract art.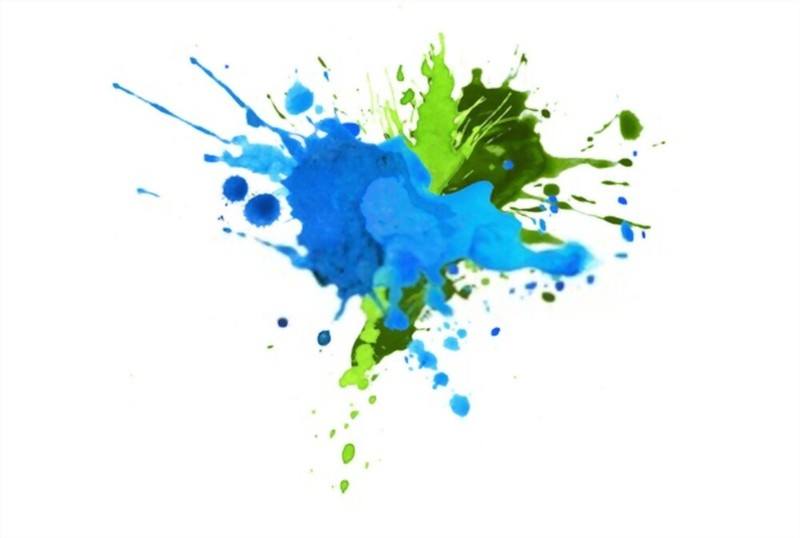 16. Q-tip pointillism
Get a bunch of plain white Q-tips that have been opened up, and then have your child make little dots on the tops of the Q-tips with them. This will look like tiny strokes of paint. Then let those white tips dry completely, and then close them back up. Use a sharpie to draw some abstract shapes on top of the tips and then let this dry completely.
17. Nature as a Canvas
Using a paintbrush or water, your child should mix some paint with water and then use a leaf or small twig to mix the paint with the water. Then let those paints dry completely. The texture of the leaf will make a unique effect.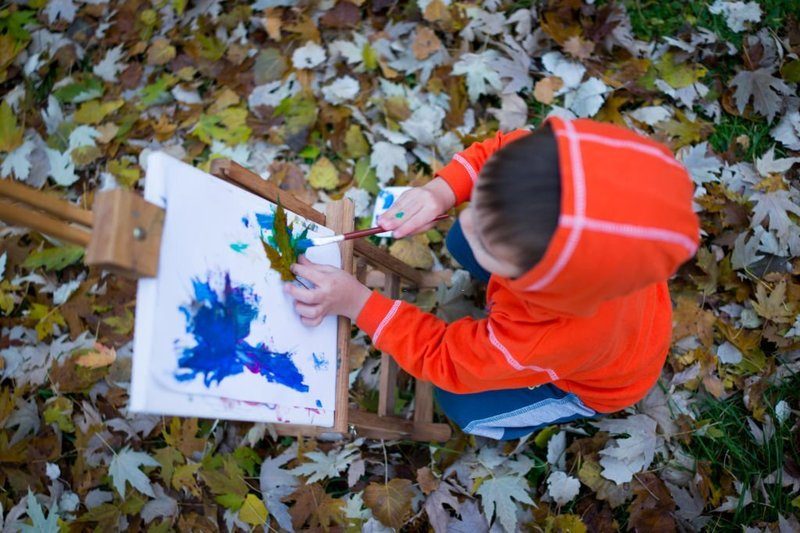 18. Chalk Ice Painting on the Sidewalk
This type of painting is a little messy, but the end result is pretty cool. Mix some white paint with water in a bucket, and then squeeze and drop it onto your sidewalk. After the paint has dried completely (this could take one day or up to a week depending on the weather), use your fingers to scrape away the paint so that you are left with tiny holes in your sidewalk. Then fill those holes with colored chalk!
19. Painting on Paper Towels using Watercolors
For this project, you will need three things: paper towels, paint, and soap. Put some paint onto a paper towel and then rub that paper towel with soap. Then lay another white paper towel on top of the first one so that the paint from the first one transfers to a second paper towel.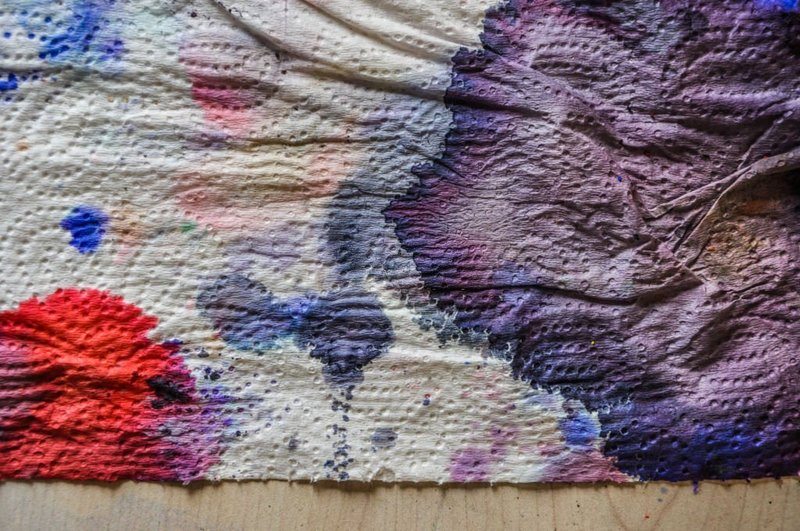 20. Blow Painting
To make blow paintings, you will need some lightweight paper (like construction paper or tissue paper), a jar with some water in it, some food coloring, and a straw. First, crinkle up the paper into a ball shape. Then put the crinkled ball into the jar of water and hold it under the water with your thumb for about 30 seconds. Take it out of the water and then slowly blow on it with your mouth so that you send small bubbles onto your paper.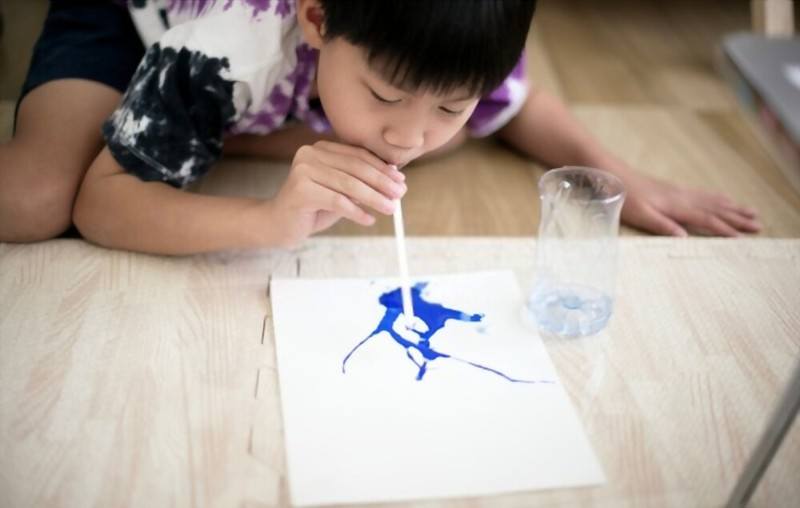 21. Scribble Art
This is a fun one to do with sidewalk chalk or washable markers, easy peasy! Draw a few squiggly lines on the page, and then let your child scribble all over the page with their fingers. You can make a pattern to follow more easily.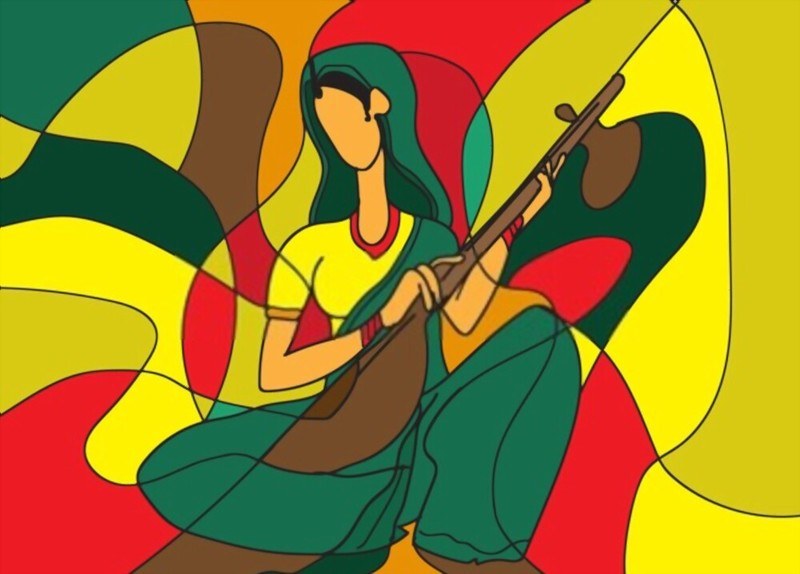 For this project you will need some small colored construction paper butterflies, coffee filters, and a hot glue gun. Cut out butterfly shapes with large wings and then use the glue gun to glue that shape onto the head of a coffee filter! Then make smaller butterflies with small wings and use them to decorate the larger one.
22. Butterflies Made from Coffee Filters
23. Jellyfish Salt Painting
You will need paper plates, a cup of water, a cup of salt, and some jellyfish paint. Put salt into the cup of water and then pour it over the paper plate. Let your child dip the paintbrush in the water and then quickly add some jellyfish ink onto the plate. Let this dry completely.
24. Gravity Painting of Rain Clouds
For this project you will need rain cloud paint, a large plastic sheet, and a bowl. Put some paint into the bowl and then cover it with the plastic sheet. Then gently move the bowl around so that the paint moves around and makes big splotches on your plastic sheet.
25. Yarn Painting
For this project, you will need yarn, watercolors, and some card stock paper. Put some watercolors into a shallow bowl and then dip your yarn into the watercolors and paint on the card stock paper with it. You can use other colors if you want!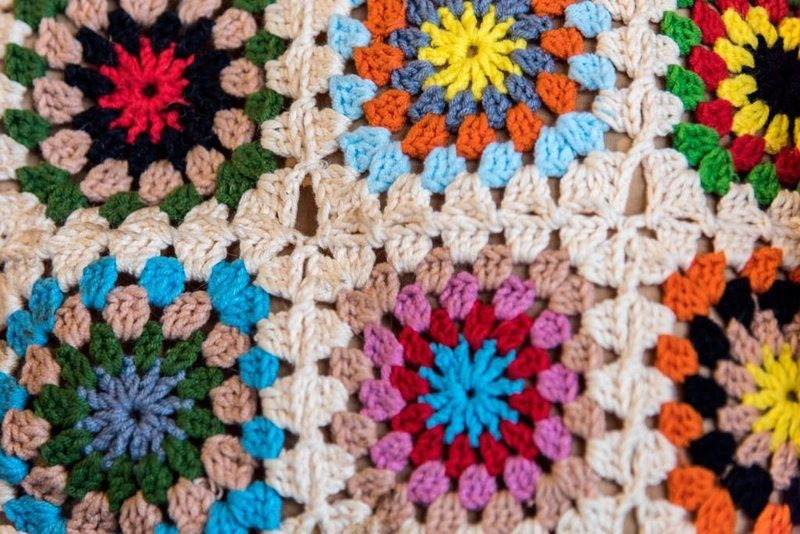 26. Crumpled Paper Art
You will need some paper from a coloring book, some paint, and crumpled up pieces of paper. First dip the paper into a bowl with watercolors and then touch it up with your fingers to make it look more colorful. Next, put some paint onto the crumpled paper, and then use your hands to do some interesting crumpling!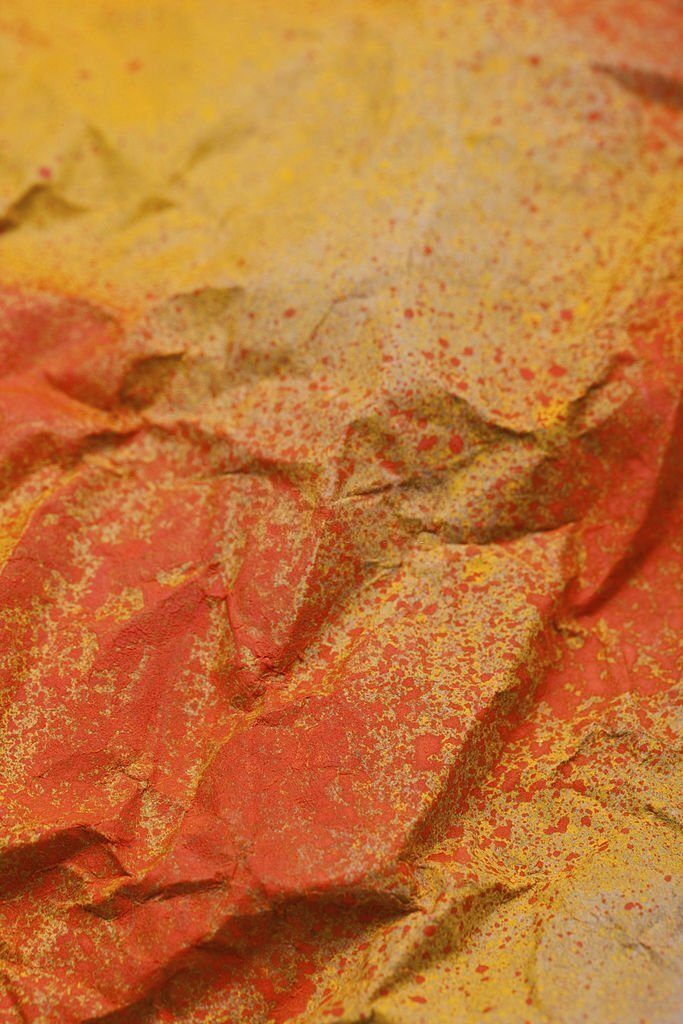 27. Oil Pastel on Paper
For this project, you will need oil pastels, some paper, and a small metal tin. Put some paint into the small metal tin and then use your oil pastel to rub the paint all over the paper. This will make a cool texture effect with the oil pastel and could look like a galaxy or tree bark!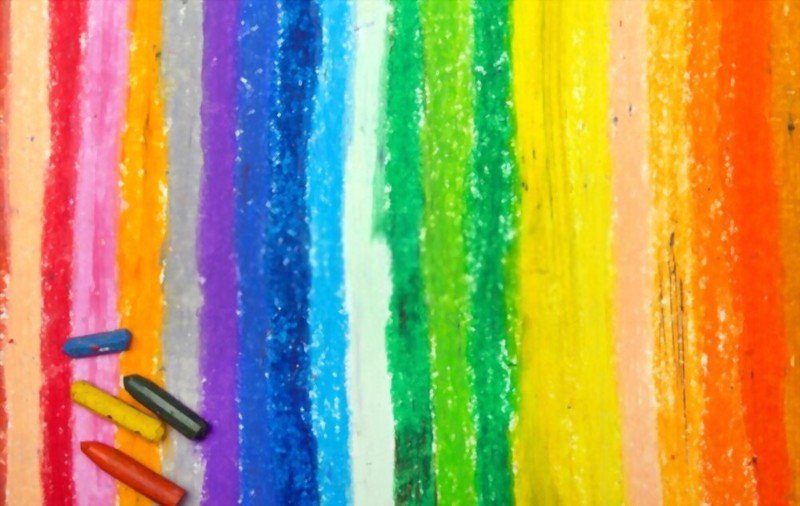 28. Use Puffy Paint to Decorate
Paint with puffy paint is a fun project to do with small children! You will need puffy paint, a plastic sheet, and some paint brushes. Put some puffy paint into the bowl and then dip your brush into it. Then use the curved part of your brush to make interesting designs onto the plastic sheet.
29. Stamp Flowers on Toilet Paper Rolls
Toilet paper roll stamp flowers are a fun project that is easy to do! Something you will need toilet paper rolls, paint, and some stamps. Put the stamps onto the paper and paint them with different colors. Then use the toilet paper rolls to stamp patterns on the stamp that you want to show.
30. Oil and Food Coloring Marbling
First you need to put a shallow layer of oil in the bottom of a bowl. Then use paper and paint to paint interesting designs on top of it. Then, take some food coloring and mix it with water. Pour this mixture over the paper that is floating on the oil, and then swirl it around so that you can get a cool marbled design!
31. Cardboard Rainbow Collage
For this project you will need some cardboard, paper, crayons, and a hot glue gun. First draw a sponge on your cardboard and then fill it in with different colors. Next, cut out a rainbow shape and use the hot glue gun to glue it onto the cardboard. Then draw some stripes onto the rainbow with crayons! So you can get a cool cardboard rainbow collage.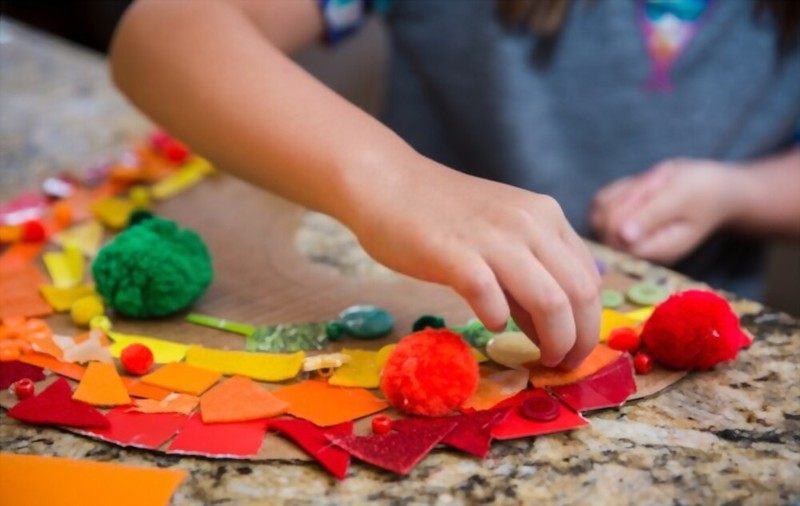 32. Block Painting
For this project you will need a block of wood and some acrylic paint. Put some paint onto the surface of your block and then paint it in interesting patterns. Repeat the same section for a few times to make it really thick!
33. Flower Painting
This is an easy painting project. You will need some paint and a canvas. Use your hands to spread the paint onto the canvas in an interesting pattern. Then if you like, you can use a paper towel to make polka dots on your canvas!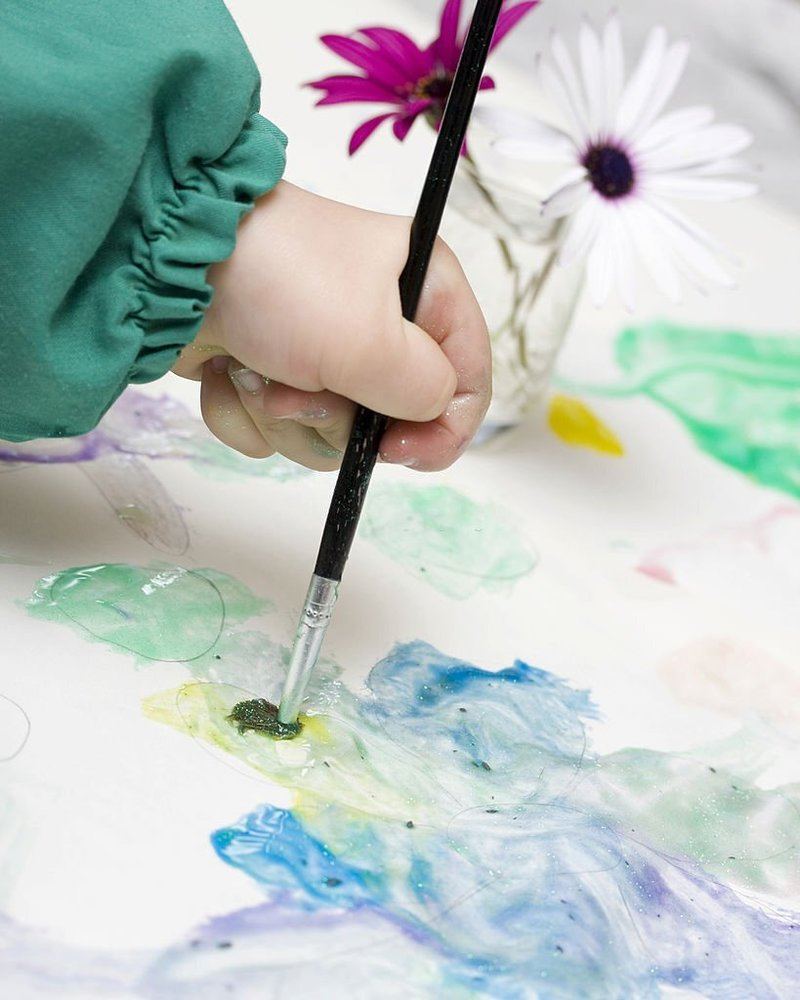 34. Roller Printing on Bubble Wrap
For this project you will need a bubble wrap roller, some water, and paper. First put the bubble wrap into the roller and then pour some water onto the paper. Then gently roll the roller over the area where your child is going to take a stamp, and press down lightly so that a design forms on the paper.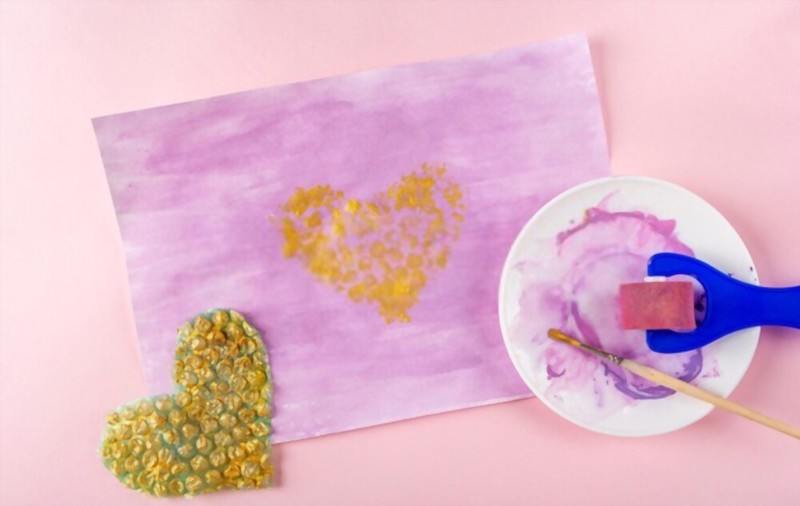 35. A Surprise Rainbow
This project is easy to do! You will need some paint, confetti, and a picture frame. You can also use glitter or tea colored paper or pipe cleaners with glitter. The confetti will be the "rainbows" in your rainbow picture frame.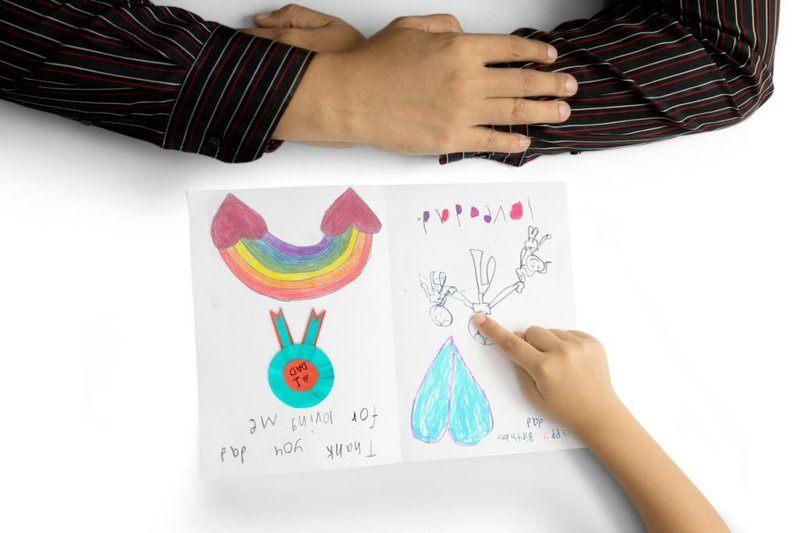 36. Flowers on a Painted Plate
This project can be a little tricky, but your child will love it! You will need a few plates and some acrylic paint. First, put some paint onto the plate and then press your hands or paintbrushes into it to make polka dots. Then use another color of paint to fill in between each dot so that they are covered up!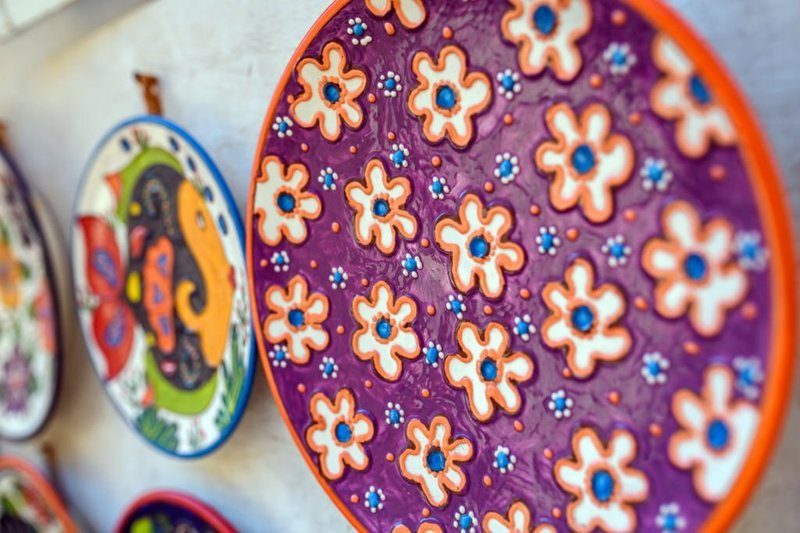 37. Painting of a Straw Blown Peacock
For this straw blown peacock painting project, you will need some paper and some coordinating colored paint. First draw a peacock onto the paper with a pencil, and then blow through a straw to make those dots on the paper!
38. Chalk Art of the Northern Lights
For this project you will need a focal point, a ruler, and some chalk. First draw or cut a shape out of chalkboard paper and then place it on the focal point. Then use the ruler to draw lines in different directions on the paper until your child is able to create an interesting pattern. When they are finished with the lines, they can use them as patterns for their next piece of art!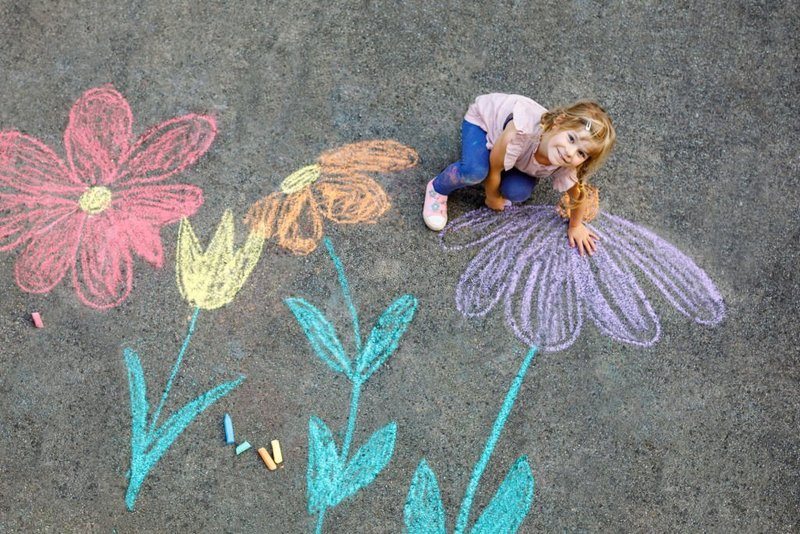 39. Foil Art Prints
For this project your child can use a glue and stick method or they can use foil. They will need paint, water and some kind of paper that is thick enough not to tear when they are drawing on it. First they will use the glue and stick method.

40. Salt Painting a Pineapple
For this project you will need a shallow bowl, some paint, a paper plate, and salt. Put some paint into the shallow bowl and then put some salt into it. Put the paper on top of the plate and use the paintbrush to do interesting patterns on top of it! You can also use glitter or confetti if you want!