"When you buy through links on aneverydaystory.com, We may earn an affiliate commission."
Many parents have confided in me in hushed tones about their feelings of embarrassment and remorse regarding the names they chose for their children. Some parents are easily swayed by popular trends, and they quickly come to the conclusion that the name they chose for their child was incorrect after writing it on the birth certificate.
Some people feel forced to preserve a family naming tradition, which ultimately results in them having a name that they despise. Then there are the parents who simply are unable to come to an agreement with one another, which ultimately results in one parent yielding resentfully to the other.
Because a person's name is one of the first things that other people learn about them, it is extremely vital for parents to give serious attention while choosing a moniker for their child. Keep reading if you are trying to decide what a good name would be for a girl and are interested in learning more about the name Lilith.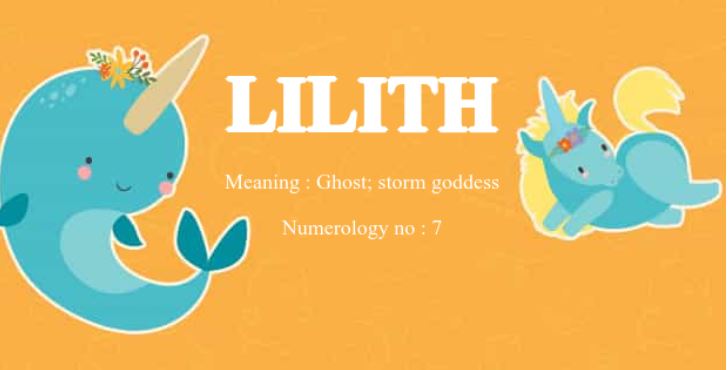 What Does The Name Lilith Mean?
The Assyrian origin of the female given name Lilith gives this name the meaning "ghost, night monster." The name Lilith originates from the Akkadian word lilitu, which can be translated as "of the darkness."
The meaning of the name Lilith is "ghost," "night," or "devil." Historically, it has been given to females. Lilith was a Babylonian name with the meaning "belonging to the night" in Muslim culture.
The name "Lilith" originates from the Akkadian word "lilitu," which can be translated to mean "night bird," "night monster," "night demon," "storm goddess," or even "female demon." Lilith is a goddess of storms. This is also the meaning of the Hebrew term "Lilith," but other Mesopotamian literature alludes to "Lilith" as wind spirits that are the carriers of disease.
This name can take on any number of meanings, including those pertaining to the night, a female bird, a devil, or a monster. According to other accounts, the name might alternatively be interpreted as "ghost" or "female vampire."
What Is The Origin Of Lilith?
Lilith is a legendary female Mesopotamian storm demon linked with the wind, which was supposed to be a bringer of disease, illness, and death. In Sumer, around 4000 B.C., Lilith first appeared as Lilitu, a class of wind and storm demons or spirits. Many researchers date the origin of the phonetic name "Lilith" to roughly 700 B.C., although it predates the time of Moses.
In Jewish legend, Adam's first wife was Lilith. According to tradition, Adam and Lilith were born from the same clay; nevertheless, Adam insisted that she submit to him and sleep under him as the inferior being. Lilith refused, said the Unutterable Name, and fled Paradise. For this reason, Lilith is regarded by many as a feminist figure.
What Is The Popularity Of Lilith?
According to SSA data, a little more than ten years have passed since Lilith first appeared on the list of the top 1,000 names in the United States. It first entered the top 500 in the year 2017, and as of right now in 2019, it is 401st in the rankings. At this time, Lilith has been placed in position 316th among the top 400 possibilities for the year 2020.
According to the number of different individuals who go by the name Lilith. The number of births in 2021 where the name Lilith was given is 1157. This is 0.065 percent of the total number of births to females in 2021. The year 2021 is also the year in which the name Lilith reached her peak popularity.
According to Google Trends, Aurora is the most common name of the decade as of early 2020. Since the year 2021, there has been a discernible upward trend in Lilith's level of usage throughout the world. Over a two-year period, there has been an increase in the percentage of women redirecting women to name their babies Lilith. In the 20th century, the name Lilith did not rank in the top one hundred most often used names for girls. Nevertheless, the website Google Trends found that it was one of the ten most traditional female names in 2020.
How Do You Pronounce The Name Lilith?
English is one of the native languages of a significant number of people all over the world. As a result, we endeavored to teach you how to pronounce Lilith in the English language. When written or written out in letters, the name Lilith is pronounced "LIL-ith." This way of pronouncing the word is more typical of persons of younger generations.
What Gender Is The Name Lilith?
A name that is both elegant and refined, Lilith is a great option. When considering its roots and the role it played in Jewish legend, the name Lilith is most commonly given to a female child. If you put some thought and imagination into it, you might be able to come up with a male version of the name.
Various Forms Of Avery
In certain instances, the solution may be as simple as adopting a distinctive spelling variation of the name Lilith. These are some other names that are variants of the name Lilith that you can consider using.
| | |
| --- | --- |
| ? Lilis | ? Lylith |
| ? Lilit | ? Lylyth |
| ? Lilithe | ? Lyllyth |
| ? Lillyth | ? Lilyth |
Names Similar To Lilith
It's possible that you like the name Lilith just fine, but you're not quite ready to commit to using it. There are, fortunately, a few names that share the same beautiful resonances and tones as Lilith, such as:
| | | |
| --- | --- | --- |
| ? Lillith | ? Lizbeth | ? Lilly |
| ? Lyric | ? Lillie | ? Lilli |
| ? Lili | ? Lilyann | ? Lillian |
| ? Laddie | ? Laidey | ? Laidy |
| ? Laleeta | ? Leida | ? Leta |
| ? Letitia | ? Lidia | ? Lillian |
| ? Lydia | ? Lyric | ? Lyrica |
| ? Lottie | ? Lotte | ? Lila |
Lilith's Common Nickname
Utilizing nicknames for the young person is one way to foster a closer connection with that individual. The name Lilith can be shortened to a number of endearing versions, some of which are listed below:
| | |
| --- | --- |
| ? Lilly | ? Lily |
| ? Lia | ? Lil |
| ? Lulu | ? Tilly |
| ? Lils | ? Lila |
| ? Lilo | ? Li Li |
Middle Names Complementing Lilith
Children can select whether or not they are given a middle name when they reach a particular age. The following is a list of various helpful double names that can be used in conjunction with Lilith and that have the potential to become your particular favorite:
| | |
| --- | --- |
| Name | Meaning |
| ? Adair | wealthy spear |
| ? Roxanne | bright, sunlight, day |
| ? Delilah | delicate |
| ? Sage | herb, prophet |
| ? Aurora | dawn |
| ? Briar | wild roses, brambles |
| ? Wren | small brown songbird |
| ? Fiore | flower |
Related Sibling Names To Lilith
It is possible for happy childhood memories to be formed when siblings have the same or similar names since this enables them to mature together as a cohesive unit. Lilith's siblings and sisters could have any of the following names:
| | |
| --- | --- |
| Sister Names | Brother Names |
| ? Alethea | ? Abel |
| ? Elizabeth | ? Lars |
| ? Hannah | ? Lucius |
| ? Taylor | ? Lucas |
| ? Alice | ? Alexander |
| ? Amelia | ? Arthur |
| ? Athene | ? Levi |
| ? Charlotte | ? Liam |
| ? Genevieve | ? Gabriel |
| ? Jaiden | ? Oliver |
| ? Luna | ? Silas |
| ? Morgana | ? Jasper |
| ? Violet | ? Jalon |
Names Sounding Like Lilith
You might search for alternative names with the same or a similar meaning, or you could check for names with a similar pronunciation to the original. The similarity between these names means that not only are you free to choose additional names that rhyme with Lilith, but you may also use these names to name your children's siblings. Below is a list of possible choices for such names:
| | | |
| --- | --- | --- |
| Name | Meaning | Origin |
| ? Lalita | ? Playful | ? Indian (Sanskrit) |
| ? Lillita | | ? Latin |
| ? Lolita | ? A variant spelling of Loleta | ? Spanish |
| ? Lulita | ? Famous warrior | ? German |
Celebrities With The Name Lilith
The name Lilith is not one that is necessarily familiar to everyone, but there are probably a few people out there with the same name.
| | |
| --- | --- |
| Lilith Love | Henriette Johanna Ignatia Maria van Gasteren was a Dutch photographer and artist who used this pseudonym. |
| Lilith "Lilit" Nagar | Israeli actress, singer, and television personality working in Arabic-language production |
| Lilith Saintcrow | American novelist |
| Scarlet Lilith Eleida Page | daughter of musician Jimmy Page |
| Nuit Ma Ahathoor Hecate Sappho Jezebel Lilith Crowley | daughter of occultist Aleister Crowley |
| Hannah Lillith Assadi | American novelist |
| Lilith Strangenberg | German actress |
Lilith In Pop Culture
In Jewish mythology, Lilith is most commonly associated with one of several different iterations of Adam's alternate wife or the queen of the demons. In addition to Lilith, we got a couple other very great ones, including the ones listed below:
| | |
| --- | --- |
| Lilith | The biblical first wife of Adam who changed herself into a demon rather than submits to him; known in Hebrew as Lilit |
| Lilith Sternin Crane | character in the television shows "Cheers" and "Frasier." |
| Lilith Clay | Teen Titans series's character |
| Lilith Arthur | Lilith is the protagonist of J.R. Salamanca's novel and the 1964 film. |
| Lilith | devil on "Supernatural" on The CW |
| Lilith | character in Cassandra Clare's "Mortal Instruments" series |
| Lilith | the Vampire God on the television series "True Blood." |
| Lilith Aensland | a "Darkstalkers" series character |
| Lilith | devil in Kelly Creagh's Nevermore series |
| Lilith | one of the Sirens that may be found in the video game "Borderlands." |
| Lilith | Fallen series character created by Lauren Kate |
| Lilith | daughter of Dracula in the Marvel Comics universe. |
| Lilith | demonic character in Ghost Rider comics |
| Lilith Garnet | character in the YouTube series by Aphmau |
| Lilith | Queen of Darkness is a "Sailor Moon" musical character. |
| Lilith Pleasant | Character from The Sims 2 game. |
| Lilith "Lily" Sullivan | Character from the Case 39 |
| Lilith | Character from Fire Emblem Fates |
| Lilith Fair | Festival highlighting female musicians |
| Lilith Vatore | The character that may be found in The Sims 4 |
Conclusion
Although there are unfortunately no perfect names, the aforementioned list of names should be a good beginning place for parents searching for a name that is both beautiful and suitable, whether you are a parent to a girl or a boy. Lilith is a beautiful name that has a rich and ancient history behind it. It can be used for both sexes, though its common use is with females. If you decide to go with this name, then you will want to consider the fact that amazing.
When we were compiling our list of things to talk about regarding the names that can be used for girls, we took a look at the many different variations of Lilith. It's a name that often has more than one version and one that can be subject to change with the times. We hope you enjoyed reading about Lilith and all its varieties.
FAQS
Is the name Lilith a good choice?
I like the name Lilith since it is so lovely and distinctive in comparison to other names. DO NOT GIVE YOUR CHILD THE NAME LILITH. I say this as someone who was given this name and has been punished for having to wear it. It's a repulsive name that's difficult to say correctly and doesn't come across as very feminine. Simply give your child the name Lilly, or Lily, or Lillian, or anything else you like.
How seldom is the name Lilith used?
The 316th most common name given to baby girls was Lilith. In the year 2020, 995 newborn girls were given the name Lilith. In the year 2020, a total of 1,760 little girls will be given the name Lilith.
Who symbolizes Lilith?
Because the Lilith emblem can be interpreted in a variety of ways, several groups have used her both as a sign of destructive feminine energy and as a symbol of the strength of women. A significant number of feminists believe that Lilith was not only the first woman but also the first woman to exist independently.
Is it a poor choice to call a girl Lilith?
The name Lilith has been frequently associated with witches, monsters, and other wicked creatures. This may give some individuals pause when selecting a name.
Let us, however, recall the Lilith location in astrology. This refers to going against the grain of society and defying social standards. In addition to referring to a witch or demon, Lilith is also the name of a lady who attempted to establish her own path. When people ask you why you chose the name Lilith for your child, direct them to this definition.