"When you buy through links on aneverydaystory.com, We may earn an affiliate commission."
Painting is one of those hobbies that never goes out of style. And it's not just for the beginner either- even veteran painters can learn new techniques to refine their art. Painting is also great for developing your child's creativity and imagination, as well as improving their motor skills.
We have 20 beautiful paintings that are sure to get your creative juices flowing and inspire hours of painting memories. Make something new with these ideas and enjoy painting together! They're perfect for kids of all ages!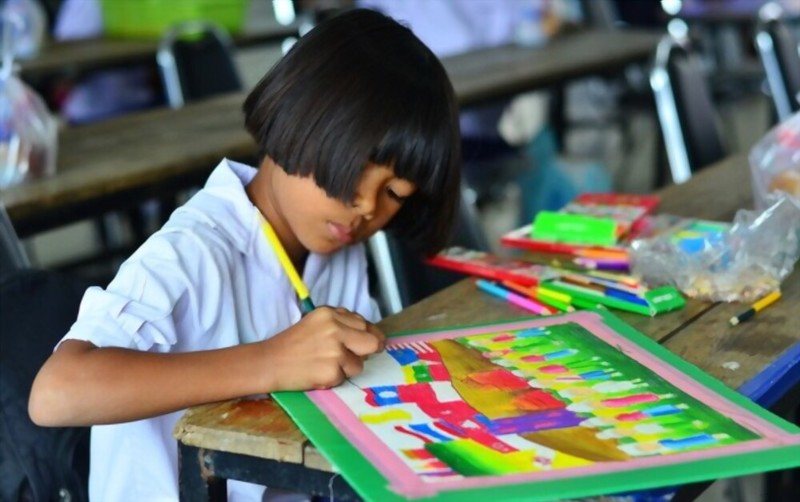 1. Funny Painting With Pendulum
Painting with a pendulum may not sound like something that most children will enjoy, but there are plenty of benefits to this activity.
Learn more: Hello Wonderful
2. Fingerpaint Flowers And Butterflies
Make some fingerpaint flowers and butterflies! You can even add a little text to make into an invitation for a little girl's birthday party.
Learn more: Supply Me
3. 3 Ways To Try Painting With Bubble
Bubbling paint is a fun and easy way to create a painting in the moment. The bubbles can vary from mostly opaque, to mostly clear or white, in order to create a variety of textured paintings.
Learn more: Artful Kids
4. Paint With Rubbers Band
It is easy and affordable. All children love painting but few of them like mess. Painting with rubber bands only requires cotton balls, water, and a few sheets of newspaper.
Learn more: Reading Confetti
5. Magic Paint Pouring
This article is about an art project for kids to make paint pour. The instructions are fairly easy for anyone to follow and it teaches kids that art can come from anywhere and everywhere. It is a fun, new way of making art!
Learn more: S&S
6. Mermaid Tail Panting With Salt And Glue
An easy and fun activity for kids to do during the summer is to make a mermaid tail from clothes. You can purchase the materials or just use what you have on hand.
Learn more: Our Kid Things
7. Painting A Pumpkin With Puffy Paint
Puffy paints are a fun way to create an enticing canvas for little artists. And, when you paint with puffy paint, it often creates patterns that look like they were painted by a child's hand. Today's painting project will focus on pumpkins because they make such an adorable canvas for puffy paint creations.
Learn more: Messy Little Monster
8. Spray Bottle Painting
A fun, easy way to get kids comfortable with painting is to give them a spray bottle and a blank canvas. Spray Bottle Painting is also not difficult to pull off which makes it an especially good project for parents who want something quick but still meaningful.
Learn more: Early Learning Ideas
9. Handprint Cow
When you give a handprint cow to a child, it is special because the child feels like their handprint means something. This is a great way to teach your child how print makes animals. You can also find other ideas on how to make a cow and what they could learn from it.
Learn more: Craftulate
10. Make trees from masking tape
In this craft project for children, you will learn how to make a tree from masking tape. This is a fun and easy project the kids will enjoy making.
Learn more: The Keeper of the Memories
11. Sponge Painting
There are lots of ways to make creative art projects with sponges and acrylic paint. One idea is to take a sponge and dip it in paint, squeeze the paint onto another color of sponge, then stamp images on paper (think stamps). You could also tie a ribbon around the handles of two sponges and create a textured design.
Learn more: The Best Ideas for Kids
12. Colorful Chalk Bomb
Have you ever wanted to paint but were too scared? You may want to give this new chalk bomb a try. It can be used with nearly any surface and the colors are so vibrant that you don't need a lot of their liquid paint to make them stand out. This is great for kids who are just learning about color mixing or for adults looking for a quick, fun project.
Learn more: A Little Pinch of Perfect
13. Drip painting
Drip painting for kids is a fun, educational activity that your children will enjoy and so will you. It helps them learn about colors, art and more through the use of paint on fabric.
Learn more: Taming Little Monster
14. Make An Ice Paint
Ice painting is a unique way of expressing your creativity using just ice and water. All you really need are some simple materials, like a hollow plastic cup, water, paint brushes and an ice cube tray or rectangular container.
Learn more: Kiddy Charts
15. Color Powder Painting
Powdered painting for kids is a fun art activity for children and young teens to enjoy at home, school, or in the classroom. The idea behind the pastel colors of the paint is that they will wipe off easily from nearly any surface.
Learn more: Growing a Jeweled Rose
16. Ghost Art On Wax Paper
The idea of painting a ghost on a window might seem like a scary activity if you don't know how it is done. It can be fun if your little one knows what she is doing, and it will be even more fun if the ghost that appears on the window is made with wax paper.
Learn more: The Pinterested Parent
17. Creative Painting With Cotton Q-Tip
Painting is a great way for kids to have some creative fun, and with cotton q-tips, it's easy to do. All you'll need are some q-tips (of course), a bowl of water, a few containers of paint in different colors, paper plates, and something to cover the surface you're painting on.
Learn more: Laughing Kids Learn
18. Paint With Fly Swatter
The project will show you how to use a fly swatter as a painting tool. With it, kids can create beautiful swirls in just one swoop! Plus, it's easy to make and inexpensive.
learn more: Little Bins for Little Hands
19. Paint On The Outdoor Sidewalk

Outside paint is better for kids because outside paint does not affect the inside of their house. Paint on the exterior sidewalk or patio also means that there will be less clean up and fewer fumes from chemicals.
Learn more: Crafty Morning
20. Snow painting In Winter
Snow painting is a fun game to play outdoors in winter. It also helps youngsters develop motor skills and creativity. Snow painting can be done with friends, but it's just as fun to do alone.
Learn more: Happy Hooligans