"When you buy through links on aneverydaystory.com, We may earn an affiliate commission."
A name is a one-of-a-kind and personalized present. The power of a name is that it can be given once, but not twice. A name contains within it not just who you are but also what you were hoping to accomplish, the legacy you leave behind. This is a guide to finding the real meaning of your first or last name and hopefully giving some insight into who you are through your own eyes – or who you want to be.
It's impossible to go wrong with Silas as a name for your son if you're looking for something that's both a cool and powerful name at the same time. The origins of the name Silas may be traced back to biblical times, and as a result, it carries with it a great deal of weight and importance in a variety of cultures and countries. A name is an outstanding option for use with males.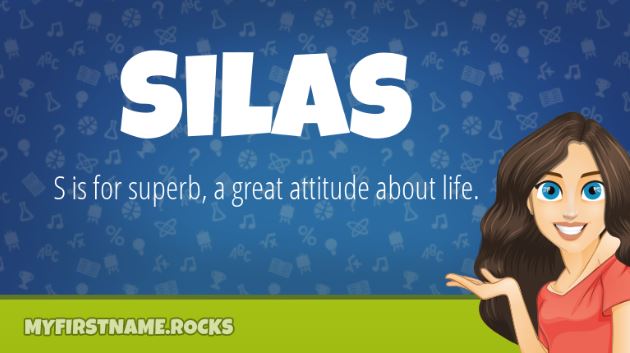 What Does The Name Silas Mean?
It is possible to consider Silas to be a shorter version of the name Sylvanus, which was the name of a Roman god of the forests and trees whose meaning was "forest." Silas is one of those names that might have two completely different meanings. Silas is likewise derived from the Hebrew term meaning "three" or "the third" and was the name of a first-century Christian missionary.
The name Silas has deep roots in the Bible and has a religious and spiritual connotation. Its meaning can be translated as "forest" or "wood." Sylvanus was a Roman god who was worshiped by those who worked with wood or lived in areas that were heavily wooded. His name was initially given to those people. In the past, Silas was a boy's name with a straightforward pronunciation that was connected to George Eliot's Silas Marner and the New Testament.
The name Silas has been in use ever since the 16th century in its present-day form. As a sign of their commitment to a humble lifestyle, members of the Puritan community gave their offspring the names of obscure biblical people. Therefore, if you are searching for a powerful name that also has historical value, Silas is a good option to consider.
What Is The Origin Of Silas?
The biblical name Silas is derived from Silvanus, and the two names are used interchangeably. St. Silas was a renowned early Christian who accompanied Paul on his second missionary journey in the New Testament. In his epistles, Paul refers to him as Silvanus, although it is conceivable that Silas was a Greek variant of the Hebrew name Saul. Prior to the Protestant Reformation, it was never used as an English name.
In the Book of Acts, he was consistently referred to as "Silas," however, the Latin form of his name is "Silvanus" (of the forest). "Silas" is the diminutive Greek form of "Silvanus." It has been suggested that Silas is the Greek form of the Aramaic name Seila, which is derived from the Hebrew name Saul. There is some speculation that the name Silvanus originated in pre-Roman Italian languages before it was adopted into Latin.
What Is The Popularity Of Silas?
Historically, the name Silas was not as popular. In reality, the name's popularity skyrocketed beginning in 2004, and from 2016 to 2020, it was also the most popular boys' name. The Silas popularity index indicates that the name became popular in the United States in 2014, after which the Silas baby name rating began to rise.
The U.S. government did not begin formally keeping track of name rankings until 1880. This information indicates that the name Silas reached its zenith of popularity at the start of the 20th century (almost cracking the list of the 100 most popular boy's names). According to data from the Social Security Administration, Silas was the 107th most common baby name in the United States in 2020.
The number of people searching for the name all across the world has recently been trending upward, with significant increases beginning in the year 2000. This is primarily attributable to persons looking for the name Silas. This name is also connected with the indestructible albino monk in "The Da Vinci Code" film and novel, as well as Nancy Botwin's television son in "Weeds."
Data from Google Trends indicates: In February 2013, the popularity of the name Silas on the Internet hit its greatest peak during the previous decade. On the other hand, the least amount of popularity that was ever recorded occurred in December 2018 and September 2021, when it was only 21 and 20, respectively.
How Do You Pronounce The Name Silas?
Different regional accents may provide a different amount of emphasis on the first or last syllable of a word. It's not really easy to screw this wrong in a significant way. Your child will like it when they are addressed by their full name at all times.
Si-las
Sy-Luss
Sy-Lehs
Si-Lass
What Gender Is The Name Silas?
The name Silas is given to males the majority of the time. Obviously, the name you give your child can be anything you want it to be. If you choose to give your daughter the name Silas, there is a good chance that she will be the only person in her school or even in the entire town to have that name, making her extremely exceptional.
Despite the fact that many baby names are classified according to gender, one believes that gender should not be a consideration when selecting a name for your child. It's critical that you pick a name for your newborn that you love.
Where Are The Most Searches For The Name Silas Performed?
Angola is the country where people have searched for the term the most in the past ten years, according to search statistics. Angola is followed by Brazil, Lithuania, Denmark, and Cameroon to round out the top five countries. It is reasonable to presume that the cultural importance of Silas in these cultures is one of the primary reasons why individuals are contemplating using the name Silas for their future children.
Over the past decade, the state of Connecticut in the United States has had the most number of people searching for the name Silas than any other region. Following this, the sub-regions of North Carolina, Alabama, Mississippi, and Kentucky round out the top five sub-regions in the United States in terms of the highest search trends for Silas.
Various Forms Of Silas
The name Silas is spelled and spoken differently in different cultures. Other spellings of Silas reveal the cultural importance of the same name throughout numerous religions, ethnicities, and cultures. Other cultures use the following variants and spellings of the name Silas:
| | |
| --- | --- |
| Name | Origin |
| ? Saul | ? Hebrew |
| ? Silvanus | ? Latin |
| ? Sylvanus | ? Latin |
| ? Sylvain | ? French |
| ? Silvan | ? Dutch |
| ? Syllus | ? French |
| ? Sylas | ? English |
| ? Si | ? English |
| ? Sy | ? English |
| ? Silouanos | ? Biblical Greek |
| ? Sylvain | ? French |
| ? Silvano | ? Italian |
| ? Silas | ? Danish |
Names Similar To Silas
Baby names like Silas is not only suitable as first names but also as middle names. There are also various family names for Silas that perfectly complement the name. Additional names for Silas are:
| | |
| --- | --- |
| Similar Baby Names | Other names starting with S |
| ? Atlas | ? Simon |
| ? Caleb | ? Samual |
| ? Cyrus | ? Sebastian |
| ? Dante | ? Sullivan |
| ? Linus | ? Santino |
| ? Tyrus | ? Stephen |
| ? Wallace | ? Spencer |
Silas's Common Nickname
There is a good chance that the name Silvanus was shortened to Silas in ancient Greece and Rome. There aren't a lot of frequent nicknames for Silas due to the fact that it's already such a short name. On the other hand, you might see it abbreviated on occasion with some subtle spelling variations:
| | |
| --- | --- |
| ? Si | ? Sila |
| ? Cy | ? Silly |
| ? Cye | ? Lysol |
| ? Sy | ? Levi |
| ? Sye | ? Lil |
| ? Sil | ? La |
| ? Sal | ? Las |
Middle Names Complementing Silas
Choosing middle names that seem natural and appropriate to Silas is also essential for maintaining the overall beauty of your child's name and preserving the wonderful meaning of the name Silas. You can pick from the following double names with the name Silas:
| | | | |
| --- | --- | --- | --- |
| ? Quinn | ? Braden | ? Jean | ? Dylan |
| ? Abbott | ? Boden | ? Lander | ? Archer |
| ? Landon | ? Arlow | ? William | ? Jack |
| ? Duncan | ? Smith | ? Green | ? Willow |
| ? Dane | ? Briggs | ? Asher | ? Atlas |
| ? Whitman | ? Chase | ? Sebastian | ? Clay |
Related Sibling Names To Silas
Have you decided on the name Silas? Have you thought about having more children? The following names are attractive additions to your family tree that are a great fit with Silas and will add to the allure of your ancestry.
| | |
| --- | --- |
| Sister Names | Brother Names |
| ? Jacqueline | ? Wayne |
| ? Delilah | ? Alfred |
| ? Lillith | ? Spencer |
| ? Eve | ? Stephen |
| ? Tabitha | ? Dwayne |
| ? Ada | ? Ezekiel |
| ? Phoebe | ? Collin |
| ? Penelope | ? Gabriel |
| ? Lucia | ? Matthew |
| ? Joanna | ? August |
| ? Alicia | ? Felix |
| ? Serena | ? Raphael |
| ? Celia | ? Jasper |
| ? Lisa | ? Wyatt |
| ? Olivia | ? Zion |
Names Sounding Like Silas
There are a number of names that rhyme with Silas and share a similar sound. Using such names allows you to give your infant boy a unique moniker that references Silas's theological significance while embracing a contemporary alternative.
Celebrities With The Name Silas
In recent years, the name Silas has seen a minor increase in popularity due to the influence of notable individuals with the name. It is anticipated to recover popularity or become more common as a middle name due to its traditional origins and attractive meaning.
| | |
| --- | --- |
| Silas G. Harris | American politician |
| Silas Wright Porter | American judge |
| Silas Farley | American ballet dancer |
| Silas M. Holmes | American politician |
| Silas Tertius Rand Bill | Canadian politician |
| Silas Watt | son of racing driver Jason Watt |
| Silas Randall Timberlake | Justin Timberlake and Jessica Biel's son |
| Silas Lima Malafaia | Brazilian Pentecostal pastor |
| Silas Wamangituka Fundu | Congolese professional footballer |
| Silas Dwane House | American writer |
| Silas Talbot | commander of the U.S.S. Constitution during the American Revolution |
| Silas Wood | U.S. Congressman from New York |
| Paulo Silas do Prado Pereira aka Silas | Brazilian football manager |
| Silas Wright | American politician |
| Silas Weir Mitchell | American physician and writer |
| Silas Deane | American politician and diplomat |
Silas In Pop Culture
The character of Silas is only somewhat more well-known in popular culture than he is in actual life. Despite this, it is inevitable that the number of items on this list will increase as a result of the name's revival.
| | |
| --- | --- |
| Silas | main character in "Origin" by Liam Holt |
| Silas Q. Scuddamore | wealthy American in "The Suicide Club" by Robert Louis Stevenson |
| Silas Sugwash | character in Jenny Nimmo's "The Children of the Red King" series |
| Silas Hendershot | character in the movie "The Final Storm" |
| Silas Scratch | antagonist of "Diary of a Wimpy Kid: Old School," by Jeff Kinney |
| Silas Korba | character in "The Academy" |
| Silas | character in animated series "Transformers: Prime" |
| Silas Ruthyn | character in "Uncle Silas" by Sheridan Le Fanu |
| Silas | the first immortal being on T.V.'s "The Vampire Diaries" |
| Silas | hired man in Robert Frost's poem "Death of the Hired Man" |
| Silas | character in "Sisters Red" by Jackson Pearce |
| Silas | character in Dan Brown's "The Da Vinci Code" |
| Silas Heap | "Septimus Heap" book series character by Angie Sage |
| Silas Botwin | Nancy's son on T.V.'s "Weeds" |
| Silas Blissett | British soap "Hollyoaks" character |
Conclusion
Silas is an exceptional name with a heart-moving meaning and an interesting history of origin. If you are searching for a name that is distinctive, the search is over. The power of this name will not only be felt by your little boy but also by everyone around him who gives him attention, who calls him to come in from the playground, or who seeks his help at the grocery store.
Your little son would look quite current if you gave him the name Silas. Your little boy will be proud to have such a beautiful name that stands out as a colorful addition to anyone's list. If you wish for your son's name to hold meaning and go down in history, Silas is one of the best names out there.
FAQS
How long has the name Silas been in use?
In the 16th century, the Puritans were the first people in English-speaking countries to commonly use the name Silas (during the Protestant Reformation). It was their humble custom to give their children biblical names that were not very well-known in order to demonstrate their submissiveness before God.
What year was Silas most popular?
In times past, the name Silas was not quite as common as it is today. In point of fact, the name began to accrue an enormous amount of popularity around the year 2004, and it went on to become the most popular choice for boys' names between the years 2016 and 2020.
Is Silas a somewhat uncommon name?
How frequently is the name Silas given to children born in 2020? Silas was the 100th most common name for males and the 8878th most popular name for girls. In 2020, 3,599 baby males and 11 baby girls were given the name Silas. In 2020, one in every 509 baby males and one in every 159,186 baby girls will be named Silas.
In the Bible, what did Silas do?
Encyclopdia Britannica, Inc. is an acronym for Encyclopedia Britannica. Silas and Paul were arrested and beaten at Philippi for curing an enslaved girl who was said to be possessed by "a spirit of divination." Paul was the first person to preach the gospel in Europe at Philippi. Following their release, they served a mission in Thessalonica.