"When you buy through links on aneverydaystory.com, We may earn an affiliate commission."
You're a teacher, and you've thought you might want to do something different once you retire. One day, maybe even before you retire, many of your students will be sending the best wishes for your future because they would not have these teachers if it were not for them. Show them how much respect and admiration you have by sharing these inspiring quotes with them today!
This post will provide 69 examples of the best inspirational quotes for teachers.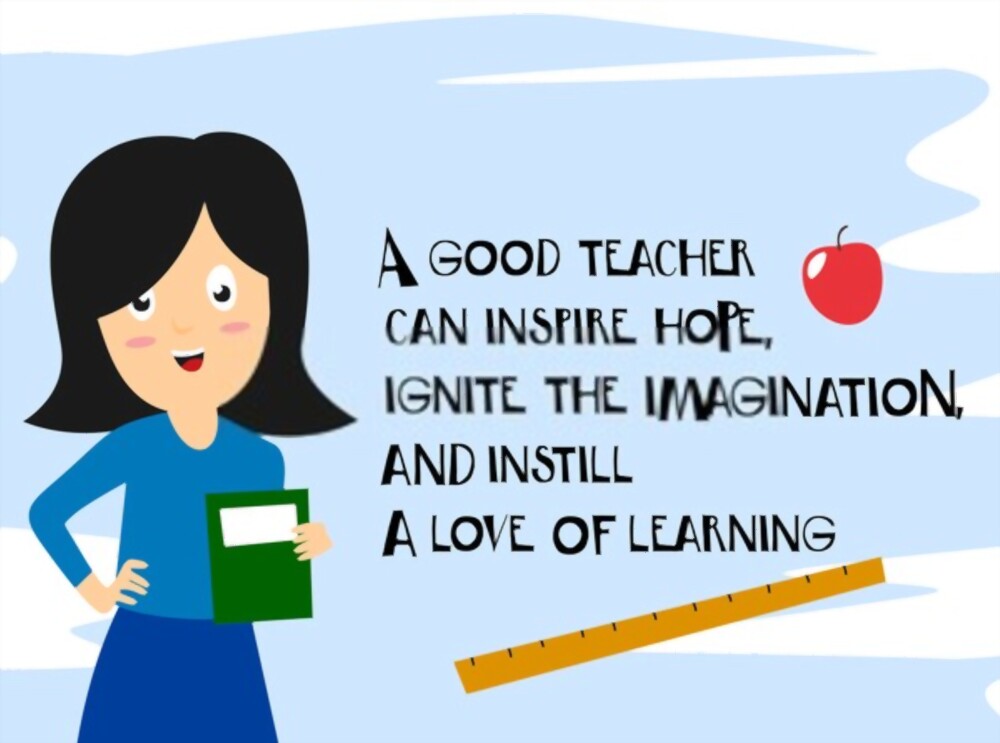 1. Teaching Kids to Count is fine, but Teaching them What Counts is best. – Bob Talbert
2. Tell me, and I forget. Teach me, and I remember. Involve me, and I learn. – Benjamin Franklin
3. Nine – Tenths of Education is Encouragement. – Anatole France
4. Teachers have Three Loves: Love of Learning, Love of Learners, and the Love of Bringing the First Two Loves together. – Scott Hayden
5. Education is our Passport to the Future, for tomorrow belongs to the People Who prepare for it today. – Malcolm X
6. I am not a Teacher but an Awakener. – Robert Frost
7. The Art of Teaching is the Art of Assisting Discovery. – Mark Van Doren
8. To Teach is to Learn Twice over. – Joseph Joubert
9. A Teacher affects Eternity; He can never tell Where his Influence stops. – Henry B. Adam
10. Education is not the filling of a pail but the lighting of a fire. – William Butler Yates
11. They may forget what you said, but they will not forget how you made them feel. – Carl Buechner
12. All students can learn and succeed, but not the same way and not on the same day. – William G. Spady
13. I like a teacher who gives you something to take home to think about besides homework. – Lily Tomlin
14. Technology is just a tool. In terms of getting the kids to work together and motivating them, the teacher is the most important. – Bill Gates
15. The teacher makes the difference, not the classroom. – Michael Morpurgo
16. Good teaching is one-fourth preparation and three-fourths theatre. – Gail Goldwin
17. Everyone who remembers his education remembers teachers, not methods and techniques. The teacher is the heart of the educational system. – Sidney Hook
18. The task of the modern educator is not to cut down jungles but to irrigate deserts. – C. S. Lewis
19. I touch the future. I teach. – Christa McAuliffe
20. I am a teacher born and bred, and I believe in teachers' advocacy. It's a calling. We want our students to feel vibrant and empowered. – Erin Gruwell
21. Teachers believe they have a gift for giving; it drives them with the same irrepressible drive that drives others to create a work of art, a market, or a building. – A. Bartlett Giamatti
22. If you have to put someone on a pedestal, put teachers. They are society's heroes. – Guy Kawasaki
23. The duties of a teacher are neither few nor small, but they elevate the mind and give energy to the character. – Dorothea Dix
24. To this end, the greatest asset of a school is the teacher's personality. – John Strachan
25. The whole purpose of education is to turn mirrors into windows. – Sydney J. Harris
26. In education, technology can be a life-changer, a game-changer for kids both in and out of school. – Queen Rania of Jordan
27. What sculpture is to a block of marble, education is to a human soul. – Joseph Addison
28. Education breeds confidence. Confidence breeds hope. Hope breeds peace. – Confucius
29. One day with a great teacher is better than a thousand days of diligent study. – Japanese Proverb
30. Teachers can change lives with just the right mix of chalk and challenges. – Joyce Meyer
31. I cannot teach anybody anything; I can only make them think. – Socrates
32. Tell me, and I forget. Teach me, and I remember. Involve me, and I learn. – Benjamin Franklin
33. Teaching is the greatest act of optimism. – Colleen Wilcox
34. If you are planning for a year, sow rice; if you are planning for a decade, plant trees; if you are planning for a lifetime, educate people. – Chinese Proverb
35. Education is not preparation for life; education is life itself. – John Dewey
36. What sculpture is to a block of marble, education is to a human soul. – Joseph Addison
37. Teaching is the one profession that creates all other professions. – Unknown
38. If someone goes down the wrong road, he doesn't need the motivation to speed him up. What he needs is education to turn him around. – Jim Rohn
39. The dream begins with a teacher who believes in you most of the time, who tugs and pushes and leads you on to the next plateau, sometimes poking you with a sharp stick called truth. – Dan Rather
40. The art of teaching is the art of assisting discovery. – Mark Van Doren
41. What the teacher is, is more important than what he teaches. – Karl Menninger
42. Every child deserves a champion – an adult who will never give up on them, understands the power of connection, and insists they become the best they can be. – Rita Pierson
43. The mediocre teacher tells. The good teacher explains. The superior teacher demonstrates. The great teacher inspires. – William A. Ward
44. Better than a thousand days of diligent study is one day with a great teacher. – Japanese Proverb
45. A good teacher is like a candle—it consumes itself to light the way for others. – Mustafa Kemal Atatürk
46. Education is not the filling of a pail but the lighting of a fire. – William Butler Yeats
47. Teaching is more than imparting knowledge; it is inspiring change. Learning is more than absorbing facts; it is acquiring understanding. – William Arthur Ward
48. Children must be taught how to think, not what to think. – Margaret Mead
49. You can teach a student a lesson for a day, but if you can teach him to learn by creating curiosity, he will continue the learning process as long as he lives. – Clay P. Bedford
50. If kids come to us from strong, healthy, functioning families, it makes our job easier. If they do not come to us from strong, healthy, functioning families, it makes our job more important. – Barbara Colors
51. We want to see the child in pursuit of knowledge and not knowledge in pursuit of the child. – George Bernard Shaw
52. Students don't care how much you know until they know how much you care. – Anonymous
53. It takes a big heart to help shape little minds. – Unknown
54. Education is the most powerful weapon you can use to change the world. – Nelson Mandela
55. When you love your class, your students just know
56. Children learn best when they like their teacher and they think their teacher wants them
57. A great teacher is a great artist
58. Teaching kids to count is fine, but teaching them what matters is best
59. A well-educated mind will always have more questions than answers
60. A teacher affects eternity
61. Lessons on kindness are just as important
62. If you don't like something, change it. If you can't change it, change your attitude.
63. If you love them today, maybe you can teach them tomorrow
64. Teaching is the profession that teaches all the other disciplines
65. The best thing about being a teacher is that it matters. The hardest thing about being a teacher is that master every day

66. If we teach today's students as yesterday's, we rob them of tomorrow.
67. Our fingerprints don't fade from the lives we touch
68. The best teacher lodges an intent not in the mind but the heart.
69. Teaching is the greatest act of optimism