"When you buy through links on aneverydaystory.com, We may earn an affiliate commission."
Do you have preschoolers in your life? Then this article is for you! Off-screen technology activities are a great way to help keep kids engaged and busy. These activities are fun and rewarding, but will also teach preschoolers important skills such as following directions, taking turns, problem solving, coordination, eye-hand coordination and more!
The great thing about the following activities is that they really don't even require any special technological equipment! While sometimes it's nice to have a tablet or other interactive device, your kids will enjoy these activities with whatever you have on hand. Just as long as you have a safe and secure place for them to play and be creative!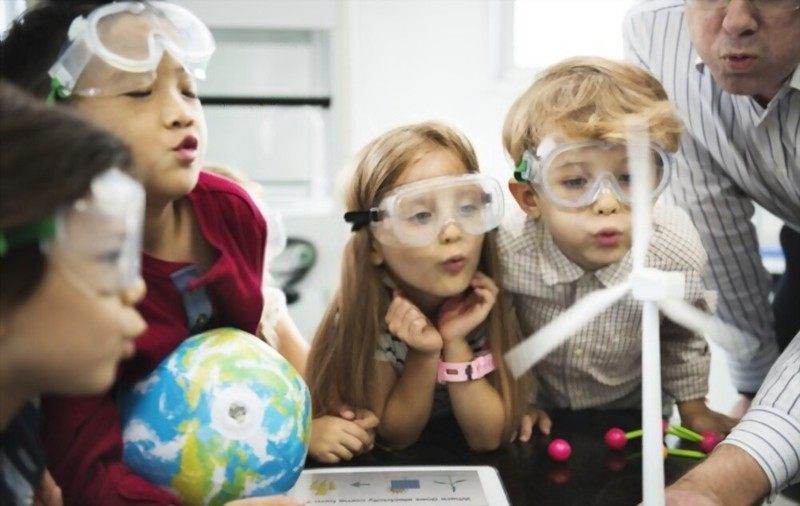 1. Increase Memorization And Reading Comprehension Through Songs
Many children find it hard to memorize information and read accurately in the early years of their development. Teachers can increase a student's ability to remember and recall through songs, since songs tend to have catchy rhythms that stick in an individual's mind.
Teachers can use these activities for preschoolers as part of their curriculum or with children who need extra help remembering new information. These activities also work great during phonics lessons because students are more likely to remember the words if they're sung or chanted.
Learn more: Heidisongs
2. Play On Kahoot
In the course of learning, children naturally explore their world and test their newly-learned skills on a variety of tasks. What some parents might not know is that technology (such as Kahoot) can be an effective tool to accompany this exploration in a fun, hope-destroying way. Because of its interactivity, Kahoot lets teachers and others easily assess children's progress in connecting knowledge to practice. The best part is that it has a wide range of activities for preschoolers – not just simple quizzes but also stories, puzzles, polls and games – that will capture their attention while helping them develop important skills such as collaboration and critical thinking skills.
Learn more: Kahoot
3. Simon Says On Zoom
This popular children's game is where one person plays the "Simon" and makes certain commands, gestures, or sounds to which the "players" must quickly follow. One example of this game is asking a child to walk in front of you and touch your toes; when they do, you say "Simon says put your hands on top of your head."
It may sound silly now but it was very popular during childhood. In honor of this year's Christmas season, we are going to teach preschoolers about Simon Says! Let's get started by learning all about the famous phrase: "Simon says.
Learn more: Teachers Mag/Zoom Simon Says
4. Match Shape Activity
Match shape is a perfect game for kids in preschool. There are many levels of difficulty, suitable for different age groups and abilities. Each level has many game boards with different shapes, colors, and sounds. Offering such rich content for children to explore and develop their problem-solving skills makes Match Shape Activity an excellent tool for early education in the 21st century.
Learn more: Fun Learning for Kids/2d Shapes Activity
5. Counting Numbers Through Images On Ipad
There is no better way for preschoolers to learn about numbers than by using this innovative app with their iPad! This app will teach your child how to count from 1-10 using images. The graphics are fun and engaging, the concept is easy enough for a young child to grasp, and the animations, special effects, and sound effects make it an enjoyable learning experience.
Learn more: Technology in Early Childhood/Writing numbers
6. Building With Blocks
Building with blocks is a fun activity that helps kids develop new skills and build their confidence. You can help them develop critical thinking abilities by encouraging them to think about what they might need to build before they start – you can even make up scenarios as you go!
Basically, there are endless creative possibilities when it comes to building with blocks. And that's what makes this activity so much fun for kids! When it's time to scale down the play size, you can use the blocks to create imaginative scenes or become architects.
Learn more: Hands on as we grow/Building with blocks
7. The Science Of Squishy Circuits
Have you ever had your kids, nephews or nieces build a circuit out of squishy circuits and then been left wondering what exactly is going on inside? This activity will walk you through the science behind squishy circuits activities.
It's important to remember that even though there are many different parts of a circuit, they all work together and share the same goal – to create a path for an electric current so it can flow in one direction across the surface of the circuit.
Learn more: http://preschoolpowolpackets.blogspot.com/2014/09/electricity-with-preschoolers-squishy.html
8. Learn Math Through Items
For a fun way to learn math in an imaginative way, try this activity. Try these activities that can get your preschoolers excited about learning math. The projects range from counting on blocks to using a calculator-something both you and your child will enjoy!
Learn more: B-Inspired Mama/ Math Fun
9. PHOTOGRAPHER COLOR SCAVENGER HUNT
Preschoolers can go on a scavenger hunt and use an Ipad to take photos as they tick off items on the list. Take pictures at different locations, like a run park or playground, while observing what color objects they see.
Learn more: What do we do all day/ Photographer Scavenger Hunt
10. Make Your Own Cardboard Laptop
These activities can also be used in STEM lessons whenever possible. Get kids excited to explore the world of computers by first building familiarity with computers in this constructive way, and then going on to explore other areas where technology is involved, such as internet safety or computer programming!
Learn more: Instructables/Cardboard Laptop Stand